Another day, another new Leonardo drawing – this time a St. Sebastian with a mismatched verso and recto, with as many legs as a millipede, and lashed in a gale-force wind to a tree set in a landscape of icebergs…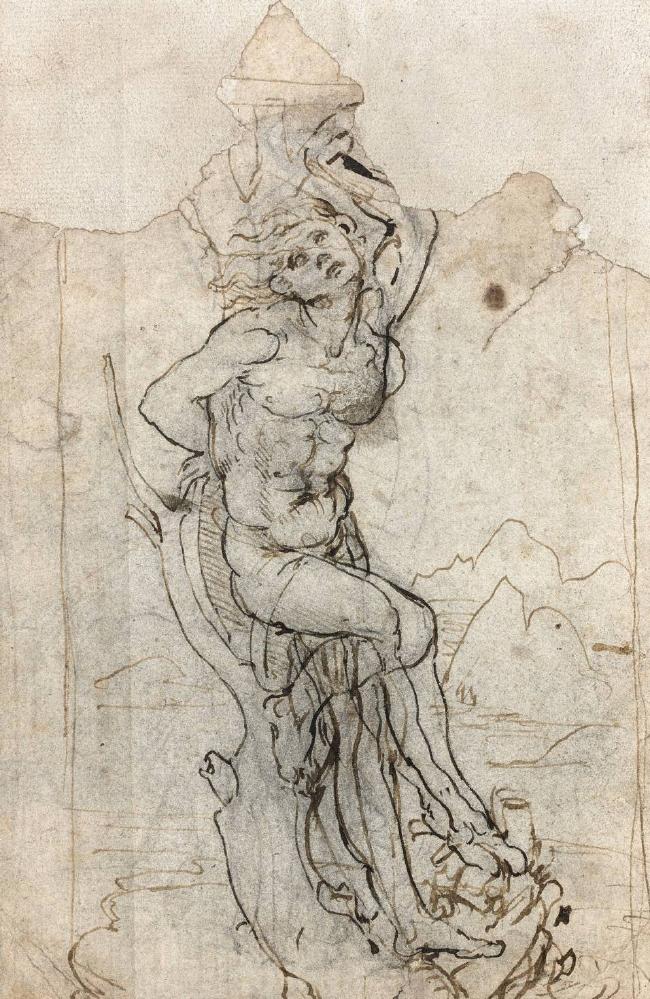 Above, Fig. 1. A newly proposed Leonardo whose problems will be the subject of our next post. See Scott Reyburn's "An Artistic Discovery Makes a Curator's Heart Pound", the New York Times, 11 December 2016.
The old masters world is bursting with Leonardo "discoveries" that flaunt their five-century no-histories. (See Problems with "La Bella Principessa"~ Parts I, II and III; and, "Fake or Fortune: Hypotheses, Claims and Immutable Facts". "Problems with La Bella Principessa ~ Part I: The Look".) At the same time there is a near meltdown over a spate of recent high quality exposed fake "sleepers" and "discoveries". Sotheby's has hired its own in-house technical analyst to spot inappropriate materials in new-to-the-scene old masters so as to "help make the art market a safer place" ("FBI expert to head up Sotheby's new anti-forgery unit", 6 December 2016, the Daily Telegraph). This is no bad thing and the appointment has been universally welcomed when, following the fake Frans Hals affair, it is reportedly feared that 25 forgeries sold for up to £200million are on the walls of unsuspecting owners, and when the new Sotheby's appointee had himself single-handedly unmasked 40 supposed modern masterpieces sold for £47million at the now deservedly gone Knoedler Gallery, New York.
The real crisis, however, is the product of failures of judgements even more than failures to carry out due diligence checks on the material components of works. It remains the case that aside from works instantly disbarred by technical diagnosis, identifying authorship and establishing authenticity will necessarily and inescapably continue to be a matter of professional judgement. (We hold that here is systemic methodological flaw in appraisals that has yet to be addressed.) Meanwhile, dealers, critics, scholars and collectors embarrassed by suspected fakes are left agonising: should they concede error and take a hit on credibility but thereby limit damage, or should they stand firm and double the risks?
Even professional sleeper-hunters are falling out in acrimonious fashion over rival BBC television platforms – sorry, programmes – with one said to believe the other jealous of his good looks and success: "It's a copy: Fake or Fortune? Stars try to halt rival show", Richard Brooks, Sunday Times, 4 December 2016.
One auctioneer shouts you've ruined my sale at a musical scholar on Radio4. "Sotheby's view is shared by the majority of world renowned Beethoven scholars who have inspected the manuscript personally", the Sotheby's man insists when characterising a scholar's refusal to come in to view the manuscript as "irresponsible" ("Sotheby's give Beethoven expert an earful after copied manuscript row scuppers sale", The Times, 30 November 2016.)
The charge is a red herring, we say: if errors in the manuscript are visible in an auction house's high quality photographs, coming in to touch the paper will not make them go away. If the auction house's (anonymous) world authority musical experts think there are no errors, we add, they should come forward and say so. A Cambridge professor of musical theory did step forward to affirm his endorsement of the manuscript but he also admitted having been bothered by an anomaly ("Sotheby's expert admits doubts over Beethoven script", The Times, 3 December 2016.) To Sotheby's likely mortification, it was revealed that arch-rival Christie's had refused to sell the score last year, after being unable to confirm its authenticity – "Beethoven manuscript row remains unfinished", the Daily Telegraph, 30 November 2016: "There was some good news for Sotheby's however as the auction house succeeded in breaking a new auction world record for another musical manuscript…Gustav Mahler's complete Second Symphony (the 'Resurrection'), written in the composer's own hand…went for £4,546,250."
"Sotheby's catalogue was an artful dodge, claims Russian billionaire" – the Times, which reported on 8 December: "Mr Ivanov said that honest mistakes were understandable. The problem is at Sotheby's the fakes are listed as the top lots and are published". With experts in as much disarray as auction houses and dealer/broadcasters, what perfect timing, then, for the appearance of a new, cool and calm legal anatomy of the sleeper phenomenon and its associated problems of authentication.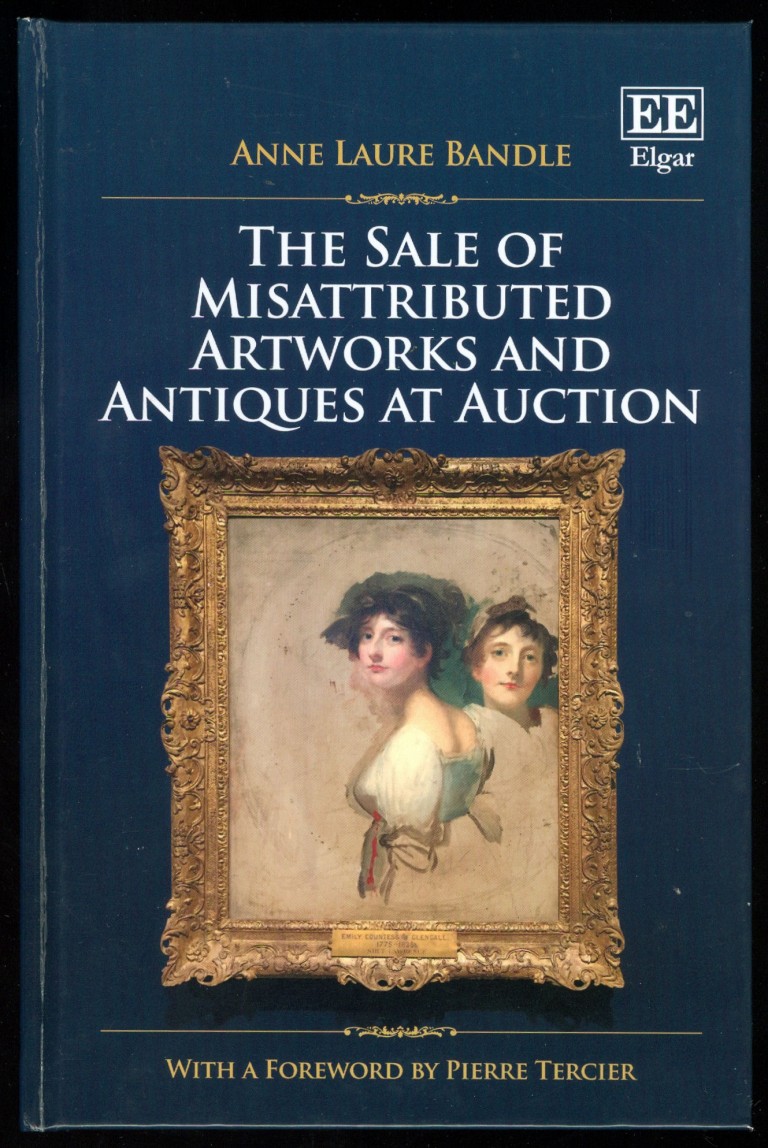 Above, Fig. 2. In "The Sale of Misattributed Artworks at Antiques at Auction" by Anne Laure Bandle of the London School of Economics and a director of the Art Law Foundation (Geneva), we encounter a book greatly richer and more urgently required than what is simply "said on its tin". This work, the product of a PhD at the LSE, deftly turns over the law with regard to art market workings as encountered and applied under three key (for the art market) systems of law, those of Swizterland, England and the United States. Under all three it is shown how the auctioneer's primary duty is to the seller (the consignor) not the buyer. It follows therefore that failing to identify the proper status of a work of a work when conferring an attribution can/should carry penalties of compensation to the consignor. However, in response to this duty/financial danger, auctioneers insert massive disclaimers of liability into their contracts and attributions. These disclaimers are also widely appreciated in terms of warnings to buyers of a need to satisfy themselves of the validity, accuracy and reliability of any catalogue description before buying. Such self-protective clauses have consequences that can bite hard on those who apply them. For one thing, we would add, forgers have not been slow to notice them.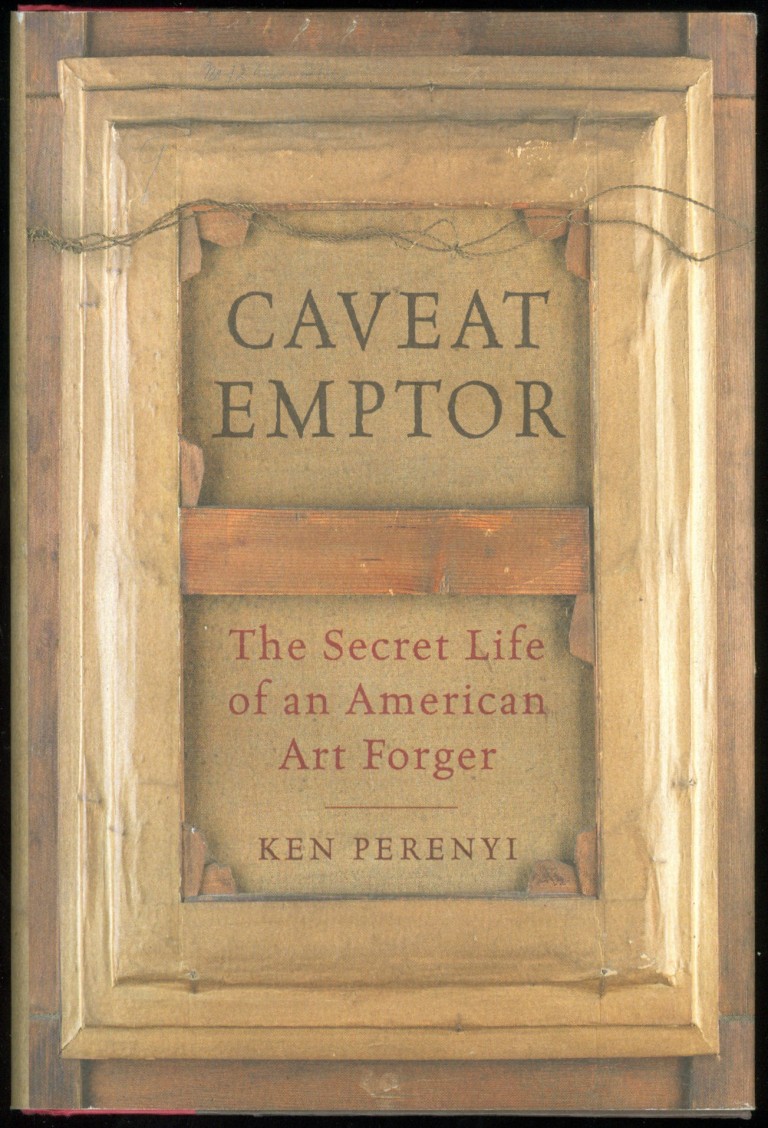 Above, Fig. 3. The American Ken Perenyi, cheekily called his 2012 Forger's Memoir Caveat Emptor – The Secret Life of an American Forger. With little interest in consignors' rights – he being both the knowing maker and the eager consignor of forgeries – Perenyi, after first studying the terminology of attributions in London auction house catalogues ("Attributed to; Signed; Studio of; Circle of; Manner of…") swiftly moved to "Conditions of Business"; "Limited Warranty"; and thence "Terms and Conditions". He reported (pp. 228-247) that when in London he noted that:
"In what can only be described as a masterpiece of duplicity, the terms and conditions made it clear (that is, if one has a law degree) that they warranted and guaranteed absolutely nothing. However, farther down, a paragraph entitled 'Guarantee' made it plain for even the most thickheaded. It stated: 'Subject to the obligations accepted by Christie's under this condition. Neither the seller Christie's, its employees, or agents is responsible for the correctness of any statement as to the authorship, origin, date, age, size medium, attribution, genuiness, or provenance of any lot.'"
On return to the United States he then examined New York auction house catalogues: "Again and again we saw the phrase neither Christie's nor the consignor make any representations as to the authorship or authenticity of any lot offered in this catalogue. 'Hell, they don't guarantee anything [over] here either!' I said."
After reading a paragraph on forgeries stating that if within five years of a sale the buyer could establish "scientifically" that a purchased painting was a fake, the "Sole Remedy" would be a refund of monies paid [- But for a cautionary case-in-point today, see UPDATE , below] Perenyi concluded the following: "A) Virtually nothing sold here was guaranteed to be what it claimed to be, B) Neither the auction house nor the seller assumed any responsibility whatsoever, C) Even if a buyer discovered a painting to be an outright fake, all he could do was ask for a refund, I came to the conclusion that this was an engraved invitation to do business."
His late partner, José, concluded "Well, maybe we could save people the trouble of going to London and sell them [Perenyi's forgeries] right here!"
In her new book, Dr Bandle carries the full terms and conditions of three auction houses (Christie's, Koller Auctionen's and Sotheby's) as an appendix. She notes that notwithstanding disclaimers, such is the volume and reach of art sales that many art market players take auction house catalogues as reference points on the identification and evaluation of art and antiques and do so particularly with regard to attributions, confidence in which confers authority and engenders trust. In this regard the "sleeper", as an under-identified and therefore under-valued work, is a special problem. A (conceptually subtle and fascinating) chapter is devoted to the sleeper's elusive and problematic character. In fact, a delight of this book is its constant precision, economy and deftness of language in what is a perpetually shifting and re-forming arena where the market structures have both democratised and globalised the ownership of art but where buyers gathered from around the globe must compete in heated races to acquire multi-million valued art in spectacular shows of competitive bidding that are over in minutes. In a recent double television celebration of Christies-in-the-World, the term "buyer's remorse" was heard in counterbalance to auctioneers' seductively whispered advice to "think how terrible you will feel tomorrow if you don't get this".
A "sleeper" is first identified as being not a legal term but a figurative illustration of a legal problem. It is one that fleshes the notion that an artwork can remain a "dormant treasure" until it is properly identified. If not so identified, it stands dangerously (to auctioneers, and expensively to consignors) as a work that has been "undervalued and mislabelled due to an expert's oversight and consequently undersold". Sleepers are products of three types of error and each receives its own section. The extent to which restorations aiming and claiming to recover original conditions may alter objects and mislead authenticators is examined.
(But for our specialised concerns, recognition of the inherently problematic nature of restoration's role in the identification and subsequent elevation of authenticity is a rare instance of under-examination in this book. Stripping off later materials does not in itself recover original states. It may disclose little more than badly damaged remains of an earlier, more "authentic" state. How much repainting, or "retouching" as it is euphemised, should be considered permissible before a worked-over sleeper approaches a forged recovery of authenticity? – See "A restorer's aim – The fine line between retouching and forgery".
It should be said that sensitivity in this arena is not an art market-confined problem: the Frick Museum does not publish the photograph below – Fig. 6 – of a stripped-down, not-yet repainted Vermeer that the Getty Institute holds and makes freely available – and many museums, in our experience, sit on photographs of their own restoration-wrecked paintings.)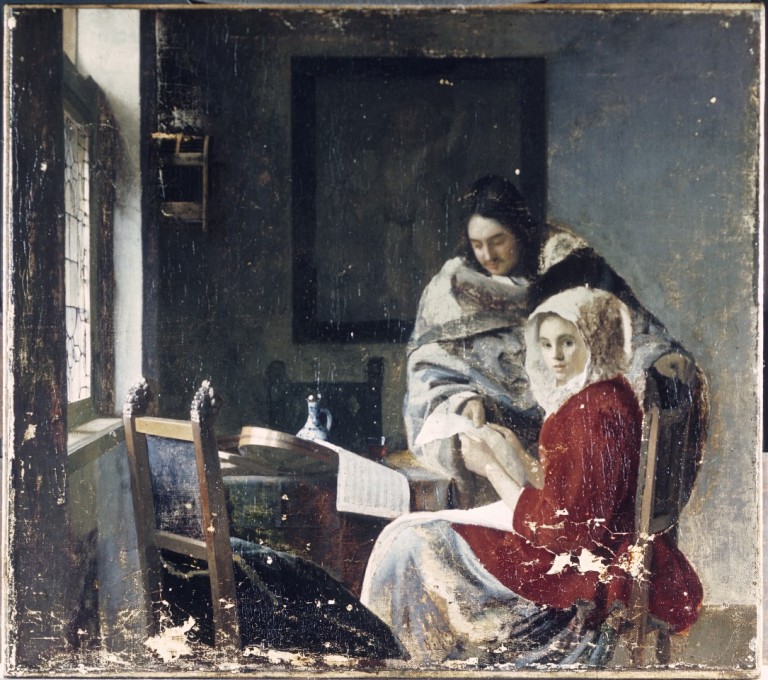 Dr Bandle's section on the relationship between sleepers and fakes or forgeries, between the unrecognised and the counterfeit, is adroitly introduced: "sleepers are the negative reflection of counterfeits: both are held as something that they are not." Fine distinctions are drawn between a fake and a forgery. Both are characterised "negative concepts, referring, as they do, not to qualities but to their absences." Before considering the legal status of sleepers, a fascinating examination is made of the tools and methods of attribution. So examined, too, are the hoped-for instruments of probity, the best-practice and ethical codes for authentication and dealing. Like auction house terms and conditions, ethical codes are shown carry their own disclaimers: "Similarly, the Swiss Association of Dealers in Antiques and Art contains a disclaimer of the attribution and appraisal's accuracy." (One hears a Perenyi expletive of delight here.) As for auction houses, while they "issue attributions in sale catalogues, they are not considered to be formal authentication reports", whatever weight they might carry in the market and for buyers.
The section on the "Essence of Attribution" might be considered essential reading for all art market players and commentators, not least because the art market "greatly relies on scholarship", and such expert appraisal is uniquely challenged "by the peculiarities of the art world" – one of which is that however long debates rage, scholars themselves "may very well never achieve a consensus", in which case, the circularity is complete: "scholarship cannot halt during the art object's identification process by establishing an attribution, not even temporarily". Like painting the Forth Bridge, attributing an art object can be "an ongoing undertaking that never settles". Existing attributions are constantly subject to challenge or revision.
The law itself can seem helpless or exasperated in the face of art world processes. Elusive notions of authenticity tax judges as well as scholars. With regard to establishing the merit or applicability of warranties of authenticity or the diligence of experts, even the admission of testimony is problematic within both Swiss civil law and the English and United States traditions of common law. Swiss courts can commission reports and instruct experts to answer set questions. Under common law conflicting parties support their rival positions by calling rival and conflicting experts. Courts may confine these adversarial jousts to "that which is reasonably required". Under US Federal rules courts may exclude what they consider "unreliable expert testimony" and even when testimony is based on scientific principles it may be held acceptable only when these principles have "gained general acceptance".
Under Swiss, English and United States jurisdictions alike, contractual relationships governing art auction sales are not clearly defined by law and are subject to scholarly debate (which, as mentioned, is a never-ending process). Further complications arise from the dual and conflicted position of the auctioneer. Does he really serve the buyer's or the seller's interest – or, somehow, both? In practice, we might think, he should/must aim to serve both since different people must always be persuaded any moment that it is a "good time" to sell and a "good time" to buy. Failures to recognise "sleepers" are the mirror image of failures to recognise fakes or forgeries: the one injures consignors' interests, the other those of the buyer. But how to stay out of trouble as an auctioneer when case law results in unclear and unreliable notions of liability – and while there is a requirement to perform diligently but not one to produce to specific results?
By increments the law emerges as unfit for its presently allotted purpose in resolving sleeper disputes. Auctioneers are judged by standards predicated on what is little more than a fiction. Standards of performance must be interpreted on a case-by-case basis but these provide no benchmark in cases of sleepers sold at auctions. Aside from these problems, judges generally lack connoisseurship in art and art auction sales and may have difficulty in assessing authenticity and in reconstructing the attribution process – and while this is understandable because art connoisseurship and art market mechanisms are both highly sensitive and influential forces, judges, no matter how well educated and competent in other areas of the law, will struggle to redress a present structural imbalance between the interests of (favoured) buyers and (disfavoured) consignors.
Can applications of the law be made to work in this arena? Are alternatives to the law presently or potentially available? For answers to these questions it is necessary to read the concluding section of a timely book that will commend itself to Art's players and watchers alike.
The Sale of Misattributed Artworks and Antiques at Auction, Anne Laure Bandle. ISBN: 978 1 78643 100 4 Price £100 or Web: £90
Michael Daley, 15 December 2016
UPDATE 17 December 2016
In the 17/18 December Financial Times "The Art Market", Melanie Gerlis writes:
" Art is notoriously a 'buyer beware' market, but even prolific professionals can get caught out. Micky Tiroche, a private dealer in London and co-founder of the Tiroche auction house in Israel, bought 'Sun and Stars', a gouache attributed to Alexander Calder, for £28,000 (with fees) at Bonhams, London in 2007. The purchase was made through his dealing company, Thomas Holdings, which has about 160 works on paper by Calder.
"In 2013, the gouache was submitted, along with other works, to the Calder Foundation in New York, which doesn't officially authenticate the artist's works but gives them an inventory number (known as an 'A-number' because the digits are prefixed with the letter A). 'Sun and Stars' was not given an A-number, making it effectively unsellable.
"Christie's, Sotheby's and now Bonhams will not sell Calder works that do not have an A-number.
"Tiroche, who buys frequently at Bonhams as well as elsewhere, says that he asked the auction house for a refund and was refused. He has suggested alternative, less visible ways of refunding (such as deducting its value from other works) and legal letters have been exchanged, but to no avail.
"A spokesman for Bonhams said: 'It is [the auction house's policy] not to discuss individual cases, beyond saying that we are in communication with Mr Tiroche's company about the situation."
---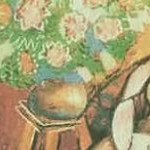 24 February 2014
On February 10th the Daily Telegraph published a letter from a professor of chemistry at University College London (Robin J. H. Clark) questioning the relationship between art and science in general terms and with regard to a supposed Chagall painting featured on a recent BBC Fake or Fortune television programme. Prof. Clark expressed particular concern over art world failures to heed the testimony of available scientific techniques.
In the late 1980s the UCL chemistry department had developed a non-invasive technique ("Raman microscopy") for identifying both natural and synthetic pigments within paintings. Because the latter have known dates of invention, their presence in a picture can establish the earliest date at which it could have been produced. This technique is said by Prof. Clark to have been known to Sotheby's by 1992. The Chagall painting, he pointed out, could have been exposed as a fake at any point in the last 20 years. He further reported that the painting was exposed as a forgery in his UCL laboratory in July last year in the presence of its owners and the presenters of Fake or Fortune:
"I am disappointed that neither of the presenters of Fake or Fortune made this clear. The conclusion that the painting is a forgery is based on our spectroscopic results, which showed that at least two of the key pigments had not been synthesized until the late Thirties, putting the earliest date for the painting at 1938, long after the supposed date of 1909-10."
Because of the unequivocal nature of those technical findings, Prof. Clark (rightly) observed that the Chagall Committee in Paris, to which the painting was sent, had no option but to confirm the forgery. He also asked how art historians might be encouraged to read science journals so as be informed about "significant developments in science as applied to arts". In part, his question is fair and urgent. The art market's notorious governing trade dictum is caveat emptor (buyer beware) – while auctioneers and dealers may take every pain to verify their claims, it is ultimately for buyers to satisfy themselves that attributions and conditions are as described. Auctioneers can only submit works to (possibly disqualifying) technical analysis with owners' permission. Dealers who buy at auctions almost invariably have works restored but are not required, when selling works on, to disclose which if any tests may have been run.
Support on the extent to which scientific (and also historical and visual) evidence is ignored or manipulated in the interests of "boosting financial rewards in attributing paintings to particular masters" was given in an Observer interview on February 23rd ("Revelealed: the art experts who pass fakes as authentic") by Professor Martin Kemp, a Leonardo specialist. In the same report by Dalya Alberge, Nicholas Eastaugh, a leading independent scientist (of Art Access and Research), described the present climate as being both without standards and "totally unregulated. It's a Wild West."
However, much as we sympathised with Prof. Clark's impatience with some art world practices, we could not endorse his call for a blanket acceptance of all scientific methods presently being applied to works of art. As we put it in a letter to the Daily Telegraph (published 12 February):
"Professor Robin Clark (letters February 10) calls for developments in science to be applied to art. If sound science is underused by the art trade, more questionable 'scientific studies' have been used for many years to offer assurances that picture-cleaners' solvents have been a safe method of stripping varnishes and repaint from old pictures. As the current issue of the journal of the International Institute for Conservation of Historic and Artistic Works makes clear, the understanding in the art and museum world since the Sixties of how solvents work has been seriously flawed scientifically. Because important intermolecular interactions have been ignored, the theoretical model used cannot predict, as assumed, the actions of solvents on the underlying paints."
History teaches that the many cumulative "scientific" defences of restorations have best been treated with scepticism. In 1977 Kenneth Clark admitted founding the National Gallery's conservation science department precisely to bamboozle critics and dupe the public. In later years the Gallery pioneered a new mongrel discipline known as Technical Art History in which curators, conservators and conservation scientists pool expertises so as to arrive at some seemingly "scientifically underpinned" consensus on aesthetic decisions. In reality curators were glossing authority already-ceded to restorers. As the National Gallery restorer Helmut Ruhemann wrote in 1968: "Although the art historians in charge of pictures are officially responsible for the policies regarding cleaning, they naturally form their ideas in the first place from what they are told by their restorers."
In its guides to conservation the National Gallery presently claims that while its restorations are carried out for aesthetic rather than conservation purposes, and while each restorer imposes a personal aesthetic taste on pictures, it considers all aesthetically various outcomes to be equally valid so long as they have been carried out "safely". The contention that the (claimed) safety of cleaning methods can underwrite conflicting aesthetic outcomes is a non sequitur. Besides which, no claims have proved more unreliable than those of cleaning solvents' safety.
The crucial and sometimes wilfully over-looked cultural truth is that there are no properly scientific means of comprehending art's variously created aesthetic values and relationships. When reiterating this point in our post of 7 February 2014 ("From the Horse's Mouth ~ Seventy years of worthless 'science' and reassurances on the safety of picture cleaning solvents") we were able to disclose the most recent and most damning evidence of the un-soundness of past scientific endorsements of picture-cleaning solvents.
Notwithstanding these spectacular technical reverses, this month the press has been chocked with uncritical "Good News" accounts of scientific advances in the arts. Most newspapers and the BBC carried claims that scientists had "digitally reconstructed" the original appearance of a Renoir painting in which a former pink background had faded. By coincidence, this claimed miraculous virtual recovery had also been made by "a technique known as Surface-Enhanced Raman Spectroscopy (SERS)" carried out at the Art Institute of Chicago.
The BBC reported that "Northwestern University chemist Prof Richard Van Duyne pioneered SERS. He said the Renoir demonstrated why the Raman technique was fast becoming an invaluable tool for studying artworks: 'You get tremendous information about the origins of the painting, the techniques of the artist, an understanding of the fading mechanism, and the ability to restore the painting.'" Note that speculative hypotheses are now being presented as sound platforms for restorations. In the art world it is frequently the dogs that don't bark that matter most. Note that this wonder technique which addresses changes resulting from natural causes would seem to have no powers or potential with regard to the more common and much more seriously deleterious man-made changes made by restorers. Given that both types of injury are easily evident by eye to anyone lifing a picture out of its frame (see Figs. 2 and 3), the silence of "science" on the latter injuries can only seem self-compromising .
In a letter to the Times (February 17) we protested:
"The claim that scientists have recreated the original appearance of a Renoir painting ('Laser technique shows masterpiece as Renoir intended', Feb 14) is unfounded. All elements of a picture undergo natural changes over time. To these, further unnatural changes are added by restorers and their invasive paint-penetrating solvents. Compensating for a single faded pigment does not constitute a recovery of a picture's original appearance. Rather, it offers a further falsification: a single artificially simulated ingredient within a remaining, generally altered and debilitated surviving whole."
Our letter was accompanied by one from a Professor of Allergy and Clinical Immunology at Imperial College London, making a far-fetched claim that the fact that a synthetic red dye used in paintings had also helped in the discovery of an important white blood cell constituted an unusual "bridging [of] fine art and science".
While Raman microscopy could certainly disprove the claimed date of the fake Chagall, it seriously misleads the public to present speculative and hypothetical digitally manipulated reconstructions as if literal recoveries of original conditions. On February 22nd the Economist reported an account of another digital re-mastering of real paintings delivered at this year's meeting of the American Association for the Advancement of Science. The Economist too saw a bridging of the divide between art and science, which it likens to a resolution of the science/art schism of which the chemist and novelist C. P. Snow complained in his famous 1959 lecture "The Two Cultures". The report also reveals, however, that what was presented as a recovery of the murals' original conditions was in fact a double hypothetical reconstruction. Not only had Rothko's colours faded, so too had those of the contemporary photographs of his murals that were to serve as the basis for a digital re-mastering of the actual paintings. Despite the methodologically dubious procedure of digitally re-mastering actual paintings on the back of digitally re-mastered photographs, there was customary breathless admiration for this latest claimed technical miracle:
"In the case of the Holyoke Centre's Rothkos […e]ach had faded differently, depending on its original colours and how much sunlight it had seen. And various parts of individual paintings had faded at different rates, too. But modern technology allows optical illusions to be finely crafted indeed. The paintings are continuously observed by a high-resolution camera. Its images are compared, pixel by pixel, with the idealised versions provided by the restored photographs. A computer then works out, moment by moment, what mixture of light to shine back to make the faded originals match the vibrant reconstructions—with no messy repainting necessary. For now, the paintings remain under wraps while the museum at which they are stored is renovated. One day soon, though, they will be on display in all their illusory glory."
There was no discussion of the consequences of viewers' bodies blocking the projected "correcting" coloured lights. What we are witnessing in this heavily promoted technical bonanza is not a genuinely increased understanding of art by courtesy of scientific advances. If the attempt to increase public understanding of the degree to which even quite modern paintings have suffered alterations since their executions was a real ambition of museum staffs and conservation scientists, it would be imperative for them to discuss (and demonstrate) the largest single source of alterations and adulterations: "restoration" treatments. In the absence of such an agenda, what we see unfolding is a cultually diversionary Big Push by certain professional groups into new and uncontroversial employment pastures where the potential pickings and funding opportunities are immense – there is scarcely an old picture in existence where some pigments have not faded. This virtual remastering show is one that could run and run. But who might fund and who might execute research into all those paintings that suffered far more grievously from the chemical coshes of restorers?
The real problem in the arts is not an insufficiency of technical or scientific assistance. It is deeper and more fundamental. Its root lies within institutional withdrawals from exercising properly critical considerations. The non-appliance of due critical practices is long-standing. There were uncritical responses in the late 1990s when (as we reported in our first post) the National Gallery used a computer-manipulated photograph of an actual skull as the basis for a hypothetical virtual reconstruction of missing parts in Holbein's "The Ambassadors" which led to the redrawing of Holbein's skull in defiance (or ignorance) of the perspectival systems of the artist's times. More recently, the Tate repainted large lost parts of a flood-damaged work on the basis of early colour photographs in the course of a "restoration". In our uncritical, increasingly "virtual" cultural universe it is more urgent than ever that museum curators should return to acting primarily on sound scholarly appraisals and aesthetically informed insights, and that they should not further devolve their responsibilities to technicians who may or may not be properly alert to matters aesthetic and artistic.
Michael Daley
Comments may be left at: artwatch.uk@gmail.com
---
wibble!