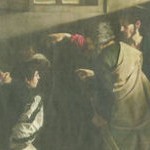 26th March 2011
It was recently claimed that "fresh insight" gained on Caravaggio's painting technique supports David Hockney's theory that the artist used a primitive form of photography to create his paintings ("Exhibition sheds new light on the art of Caravaggio", Daily Telegraph report, March 11th). Diagrams, mirrors and light boxes displayed in an exhibition at the Palazzo Venezia in Rome, were said to "show" that Caravaggio "may indeed have" used a camera obscura to project figures on to a canvas so that they might be painted directly, with "extraordinary realism" and without any need for designs or preliminary studies. Showing that someone may have done something cuts no ice when logic, logistics and the laws of art all combine to testify against the Hockney hypothesis.
"Insight" itself is a weasel term and is not the same thing as evidence. The art historian supporting Hockney's thesis, Dr John Spike, offered the observation that "Gallileo was developing the telescope and they [artists] were all fascinated by optics" as if by way of some circumstantial corroboration. Whether or not they were so fascinated, we should note the absence of evidence and consider the logistical difficulties that they would have faced if attempting to work on the basis of the Hockney Hypothesis.
Are we really to suppose that all the figures and animals, and babies, and flying angels, writhing serpents, crucified men and beheaded victims depicted in Caravaggio's paintings in arrested moments of extremis, were actually copied directly, literally, from life? More specifically, are we to suppose that various combinations of human, bestial and divine creatures were first assembled and then simultaneously posed in full costume for as long as it took the artist to convert their projected photographic image into his painted pictures? (See illustrations on the right.)
Or should we believe that each figure was individually copied down, in full costume, exactly as seen when projected through a pinhole onto a wall in a darkened room? If so, was each painted figure subsequently "overlapped" and partly obliterated by the next in the sequence? Is there any material evidence of such overlaps? If not, we would have to assume that Caravaggio painted directly onto only that part of the projected image that would remain visible when the next figure was copied in. Timing is an important separate consideration: whether the models were depicted in entire groups or individually, how long would they have been expected to hold their usually animated and dramatically expressive poses (see right) in a compositionally perfect position in relation to other figures not yet posed or painted?
<