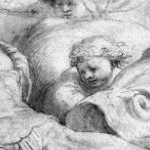 27 May 2013
"Judging by Past Experience, it is Perilous to Suggest Restoration…"
~ Charles Heath Wilson, 1881, "The Life and Works of Michelangelo Buonarroti". Publisher: John Murray, London.
"I once barged into a correspondence in The Times when the National Gallery was under fire from the 'anti-cleaners'. I was ticked off very severely by Lord Crawford, the Chairman of the Trustees. I had, mildly I thought, criticised the authorities for ignoring the sincerely held views of the opposition…I was later restored to favour in high places when I made it clear in an article in The Studio that I was convinced that our National Treasures were in the keeping of qualified responsible people."
T. J. Honeyman, 1971, "Art and Audacity". Publisher: Collins, London.
It is not widely appreciated how inherently dangerous art restoration practices remain, or how culturally deranging restoration changes can be. At the bottom end of the trade, restorers often advertise their services on a promise to leave pictures "as good as new – or better". The restoration of Michelangelo's Sistine Chapel ceiling was – on the accounts of its own restorers and initiators – the biggest, the best, the most scientifically advanced and "radically transforming" top-end restoration ever undertaken. This "Restoration of the Century" left one of the world's greatest artistic accomplishments so profoundly unlike its former self that enthusiasts could announce the discovery of a "New Michelangelo" who was "very different from the one art experts thought they knew". At the same time, the chief restorer thrilled in 1982 that the frescoes looked as good as new: "as though they were executed yesterday". In the midst of this commonplace restorers' confusion between "recoveries" and "discoveries" (or sometimes, "revelations"), some surprising expressions of support materialised. In 1987, a top-end art historian writing in the magazine Apollo [Endnote 1] announced the demolition of the "Darkness Fallacy and the Sculptural Fallacy" within Michelangelo scholarship, and predicted that the then concurrent restorations of the Sistine and Brancacci chapels would leave both Michelangelo and Masaccio as "less isolated geniuses" who would be "returned to their respective periods" (i.e. confined within designated art historical boxes). In 1991, a newspaper art critic exulted in the displacement of "doomy outpourings of religious angst" by colours as "bright as Opal Fruits" – which colours reflected the workings of a "much more rational mind" [2]. Unsurprisingly, such professional pleasure-taking in chemical transformations that could cut artistic Titans down to size alarmed those who had been happy with the surviving Michelangelo, and an enormous controversy arose. Unsurprisingly, the criticised characterised the criticisers as instances of "the magnitude of the shock to entrenched opinion" that had been unleashed by a triumphant restoration. (As will be seen, the expression of sincerely held citicisms can be harshly punished when substantial vested conservation interests are challenged.)
Behind this interpretive culture war, the effects of the restoration on Michelangelo's art were material and aesthetic. Those changes are forever. Although bad scholarship can be remedied by good scholarship, the latter cannot undo damage to unique, historic works. What remains to be done, a third of a century after the restoration's 1980 launch, is a proper, disinterested aesthetically informed analysis of the restoration-induced changes, item by item, figure by figure, photograph by photograph; and, a frank evaluation and acknowledgement of their cultural and art historical consequences. Had this restoration's profound transformation been accepted without challenge, we would be in a world today where technicians enjoyed unfettered licence to rewrite (or as they sometimes prefer, "to re-present") history itself. Even tacit endorsements of injurious restorations can damage scholarship and falsify history.
The restoration of Michelangelo's Sistine Chapel ceiling was well and publicly defended from 1980 until the mid 1990s. At that period, a seismic shift occurred. What follows is an examination from a British perspective of the restoration's defences up to 1995 (in which year implicit art historical support for the restoration resulted in a seriously misleading exhibition at the National Gallery); and, a further presentation of visual proofs of the restoration's injurious consequences. We note here how many supporters have admitted entertaining doubts about the restoration's probity.
A new cleaning method, and the selling of a "New Michelangelo"
In the 1980s, at the height of an international restoration mania, a supposedly "advanced" "scientific" cleaning material was used on Michelangelo's Sistine Chapel ceiling. It was ferocious in its effects and mechanistic in its application which was expressly designed to thwart personal and allegedly "subjective" and "unscientific", aesthetic appraisals. The most sophisticated imagery on an immensely important historic work of art was thus subjected to a "treatment" that derived not from the complexities of picture restoration and its necessary acts of discrimination and constant evaluation but, rather, from architectural stone cleaning techniques. This cleaning method altered the ceiling's centuries old artistic/historic continuity to such a degree that the restorers and their supporters ventured that history would need to be rewritten. The changes, for sure, were dramatic: depictions of figures that had been archetypally and transcendentally alive were brightened, flattened, rendered more abstract, more "on the picture surface" and left with an altogether more modernist and imaginatively impoverished aspect. Contrary to official claims this (demonstrably) was not a liberation or recovery of the ceiling's original condition and appearance – see, particularly, Figs. 1 and 60.
When Michelangelo's ceiling was unveiled in 1512 the world was stunned by the grandeur, pictorial audacity and, above all, by figural inventions that had rendered the divine corporeal and vividly alive within our own space and time. Michelangelo had not so much made depictions-on-surfaces as conjured perceived spaces adjacent to the ceiling's imperfect forms. His optically "sculpted" spaces – which opened vistas beyond the ceiling's surfaces while simultaneously projecting figures in front of them – had been realised through powers of draughtsmanship and modelling with utter disregard for the "integrity" of the architectural surfaces. Seemingly palpable space was necessary to situate Michelangelo's monumental programme of over three hundred figures – figures that ran from depicted carved stone sculptures (his architecture-adorning putti), through living, space-occupying young sculptural Adonis's (his contorted, anxious ignudi) and, more prosaically, through the historical ancestors of Christ, to the divinely gifted Prophets and Sibyls, and finally to God Himself and his celestial supporters. This was immediately acclaimed as a dazzling artistic and illusionistic advance. Its eventual influence was to carry mural painting into the Baroque and beyond. Although artistic fashions and modes of description change constantly, for nearly five centuries this "stupendous" work's vital relationships endured, as the many copies made throughout its existence testify (see Fig. 1b).
How Doubts became Denials
With the restoration of Michelangelo's Sistine Chapel ceiling, while some art world players were galvanized into opposition, many others were excited and swept along by the presumptuous magnitude of the transformation. As mentioned, many of the supporters of the restoration have disclosed moments of doubt. We cited in our post of March 4th that the co-director and chief restorer of the ceiling, Gianluigi Colalucci, had said in 1990: "I must confess I harbour a lingering almost subconscious fear that someday someone will come, unexpectedly, with a really intelligent observation that will show all of us to have been blind." The following year the Sunday Times art critic, Waldemar Januszczak, produced a celebratory book ("Sayonara Michelangelo") in which he asked in the face of the transition:
"Who among us looking up for the first time at this new, bright, clear Sistine ceiling, perfectly rational, a light-filled work, was not tempted by the doubt: it can't be so."