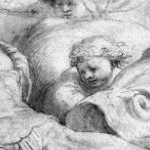 27 May 2013
"Judging by Past Experience, it is Perilous to Suggest Restoration…"
~ Charles Heath Wilson, 1881, "The Life and Works of Michelangelo Buonarroti". Publisher: John Murray, London.
"I once barged into a correspondence in The Times when the National Gallery was under fire from the 'anti-cleaners'. I was ticked off very severely by Lord Crawford, the Chairman of the Trustees. I had, mildly I thought, criticised the authorities for ignoring the sincerely held views of the opposition…I was later restored to favour in high places when I made it clear in an article in The Studio that I was convinced that our National Treasures were in the keeping of qualified responsible people."
T. J. Honeyman, 1971, "Art and Audacity". Publisher: Collins, London.
It is not widely appreciated how inherently dangerous art restoration practices remain, or how culturally deranging restoration changes can be. At the bottom end of the trade, restorers often adve