Where history is generally held to be the handiwork of victors, in the art world, losers are often quickest off the block to re-write official narratives. No sooner had the catastrophic restoration losses on the Sistine Chapel ceiling become apparent than Vatican Museum officials declared that art history would have to be re-written in light of their chemically-excavated discoveries. The art historical establishment that had underwritten the restoration's untested technical radicalism obligingly rewrote Michelangelo (as a long-unsuspected brilliant colourist) in a score of learned articles. In Italy today that exercise might seem to have succeeded: every Italian school child now learns of the "Glorious Restoration".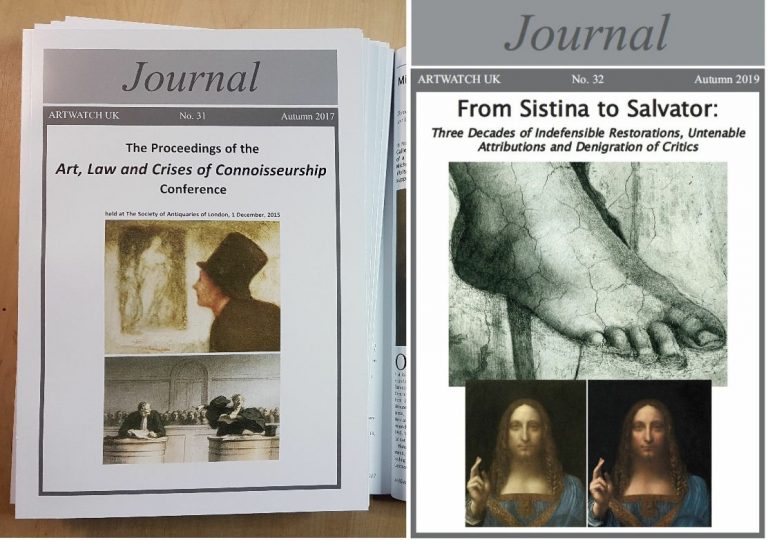 Rachel Spence, the Financial Times' reviewer of the newly opened Louvre "not-a-blockbuster" blockbuster "Léonard de Vinci" exhibition, advised (26/27 October 2019): "Forget all the brouhaha around the 'Salvator Mundi' (it's not here and shows no sign of arriving)…" How sweet that invitation not-to-address must have sounded to the Louvre authorities who had asked the day after the November 2017 sale at Christie's, New York, to borrow the by then greatly-transformed work for their long-planned 2019 Leonardo anniversary extravaganza. That request was accompanied by one from the Royal Academy craving to include the work in their great Charles I Collection blockbuster exhibition. The 2017 sale's outcome was taken by many of the Salvator Mundi's advocates as an absolute validation of its post-2011 upgraded ascription.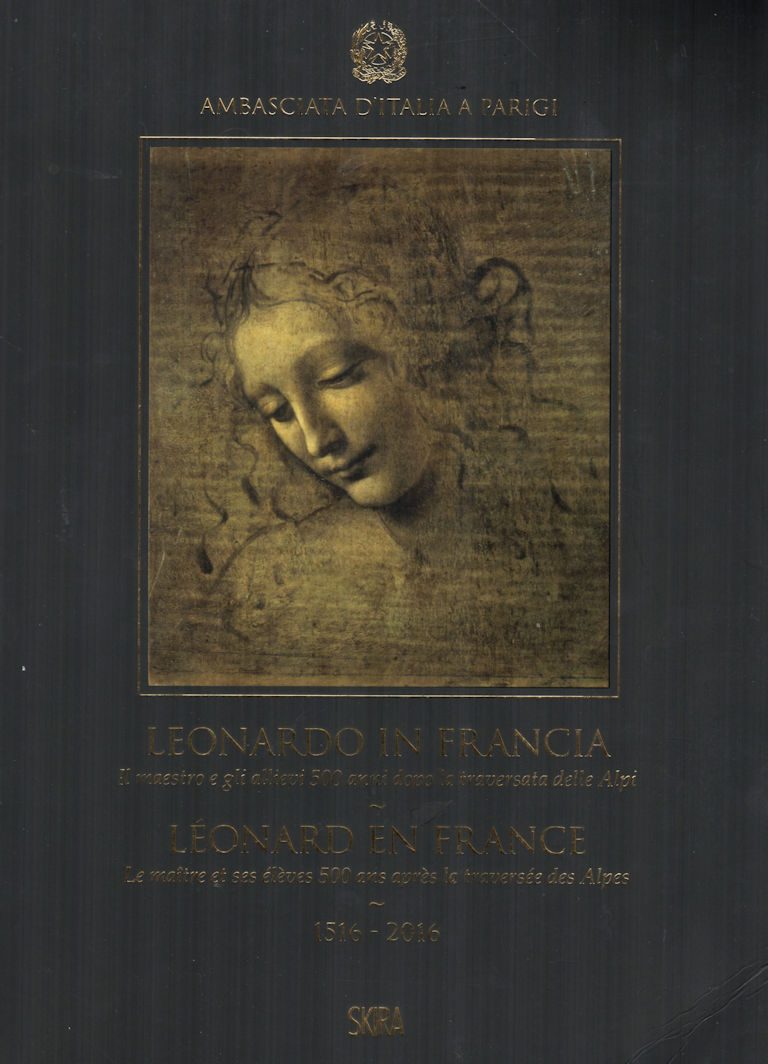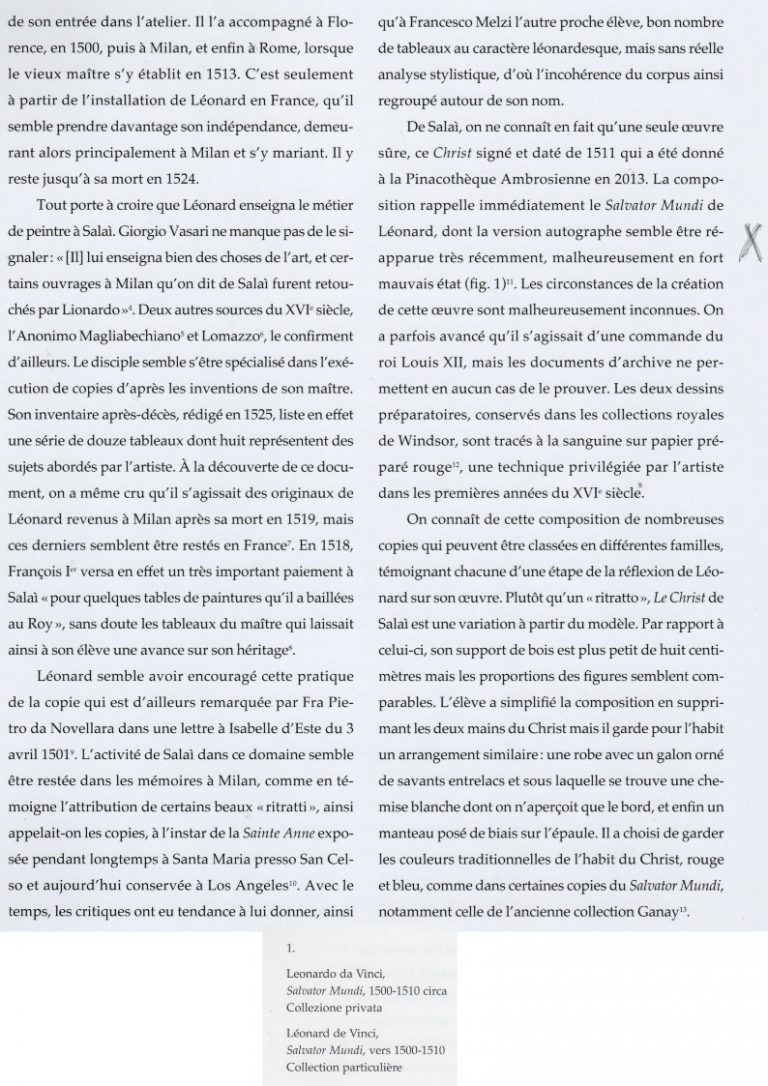 Christie's "unusually broad consensus" of scholarly support included Vincent Delieuvin, the co-author of the present Louvre "Léonard de Vinci" exhibition. In the 2016 catalogue to the exhibition "Leonardo in Francia – Léonard en France, 1516-2016" (Figs. 2 and 3 above), held at the Italian Embassy in Paris in September/November 2016, Delieuvin wrote, p. 286: "The composition [of Salai's Christ in the Ambrosiana, Milan] is strikingly close to Salvator Mundi, whose autograph version seems retrieved now, unfortunately in very bad condition". Thus, in their fig. 1 reference to the restored Cook version (shown at our Fig. 1, above right, in both its 2011-12 state at the National Gallery and its 2017 Christie's sale state) the Louvre presented the picture as the supposedly "long-lost" autograph prototype painting for the many other Salvator Mundi versions – just as it had been claimed to be by the National Gallery, in the catalogue entry for its 2011-12 Leonardo blockbuster "Leonardo da Vinci – Painter at the Court of Milan".
In the catalogue of the present Louvre Museum Leonardo exhibition, the (absent) Salvator Mundi is no longer attributed to Leonardo da Vinci. Instead, it is simply listed as: "Fig. 103 bis, Salvator Mundi, the Cook version, c. 1505-1515". It is reproduced in colour (p, 305) but with no catalogue entry. A chapter (pp. 302-313) by Delieuvin is devoted to a Salvator Mundi composition that has traditionally been attributed to Leonardo, though unsupported by any contemporary archival document. In other words, the New York/Abu Dhabi Salvator Mundi has reverted to being one anonymous Leonardesque painting among many "with no decisive arguments which could have let a consensus emerge [regarding the attribution to Leonardo] from the concerned specialists". Christie's once-vaunted "unusually broad consensus" is now no consensus at all!
Some today hold that the "brouhaha" was triggered not by the substantial and various opposition to the picture's upgrading but by the startling auction price it achieved in 2017 ($450million). At the time of the sale, many held that the attributed picture's astronomical sale price had crushed the work's critics and few more so than the sometime old masters art dealer and auctioneer, Bendor Grosvenor, who gushed support for Christie's decision to pull the Salvator Mundi away from the old masters' sale so as to thwart the depressing effect of informed art trade "nay-sayers":
"It's 1 a m here in the UK and I've just witnessed the most extraordinary moment of auction drama at Christie's New York (via Facebook live). Leonardo's Salvator Mundi has sold for £400m hammer, or $450m with fees.
"The lot was first announced as 'selling' at $80m, which I presume represents the level of the guarantee. Bidding was then brisk to the high $100ms, before, to audible gasps in the room, the picture broke through the $200m mark. Thereafter it was a battle between two phone bidders. The winning bidder kept making unilateral bids way above the usual bidding increments. Their final gambit was to announce, with the bidding at $370m, that their next bid was $400m. This finally knocked the competition out, and – after 19 minutes – the hammer came down. Whoever it was evidently has some serious cash to burn.
"And so an Old Master painting has become the most expensive artwork ever sold. It will have completely overshadowed everything else in the sale. The next lot, a Basquiat (usually a high point for contemporary sales) bought in as the room buzzed with Leonardo chatter. Will the sale prompt people to now look anew at Old Masters? Maybe. It will surely end for good now the tired cliché that the Old Master market is dead.
"Some immediate thoughts. First, the guarantor has made a few quid, and deserves it – guaranteeing that picture at this stage in its history (post rediscovery, and in the midst of an ugly legal battle between the vendor and his agent) was quite a risk. Second, the vendor – Russian billionaire Dmitry Rybolovlev – has made about $180m. He's in the midst of a legal battle with the person he bought the picture from, an art agent called Yves Bouvier, alleging that he was over-charged (it has been reported that Bouvier bought it from Sotheby's for about $80m, and sold it to Rybolovlev for about $125m – allegedly). I'm not sure how that over-charging allegation plays out now.
"Third, Christie's just did something that re-writes the history of auctioneering. They took a big gamble with their brand, their strategy to sell the picture, and not to mention the reputations of their leadership team, and they pulled it off. They marketed the picture brilliantly – the best piece of art marketing I've ever seen. Above all, they had absolute faith in the picture. AHN [Grosvenor's Art History News website] congratulates them all.
"Finally, despite the fact that this picture enjoyed near universal endorsement from Leonardo scholars, and had a weight of other technical and historical evidence behind it, there was a tendency in many quarters to be sniffy about it. I found this puzzling – not just because (for what it's worth) I believed in the picture myself – since the determination amongst some to criticise the picture was in inverse proportion to their art historical expertise. It sometimes seems that the more famous the artist, the more people assume they are an expert in them. And with Leonardo being the most famous of them all, the armchair connoisseurs have been having a field day these last few weeks.
"Anyway, I'm going to bed. What a ride. I was sure the picture would sell, but never imagined it would make this much. We must all now wonder where the picture is going to end up next."
Two years later, when we, the Louvre, and everyone else, were still wondering where the picture might be, Grosvenor, in or out of his arm chair, suffered a reverse when his earlier television-launched Great Raphael Discovery bit the dust after professional examination at the National Gallery – as we observed in the 19 August 2019 Daily Telegraph: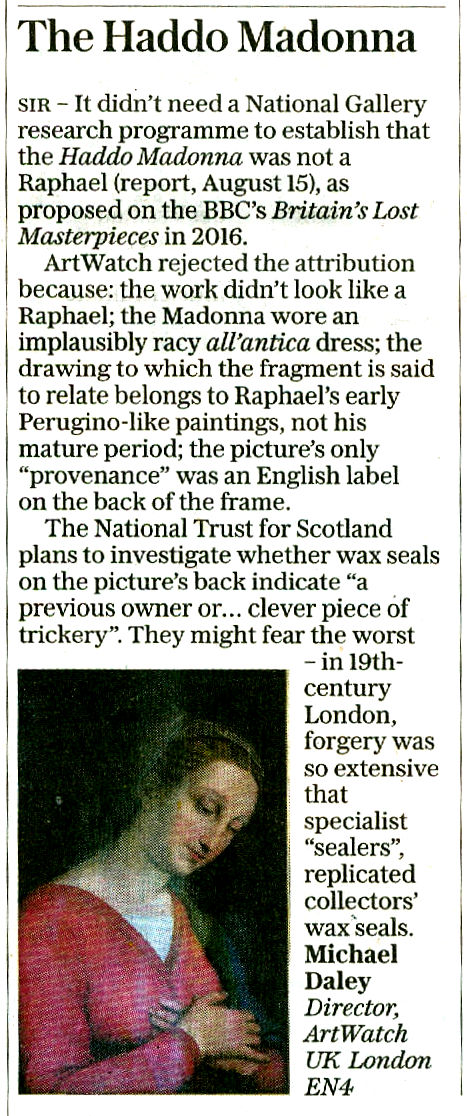 In 2018 Professor Martin Kemp, a key member of the Scholarly Consensus was cooler on Christie's choice of sale in his memoir Living with Leonardo:
"It was, however, a great surprise to find that the Salvator was to be sold Christie's in New York on 15 November 2017 in a mega-auction of celebrity works of art from the modern era. [Some saw that as being apt in view of the picture's extensive repainting.] The auctioneers sent the painting on a glamorous marketing tour of Hong Kong, San Francisco and London. I was approached by the auctioneers to confirm my research and agreed to record a video interview to combat the misinformation appearing in the press – providing I was not drawn into the actual sale process.
"The price inched upwards from less than $100 million to $450 million, shattering the world record for a work of art. The result was cheered to the rafters. I was besieged by media requests for comment. Three weeks later reports that it had been purchased by one of two Saudi princes began to circulate, prompting Christie's to announce that it had been acquired by Abu Dhabi's Department of Culture and Tourism for the Louvre Abu Dhabi, the remarkable new 'world museum', where it will join Leonardo's La belle Ferronnière. A public home at last, I hope."
The brouhaha should not be brushed aside. Too many urgent issues have arisen concerning, for example, the singular debate and scrutiny-avoiding means by which the supposedly solid consensus was assembled (- and, on this, see Ben Lewis's The Last Leonardo), and the top-secret restoration work that was carried out at the Conservation Center of New York University's prestigious Institute of Fine Arts, during which covert operation the drapery at the (true) left shoulder of Christ was transformed and simplified (Figs. 1 above and 7 below) immediately ahead of the pre-sale world marketing tour – as revealed in "Auctioneers Christie's admit Leonardo da Vinci painting which became the world's most expensive artwork when it sold for $340m has been retouched in the last five years". While in truth we still don't know the whole story or even the post-sale whereabouts of the picture, much of the recent ground is covered in the ArtWatch UK members' Journal No 32, as sampled in Figs. 5-8 below. [AWUK Journals are distributed free to members. New members receive the previous two issues – presently as shown at Fig. 1 above. For membership application details please write to Membership at: artwatch.uk@gmail.com ]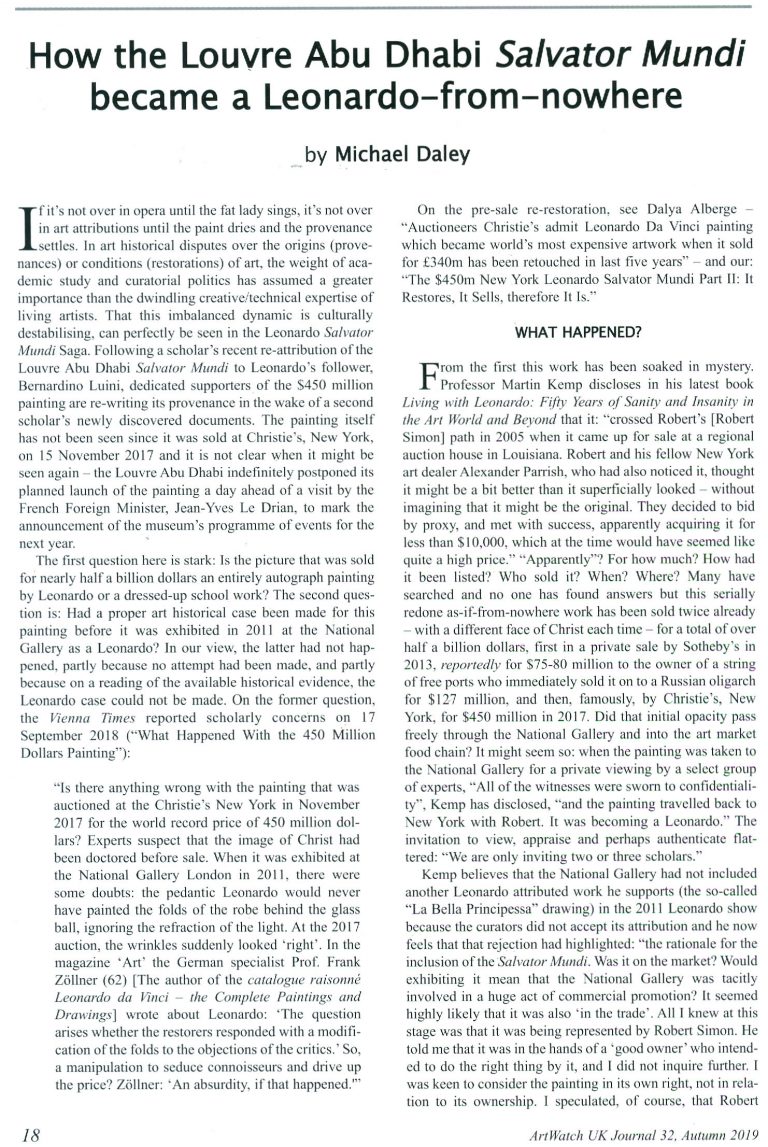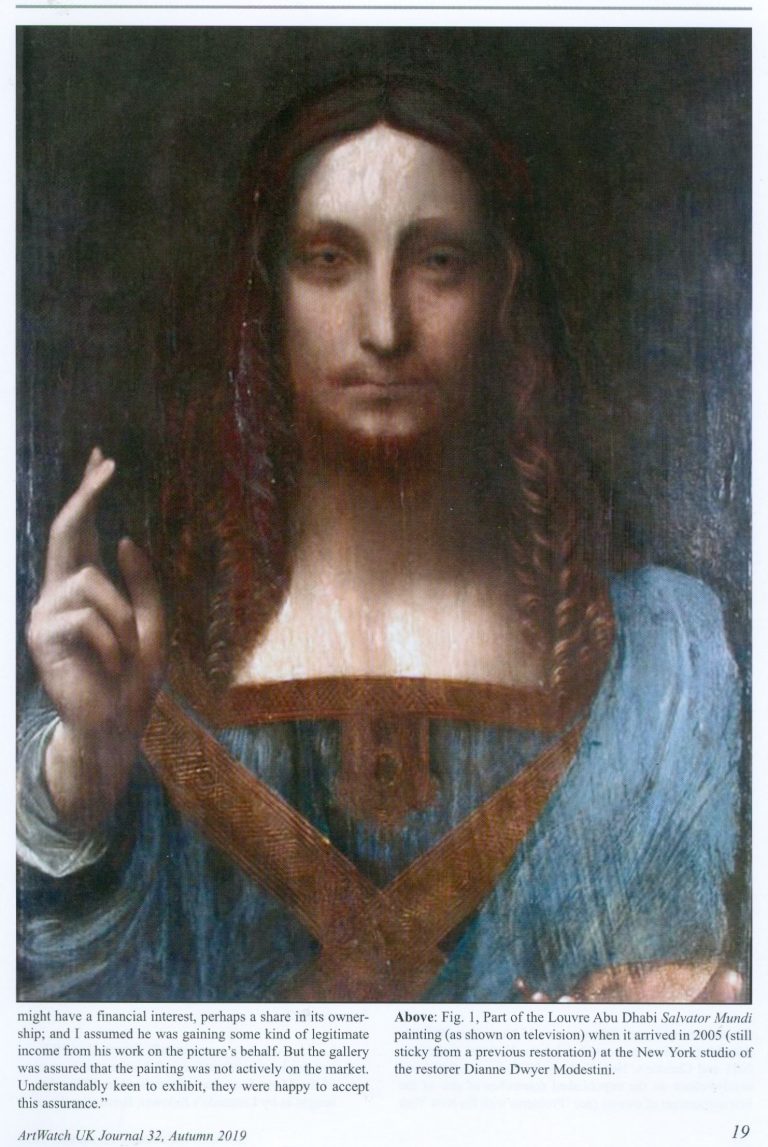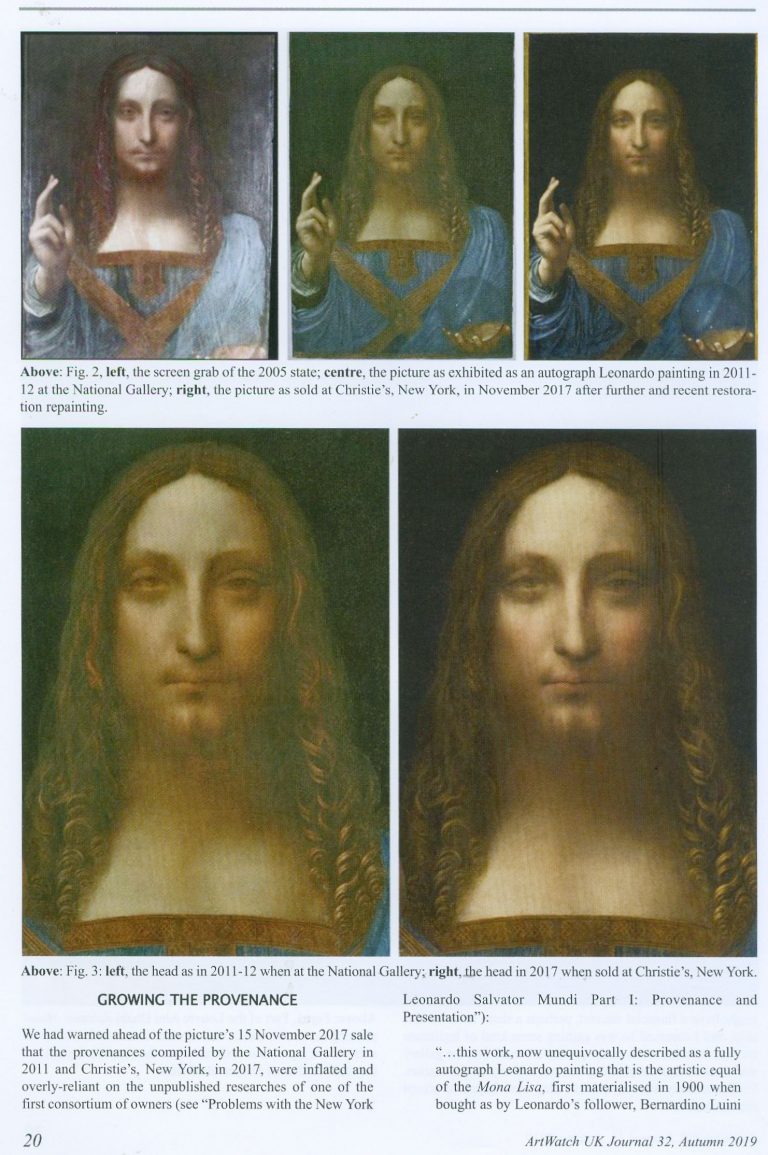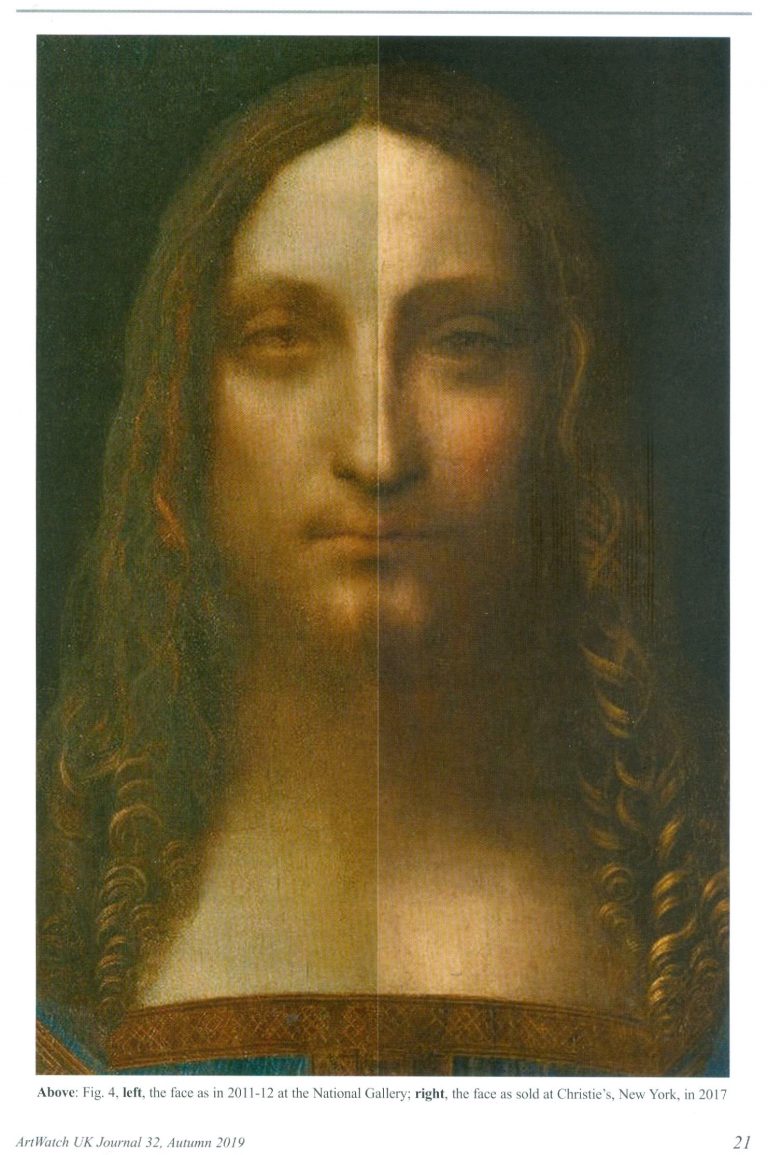 Michael Daley, Director, 28 October 2019
---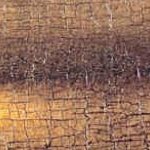 4 February 2014
The more indefensible their restorations, the more museum regimes dig in and shut their ears to criticisms. (With bad restorations the eyes, too, often seem to have been shut.) Given the controversial outcome of the Louvre's 2011 restoration of Leonardo's "The Virgin and Child With St. Anne", it might seem a provocative defiance that the museum should so soon announce that it is not only about to restore another Leonardo (his "La Belle Ferronnière"), as was reported in the Wall Street Journal on 1 February 2014 (Da Vinci Code Red: Restorations Spur Debate), but also the desperately vulnerable "Mona Lisa".
Vincent Delieuvin, the curator driving (or heading) the restorations, makes a number of claims that lack foundation in the Wall Street Journal article. We had not dared to touch this Leonardo previously, he reportedly says, but now restoration techniques have improved to the point where the museum thinks them safe – even for the Mona Lisa which has become "yellowish and very dark". The history of modern restoration is peppered with facile claims of technical "advances" that were rushed untested on to great works of art, soon to become the acknowledged follies of yesteryear. (We have often wondered whether the credulous techno-enthusiasts of Futurism, which movement died a swift death, had not migrated into art conservation.) Of what do these latest claimed advances consist? Have they arisen since the 2011 restoration of the "Virgin and St. Anne", the controversial treatment of which provoked resignations from the restoration's own advisory committee (as we reported on 28 April 2012 – "Rocking the Louvre: the Bergeon Langle Disclosures on a Leonardo da Vinci restoration").
On the "La Belle Ferronnière" Mr Delieuvin holds that "The many layers of darkened varnish added over the centuries are getting old and make the painting dark and yellowish". Such phobic/alarmist language is a constant feature of the would-be restorer's rationale. After restoration, Mr Delieuvin predicts, the "contrasts and colours will come out again; so will the feeling of movement". A long-standing (French) charge against intrusive restorers was that in their haste to "liberate" colours and dispel all signs of age in what are old paintings, they remove original material and impart a falsifying, historically inappropriate modernity. Restorers of every generation have insisted that their "advanced science" can prove that no original material was lost. In so saying, they demonstrate cultural naivety and failures to comprehend the nature of that of which art consists and the artistic and art historical, not "techno/scientific", terrain on which all restoration evaluations should properly be conducted.
Restoration disputes stem from losses of perceived artistic values. Although artists certainly work with and through materials, the materials are not ends in themselves, or even vehicles of intrinisic value. Rather, they are the means by which the "stuff of art" is given fixed material expression. The currency with which artists work is values and the relationships between values. Through these they work by eye to produce artefacts which fix and carry their intentions, so that they might subsequently be optically apprehended by others. In the production of a painting every last feature is a product of thought. But every judgement, evaluation and adjustment is transmitted exclusively through human sight, and not, as techno-conservationists might prefer, through sub-atomic particles of matter, complex chemical formulations or other mystificatory hi-tech red herrings.
Thus, to take Mr Delieuvin's promised delivery of increases of "contrasts and colours" in the pending Leonardo restoration, we can anticipate the outcome to some considerable degree by applying those very criteria to the last restored Louvre Leonardo, the "Virgin and St. Anne". On that work it is clear that while an increase in the brightness of colours occurred, it was at the expense of a catastrophic reduction of contrast and strength in the tones by which the heads had been modelled and given corporeal form, as the Poussin scholar, David Packwood, very generously acknowleded on his (excellent) website Art History Today ("Aesthetic Appraisal and the Restoration Process"):
"I'm looking with growing horror at images of pre and post restoration images of the Leonardo Virgin and St Anne in the Louvre. They can be found here, in an article by the head of ArtWatch, Michael Daley. In a balanced and thoughtful post on restoration culture, Michael Daley highlights its real dangers, clearly evident in this latest example…"
When appraising restorations it is essential to do what museum curators and restorers are so clearly reluctant to do in their own catalogues and publications: place directly comparable photographs of before and after cleaning states in the closest possible proximity. This facilitates direct optical appraisal – which is the only methodologically sound and appropriate means of evaluating a work whose appearance has been transformed by a technician's swabs, solvents, scalpels. It is never possible to compare a restored painting with its own pre-restoration condition because that is irreversibly effaced in the process. Photographs must therefore stand in lieu.
In every photo-comparison shown here of details from the "Virgin and St. Anne", it is clear to any educated eye that the tonal range that was formerly visible has been massively reduced. This, ipso facto, is a proof of artistic injury: "dirty varnishes" could not have disported themselves in such a manner as to enhance the effects of Leonardo's own handiwork. Moreover, the values and relationships of values that were perceivable through the varnishes before restoration would, on Mr Delieuvin's own optical schema, be expected to emerge from a "cleaning" with greatly enhanced, not reduced, power and vivacity – in short, while the lights would certainly be expected to emerge lighter, the half tones and darks should also be strengthened and not diminished – as seen right.
Consider the comparison of the Virgin's eyes at Figs. 5 and 6. Such has been the loss of modelling-by-shading that the face is reduced to a mask-like reminiscence of its former self. The now obtrusively dark slits of the down-cast eyes are no longer subsumed within the previous anatomically descriptive overall shading of eye sockets. Had Leonardo really painted the face as is presented today as "recovery", it would be for the restorers, curators and trustees of the Louvre to explain how it was that dirty varnish had formerly imparted superior, Leonardesque traits to the master's own handiwork. It would also need to be explained why Leonardo might have been content to leave two versions of the pupil of the Virgin's right eye simultaneously visible on his finished picture.
If we consider the comparison shown at Figs. 7 and 8 of the Virgin's lower face, another aspect of injury is apparent. That is, as the half-tones have receded under the force of swabs and solvent, the resulting increased zones of brightness leave the face looking looks both fatter and flatter. It is hardly heresy to suggest that Leonardo used shading to turn the surfaces of his heads away from light and into shadow. What kind of benefit, then, has been gained by delivering a lighter, brighter, flatter Leonardo? For what reason and on whose authority was the expression of the Virgin's mouth altered?
As our colleague at ARIPA, Michel Favre-Felix, disclosed a few years ago, in the Veronese head shown in Figs. 10 to 13, we find evidence of a Louvre house-style of cleaning and repainting that imposes crass puffed-up modernist forms and redrawn and re-modelled features on Renaissance heads. This bizarrely unwarranted policy is accompanied by a cavalier disregard for the norms of museum-world conservation record keeping (as is evident in the Louvre spokeswoman's reported comments at Fig. 11). The Louvre, as today constituted, is doing indefensible things to the art it holds and feels no obligation even to record or report them. The tragedy is that until quite recently this museum was a model of restoration restraint and a reproach to other institutions. Today, along with with its bonanza of destructive restorations, increasingly we find intrusive and vulgar commercial exploitation by Big Sponsors: "Another Restored Leonardo, Another Sponsored Celebration – Ferragamo at the Louvre". To think that such a great institution could sink so swiftly into meretricious stewardship and displays of bling.
Michael Daley
Comments may be left at: artwatch.uk@gmail.com
---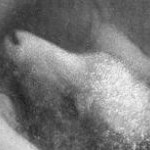 8 April 2012
The penny dropped last week in Paris: museum picture restoration is becoming a money-making machine in which the artistic sums may not necessarily add up. The Louvre's restored Leonardo "Virgin and Child with St. Anne" re-appeared in a series of openings for a swish exhibition-of-celebration, "La Sainte Anne l'ultime chef-d'oeuvre de Léonardo de Vinci", sponsored by the Italian fashion house Salvatore Ferragamo (whose 2012 fashion show is to be held within the Louvre). The official defences of the restoration are found in the exhibition literature and in a DVD film ("Leonardo de Vinci The Restoration of the Century") celebrating "The spectacular operation, the likes of which occurs only once a century". Although there may be a touch of "The Official" in the film, acknowledgement is certainly made of opposition to the course of the restoration that came from within the advisory committee itself. Jean-Pierre Cuzin, the former director of paintings at the Louvre, is seen to speak with great eloquence on the option of, essentially, leaving well enough alone. Reference is also made to wider opposition that was reported in what is described as "a virulent press campaign". The organisation of the exhibition itself is seen to testify to the rapid growth of mutual support systems within the international museum community. At the same time, we can now better gauge the restoration's artistic consequences and better appreciate why two eminent art authorities, Ségolène Bergeon Langle, the former director of conservation for the Louvre and France's national museums, and Jean-Pierre Cuzin, resigned from the restoration's international advisory committee.
As with the Credit Suisse sponsored exhibition "Leonardo da Vinci – Painter at the Court of Milan" which gathered £1.5bn worth of Leonardos in celebration of the National Gallery's restored "Virgin of the Rocks" (see Figs. 17 & 18), this Ferragamo/Louvre exhibition has drawn masterpieces by Raphael, Michelangelo, Pontormo, Andrea del Sarto and others. The National Gallery (two of whose staff members served on the St. Anne restoration's international advisory committee) loaned its hitherto unloanable Leonardo "Burlington House Cartoon" in a straight swap for the Louvre's earlier loan of Leonardo's original "Virgin of the Rocks" to the London Leonardo-fest. It would seem that in this international bonanza, one restored Leonardo begets another and each begets a plumply lucrative exhibition and catalogue. The current escalation in travel and restoration risks for works of art is terrifying.
The Louvre's current exhibition is said by the curator, Vincent Delieuvin, to comprise "a science workshop". But this "workshop" could not inform the treatment of the painting because it followed, not preceded, the restoration. Moreover, the exhibition itself imposed a guillotine on the restoration. Members of the international advisory committee who wished for more tests, for more consideration of vexing issues, felt thwarted by the Louvre's need to finish the restoration in time for the arrival of the stupendous borrowed treasures. The cumulative assembled testimony of the exhibition's many borrowed copies and derivatives of the "St. Anne" might well have been instructive, but, not having been seen, it finds no reflection in the restored Leonardo which artistically has pulled away from its own off-spring (see Figs. 13-16). Delieuvin's reported twin claims that the restoration "is a true resurrection of the 'St. Anne'" and that "The painting has recovered a depth and a relief almost like sculpture, with an intense palette of lapis lazuli blue, lacquer red, grays and vibrant browns", seem both rather tastelessly hyperbolic and at variance with visual evidence (- see right).
Certain structural stresses in the over-heating art economy have become visible. At the exhibition's epicentre the "Burlington House Cartoon" and the "St. Anne" (for which picture the drawing was a study), have been brought together side by side in a spectacular but counter-productive coup de théâtre (see Figs. 13 & 14). The drawn study, now discoloured but sombrely potent in a magnificently worthy black frame, conjures a breath-taking orchestration of monumentally poetic forms, forms that rightly have been seen to rival the pedimental female groupings of the Parthenon sculptures. Since the Second World War there has been no drawing in existence to rival this fragile and brittle manifestation of the grandeur of Leonardo's thoughts. (If lost – and in recent years lorries have been burnt-out in the Channel Tunnel and a ferry and its lorry cargo was lost in the Channel – no insurance money or state indemnity could acquire another of its kind.) In contrast, the restoration-weakened "St. Anne", with its now arbitrarily floating, obtrusively abstract and glitzy lapis lazuli blue drapery, has departed from its formerly-realised self, as the adjacent cartoon and the exhibition's many derivative pictures mutely testify. To see strong colours subsumed within tight sculpturally integrated groups, we must now look to derivatives of Leonardo rather than to their progenitor (see Figs. 15 & 16).
As if to inoculate the exhibition viewer against this back-firing juxtaposition, the wall immediately opposite the cartoon and the "St. Anne" carries a portentous notice headed "A fundamental restoration":
"A fundamental restoration of Leonardo da Vinci's St Anne was initially envisaged in the 1990s when a few quite conclusive cleaning tests were carried out.
"The picture's dull appearance, its hues discoloured and distorted by numerous repaintings of the sky and the Virgin Mary's blue mantle, demanded the intervention that finally began in 2009. Minute bulges, very probably caused by the stress exerted on the picture layer by the hardening of old restoration varnishes rendered the restoration inevitable.
"Preceded by an exceptional series of preliminary examinations and scientific imagery analyses carried out by the laboratories at the Centre de recherche et de restauration des musées de France (C2RMF) and generously financed by Mr Barry Lam, the restoration itself began late in 2010. The restorer, Cinzia Pasquali, was chosen following an invitation to tender and worked for more than a year at the C2RMF in the painting workshop in the Pavillon de Flore.
"The restoration comprised two principle problems: the removal of the discordant repaintings, some resulting from very ancient and thick accumulations of retouches, the thinning of restoration varnishes oxidised and deteriorated by too many partial cleanings, the moving of excess varnish from one area to another using solvents, retouches and refixings down the centuries throughout its long history, the picture had obviously been devarnished and revarnished many times but fortunately the picture layer had been sufficient robust to resist this. The extremely irregular and oxidised state of the surviving varnishes distorted all the tints and, by a well-known physical effect, 'decolourised' and yellowed the original hues.
"The gradual thinning of these varnishes to a uniform level was therefore the restoration's major challenge. During this process, resin analyses and measurements of varnish thickness, conducted by new techniques developed at the C2RMF enabled an extremely precise approach to the thinning, which had to be undertaken delicately, both to preserve a degree of patina on the picture and protect the painting itself from any contact with the solvents used. This extremely gentle cleaning process revealed a painting in vivid colours and resuscitated the splendid lapis lazuli blues and refined violet reds and crimson kermes gum lacquer."
In this classic museum PR conflation of aesthetic and conservation "needs", we are variously told that aesthetic changes had been necessary on urgent conservation grounds; that the restoration was "envisaged" some time ago and that this aspiration had been reinforced by the picture itself whose dull appearance "demanded" a restoration. Meeting this demand from the inanimate is said to have been made "inevitable" by a mysterious conservation ailment in the form of "minute bulges" which "very probably" were being caused by the varnish itself.
"Very probably" is a distinctly weasel-phrase and seemed the more so because Ségolène Bergeon Langle had very recently pointed out that the minute manifestations were confined to a single board (which had been badly cut when first made) within the panel, and therefore could not have derived from overall varnishes which some were itching to remove. This analysis of the actual cause was accepted on the DVD film where it was claimed that the restoration had had to proceed because of "lifting due to contraction of the wooden panel". That raised the larger restoration question: if the varnish was not causing the lifting, was there any conservation reason for removing it at all? A frankly negative admission on that point would, of course, have greatly strengthened the position of the "moderates" on the advisory committee who were, under any circumstances, urging restraint and caution. We now hear that not only is it admitted that the liftings of paint were indeed caused by this plank, but also that they had easily been repaired locally. In hope of preventing future liftings, the panel painting is to be encased in framing that will incorporate a suitable micro-climate designed to stabilise the offending wood. On the face of it, this is good news but, in today's museum practice, a risk removed often seems to make space for another to be incurred. And, sure enough, we also hear it is now thought that, with the provision of its own micro-climate, this great picture can be regarded as safely peripatetic – and that as such it is to be despatched in the first instance to an annexe of the Louvre at Lens, in northern France. But then where next – Tokyo? Dubai? California? And on what tariff? Perhaps in addition to adding this "restoration of the century" to our list of cleanings sold on misleading conservation-necessity prospectuses, the picture should also be put on our Now At Grave Risk of Travel Injuries category? We trust that the Louvre authorities will amend their misleading wall notice on the restoration.
The material on the picture's surface is said to have been the accumulated product of many and various previous restorations (some with caustic substances), throughout all of which Leonardo's original paint had suffered no injury. What chance, therefore, could the last restoration's highly advanced, "extremely precise" techniques have produced anything other than an "extremely gentle" cleaning? Well, first of all, the proof of the pudding is in the appraising of the result – see right. Second, it is never wise to take restorers' own prognoses at face value. Errors can occur at any point of the restoration process. The suggestion that a uniform layer of varnish had been left in place might surprise members of the international advisory committee who had been under the impression that varying thicknesses of varnish would be left in place according to specific needs for caution (as with the especially vulnerable face of "St. Anne" – see right).
Further, questions arise in terms of conservation methodological practice. In restorations, paintings are stripped down and then reassembled by repainting. Where, then, are the detailed photographic sequences showing the painting before cleaning; after cleaning but before retouching; and, after cleaning and retouching? Without such hard visual documents the path of the restoration cannot be retraced. It was only when the National Gallery kindly provided such photographs that we were able to identify an unacknowledged change that had been made to the angel's mouth in the London "Virgin of the Rocks" (see comments at Figs. 17 & 18).
In the two versions of the Louvre exhibition catalogue (one of 52 pages at 8 Euros and one of 448 pages at 45 Euros) there are not even any facing images showing the picture before and after restoration. Such a pairing is found in the (excellent) Beaux Arts special "Léonard de Vinci – Les secrets d'un génie" at 6.90 Euros (a similar comparison is shown here in Figs. 14 & 16). There is also a helpful before and after restoration record of the National Gallery's "Virgin of the Rocks" (see Figs. 17 & 18).
The Louvre and the National Gallery leonardo restorations share a common methodological feature: in both cases it is said that old varnishes were thinned but not completely removed. This claim creates a conundrum because in both cases changes have taken place which seem inexplicable in terms of a mere thinning of varnish. When explanations are sought or when appraisals are attempted, restoration authorities sometimes take fright, retreating behind claims that theirs is a highly specialised technical field whose mysteries are simply unfathomable to outsiders. Restorers themselves often don the proverbial doctors' white coat and claim to have acted on not aesthetic grounds at all but on (quasi-) medical ones. For the "St. Anne" restorer, Cinzia Pasquali, this restoration was not made for aesthetic reasons. Instead: "This was about caring for a sick patient. From the conservation point of view we had to intervene, primarily to address a cracking of the varnish that could leave the paint exposed to damage." Well, we now know that in this particular case the patient was not as sick as had been thought. But more importantly, we should remember at all times that works of art are made by people to be looked at by people. They are not created as laboratory specimens. Artists work with materials so as to produce values and relationships between values. No scientific test can analyse a value, let alone an inter-related group of values. To its maker, the professional test of a work of art is how it looks – the painter stops working precisely when the picture looks right.
In the realm of art and away from corporately funded museum politics, the ultimate test of a restoration is also how it looks – but that is to say, not how it strikes the passing viewer (who may or may not be thrilled by solvent-brightened colours) but how it looks now as compared with how it looked previously; how it looked not just immediately prior to restoration but in its successively recorded history; and, most especially, how it looked the last time it was cleaned. If picture cleanings did no harm, if they were as simple and non-destructive as cleaning a window, each restored work would return to its appearance when last cleaned, and there would be no surprises, "discoveries", "revelations", "restorations of the century" – or controversies. While no one ever berates a window cleaner for ruining the views, restorations irreversibly change a picture's "view" on to the world. Restoration is a one-way street that runs away from history, away from the original work.
All cleaning controversies turn on the extent to which pictures suffer during restoration. Even among those who authorise restorations, some concede that there are losses as well as gains and frankly admit to seeking the best trade-off between improved legibility and pictorial injury. Defensive restorers insist that pictures cannot be harmed by their own "advanced", "gentle" and "scientifically underpinned" methods. Making a fetish of the "safety" and the "science" of restoration methods attempts to shelve restorers responsibility to identify and account for all material and aesthetic changes. Given that all restorers' methods cannot be superior, none should be held beyond question. With the physical alteration of art, aesthetic appraisal is essential to scholarship and art's protection. In appraising restorations, the comparison of like with like is of the essence.
In visual arts, appraisals are necessarily made by visual comparisons. Pictures are made by eye, hand and mind, to be viewed by eye and mind. Because each cleaning destroys the earlier state, comparisons can only be made between pre and post-restoration photographs. While straightforward cleaning might always be expected to achieve a greater vivacity of pictorial effect, it should never be made at the expense of the pictorial relationships, patterns, or gradations made in the service of modelling, that can be seen to reside in the uncleaned work. If the relationships can be seen it is because they are there – whatever chemical analyses might suggest to the contrary. The aesthetic production of pictorial values by artists is the proper science of art. Unfortunately, in such terms, the values that were formerly evident in this great picture seem not to have fared well in this last cleaning.
Michael Daley
Comments may be left at: artwatch.uk@gmail.com
---
wibble!