Degas and the Problem of Finish
Alexander Adams
Daphne Barbour & Suzanne Quillen Lomax (eds.), Facture: Conservation, Science, Art History. Volume 3: Degas, National Gallery of Art, distr. Yale University Press, 2017, 196pp, fully illus., pb, £50, ISBN 978 0 300 23011 6
Jane Munro, Degas: A Passion for Perfection, Yale University Press, 2017, 272pp, 250 col./mono illus., hb, £40, ISBN 978 0 300 22823 6
The new title published by the National Gallery of Art, Washington D.C., Facture: Conservation, Science, Art History. Volume 3: Degas, examines its large collection of art by Edgar Degas as a starting point for discussions about issues of interpretation, finish and conservation regarding Degas's oeuvre. The problem of finish is one that applies more to Degas than any other French artist of the Nineteenth century. Contemporaries criticised (and, more rarely, praised) Degas's art for its open and unfinished appearance. This was not a case of stuffy regressives wanting a glossy varnished surface to paintings but often genuinely perplexed viewers feeling the artist had not fully resolved matters. What Degas considered finished and unfinished was also unclear to the artist himself. He would exhibit pieces that seem to have been arrested at an early stage; at other times he would retrieve and rework paintings he had already signed, exhibited and sold. Multiple signatures on a work indicate radical revision of a piece as the artist reconsidered what he considered to be finished. His standards evolved over his long career but even experts have trouble deciding what is finished and what is unfinished, especially as the bulk of his art remained in the studio and much of it was unsigned.
Classicism and Radicalism
Visible pentimenti could be intrusive and Degas's habit of sanding down surfaces of oil paintings but then not fully repainting them left viewers doubtful about whether the painting had actually been completed. (Specifically, the long working periods, extensive revisions and awkward and incomplete appearances of the canvases The Fallen Jockey and Edmondo and Thérèse Morbilli make these "problem pictures".) Signatures do not resolve such questions as Degas did not sign all works, especially drawings, which could be categorised as either working material or finished art depending on who was appraising it (or trying to sell it).
Degas was the Impressionist who received the most thorough grounding in academic fine-art tradition and also the one who experimented most technically and aesthetically. He could be reckless and sometimes destroyed art by overworking it. He could also be impatient and imprudent. Hoenigswald and Jones (in Facture) mention the case of Portrait of Mlle Fiocre in the ballet "La Source" (c. 1867-8) as an instance when Degas prematurely varnished an oil painting for salon display. The varnish interacted with the wet paint and he had to call on the services of a conservator to remove the varnish, which inevitably damaged the picture surface. He rarely varnished work himself but did not rule it out and recommended that Pau museum varnish his Cotton Office in New Orleans (1873) when the museum acquired it. However, that instruction regarding an early highly-finished oil is not carte blanche for the varnishing of all his oils, especially later ones.
Degas could be both methodical and capricious. He would prepare carefully and spend long periods of reflection. There is Vollard's famous anecdote of him "sunning" his pastels for extended periods to degrade fugitive pigments so that he could be confident of his colours not ageing too drastically once applied. At other times he could work hectically, impatiently fixing broken limbs of his statuettes with gimcrack bodges, later allowing his clay pieces to be reduced to crumbled dust. Rather than always fully conceiving his compositions beforehand, he would start a work and have to add strips of paper to expand the surface. The use of tracing paper – mainly to allow tracing and transferring of designs – as a support for finished drawings is problematic as the vegetable starch in the calque makes the support fragile and prone to discoloration; the oils in the paper oxidise and discolour. Degas would have tracing paper sheets glued to board supports to impart rigidity and prevent the paper curling or ripping. Exquisite sketches exposing areas of untouched paper have been changed irretrievably by the fading effect of sunlight on the dyes in the commercially prepared colour paper. (For whatever reason, many similar works by a colleague of Degas's student days, Moreau, have fared rather better.)
The perplexing confluence of technical brilliance, peculiar material combinations, unconventional working methods and appalling insouciance makes Degas's art a tricky proposition for conservators. Respecting the artist's wishes is not always possible when the artist can be so contradictory in his approaches apparent even in one work of art.
Degas's technique for many works was mixed. Monotypes in black ink would often be worked over so extensively in pastel, gouache and body colour that the original print disappeared under the colourful top layer. The artist's penchant for privacy meant that his techniques and attitudes are a mystery which scientific analysis is only now uncovering. One of the great mysteries is his formula for pastel fixative. Pastels (particularly heavily worked ones) require fixing with a clear sealant for transport or for reworking. This fixative impairs colour intensity and tonal contrast and artists have struggled to find a solution that is effective yet as unobtrusive as possible. Views on the subject have ranged from the idea Degas creating his own secret formula (which has never been uncovered) to the view that Degas used a standard mixture common to the period. Microscopic analysis of a pastel in the NGA collection reveals a dried bubble of fixative (less than half a millimetre across) which contains protein, implying a solution including casein or rabbit/fish-skin glue applied with an atomiser.
Forensic analysis suggests that Degas worked pastels wet and dry, using hard and soft tools, brushes, his fingers, adding, subtracting and burnishing, with frequent layers of fixative. Despite the liberal use of fixative, the absence of tooth on the smooth tracing-paper support makes those drawings especially fragile, something that has to be born in mind in this age of frequent and distant travel for temporary exhibition.
Dance Examination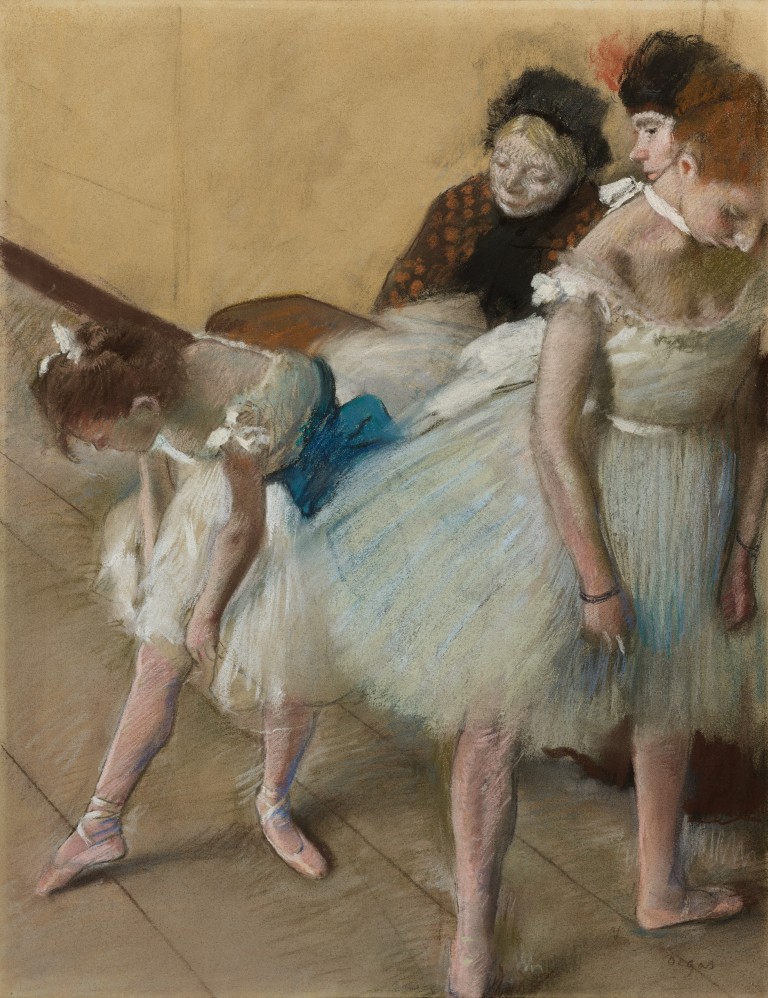 Above, Fig. 1: Edgar Degas (1834–1917), Dance Examination (Examen de Danse), 1880, pastel on paper, 622 x 465 mm, Denver Art Museum, anonymous gift. Photography courtesy Denver Art Museum
The new exhibition at Fitzwilliam Museum, Cambridge (closes 14 January; tours to Denver Art Museum 18 February-20 May 2018) allows viewers to decide what they think of the condition of Dance Examination (1880) [See "Fakes, Falsifications and Failures of Connoisseurship" – Ed.]. The catalogue Degas: A Passion for Perfection includes high-quality illustrations of this pastel and others. This pastel has previously been discussed by Artwatch. Compared to the 1918 photograph there has been noticeable change. It is difficult to ascertain what is due to fading, restorer intervention and variation in photography. Some changes seem clearly evidence of fading. The blue of the bending dancer's sash is increasingly showing through the white overdrawing of the standing dancer's dress. The top layer of white is less opaque than it was. The red cockade is less prominent than it was, though why that might be is unclear. Some areas do seem to have been deliberately altered: the wall seems to have been cleaned; the shadow between the leftmost leg of the bending dancer has been streamlined by slimming the wedge of shadow adjacent to the dancer's other foot (to our right) and making the shadow more uniform; the bench seems to have been smoothed, with some near horizontal lines in the original (in the centre and right) having been blended or over drawn. That said, the new photograph has more contrast than the 2002 photograph, which seems way too pale and lacking contrast, demonstrating that the 2002 reproduction was a poor one. The new photograph suggests that there has not been a determined campaign to retouch the whole drawing but instead very particular instances of alteration (probably early, between photographs one (1918) and two (1949)) combined with fading of particular pigments. The pastel entered the Denver Art Museum collection in 1941.
The Bronzes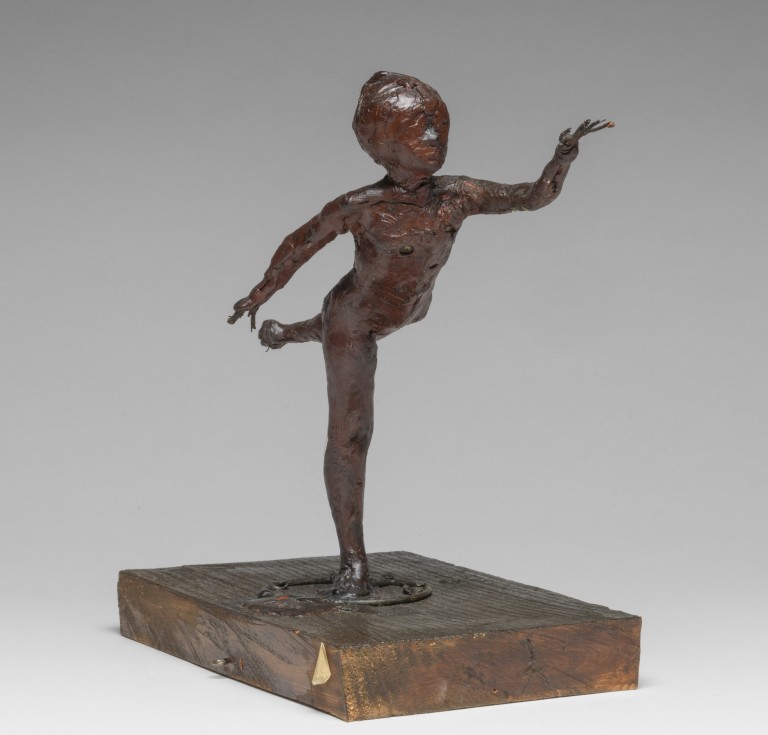 Above, Fig. 2: Edgar Degas (1834–1917), Arabesque over the Right Leg, Left Arm in Front, First Study, c.1882–95, coloured wax over a commercially prefabricated metal wire armature, attached to a wooden base, 23.5 x 13.7 x 27.5 cm, © The Fitzwilliam Museum, Cambridge
What makes the NGA's Degas collection unique is the group of the artist's original statuettes. These were retrieved from multiple floors of Degas's last house in the months after his death. The heirs agreed to the figures being catalogued, graded and (if possible) repaired with a view to casting them. Many remains were found to be unsalvageable but 74 items were repaired and cast in bronze in various editions. Exact casting details were not recorded methodically. The majority of original items were in pastiline (like plasticine) over a commercially manufactured articulated wire armature adapted by the artist, which was later coated with pigmented beeswax, which allowed detailed finish, though Degas rarely applied fine details. The exception is Little Dancer Aged Fourteen (1878-81), his famous life-size statue in a real bodice and tutu, which was the only sculpture he publicly exhibited. (The original is now in the NGA collection.) X-rays reveal Degas used clay, corks, paintbrush handles and rags to add bulk to the statuettes and when limbs became detached he would use pins of nails to reattach them. The figures (almost all of them either female figures or horses) were attached to wooden base boards, sometimes with props to support them.
Degas's attitudes to his statuettes were mixed. He worked hard on them and sometimes showed them to visitors. He kept some in vitrines. Yet he neglected some finished pieces and allowed them to become badly damaged. He never cast any pieces in bronze though he did make notes about foundries; it was apparently his wish that none of the models be cast in bronze.
The restorer(s) of the statuettes who prepared the models for casting approached the task with a mixture of attentive respect and no-nonsense pragmatism. The decision to disregard Degas's aversion to casting in bronze was a matter for the heirs. The restorer(s) had the practical task of repairing damage, most often in limb breakages. Sometimes the limbs had been fractured, sometimes completely detached. Breaks were repaired and blended with the original facture. Often props on the originals were replaced and completely removed from the casts. (There exists an incomplete photographic record that documents the original statuettes before preparation for casting, showing breakages.) The restorer(s) attempted to preserve as much as possible of the originals but felt no compunction about making alterations to suit the expectations of collectors of the day, including blending their repairs with the original facture. Obviously, the casting process made almost invisible the visible repairs in the original figurines.
In the 1950s the original wax statuettes resurfaced in the foundry. They were purchased by Paul Mellon and most were donated to the NGA. Three original dancer figurines ended up in the Fitzwilliam Museum collection and are included in the current exhibition; the catalogue reproduces x-rays of them, showing the armature and packing inside.
In Facture expert essayists from NGA staff address the chaotic editioning of the bronzes, authorised, unauthorised and possibly pirated. Two foundries cast bronzes from 1920 until the mid-1930s, often as and when demand necessitated new sets. Foundry records are incomplete or suppressed. Two essays in this book study of the construction of the sculptures and various stamps; measurement in millimetres of the exact dimensions of casts and metallurgical analysis suggest the chronology and status of hundreds of the over 1,200 genuine casts. Further sets, which are considered by some to be fakes, continue to circulate. Comparative photographs show differences between casts. These photographs show the variable results of the moulding and casting processes and others which might the work of the finishers.
These volumes (especially the NGA's Facture) will be essential references for collectors, dealers and scholars in Degas.
Alexander Adams, 3 November 2017
[See also, Alexander Adams: Degas: Themes and Finish. For details of the 2017 James Beck Memorial Lecture (the speaker: Robin Simon – "Never trust the teller, trust the tale") see A memorial lecture, two journals and an assault on scholarship.]