In Memoriam: Tom Wolfe (1930 – 2018)
The journalist and writer Tom Wolfe died on 14 May aged 88. He is survived by his wife Sheila (Berger) Wolfe, a graphic designer and former art director of Harper's Magazine, and their two children, Alexandra Wolfe, a reporter for The Wall Street Journal, and Tommy Wolfe, a sculptor and furniture designer.
The New York Times reports Tom Wolfe's least-forgiven and most-wounding foray. In 1970 he mocked what he termed New York's "radical-chic". This had been prompted by a fund-raising party given for the Black Panthers by Leonard Bernstein, the conductor of the New York Philharmonic, and his wife, the Chilean actress Felicia Montealegre, in their 13-room Park Avenue penthouse. The guests were the Bernstein's rich liberal and mostly famous friends. How very remarkably on-target that attack was – and how infectiously well and fast that chic travelled. At that period, across the pond in London, well-meaning pre-eminent thespians like Vanessa Redgrave rattled the revolutionists' tin under the noses of artists like R. B. Kitaj. As the designer of UK New Left publications – first The Black Dwarf and then Idiot International – we, along with Jean Genet and a Parisian Leftist called Castro, attended a dinner given in the marble-floored, art-rich (Mondrians, Bellmers…) Paris apartment of the novelist, polemicist and publisher of L'Idiot International, Jean-Edern Hallier and his Italian heiress wife, Anna. The guests of honour were a group of visiting Black Panthers, lead by (the beautiful) Connie Matthews, who would later be killed in a police shoot-out in the United States. The books in the Halliers apartment had been rebound in white leather, with gold-tooled lettering and they were displayed on shelves made of polished black lignum vitae, the hardest, densest wood that makes the best truncheons, the most wind-resistant cricket balls and that is used as bearings for ships propeller shafts. This apartment, with its live-in servants was not, however, where "the real" Jean-Edern Hallier lived. He once told me that his true self was to be found in a small, occasionally used bed-sit furnished only with a single bed and a Che poster.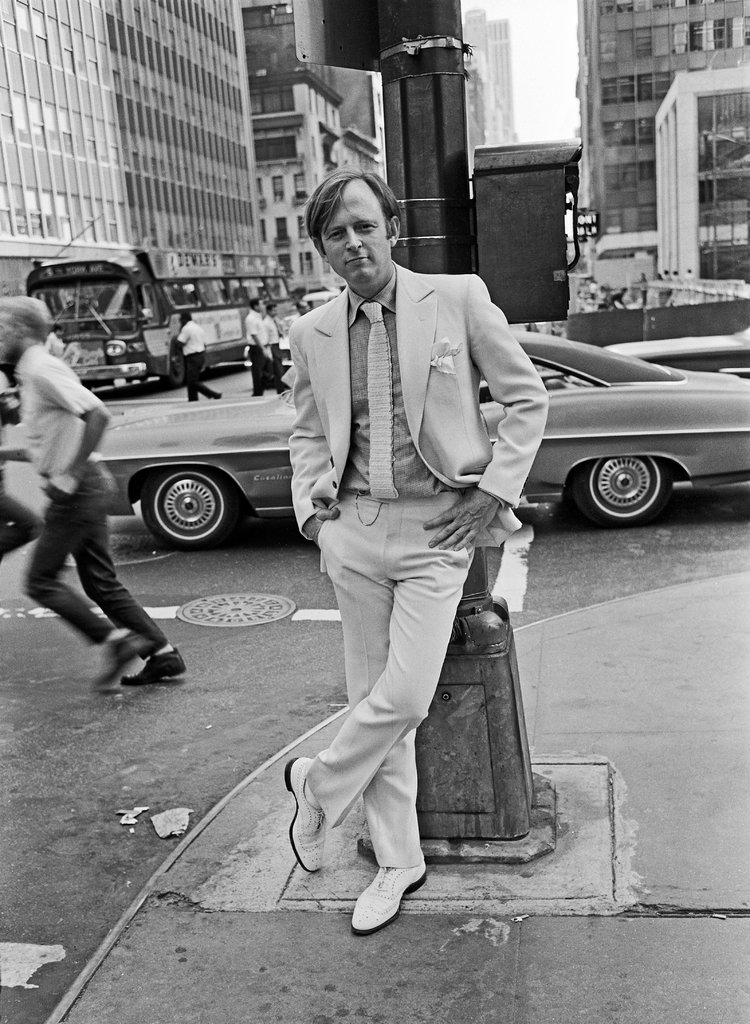 Above, Tom Wolfe as photographed in New York in 1968 by Sam Falk for The New York Times
Best known for his first novel, The Bonfire of the Vanities, Wolfe blew the whistle on pretentious ideas-led, art critics-sanctioned contemporary art in The Painted Word which was excerpted in Harpers Magazine. Incensed art world players responded with scurrilous/puerile abuse. One victim accused Wolfe of having written his devolution – i. e. reverse-evolution – of modern art ("In the beginning we got rid of nineteenth-century storybook realism. Then we got rid of representational objects. Then we got rid of the third dimension altogether and got really flat – Abstract Expressionism. Then we got rid of airiness, brushstrokes, most of the paint, and the last viruses of drawing and complicated designs"…) without ever "getting away from his typewriter and into the thick of his subject". Not many people know this, but Tom Wolfe took classes at the Art Students League in New York with the painter, Frank Mason, the scourge of art-destroying picture restorers (and a founder member of ArtWatch International) who had blown the whistle in New York on the restoration of Michelangelo's Sistine Chapel ceiling. At a memorial service on 18 October 2009, Wolfe delivered this tribute to Frank Mason who had died aged 88 on 16 June 2009:
"I'm not sure how many people here have seen Tom Stoppard's wonderful play, Artist Descending the Staircase. Well, in that play one of the characters turns to the audience and says, 'Imagination plus lack of skill, gives us no-hands art.' Andy Warhol showing photographs of commercial products to his elves, and ping-pong shots from amusement arcades of famous people. Or, Jeff Koons, who sends photographs of himself slogging at it with an Italian prostitute of some fame, and sends these photographs off to elves in Switzerland who then convert the photographs into three-dimensional ceramic objects. Or, Richard Serra, who orders ten-foot high raw core tin steel walls from the foundry and has unionized elves to transport them to open spaces and prop them up. Or, Richard Prince, a self-elf who takes photographs of photographs and sells them for stunning sums to culturally anxious hedge fund managers.
"Now I have to confess that those examples were supplied by me. But, what Tom Stoppard has his character actually say is, 'Imagination plus lack of skill, gives us modern art.' So there has to be a corollary to that, and I think the corollary would be: imagination plus real skill gives us Michelangelo, Bernini, Tissot and Titian. And, Frank was known in his youth as the rebirth of Titian, the comparison was made consummate of Frank Mason and Titian. And both Titian and Tissot loved the deepest perspective a painting could possibly effect and one of my favorite Frank Mason paintings is of – I think it might be the Italian restaurant below his apartment on Broome Street – and it is of a group of people, many, many people, and no person in the background is neglected at all. Every head that appears in a Frank Mason painting is developed and is an individual who is distinct from every other. But, what particularly surprised me was that in the vast, vast deep Titianesque, Tissot-like perspective of that painting is the carving on wood work at the very back of the room. These are details that the naked eye can probably not see beyond six feet. In this painting they are about sixty feet away. What he did with them was absolutely marvelous, I can't think of another painter who could do it better, perhaps not even Tissot or Titian.
"There's also . . . his skill went across every possible category – still life, which, in a way, is the opposite of Titianesque painting of deep perspective. Earlier, before the [memorial] programme started on the screen here was Frank's Silver Pitcher. A still life with the silver pitcher in the middle of it – and that silver pitcher is so much more real than an actual silver pitcher you just want to grab it and drink some of that New York tap water. You know, New York tap water is some of the best water in the country. It's better than anything that comes in a bottle, I assure you. Now Frank was much more than a great artist. And to say that somebody is much more than a great artist (particularly John Varriano brought it out) is saying a great deal. Frank is what I think of as a life force. You know, Darwin once appeared before a class of students at a university in England, and you know the young will ask questions that the old do not dare ask. And he would explain how life had begun out of a cell and all that is before us came from that tiny origin. So one of the students says, 'Well, where was it?' And Darwin says, 'Where was what?' 'The cell? Where was it?' And he said, 'Well I don't know. It was probably in a warm pool of water somewhere'. And then another student said, 'Yes, so then how did it get there?' And he said, 'Well, I don't know where, and I don't know if it's terribly important.' And then another student said, 'Why does it want to divide? Why does it want to reproduce? Why?' At this point Darwin reflected and said, 'To tell the truth, no one knows where the life force comes from and perhaps no one will ever know. If they do it will be hundreds of years from now before we learn where the life force comes from. Isn't it enough that I brought you all these plants and all these animals? How much do you want from me?'
"But, this life force – it is not a metaphor, it's a concept. I always thought when I first came to New York my ambition as a youngster was to work in a newspaper in New York. It took me many years to get here but I finally did it. Unfortunately, my image of New York City had gone from books written in the 1920s and 1930s about people like Ben Hecht. So I was waiting to see Mark Twain walking up Broadway in a white linen suit. I was waiting to see Walter Winchell who at that time was on the radio saying, 'Good evening Mr. and Mrs. America and all the ships at sea. Let's go to press.' To me that voice of Walter Winchill, that was that excitement, that earnestness, that was New York. Or, Henry Luce the great creator of Time magazine threatening to throw Harold Ross out the window of his apartment because Ross had run a profile of Luce in the form of a parody of the famous Time magazine style, particularly its inverted rhetoric. And the piece ended, 'where it will all end knows not.'
"All of this to me was, this excitement, this was New York. So, when I arrived all I saw was men in stingy rim hats with the rims about this wide, crowns right down on top of their heads. And they had their chins hooked in their collarbones, scuffling down the street and they were muttering, 'Aw Hell'. That's what was actually here. But then, well incidentally at least they had hats.
"125-30 years ago, men – in the English-speaking world anyway – wore tall stiff hats known as toppers. That began to change, by 1900 they began to shrink a bit and get dents down the middle or in the sides. By the time I came to New York it was the stingy brim hats. But, at least they had them. Back in the 19th century women had these little pieces of cloth with lace around them called kerchiefs. Today, the men wear the kerchiefs – they're known as baseball caps – while the women have all the testosterone. Look at the great party hats you see everywhere in fashion today. But I did find a flip side. People here, Clay Felker, who was my editor at New York magazine, Roger Straus – an indomitable publisher – and I finally began to realize that every age is the same, every age has had the mass equivalent of the guy shuffling along the sidewalk in the stingy brim hat. What has made New York exciting, what has given it the reputation of excitement, what makes it exciting today is really a relative handful of people who are motors. They're motors in a ship that goes hurtling at an unbelievable speed, making reckless turns and we're all invited to jump on board for the ride. And that's what living in New York means, either they enjoy the ride or they just get out. And Frank Mason was one of those motors, extraordinary.
"But, I happened to have the privilege of seeing Frank work – I saw him giving instruction at the Art Students League. I can't describe it quite as well as John [Varriano] did or as Peace [Sullivan] did, but I saw it and I saw this congestion of not only human beings, but easels – when you see easel fights and they go '- there's room!' Everyone trying to get into that room and to get into a position to see the model, which was in deep perspective way over there. It's an astonishing spectacle.
"I also had the privilege of participating in some of those Tuesday night sessions on Broome Street. You know Frank and Anne moved to Broome Street I think 20 years before you had all these, 'You have to live down there, you have to live below Houston Street or you weren't real.' These sessions were held in that great studio and apartment. And Frank was very indulgent with me because the only thing I cared about was getting the hands right. To this day that's the first thing I look at in a painting – the hands, all the rest is not as – is secondary. Frank could do, absolutely, hands that you wanted to shake and you want to look up into those eyes. This sort of spirit is so rare, so precious – and everyone [speaking] today has described it accurately – the booming voice, the laughter. I never saw Frank in anything but a mood of enthusiasm and love of life. So, I made a rather rash prediction in 1976 that by the year 2020 what Frank Mason prophesized would have come true.
"Frank at one point said that modernism is dying a slow death. Not far away from that we will climb the mountain once again, because you cannot kill genius. And, today it's almost 2010. I don't see the art world, as we call the little village that controls prestige, I don't see it calming down very much. I think it's really more frantic than ever – 'No-Hands' Art sweeps the art village.
"Tenure art sweeps the art village. 'Tenure Art' is conceptual art that is happening which cannot possibly be bought or collected. But, one thing for the artist is to be hired by the faculty of a university, hang on for ten years and you've got tenure. You've got a salary until the end of your days and then a great pension plan. 'No-Hands Art' and 'Tenure Art'. So, we've only got ten years, folks. But, I think now is the time to do it. Frank Mason was the beginning of a neo-Renaissance. A Renaissance – is a rebirth. A neo-Renaissance is a rebirth of what should not have died the first time. So I leave here with the sense that I – I'm paying homage to Frank Mason. And that I also feel that some-how, all of us – me with my hands and you with the rest of the things that you do – can bring Frank's prediction alive. I leave here with tremendous hope."
Today, there are only two years left for that predicted expiration of modernism and, on the face of it, all the signs are that means have been found to buoy its markets indefinitely. But, then, there are jitters that might yet prove portents: culturally anxious chump oligarchs now queue in such numbers to buy Koons' balloons on the never-never that even that artist's legion of elves cannot keep pace with the orders. A restorer who part-painted a half-billion dollars Salvator Mundi recently donated the brushes she had used to Columbia Museum of Art to help the museum's mission to celebrate outstanding artistic creativity. Roll up! Roll-up! "Own a piece of art history!" the museum urged, "These seven paint brushes were used to restore Leonardo's Salvator Mundi, which set a new record for the price of a work of art when it sold for $450 million in 2017." The brushes found no taker – no one met the Ebay reserve of $1,000. At Columbia university, as Artnet reports, disgruntled students in the visual arts MFA program are demanding a refund for the current school year's ($63,961) tuition fees, in part because the buildings are disintegrating; in part because too many tenured professors have gone on sabbaticals at the same time; in part because the students have not been able to work with—or even meet—some of the notable artists whose reputations drew them to the school in the first place. (See "Columbia University MFAs Share Stories of Dysfunctional Studios and Overworked Faculty".) In the UK, a superannuated Lecturer in Fine Art at the University of Lincoln dismissed the teaching of life drawing as "a deeply conservative and reactionary position" in the November/December 2017 Jackdaw magazine. A "Curator of Interpretation" at the Tate has explained that anything dragged into a gallery can be considered to be fine art providing only that the dragger-in is an art school-accredited person. Anything can be art except art. Such cultural lunacy must end sometime.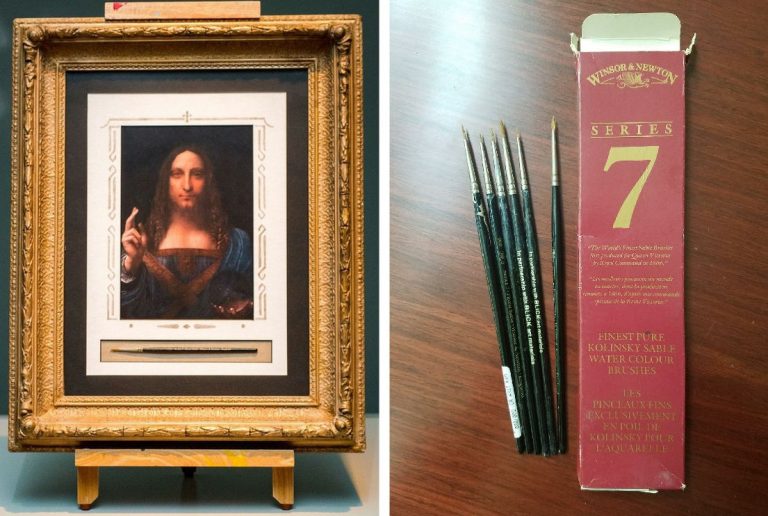 Above, the brushes that helped paint the $450m Salvator Mundi, as presented and offered for sale on Ebay. Below, a corner of Frank Mason's Broome Street studio and a detail of his hurtling life-celebrating painting "Before the Storm, Nova Scotia".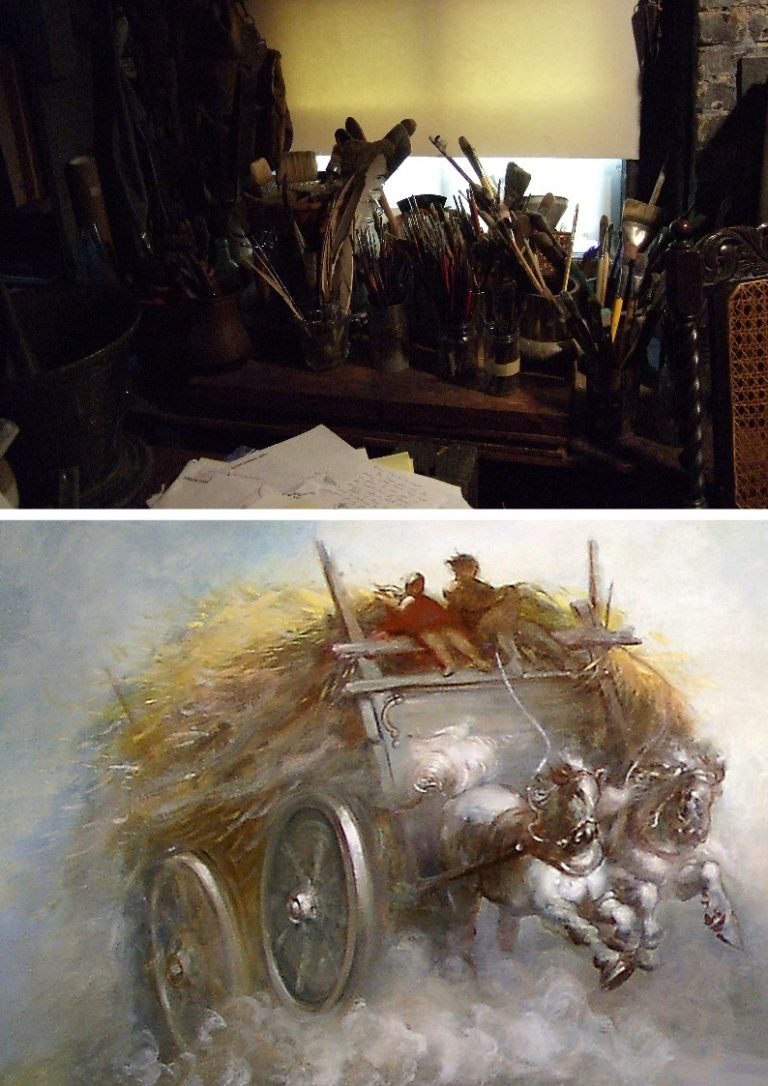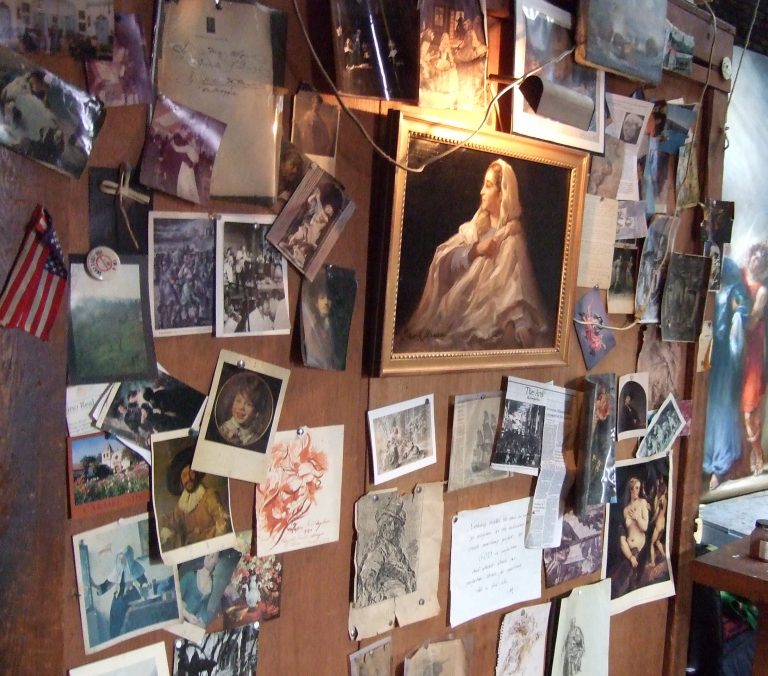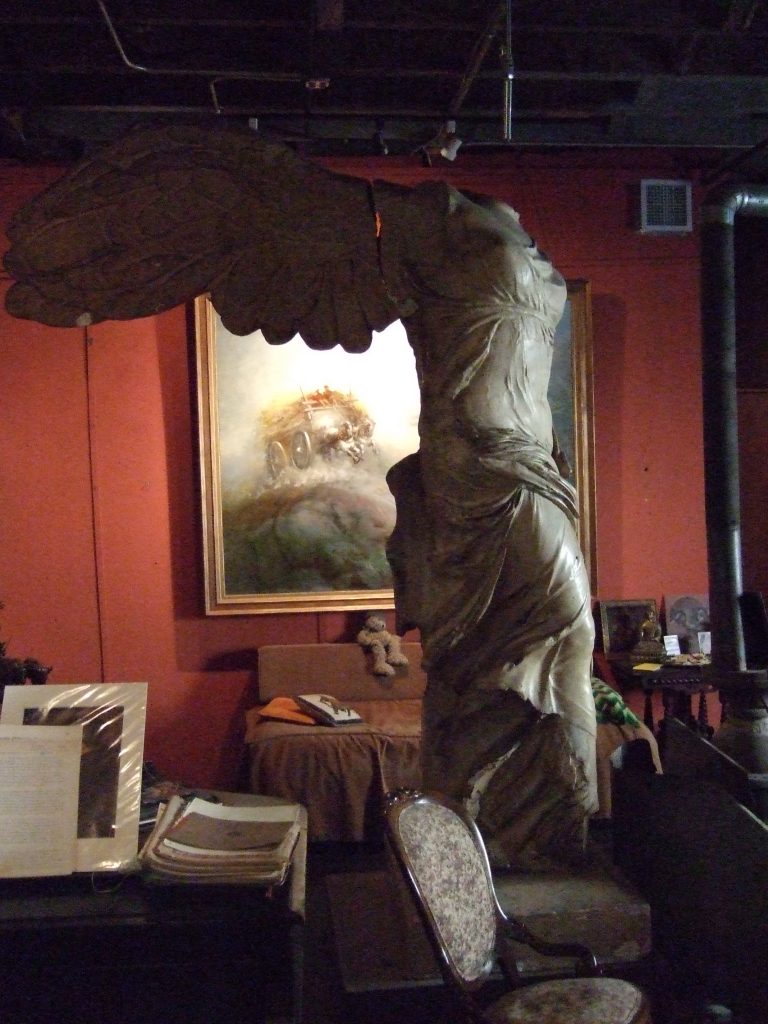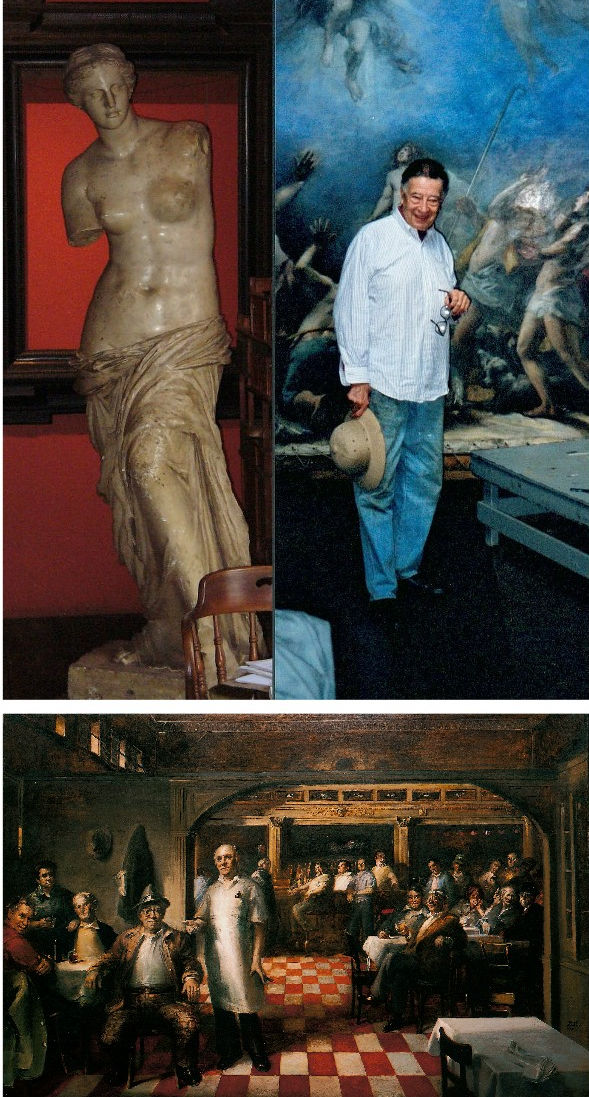 Above: Frank Mason in his studio; some of the plaster casts he had saved from destruction in a New York art school; and, his "Little Italy" mural, to which Tom Wolfe referred.
Anne Mason writes of Tom Wolfe's death: "I hadn't heard. Lovely person. We ran into Tom and Shiela on 5th Ave one night. Frank said, 'What are you doing tonight?' Tom answered, 'Looking for you.' A gentleman through and through. He was in Frank's class at the ASL for a short while. Frank was so pleased to have him there. Don't know if you knew that Frank painted Shiela's portrait? It was a Christmas surprise for Tom. Nice memory. She carried it off. He had no idea. Thanks for telling me."
Our thanks to Anne, and Frank and Tom Wolfe.
Michael Daley, 16 May 2018