Last night we were bidden, as Sir Roy Strong might have put it, to the opening and reception of the joint British Museum and Rodin Museum exhibition "Rodin and the art of Greece".
It proved an extraordinary and privileging occasion that was close to our heart in very many respects. Guests were ushered into a corner of the Great Court for drinks and canapés. In that dwarfing space the buzz of expectation among the small standing groups resembled a Royal Opera House opening of Verdi's Un ballo in maschera. The company was illustrious. Among the many VIPs, journalistic aristocracy was present in Sir Simon Jenkins of the Guardian and Lord Gnome of Private Eye. The Two Greatest Living British Sculptors were represented by Sir Anthony Gormley R. A. (who sported some Palestinian headwear around his neck). The British Museum's new director, Hartwig Fischer, opened the speeches well and graciously. The man from the generous sponsors, Bank of America, Merrill Lynch, followed and the French Ambassador opened the exhibition itself with certain ironical asides about the virtues of European cooperation. And we then poured into the exhibition.
As others have already indicated, this show, the combined product of a great dedicated artists' museum and a great "universal" encyclopaedic museum, is simply stupendous. On entry, the shock of the space and its fabulous contents was also operatic: a beautifully lit elegantly constructed chip-board "set" snakes down the centre of the otherwise soul-less and dispiriting Lord Rogers' black box, which, thankfully on this occasion, has been opened to disclose a courtyard. The continuous low plinth carries the larger, show-stopping sculptures and creates subsidiary spaces that house drawings and smaller works. Sparks fly between the works on display. The labels are good and the catalogue is exemplary. If the essential message of this engagement of a giant of modernism (Rodin) with a legendary classical artist (Phidias) – that to advance we must look back – seems subversively reactionary in today's art world, so much the worse for us. But for this artist, the timing feels optimal: Modernism is a spent and disintegrating force. Its void is filling with assorted non-artistic activisms and relativisms.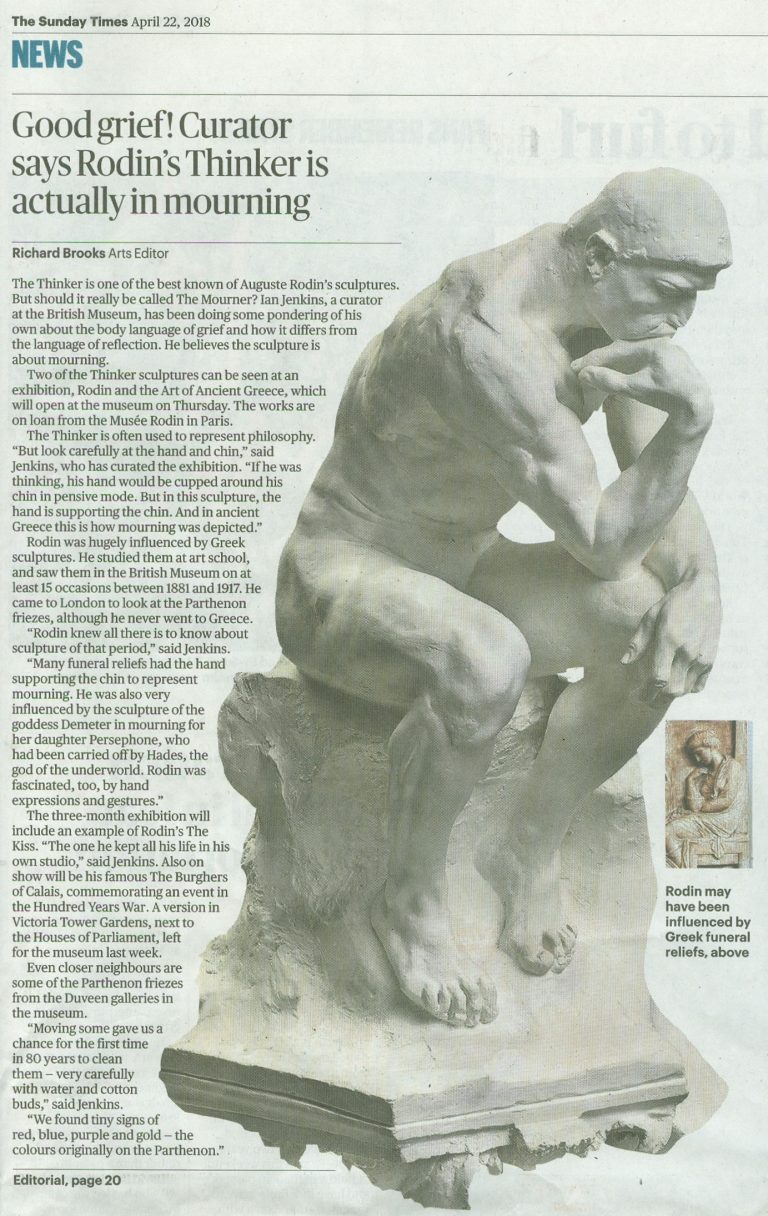 The show is welcome in other respects. It springs from the strengths of museum curators working to their departmental briefs, in this case that of Ian Jenkins, a very fine classical scholar, who himself, as it happens, has carved stone. Even before the show opened Jenkins was creating sparks of his own. He had noticed a distinct echo in Rodin's "Thinker" of a convention for mourning figures in Greek classical art. Yesterday (24 April), a sculptor took issue with this suggestion in a letter to the Times (see below) claiming a likelier source to be present in Michelangelo's sculpture and paintings.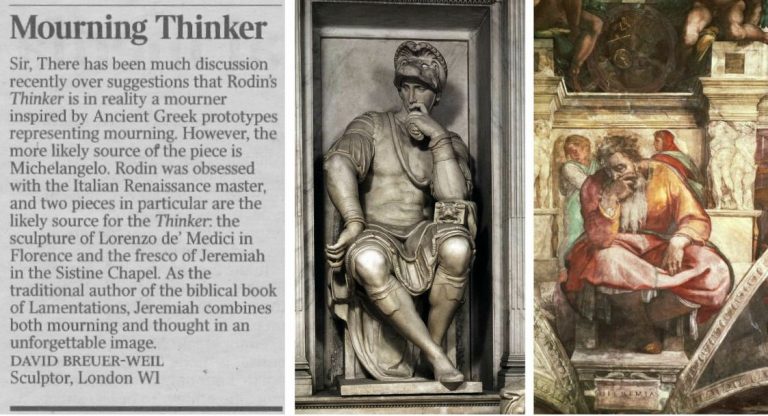 Certainly, Rodin's awareness of and indebtedness to Michelangelo (who once said that he was never less alone than when alone with his own thoughts) was immense and, as David Breuer-Weil points out, there are strong figural resemblances. Nonetheless, Jenkins' point was phrased with precision and he had elaborated it with striking eloquence on yesterday's Radio 4 Today programme – this itself being a most welcome development: we have rather forgotten in recent years that museums are their curators. In the two cited Michelangelos the Lorenzo de' Medici figure is thoughtful but imperious and unperturbed. His back is straight and his shoulders are held high. A forefinger touches his nose and lips but it has no structural function. In the painted prophet Jeremiah from the Sistine Chapel ceiling, while the figure slumps the lower legs are decorously crossed and bear little weight. It so happens, this is a figure with which we have engaged in the past and it is carried on the back of the current ArtWatch UK members' Journal: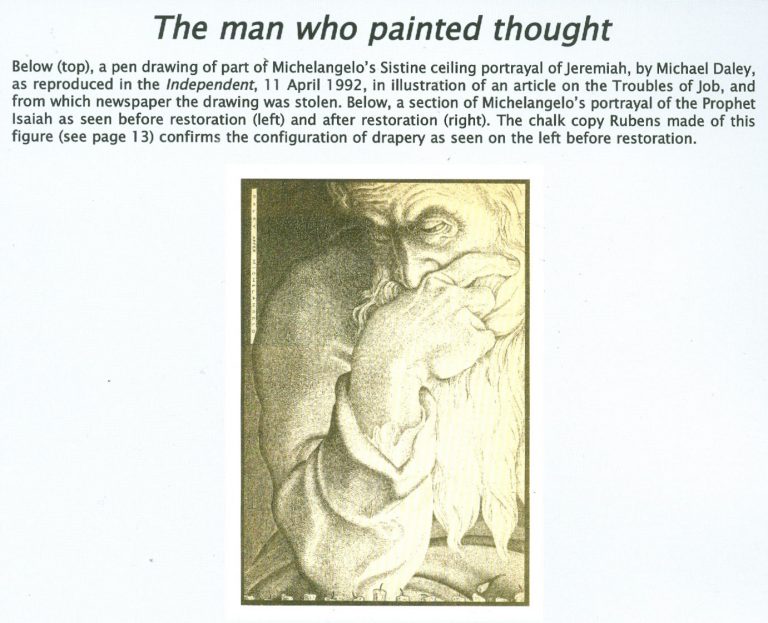 As seen in the Jeremiah detail we had adapted for a newspaper illustration (above), the head rests heavily on the hand which grips the lower face and entirely conceals the mouth – perhaps this near-universal indicator of thought stems from the source of speech being taken out of commission? There is a vital difference between the Thinker and the Jeremiah. In the former, the head rests heavily on the hand but the forearm/hand serves only as a prop or buttress. Indeed, the entire figure is a dynamic portrayal of weight, as we noted in graphic shorthand last night in the diagram below right. Even the legs are involved in buttressing the entire slumping figure who grips the very earth with his toes (photo. by promentary.net.au). Crucially, the hand does not engage directly or expressively with the face other than insofar as the upward buttressing force of the knuckles distorts the upper lip.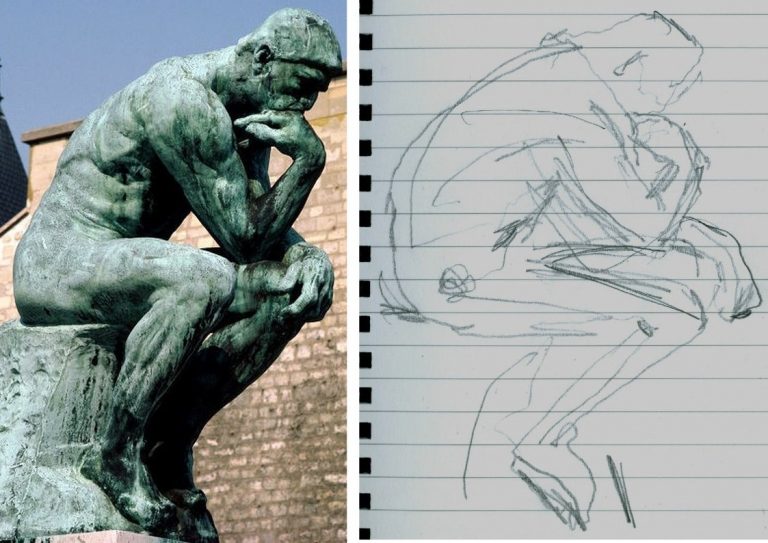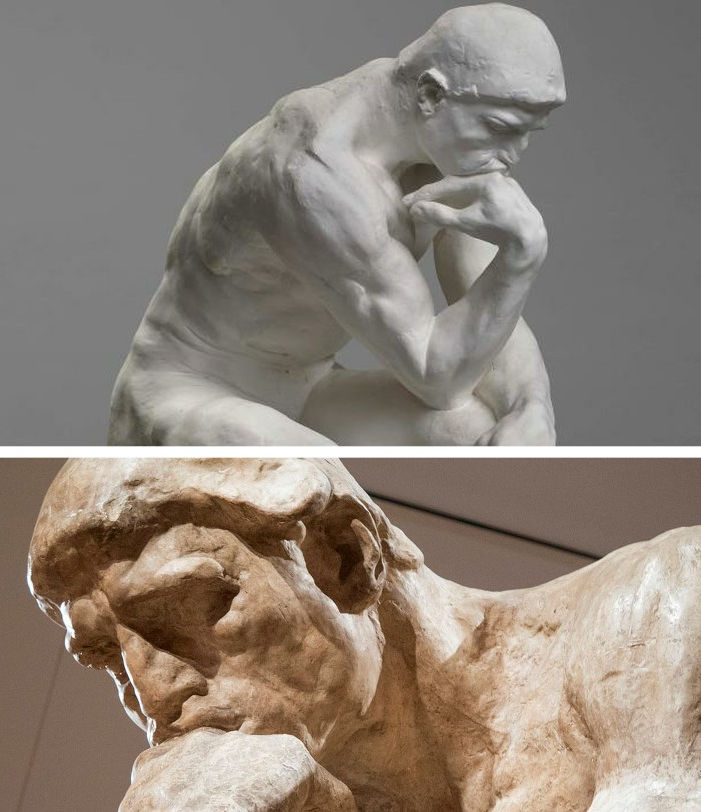 The face itself (above) is not simply thoughtful or absorbed but mournful, desolate. This head is as heavy as the heart within the figure. Jenkins seems vindicated on his observation. For artists and, particularly for sculptors, this show is, more than an invitation, a command to stop, look and draw. The British Museum has sensed as much and will be making drawing materials available to visitors. For our part, we would urge them not to be bashful and to seize the opportunity to draw unselfconsciously and purposively. Drawings are best seen not as a species of self-expression but as straightforward explanations. Draw to explain that which seems interesting significant or distinctive in a particular figure. There are no right answers here, just nice observations worthy of being made. Drawing regularly disciplines thinking and sharpens looking. (Degas once told a woman she had a beautifully drawn head. Draughtsmen know exactly what he meant.) Last night we snatched some drawings of the backs of figures, as below with Iris from the Parthenon whose flowing animalistic energy directly inspired Rodin to make an even more dynamically eroticised bronze.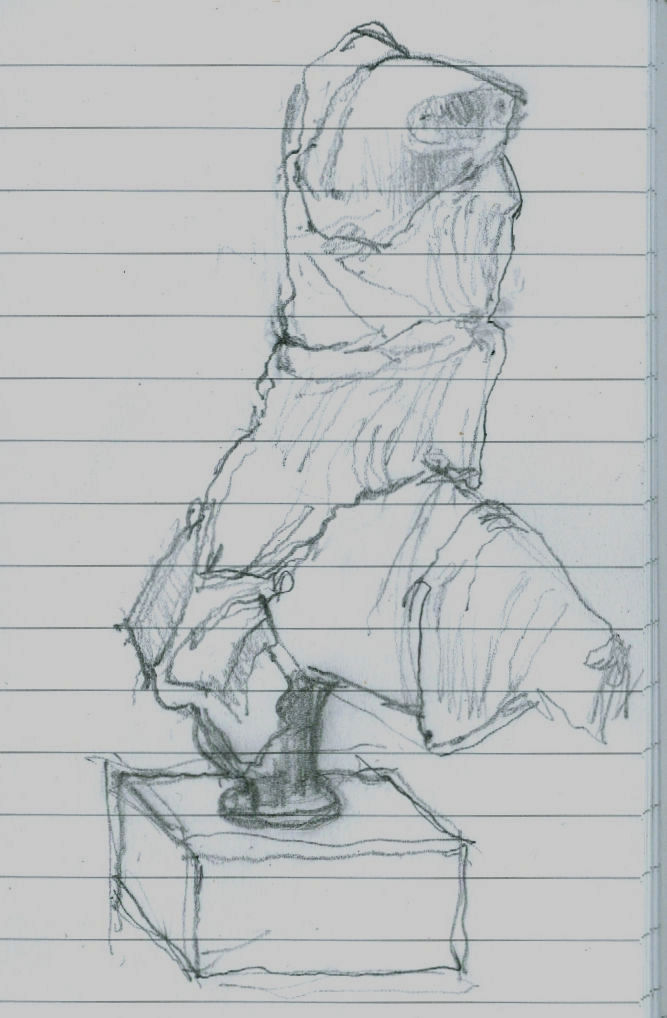 RODIN'S METHOD ENCAPSULATED
We would especially urge all visitors to take careful note of a little showcase at the far end of the gallery (next to a demonstration of plaster piece/mould casting). In it are two small modelled figures that constitute a summation of Rodin's sculptural insights. The models were made to explain/demonstrate the differences between classical sculpture and Michelangelo's figures. We wrote of Rodin's understanding of differing figural conventions four years ago in the Jackdaw magazine.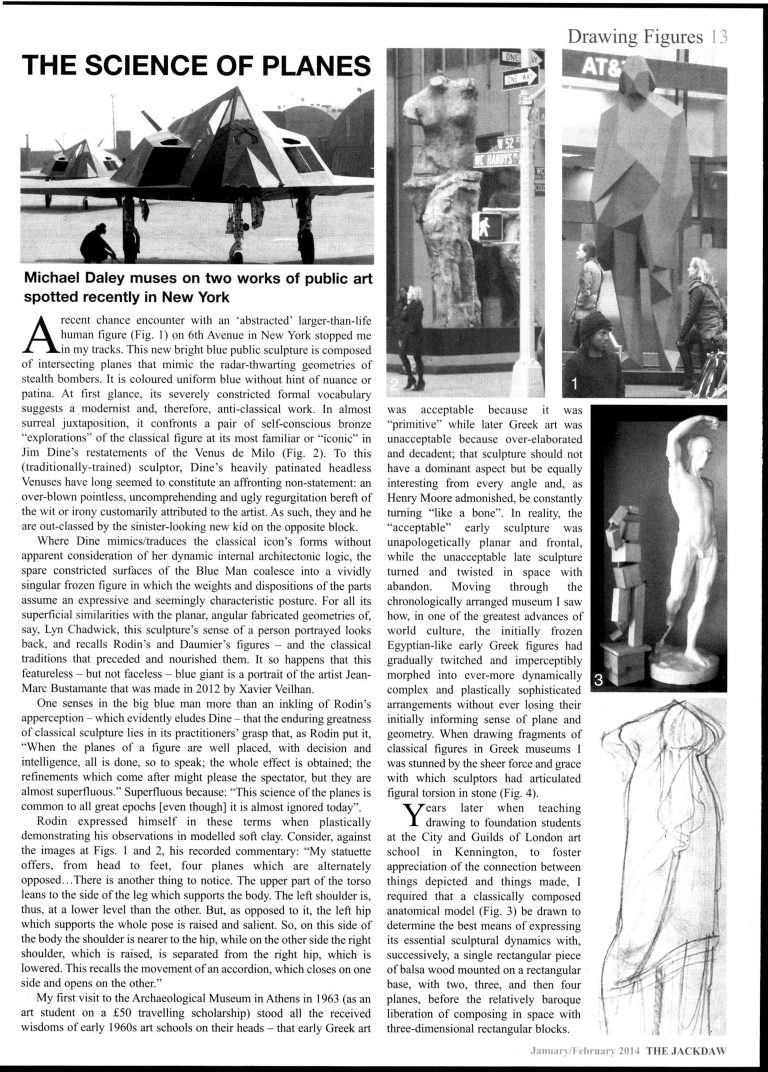 The quoted Rodin comments in the article above came from the 1912 English version of Paul Gsell's Art by Auguste Rodin. We supplement them here with a fuller account from the horse's mouth:
"One Saturday evening Rodin said to me 'Come and see me tomorrow morning at Meudon. We will talk of Phidias and of Michael Angelo and I will model statuettes for you on the principles of both. In that way you will quickly grasp the essential differences of the two inspirations, or, to express it better, the opposed characteristics which divide them'…Rolling balls of clay on the table, he began rapidly to model a figure talking at the same time. 'This first figure will be founded on the conception of Phidias. When I pronounce that name I am really thinking of all Greek sculpture, which found its highest expression in Phidias.'
"The clay figure was taking shape. Rodin's hands came and went, adding bits of clay; gathering it with in his large palms, with swift accurate movements; then the thumb and the fingers took part, turning a leg with a single pressure, rounding a hip, sloping a shoulder, turning the head, and all with incredible swiftness, almost as if he were performing a conjuring trick. Occasionally the master stopped a moment to consider his work, reflected, decided, and then rapidly executed his idea…Rodin's statuette grew into life. It was full of rhythm, one hand on the hip, the other arm falling gracefully at her side and the head bent. 'I am not [f]atuous enough believe that this quick sketch is as beautiful as an antique,' the master said, laughing, 'but don't you find it gives you a dim idea of it? […]Well, then, let us examine and see from what this resemblance arises. My statuette offers, from head to feet, four planes which are alternatively opposed. The plane of the shoulders and chest leads to the left shoulder – the plane of the lower half of the body leads towards the right side – the plane of the knees leads again towards the left knee, for the knee of the right leg, which is bent, comes ahead of the other – and finally, the foot of this same right leg is back of the left foot. So, I repeat, you can note four directions in my figure which produce a very gentle undulation through the whole body.
'This impression of tranquil charm is equally given by the balance of the figure. A plumb-line through the middle of the neck would fall on the inner ankle bone of the left foot, which bears all the weight of the body. The other leg, on the contrary, is free – only its toes touch the ground and so furnish a supplementary support; it could be lifted without disturbing the equilibrium. The pose is full of abandon and of grace.
'There is another thing to notice. The upper part of the torso leans to the side of the leg which supports the body. The left shoulder is, thus, at a lower level than the other. But, as opposed to it, the left hip, which supports the whole pose, is raised and salient. So, on this side of the body, the shoulder is nearer the hip, while on the other side the right shoulder, which is raised, is separated from the right hip, which is lowered. This recalls the movement of an accordion which, closes on one side and opens on the other…Now look at my statuette in profile. It is bent backwards; the back is hollowed and the chest is slightly expanded. In a word, the figure is convex and has the form of a letter C. This form helps it to catch the light, which is distributed softly over the torso and the limbs and so adds to the general charm…Now translate this technical system into spiritual terms; you will then recognise that antique art signifies contentment, calm, grace, balance and reason…And now, by the way, an important truth. When the planes of a figure are well placed, with decision and intelligence, all is done, so to speak; the whole effect is obtained; the refinements which come after might please the spectator but they are almost superfluous. This science of the planes is common to all great epochs; it is almost ignored today.'"
And then, Gsell noted, Rodin turned to Michelangelo: "'Now! Follow my explanation. Here, instead of four planes, you have only two; one for the upper half of the statuette and the other, opposed, for the lower half. This gives at once a sense of violence and constraint – and the result is a striking contrast to the calm of the antiques. Both legs are bent, and consequently the weight of the body is divided between the two instead of being borne exclusively by one. So there is no repose here, but work for both lower limbs…Nor is the torso less animated. Instead of resting quietly, as in the antique, on the most prominent hip, it, on the contrary, raises the shoulder on the same side so as to continue the movement of the hip. Now, note that the concentration of effort places the two limbs one against the other, and the two arms, one against the body and the other against the head. In this way there is no space left between the limbs and the body. You see none of those openings which, resulting from the freedom with which the arms and legs were placed, gave lightness to Greek sculpture. The art of Michelangelo created statues all of a size in a block. He said himself that only those statues were good which could be rolled from the top of a mountain without breaking; and in his opinion all that was broken off in such a fall was superfluous
'His figures surely seem to be carved to meet this test; but it is certain not a single antique could have stood it; the greatest works of Phidias, of Praxiteles, of Polycletes, of Scopas and of Lysippus would have reached the foot of the hill in pieces. And this proves how a formula which may be profoundly true for one artistic school may be false for another.
'A last important characteristic of my statuette is that it is in the form of a console; the knees constitute the lower protuberance; the retreating chest represents the concavity, the bent head the upper jutment of the console. The torso is thus arched forward instead of backward as in antique art. It is that which produces here such deep shadows in the hollow chest and beneath the legs. To sum it up, the greatest genius of modern times has celebrated the epic of shadow, while the ancients celebrated that of light. And if we now seek the spiritual significance of the technique of Michael Angelo, as we did that of the Greeks, we shall find that his sculpture expressed restless energy, the will to act without hope of success – in fine, the martyrdom of the creature tormented by unrealisable aspirations…To tell the truth, Michael Angelo does not, as is often contended, hold a unique place in art. He is the culmination of all Gothic thought…He is manifestly the descendant of the thirteenth and fourteenth centuries. You constantly find in the sculpture of the Middle Ages this form of the console to which I drew your attention. There you find this same restriction of the chest, these limbs glued to the body, and this attitude of effort. There you find above all a melancholy which regards life as a transitory thing to which you must not cling.'"
Clearly, Rodin would have no shortage of ideas if invited to deliver the Reith Lectures. We think we understand what political point Gormley wishes to make with his neckwear. The point of his sculptures is less apparent, as we complained in a letter to the Daily Telegraph (12 March 2008):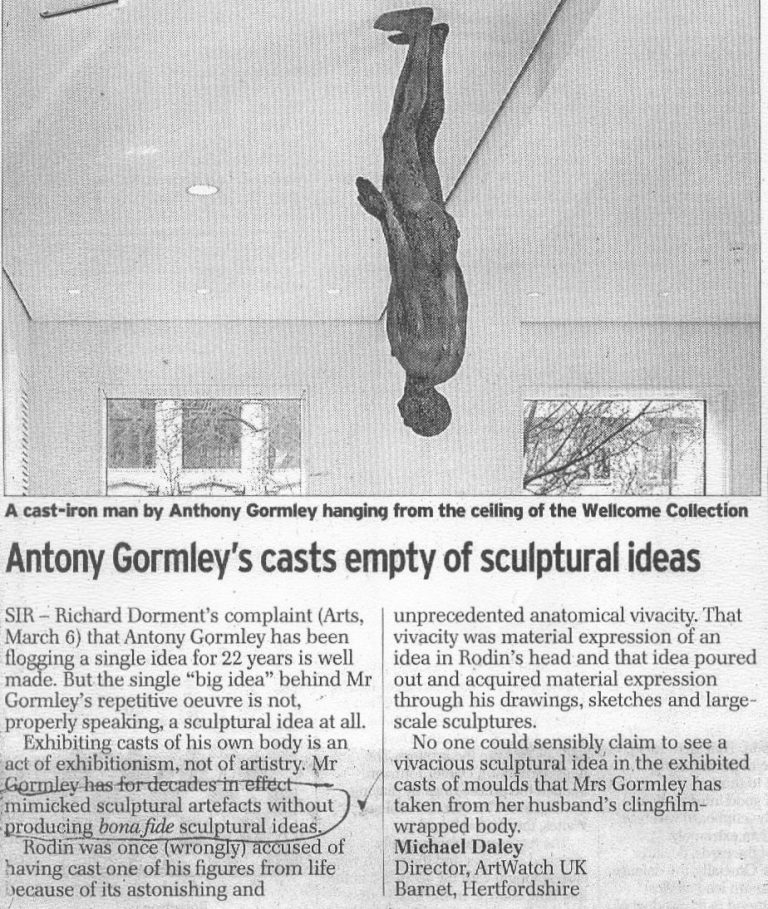 This Rodin/Phidias show has not been cost-free in terms of disruption and the further cleaning of the Parthenon sculptures but, leaving such aside, it is the most sculpturally engaging and instructive we have seen since the great 1972 Royal Academy and Victoria and Albert Museum exhibition "The Age of Neo-Classicism".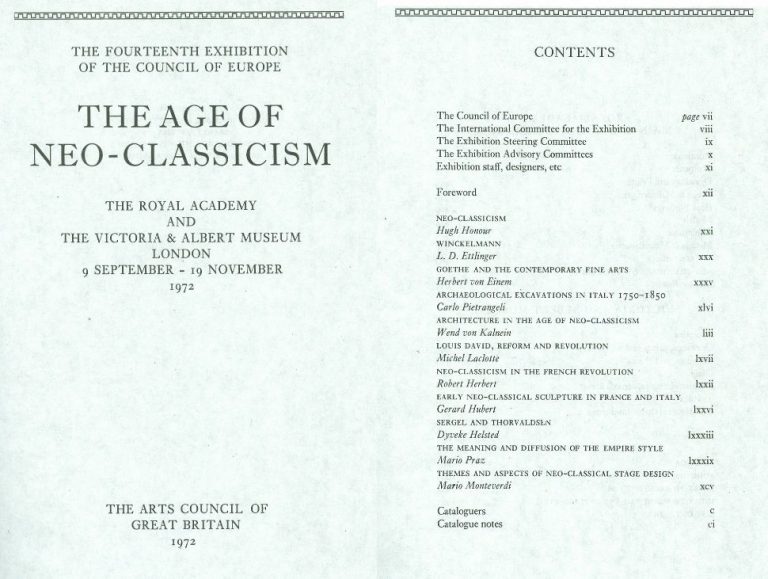 ArtWatch has no politics and, as mentioned, this is an entirely personal response to an exhibition but, nonetheless, we would respectfully point out to the French Ambassador that that earlier wonderful internationally cooperative Neo-classicism show – the fourteenth exhibition of the Council of Europe – was mounted two years before Britain voted to join what was presented to its electorate as a common market in goods. Culturally-speaking we were all Europeans then and we will remain so after Britain has exited the grand project (some believe great folly) that is the European Union. In or out of that organisation, Britain and France will continue to play roles in pan-European culture, just as did the two sculptors below, one being French, one British, whose work was included in the 1972 exhibition. The Briton, Flaxman, had earlier echoed the ancient convention of mourning that Ian Jenkins has so well spotted in Rodin. Art is a universal and welcoming, all-inclusive language. We should keep politics out of it at all costs.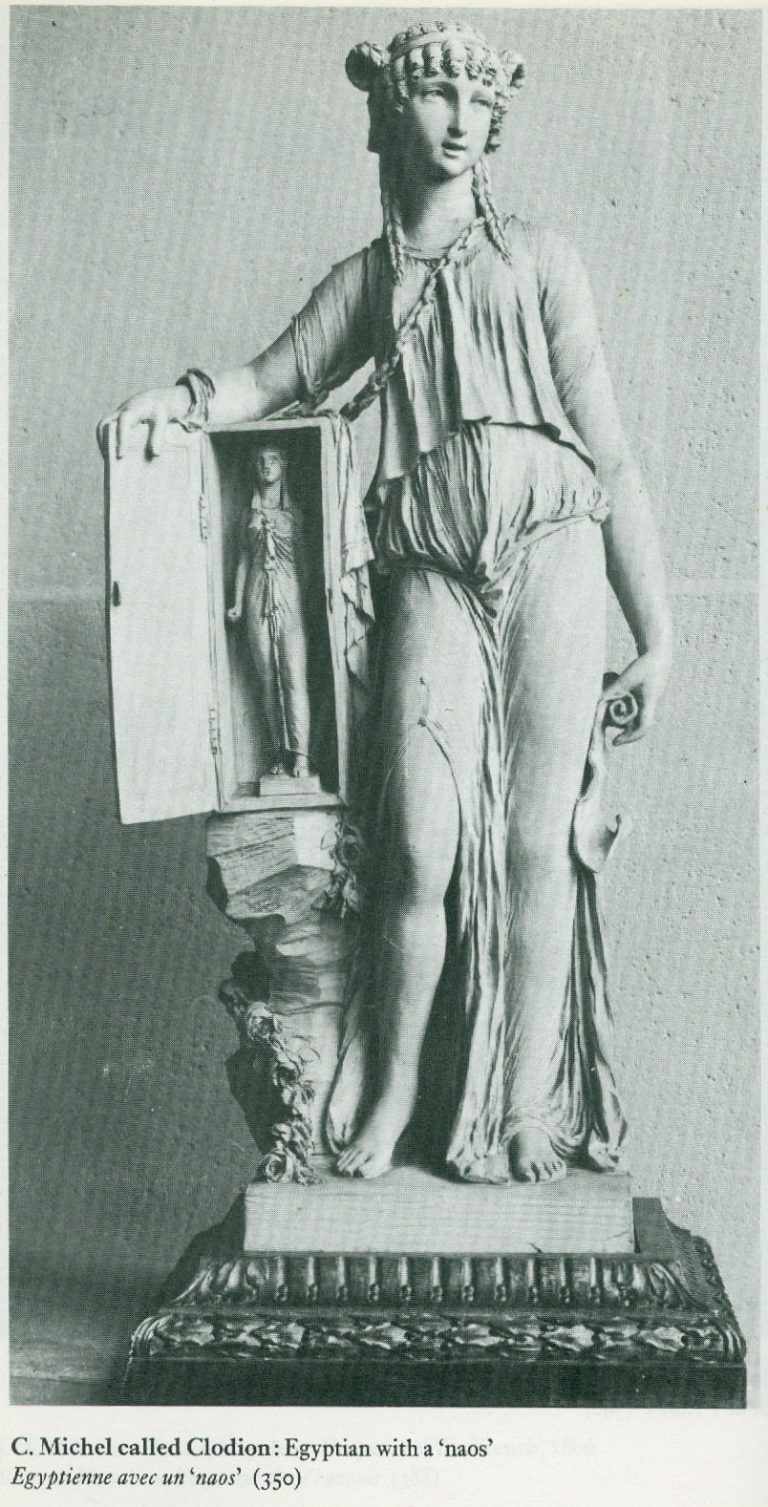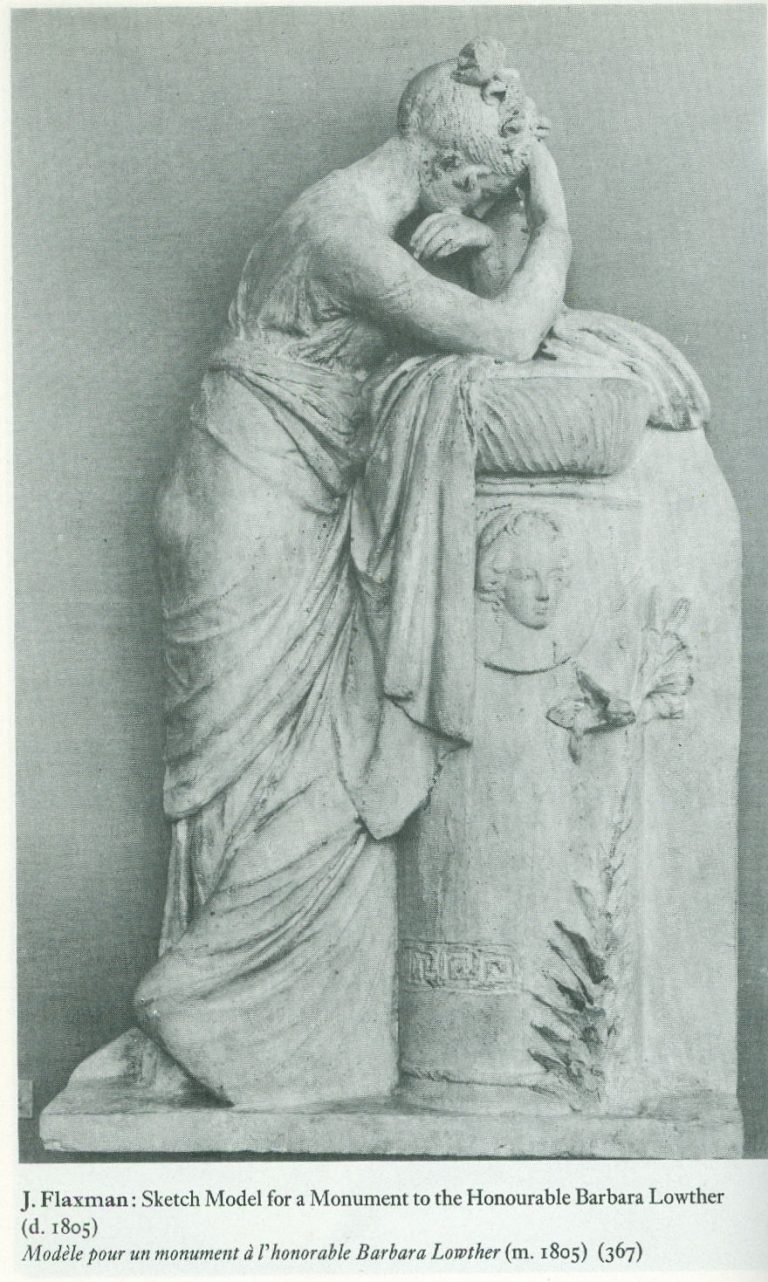 Michael Daley, 25 April 2018
---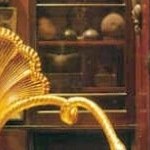 18 May 2014
On the 3rd of May, the Mellon Centre hosted a lively conference on the divisive subject of art connoisseurship – "The Educated Eye?", now available on Webinar (http://new.livestream.com/accounts/7709097/connoisseurshipnow). Yesterday, a three-day congress opened at the Hague on "Authentication in Art" (7-9 May) carrying the subtitle "What happens when the painting you are buying, selling, investigating, exhibiting, insuring – Turns Out to be a Fake or a (Re)Discovery…" A small ground-breaking exhibition with bearing on the two conferences ("Diverse Maniere: Piranesi, Fantasy and Excess" – see below and Figs. 1 and 2) is running at the Soane Museum until May 31st.
Curating the Future
The question mark in the Mellon Centre's conference title, reflects persisting antipathies to connoisseurship, which practice/discipline/pose nonetheless shows signs of rehabilitation. The conference proved admirably even-handed "ideologically" but somewhat constricted in its composition and terms of engagement.
The first speaker, Dr Stephen Deuchar, a former director of Tate Britain who has followed a former chairman of the Tate's board (David Verey) into the Art Fund's management, might be taken to represent the official modernist/progressivist museum world establishment. In his paper, "Connoisseurship Now: Some Thoughts", Dr Deuchar disclosed that the Art Fund no longer confines itself to helping museums buy great works of art that might otherwise be lost to the nation, and now, for example, has contributed "generously" towards something involving the conceptualist Martin Creed (who turns lights on and off), even though no object will be acquired. Gifting this munificence to the Tate required Deuchar (and, perhaps, his chairman?) to step aside from the trustees' deliberations.
There were two problems with Deuchar's position. First, in espousing a Connoisseurship of The New-and-the-Forthcoming, the curator effectively operates blind in bandit territory. As the National Gallery's director, Nicholas Penny, has pointed out, it takes time to evaluate new art, we cannot yet know how it will compare with other art that will shortly follow, or with other yet-to-be-seen contemporary art. Second, his position is old hat and inadvisable: in the 1960s and the 1970s critics championed contemporary art not on quality but on the degree to which it "challenged" existing art practices. So-called "New Activities" were heavily promoted by such critics and curators as Richard Cork and Sir Nicholas Serota of the Museum of Modern Art, Oxford, the Whitechapel Gallery and, for the last twenty-six years, the Tate. With the dismantling of quality as the principal criterion of judgement, and with the aid of the state-funded, respectability-conferring Arts Council, new activities soon became official activities, leaving most fine art practices and practitioners marginalised. Few noticed that "fine art" had cut itself off from related design and craft activities, and from its own history, to become a cosseted licensed playground where rules were the property of "artists" who played by no rules.
Culturally determinist Marxist art historians (like John Berger and, for a while, Peter Fuller), had gone further; had become more mystical and taken to praising art that they judged to have "anticipated the future". Insofar as art might ever be said to do such a thing, it could only be seen to have done so in retrospect. When asked to comment on the significance of the French Revolution, the connoisseur of history, Mao Tse Tung, replied, "It's too soon to say".
The New Art History
The Mellon conference pitted (trade) chalk against (museum) cheese with Dr Bendor Grosvenor of the Philip Mould gallery and Dr Martin Myrone, a Tate curator and champion of the New Art History which pursues the socially signifcant in favour of the aesthetically desirable ("The Limit of Connoisseurship"). In the course of his conceptually suave paper, "Why Connoisseurship Matters", Dr Grosvenor made two startling disclosures. First, having just seen Michelangelo's Sistine Chapel ceiling, he now appreciates that the critics he had held to be "myopic" – were right all along: Michelangelo's work has indeed been ruined. Second, that he stands behind restorers to prevent them from destroying glazes on Van Dyck paintings. (See Figs. 12a to 15.)
Dr Myrone declared allegiance to the New Art History where the social has routed the aesthetic. The resulting knock-about reminded this observer of days on the New Left in the late 1960s when Kim Howells, a rebellious Hornsey College of Art student (but later a New Labour government junior minister), wanted all potentially saleable object-based art to be outlawed – unlike the "democratising" mass medium of TV in which he was dabbling. When we asked Howells how he regarded Goya's Horrors of War etchings, he replied that, although in sympathy with the works' politics, the fact that they were printed on paper, "which is a capitalist commodity", meant that they, too, would have to go. Dr Howells later grew up artistically and, as a visiting minister to the Tate, left a rude comment on a Turner Prize exhibition. Soon after, he lost his place in government.
Parts and Wholes
The afternoon session paired Spike Bucklow, the Hamilton Kerr Institute's Senior Research Scientist ("Connoisseurship, technical knowledge and conservation"), and the British Museum's head of prints and drawings, Hugo Chapman ("Dodging the label connoisseur from Christie's to the British Museum"). Mr Chapman told how, when working in trade (Christie's), he had been advised to describe himself as "an expert" rather than a connoisseur. It seems that the public can more easily forgive mistakes made by the former. Chapman told a story about a librarian who once hid a key drawing from an artist's box when showing it to a scholar, and then, when duly reviewing the scholar's book, professed himself astonished that no mention had been made of the said drawing.
The Hamilton Kerr conservator opted to address small things because "fragments are easier than wholes", while the embarrassed-connoisseur attempted (more sensibly) to make artistic sense of the whole effects of drawings, and to understand, thereby, how they were executed. Dr Bucklow first showed how eloquently cracks on paintings can testify to a picture's age, medium, underlying support, country of origin and so on. Having thus demonstrated an evidently usefully diagnostic tool (a kind of Connoisseurship of Cracks), he dismantled his own edifice by demonstrating how the vagaries of individual works' histories and compositions so complicate the system as to render it effectively useless.
Mr Chapman, while conceding the very great difficulties of making sensible identifications of authorship in drawings, described how he tried to establish Michelangelo's authorship of a drawing by considering its overall relationships and effects. In a nod towards Myrone's position, he conceded that because many works in collections are ephemera, it would be futile to attempt to establish authorship of every piece of paper, even though such works often have great social significance and interest.
Salvage Operation
In the final paper ("New Connoisseurship, Old Europe, and the Future of Art history"), Professor Liz Prettejohn, head of York University's Department of Art History, made a spirited attempt to retain a still-vital discipline that might be free of the more toxic ingredients of past connoisseurship practices. Prof. Prettejohn's credentials in this respect were well established by a demonstration of her undergraduate response to a formal analysis test set by an old-style connoisseur professor. Prettejohn showed a Rembrandt etching about which students who had been reared exclusively on the study of modern art had been able to volunteer only that it was "old" and "probably Victorian".
A Missing Link
This constructive, even illuminating, conference had two constricting deficiencies. First, connoisseurship's purpose was largely confined to determining authorship, with, Dr Grosvenor's startling asides apart, no consideration given to the urgent need to appraise restorers' often radically transforming changes – an unforgivable lapse given that unsound attributions can always be corrected, while bad restorations are forever. Second, no artists contributed to this conference. While all speakers addressed the problem of producing an Educated Eye, none seemed aware that nothing educates the eye faster than producing or copying art. With artists, critical faculties were developed in academies and art schools by doing rather than by reading about or simply looking at. Listening to conscientious people grappling with the difficulties of connoisseurship while seemingly indifferent to or ignorant of art practices and blasé about restoration injuries, left an impression of a profession viewing fundamental problems through the wrong end of a telescope.
It is no accident that artists have initiated most of the great picture-cleaning controversies. Those who create art best identify injuries to it. The present state might easily be corrected: it would take small resources to have student scholars make brief drawn copies of the works they study, thereby appreciating art's vital mind/eye/hand connections. Appreciation and discrimination may be of the theoretical essence in connoisseurship, but taken alone, without knowledge of and engagement with art's practices, they leave practitioners susceptible to the traditional charge of being pretentious poseurs.
Drawn to Distinguish
Hugo Chapman's sound quest to grasp the logic of the whole triggered theoretical and practical thoughts. Drawing provides the best route into questions of connoisseurship, being the most private, direct and likely entirely autograph form of image-making. If trainee art historians were required to make different types of drawing, even for brief periods, it would be incalculably helpful in establishing connections between historical artefacts and their original purpose.
Students might, for example, practice drawing as Rodin did with his famous late quick figure studies – never taking their eyes off the model while enclosing a complete figure with a swift continuous contour. Rodin did so, he explained, to fix in his memory the unique total effect of the body – its gestalt – and to test his own grasp of the miracles he had observed. The means required for drawing are miniscule: an American newspaper illustrator who illustrated first night performances of plays concealed a small pad and a very short pencil in a jacket pocket so that he could make discretely drawn notes of the actors to use later to prepare his finished illustrations.
By helping to fix images in the mind, drawing is the very opposite of taking photographs, which practice can evade thought and appraisal. Rodin once reproached himself for having failed to appreciate that the most important part of a head lay not in any of its individual features but in the manner in which they were all fused into a whole. In perverse contrast, the decision to restore the entire cycle of Michelangelo's Sistine Chapel frescoes was made not on any analysis of the whole and its internal relationships but on the basis of brief chemical tests made on a single lunette (the sections of wall above the arched windows in the Chapel) that happened to be within the reach of restorers who were working on minor frescoes. Misplaced faith in the validity of those "scientific" tests (of an insufficiently tested cleaning agent – it was later discovered to have etched the surfaces of stone, producing corrugations that scattered light, rather than to have cleaned them) permitted the Vatican's curators and restorers to launch a cleaning programme on the entire fresco scheme with uniform and pre-determined applications of a single, ferocious stone-cleaning material (a soda, ammonia and detergent cocktail) even though, to those with eyes to see, the lunettes had played a subdued and subordinate role to the ceiling proper in Michelangelo's grand scheme. (See Figs. 4 to 9.)
There is a another way
By all accounts, the finest, least controversial, most sensitive picture restorer working in Britain in the 20th century was the German émigré, Dr. Johannes Hell. His method was utterly respectful of the whole and overall effects of pictures. Dr Hell had trained first as a fine artist and then taken a doctorate on Rembrandt's drawings. He deplored restorers' practice of cutting "windows" through (assumed) dirt and varnish until bright colours and light tones are exposed (as at Fig. 7). He worked overall on the entire surface of a picture with the mildest solvents so that no optically and conceptually deranging relationships could emerge. His slow method was made slower by frequently "resting" a picture to give it time to air out, so that no corrosive solvents might accumulate within the paint layers. With Hell's method in mind, it can be painful to consider the haste in which today's restorers procede with their swabs, acetone, scalpels and "windows" when in pursuit of more authentic and original paint underneath a picture's surface.
Connoisseurship in action
We take a degree of pride in the fact that the (proper) exercising of connoisseurship has been alive and flourishing within this organisation for over two decades. From its inception in 1992, Artwatch has deployed aesthetic discrimination and visual analysis in demonstrations of injuries made during "conservation treatments". Specifically and in terms of methodology, we have done so by the correlation of photographic records of the pre and post-restoration states of works. (This website was custom-made to carry directly corresponding images side by side or in continuous vertical sequences so as to facilitate the most directly revealing visual comparisons.) In the Witt Library, we see photographic records that do not just assist the making of attributions but that also record the progressive debilitation of paintings over successive restorations. We notice that the difference between an authentic work and a close copy can be far smaller than that between an authentic work seen before and after a bad restoration. Dr Grosvenor really did not need to wait until he could join the scrum in the Sistine Chapel to appreciate that Michelangelo's work has been ruined – he needed only to study the countless pre and post-restoration photographic records that we have carried on this site and had described earlier at length in the 1993 (James Beck and Michael Daley) book "Art Restoration ~ The Culture, the Business and the Scandal".
The nature of evidence
Defenders of restorations often say that they cannot be judged on photographic evidence. In other regards, art dealers have great faith in the veracity of photographs – they will bid online on the strength of a single photograph. Bernard Berenson preferred to examine Michelangelo's ceiling by looking at large photographs in books rather than by eye when craning his neck in the chapel. We should be clear on two points: there are no good grounds for disregarding photographic proofs of restoration injuries; the kind of evaluative test that Prof. Prettejohn's old style connoisseur teacher devised for undergraduates might just as profitably be applied to analysing the differences between pre and post-restoration conditions. (See "An Old Style Connoisseur Test for Undergraduate Art Historians:" opposite.)
For all the social alertness of the New Art Historians, little comment has been made on the major organisational and "ideological" changes within the museum world over the last half century or so. In our view, the failure of scholars and curators to heed artists' complaints stems from the fact that they have allowed themselves to become dependent on the technical expertise of the very many restorers who have become institutionally embedded throughout the museum world. It is now restorers not painters who pontificate on the making of paintings. It is they who insist that photographic records of their own "treatments" may not be held up and used in evidence against their actions.
Speaking generally, as an organisation, we are bemused by a profession that uses photographs for all manner of curatorial, scholarly and critical ends except for the indentification of restoration injuries. Scholars now routinely revise their own professional scholarly accounts in order to bring them into line with restorers' latest, often radical, transformations. In the published accounts of restorers and curators alike, nothing ever counts as an injury – every change is presented with drum rolls as a "discovery". Whole steamships, Vermeer necklaces and sheep can go missing without an art historical murmur or any ruffling of connoisseurs' feathers. Even in terms of attributions, Artwatch has been pro-active on the connoisseurship front.
The misappliance of science and early calls for the the return of connoisseurship
While protesting since the early 1990s against the cult of "scientific" conservation and its disparagement of "subjective" aesthetic judgements, we have throughout commended a return to proper and rigorous applications of connoisseurship. In the October 1994 Art Review article "How to Make a Michelangelo", we suggested that "The fact that our scholars and technical experts flit quite so promiscuously through time and space might suggest uncertainty of connoisseurship and ability to 'read' paintings". Three years later, in connection with another National Gallery attribution, we wrote: "In recent years the art of connoisseurship has become entangled with the scientific analysis of paintings. Problems of attribution, once resolved by the educated 'eyes' of individuals, are increasingly seen as the property of interdisciplinary teams of curators, restorers and scientists who enjoy the technical, financial and professional support afforded by large museums. But how sound are the new proceedures – and how reliable are the published accounts given of them?" (Art Review, July/August 1997, "Is this really a Rubens?").
In truth, it might fairly be said that the campaigning essence of Artwatch has been a constant assertion of the primary value of visual connoisseurship – see also, "Is Michelangelo's Entombment in the National Gallery by Michelangelo?" by James Beck in the Gazette des Beaux Arts, CXXXVIII, 1996. We have devoted two entire ArtWatch UK journals to critiques, successively formulated and advanced by the painter/scholars Euphrosyne Doxiadis and Dr Kasia Pisarek, of the National Gallery's Rubens "Samson and Delilah" attribution. The title of the last book (2006) by ArtWatch's founder, the late Prof. James Beck, was "From Duccio to Raphael: Connoisseurship in Crisis". It received few reviews – and no mention at the Mellon Centre conference.
A connoisseur of Ephemera
No mention was made, either, of a remarkable new work of scholarship published last year by the British Library and the Oak Knoll Press in the USA – Michael Twyman's "A history of chromolithography ~ printed colour for all" – which we first encountered in the Institute of Conservation's Chantry Library, Oxford. The ingenious lengths to which printers went in the pre-photographic era to replicate any image, and all things in the world, in reliable colour on multiple, co-ordinated slabs of stone is truly astonishing to behold (see Fig. 3). It is impossible to exaggerate either the illuminating usefulness of this major, beautifully produced book, or the sheer delightfulness of its immense pictorial riches. For those who might feel that a major tome on a history of a printing method might make for dull or excessively technical reading, we would urge, "think again": here are to be found ephemera (printed bills, advertising cards and the likes) alongside early pioneering hand-drawn attempts faithfully to produce such elusive epically heroic fine art subjects as paintings by Turner and Michelangelo. The faithfulfulness of the attempts to replicate the values of the most hallowed artists summoned applications of great sensibility and powers of aesthetic discrimination. Here, the connoisseur, the scholar, the social historian, the technical historian and the lover of fine drawing and colouring might all feast together, in awe at the dedication, the talent, the artistic insight found in an unsung publishing trade.
We were delighted, for example, to find so full an account of the production of Robert Carrick's 30 x 44 inches 1852 chromolithographic copy of Turner's " Rockets and Blue Lights…" made in no fewer than fourteen colour separations (see Fig. 9). That faithfully made, expensive and then state of the art record ("the only perfect reproduction of a picture ever issued" – as it was claimed to have been in 1900) testifies indisputably to the destruction of the principal boat in the painting on which we have commented a number of times, most recently on the obtuse (or brazen) presentation of this wrecked picture as a jewel in Turner's crown – see "From Veronese to Turner, Celebrating Restoration-Wrecked Pictures".
Even more importantly, there is also reproduced, in its entirety, a massive 1,027 x 470 mm (40 by 27 inches) faithful cartography-like, on-the-flat, full colour image of 1852-53, that simultaneously depicts the entire curving geometries of Michelangelo's combined ceiling and upper walls decorations (see Figs. 4 to 8). We had never before seen this work in its entirety. It reproduces every single figure (there are over three hundred) and architectural motif Michelangelo depicted. Most preciously of all, this encyclopaedic record testifies to the hierarchy of values within which Michelangelo situated his images.
By capturing the tonal and chromatic logic of the whole, not the fragment, of Michelangelo's murals, this hand-drawn lithograph corroborates precisely the written testimony of the painter Charles Heath Wilson who examined the ceiling on a special scaffold in the 19th century. All parts of this great pictorial ensemble were not equal in their treatment. The "outer" section (as here seen at Figs. 4 and 5) was the semi-circular sections of painting made around the windows on the upper walls (the lunettes). They were the darkest passages of painting. They contained in their illusionistic recesses (see Fig. 7) depictions of the ancestors of Christ. This dark band of human figures set Michelangelo's work apart from the wall paintings below – as did his great escalation of scale in his figures. Far from being an arbitrary but precisely situated zone of dirt, as the Vatican authorities preposterously and against all scholarly records claimed, this dark zone served aesthetically and symbolically as a kind of visual plinth for the even more monumental figures and the Divine Events depicted above on the ceiling. The next row comprised an architectural screen against which Michelangelo's stupendous giant prophets and sibyls were set and relieved in the brilliant cinematic, shadows-casting light we have previously described. Above them, set in the sky glimpsed through illusionistic apertures in ceiling's architectural scheme are the biblical scenes and the depictions of God Himself – Whose restoration injuries we have also chronicled. Today, by the miracles of our technology, we can see and move around the entire, now restoration-ruined surfaces of the Sistine Chapel, but the Vatican will not release a TV film made in the 1960s of the pre-restored state. Recent technical advances have carried us into a world where it is possible to produce perfect facsimiles not only of images but of three-dimensional objects and, even architectural spaces and forms.
CODA
The small exhibition currently showing at the Soane Museum shows three-dimensional realisations of graphic inventions of Piranesi by the foundation Factum Arte. A full size replica made by the foundation of Tutankhamun's tomb in Egypt was unveiled this week. It was reported by Peter Aspden in the Financial Times "Fit for a king: Tutankhamun's replica burial chamber"(see Fig.). Such technical capacities for replication raise issues that we will explore in coming posts. This fertile new territory is one for which scholars and connoisseurs will be ill-prepared to assess for as long as they ignore the mistreatment of unique and historic art objects by technicians who transform them into synthetic, polished replications of their (assumed) original autograph states. This website launched in 2010 with a discussion on authenticity in art and music ("The New Relativisms and the Death of 'Authenticity'"). It did so in response to a restorer's imposition (in new but deceivingly aged and cracked paint) of a piece of computer-generated "virtual reality" onto Holbein's The Ambassadors. Connoisseurship is more urgently needed today than ever.
Michael Daley
Comments may be left at: artwatch.uk@gmail.com
---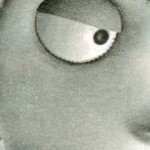 12th November 2012
As an organisation with an essentially critical raison d'etre we get few opportunities to celebrate bona fide creative achievements. This post, in part, is an exception. Longer than usual, it is a tale of two separate but cross-linking events. One is the case of a dog that has not barked, the other is a story of a dog that has been brought back from the dead. To a surprising degree, the latter throws light on the former, which case we consider first.
The 500th anniversary of the completion in 1512 of Michelangelo's Sistine Chapel ceiling paintings has gone almost entirely un-celebrated. On October 31st, in a small "in-house" service marking the 500th anniversary of Pope Julius II's service celebrating the completion of the ceiling, Pope Benedict XVI asked a group of cardinals, Vatican employees and guests to imagine what it must have been like 500 years ago, adding that contemplating the frescoes renders them "more beautiful still, more authentic. They reveal all of their beauty. It is as if during the liturgy, all of this symphony of figures come to life, certainly in a spiritual sense, but inseparably also aesthetically."
Apologists for the transforming 1980-90 restoration of the ceiling are nonplussed by the missed opportunity for a mega-beano half-millennium art celebration. In truth, it is not hard to see why this opportunity should have been foregone by the Vatican. Just two decades after completion of the most intensely controversial restoration of modern times, the state-of-the-art air-conditioning system installed to protect the chemically stripped-down plaster ceiling is failing to cope with the "unimaginable amounts of dirt" and massive atmospheric fluctuations caused by the Sistine Chapel's throngs of paying visitors whose disrespectful raucous behaviour is a source of shame and censure within Italy. On November 1st it was reported that the Vatican has "no plans to try to limit tourists". There is not a lot to celebrate here.
This latest failure of an "ultimate restoration" to anticipate and meet future conservation needs carries an implicit call for further urgent conservation but, with it, an indication of art restoration's specious philosophy and too-frequently destructive consequences. When Art begets art there is pure gain, a life-giving gift. The old art remains to exert its own powers; the new brings fresh experiences and perspectives; running in tandem, each enriches the other as traditions are extended and invigorated (see Figs. 29 and 30). Restoration begetting restoration is another matter altogether.
Art restoration is not a bona fide life-conferring process. Because Art is self-renewing and self-extending, it does not follow that its historically rooted artefacts may be renewed endlessly, routinely, by technicians. To the contrary, in order to read Art's trajectories it is imperative that its works remain unadulterated. Restorers, with their ever-more ambitious and presumptuous attempts to undo and redo earlier restorations and to reverse all evidence of age, leave old works of art as increasingly spurious impostors. It cannot be otherwise. This is not a question of finding the right "Professional Ethics". Restorers cannot act outside of their own heads and times, which is why the most authentic old works of art remain those that are least restored. Nor can restorers submit to criticism and evaluation, as all bona fide creators must do. Their professional mystique must be preserved at all times. It rests on impenetrable screeds of pseudo-science and systems of technical "analysis" that preclude evaluation of the optical consequences of interventions on works of visual art.
In this depressing art cultural milieu it was startling and refreshing to encounter the recent stunningly brilliant black and white photographic stills promoting Tim Burton's new animated film Frankenweenie (Figs. 1, 3, 10, 11, 12, 13, 14, 23 and 27). The wit and force of these images rewards examination. The technical key to what might otherwise seem an improbable (if not blasphemous) artistic connection between the unique theologically-charged high art enterprise of Michelanglo's painting of the Sistine Chapel ceiling, and an animated horror film for children in which one reviewer detected an anti-creationism polemic, can be found in the film's eschewing of colour, and in Michelangelo's superimposition of black painting over his own frescoes.
A more general connection is that, for all the marketing hullabaloo of expensively made films, Frankenweenie proves to have been a remarkably art-driven and shaped enterprise (see Figs. 10 to 14). That the full-blown cinematic realisation of this film's essentially personal and idiosyncratic vision required the specialised contributions of an enormous range of talents and expertises, links it organisationally to the ambitious artistic productions of the great Renaissance art studios.
In part, the power of Burton's images stems from the simple optical fact that the contrast between a pure solid black and a clean white is the most potent tool in the visual box. But even more, it stems from the fact that between those graphic poles an effectively infinite but individually discernible continuum of values (tints and tones) can be run. An examination of the highly disciplined, imaginatively constructive deployment of such tone/values in Frankenweenie helps pinpoint the nature and the scale of the artistic losses suffered through the "restoration" of Michelangelo's Sistine Chapel paintings (see Figs. 2, 8, 9, 19, 20, 21, 22, 31, 32, and 33).
Burton's vivid black and white photographic imagery truly participates in one of modern Western art's most distinguishing traits. From Alberti to Ruskin, artists have appreciated and explained how tonal gradations can magically conjure three-dimensional structures (form) on flat pictorial surfaces. Until the 1960s every art student learnt to manipulate tonal values in this fashion. Tragically, such conventions have been discarded in (most) fine art education and in much of today's fine art practice. Fortunately, Cinema and Photography generally have sought (however awkwardly) to absorb those ancient empowering lessons, and in Burton's hands they find singularly powerful expression.
To take Michelangelo first: he did not want the job of painting the Sistine Chapel ceiling. He wished to work on a massive carved marble tomb of sculpted figures. When compelled by the Pope (Julius II) to paint the ceiling as a novice frescoist, he attempted to get out of the job as soon as he encountered technical difficulties. He was made to continue after being instructed on avoiding future errors (by mixing plaster properly) and concealing existing ones (by applying transparent washes of glue/size). The onerous duty turned into a labour of love and on completion of his hurried, direct painting into the wet plaster of the ceiling, Michelangelo continued working on the dried fresco surface with dark pigments bound with glue or size – to the fury of an impatient Julius II. With those additional (or "auxilliary") paints he added details and generally strengthened and revised his designs so as to make his pictorial effects more dramatically and unprecedentedly sculptural.
Between 1980 and 1990 the frescoes were transformed in a filmed restoration sponsored by NTV, the Nippon Television Corporation. The restorers contended that the paint applied on the dried frescoes' surface was not Michelangelo's and they removed it to artistically adverse and violently controversial effect (for a full account of which, see "Art Restoration ~ The Culture, the Business and the Scandal", by James Beck and Michael Daley, chapters III and IV). With the work left less sculptural and more stridently coloured, the restorers pronounced the "discovery" of a New and True Michelanglo – an artist who, contrary to all previous understanding, was a brilliant colourist who had abandoned "traditional chiaroscuro modelling" in favour of vibrating "electic contrasts of hue and much irridescence". This post hoc rationale defied both historical testimony and technical evidence.
It is a matter of record both that Michelangelo made sculptural models of the ceiling figures to study the shadows that their forms would cast (see Fig. 9), and that the shadows he had painted onto the dry ceiling were copied countless times from within his own lifetime until the time of the last restoration (see Figs. 19 to 22). When Michelangelo was compelled to stop painting, the world was astonished by his sculptural – not chromatic – effects. He had revolutionised mural painting by imposing upon the chapel's curved ceiling the (inverted and paraphrased) monumental architectural tomb peopled by carved figures that he would have preferred to be executing. The restorers, having injured the material realisation of Michelangelo's revolutionary pictorial conception, demanded a re-writing of art history. That so many scholars were intitially compliant might testify to a profession that writes more than it looks and that uses images as illustrations to theories or texts, rather than as records of the most primary of all sources – the works of art themselves.
Thus, the restorers and their art historical supporters jointly insisted, against hard evidence, that what had been taken for centuries to be carefully studied sculptural effects were deceiving byproducts of "candle smoke and still more of glues" applied by previous restorers. Their suggestion that such phenomena were responsible for "the kind of suggestive painting by shadows for which Michelangelo was admired until a few years ago" was patently absurd: how could gradual arbitrary accumulations have arranged themselves along Michelangelo's designs so as to enhance his sculptural effects? Conversely, if those effects really had been products of gradual accidental accretions over the centuries, what might have deceived Michelangelo's own contemporaries, biographers and copyists into believing that they already existed?
Consider further the very weight of the historical evidence. One of Michelangelo's biographers, Giorgio Vasari, marvelled at his ability to conjure seemingly palpable bodies that had somehow wrested themselves from the surfaces on which they had been painted, into the (seemingly) real space of the artist's invention:
"Then who is not filled with admiration and amazement at the awesome sight of Jonah…The vaulting [of the ceiling] naturally springs forward, following the curve of the masonry; but through the force of art it is apparently straightened out by the figure of Jonah, which bends in the opposite direction; and thus vanquished by the art of design with its lights and shades, the ceiling even appears to recede."
Vasari's testimony on Michelangelo's deployment of "lights and shades" to sculptural effect was echoed in the short biography written by Ascanio Condivi, a student and assistant through whom Michelangelo is believed to have spoken by proxy. For Condivi, too, the figure of Jonah was:
"…most admirable of all…because contrary to the curve of the vault and owing to the play of light and shadow, the torso which is foreshortened backward is in the part nearest the eye, and the legs which project forward are in the part which is farthest."
As a single instance of evidence, consider the copy of Jonah shown at Fig. 22. This ink and wash record was made by Giulio Clovio who was known as "the Michelangelo of small works" and recognised by Vasari as a most "excellent illuminator or painter of small things…who has far surpassed all others in this exercise". His copy happens also to record a group of figures below Jonah. These figures had been painted by Michelangelo beteween 1508 and 1512 but were destroyed by him in 1535 when he prepared the altar wall to receive his single massive Last Judgement mural. Thus, we can see through Clovio's copy of those long lost passages of Michelangelo painting that strong and cast shadows were decisively present when the painting was brand new. A nude youth then held the tablet bearing Jonah's name. That figure and the tablet both cast shadows onto the very wall on which they were painted. Michelanglo had thus employed a trompe l'oeil pictorial device to deceive the eye into believing that the figure stood in front of the surface to which it adheres. On this testimony alone claims that Michelangelo's "suggestive painting by shadows" was a product of "candle smoke and still more of glues" should never have been uttered.
Where the Vatican's restorers cavalierly discarded Michelangelo's shadows, in Frankenweenie, Tim Burton has laboured lovingly to produce his shadows. It is remarkable to how great an extent photography and film-making today have been informed and nourished by fine art conventions and the lessons of painting (see Fig. 16). On the influence of painting on the great cinematographer, Jack Cardiff, for example, see the tribute paid to him by Martin Scorcese in Fig. 15. On the early cinematic influences on Burton, see Figs. 4 and 5. It is also remarkable to how great an extent film-making has taken possession of the traditional humanly engaging story-telling and symbolic functions of art that contemporary museum and gallery "fine artists" have abandoned. With animated films, where the characters and their settings are drawn or modelled, distinctions between artistic and photographic media lose almost all force.
Burton's own film – a remake of his earlier (1984) half-hour, live-action film of a boy who resurrects his pet dog after a fatal accident – was made on an acknowledged artistic impulse: "I'd look at the drawings I did originally, and there was a simplicity to them I wanted to get" (see Fig. 11). Where Michelangelo had completed his vast cycle of painting with hundreds of figures – and probably thousands of preparatory studies – in just four years, thirty modellers (led by puppet makers Ian Mackinnon and Pete Saunders and the animation director, Trey Thomas) each spent over a year working on Burton's 86 minutes long film. Technically speaking, the film is a 3D black and white stop-motion animation. That is, models of characters are placed in model sets to be moved in tiny increments each of which is separately recorded in a process that is notoriously slow and laborious – a skilled animator might produce five seconds of footage in a week. Burton, a former Disney animator, opted for this method in preference to digital animation for a variety of reasons but, perhaps, primarily because "There's an amazing amount of artistry in it", as he told Mark Salisbury in the Daily Telegraph.
This is certainly the case. In the first instance the models for every character and prop are made by hand (see Fig. 10). Then they are then painted. Then they are arranged on sets. Then they are then lit. Finally they are animated and photographed. The models themselves exert great appeal to Burton who loves their handcrafted tactile feel. He loves the challenge of embedding characters in inanimate objects and then "bringing them to life" through motion and changing expressions and relationships. The tactility of the models is deliberately enhanced by showing the film in 3D: "…it's the closest thing to walking on the set of stop-motion animated film, seeing what the artists have done, feeling those textures and feeling the dimensional quality you get when you are there." (A delicious glimpse of the artistry evident in the sets by Rick Heinrichs can be found in the online animation magazine Skwigly.)
Capturing individual characters in the models was preceded by immense thought and study. For "Sparky", Burton required the animators to visit dog shows, and to study and film dogs in the studio. This is very much in the Disney tradition: in Katherine and Richard Greene's 1991 "The Man Behind the Magic", a photograph shows no fewer than eighteen draughtsmen and an instructor, surrounding and drawing a live deer from every angle as preparation for the film Bambi. Disney is quoted as holding that "We cannot do fantastic things…unless we first know the real". (Modern art schools notwithstanding, the Renaissance and its studio practices are not yet extinct.)
The beauty of Burton's enterprise is that everything in it is given a value and every value serves an express purpose in terms of physical structure, characterisation, emotional force, and/or narrative development. When made, the models were painted in monochrome, in shades of black, white and grey (apart from grass, flowers, drapes and certain other items) because, for Burton "The black and white is very much part of the story, the character and the emotion of it. There's something very pleasing about it, seeing this kind of animation this way, a certain depth, and the way things go in and out of shadows…" On which, let us further consider Michelangelo's "suggestive painting by shadows".
In Fig. 18 we see an apparently brilliant (but in truth deceivingly) "cinematic" photographic exploitation of cast shadows. In Fig. 19 we see (on the left) that before restoration Jonah's left foot cast a strong shadow across the floor, which shadow merged with another dark shadow under the seat. The shadow under the seat "drew" a sharp, tonally contrasting vertical boundary between the lighter front-facing plane of the upright block that supports the seat and the receding (shaded) side face of that block. To the right of that block (and Jonah's left leg) another, albeit less strong, shadowed zone threw the block's right-hand edge into relief. After the restorers removed what they took to be dirt and disfigurement, the shadow cast by the foot disappeared (as seen on the right) – as also did much of the shadow under the bench, thereby exposing the previously hidden side of the upright block. The shadow to the right of the block was also weakened.
Mere dirt settling on a painting would weaken and blur outlines and edges. It would lighten dark sufaces and darken light ones, thereby compressing the range of values present. It is technically inconceivable that it might sharpen edges by intensifying contrasts. There is no dirt (or discoloured varnish) that is simultaneously capable of lightening already light surfaces while darkening dark ones. Had the shadows really been applied, as is claimed, by later restorers, the paint would have run into cracks in the plaster ceiling. And yet we know that it had not. We know that it had in fact cracked as the plaster had cracked. The paint was therefore applied when the plaster was smooth and new – because we also know that the plaster had cracked before any restorers went near it. Besides all of which, as we have seen, the shadows were recorded before 1535. The inescapable truth is that restorers removed painting that could only have been Michelangelo's own.
Burton's handcrafted models have an immediate engaging presence but the means of their humorous psychologically charged personalities are complex and artistically sophisticated. They display distinctly sculptural qualities and the satisfyingly palpable presences of diminutive figures in a real space that is continuous with our own. We are drawn into their world much as Michelangelo brought living old testament figures into ours. For force of cartoon-like effect and clarity, Burton's heads are highly stylised and plastically simplified. Of Sparky, Burton explains: "Obviously he looks like a cartoon. It's not like he's an anatomically correct dog" (see Figs. 10 to 14).
Formally speaking, these sculptural simplifications might be related to the abstractions of 20th sculptors such as Brancusi who were in pursuit of "pure" or "significant" form (see Figs. 23, 24 and 25). However, plastic simplification is only part of the artistic/expressive equation with Burton's Gothic characters who must be sentient engaged actors in intense psychologically-charged emotional dramas.
The chief expressive features of a face are the eyes and the mouth. Making the eyes large and the jaws small enhances childhood traits and vulnerabilities (see Figs. 1, 3, 14 and 27). The placement of the black pupils in the large wide-open eyes permits acute laser-like precision of gaze, as is seen to masterful effect at Fig. 14 in the affectionate twin-engagement of the boy and his beloved and devoted dog. The mouth is the most emotionally expressive feature of all, and although childhood-small in these characters, it becomes a vehicle of astonishingly subtle expressions (see Figs. 1, 3 and, especially, 27).
The antithesis of Brancusi's plastic self-compression is Daumier's cartoon-like sculptures where the imperatives of caricature pull the head this way and that with scant regard for any residual internal self-composure (Fig. 26). If the subject in Daumier has a bird-like personna, the nose may become a beak and the forehead may recede at an alarming rate. Burton's compactly eloquent pebble-smooth but animated heads are a remarkably successful synthesis of these disparate sculptural traditions.
In terms of connections with Michelangelo's painting, particular consideration should be given to the brilliantly combined effects of modelling and lighting in Frankenweenie. The boy's head shown at Fig. 27 is articulated with seamless lucidity. It also happens to be exquisitely lit. Everyone knows the Impressionists to be painters of light but, then, light is fair game for painters who may produce their own (artistically, not literally). For the apprehension of form sculptors depend on actual light in the world. (Sculptors can, however, create an implicit light in their own graphic renderings of form, and may even depict forms that are lit as if from within, as seen at Fig. 28.) Cinematic model-making animators are advantaged: they make their own forms and may then provide their own expressively optimal actual light. The lessons of cinema, in this regard, are the more valuable because the relationship between sculptors' forms and light may be insufficiently appreciated – certainly sculptures suffer terribly at the hands of exhibition designers. Rodin famously described sculpture as the art of the bump and the hollow – or, perhaps more accurately, as an art of hollows and projections: "de creux et de bosses". He demonstrated this claim to Paul Gsell ("Art, by Auguste Rodin", Paul Gsell, 1912) in the following manner:
"One late afternoon, when I was with Rodin in his atelier, darkness set in while we talked… He lighted a lamp as he spoke, took it in his hand, and led me towards a marble statue which stood upon a pedestal in a corner of the atelier. It was a delightful little antique copy of the Venus di Medici. Rodin kept it there to stimulate his own inspiration while he worked. 'Come nearer,' he said. 'What do you notice?' he asked. At the first glance I was extraordinarily struck by what was suddenly revealed to me. The light so directed, indeed, disclosed numbers of slight projections and depressions upon the surface of the marble which I should never have suspected…At the same time he slowly turned the moving stand which supported the Venus. As he turned, I still noticed in the general form of the body a multitude of almost imperceptible roughnesses. What had at first seemed simple was really of astonishing complexity. Rodin threw up his head smiling. 'Is it not marvellous?' he cried. 'Confess that you did not expect to discover so much detail. Just look at the numberless undulations of the hollow which unites the body to the thigh…notice all the voluptuous curvings of the hip…And, now, here, the adorable dimples along the loins…You almost expect, when you touch this body, to find it warm…'"
Unfortunately, Rodin's demonstrations were not recorded on film (as far as we know) – although a short film does exist of Henry Moore and Kenneth Clark making a nocturnal visit with a lamp to the British Museum's Greek and Roman collection in order to re-enact Rodin's lesson. In any event, in the case of Burton's boy's head, at Fig. 27, every depression and prominence finds beautiful expression in subtle tonal transitions that would have warmed Rodin's heart. There is pictorial/plastic alchemy here, as there once was in Michelangelo's frescoes. The softly continuous undulations of the head are gently disclosed within a dramatic over-arching artificiality of illumination that sets the relatively bright head off against a Great Gothic Darkness. Within the stridency of these clashing lights and darks, the subtlest emotional expression of the mouth is perfectly captured.
The expression of a mouth is controlled by the interplay of many facial muscles and it is notoriously difficult to capture, as even so great a portraitist as John Singer Sargent ruefully noted ("A portrait is a picture in which there is something not quite right about the mouth"). In this model the play of facial muscles at the mouth has given rise to a subtle but distinctive mini-topography of light-catching bosses and light-evading depressions that perfectly express the boy's finely balanced state of delight and trepidation/wonderment. The artistry here is consumate – this is a mouth to rival Ingres's or Holbein's in the precision of its forms and its delicacy of expression. We see another living expression evoked in a painting at Figs. 29 and 30 where Picasso, in one of his greatest neo-classical inventions, has not modelled actual forms but evoked them by simulating an optimal play of light and shade on his imagined forms with a myriad of mosaic-like deftly placed and adjusted patches of tone.
In the Michelangelo head seen in Fig. 2, we see how (before restoration) the artist had expressed sculptural forms by drawing and by tonal manipulation. The tones disclose a three-dimensional head held in very specific and sculpturally revealing lighting. Long before cinema, in his painting, Michelangelo was simultaneously his own model-maker, lighting specialist and recording "camera man". (This is not to claim that he, in any sense, invented or anticipated photography. Rather, it is to note the extent to which photography was a mechanically aided outgrowth of pre-existing artistic preoccupations.) Before discussing the specific lighting scheme Michelangelo deployed, it might be helpful to consider something of the great variety of lighting options that cinema and photography show to be available. Brilliant examples of lighting made for the purpose of specific and self-consciously artistic effects from the 1920s to the 1950s in the Kobal collection (see Figs. 6, 7 and 18) are illustrated and technically explained in the marvellously instructive book "Hollywood Portraits ~ Classic Shots and How to Take them" by Roger Hicks, a writer on photography, and Christopher Nisperos, a studio portrait photographer who specialises in Hollywood-style photographs (which subject he has studied for nearly thirty years).
In their examination of the photographs, the authors deduce from personal knowledge and the evidence of the images themselves, how many sources of light (lamps) were employed and where they were positioned in relation to the subject. With each photograph a diagram shows the likely positioning of the light sources. In the course of this highly instructive exercise, photography is seen to acknowledge great indebtedness to painting. Such technical analysis of photographic means has, we believe, direct application to the analysis of changes made by restorers to the artistic values of painters, as is discussed at Figs. 8, 19, 27 and 31-33.
In figs. 6 and 7 we see two heads of two beautiful women that have been expertly lit to very different expressive purposes. In the portrait of Ingrid Bergman (Fig. 6) the lighting is soft and greatly emphasises the invitingly tactile values of the wool clothing, the hair, and, above all, of the face itself, which is a perfect essay in the soft plastic undulations that Rodin so cherished in the "radiant appearance of living flesh" found in the finest sculptures of late antiquity. In the portrait of Lana Turner (Fig. 7), a more self-consciously sculptural purpose is evident as the beauty of the subject's head is directly juxtaposed and equated with both a classical bust and a bouquet of flowers. This portrait is more intensely lit so as to contrast the planar divisions between the front face of the head and its shadowed sides, and to isolate the features of the eyes and mouth. The lights and the darks generally are placed with the utmost calculation, but to the end of a more chilling, marbled perfection – here, the groomed perfection of the coiffure extends no invitation to touch. Every part of the subject's head and shoulders is drawn with the utmost Bronzino-like clarity by means of carefully adjusted tonal contrast: where the face is brightest there is a dark shadow. Where the blonde hair sinks into dark shadows there is a lighter background. However, these seeming photographically recorded artful placements of value have, the authors disclose, been achieved with the assistance of considerable photographic retouching, which practice was extensively prevalent in the portraits under examination (see comments at Fig. 7).
In Michelangelo's (unrestored) head at Fig. 2 we see a treatment of background lighting that is, like that of the Lana Turner portrait, subservient to the clear plastic expression of form. Within the head, however, Michelangelo deployed a much wider range of half-tones. His head runs progressively from its brightly lit profile of the face to a very darkly shaded neck and shoulder. The bright profile is emphasised and thrown into relief by a shaded background, while the very dark back of the neck is set off against a light background. We see in Fig. 8, however, that after "restoration" the logic and the dispositions of the tones have been massively weakened and subverted: the dark ground at the face's contour has been largely removed; the consistent form-disclosing tonal progression within the shading of the head (from brightest light on the upper right to the strongest darks on the left) has been horrendously undermined. This head now looks as if lit by a multiplicity of form-flattening lamps
But that is not all the damage. If one looks carefully at the left contour at the back of the head, it is evident that the very design of Michelanglo's head has been changed. The forms have been reduced. The space, for example, between the body of the hair and the little plaited "pony tail" has grown larger. This feature of the coiffure has grown smaller and smoother. We have seen recently how a restorer at the National Galleries of Scotland promised to "improve Titian's contours" with the assistance of his director. Who might have authorised this redrawing of Michelangelo's contours? Or was the change simply not noticed? Whichever, the more closely one looks into the details of this restored work the more evident the losses of Michelangelo's work become.
In Fig. 31 we see how, before restoration, the aperture of the nostril was larger. We see how shading that had made the corner of the mouth tuck more covincingly into the forms of the cheek has been sacrificed. We see how the background had been darkened by systematic parallel vertical strokes of black. The restorers deny that such work was Michelangelo's own. Once again, they defy historical testimony. Giovanni Battista Armenino went to Rome in 1550 and stayed for seven years copying the "best Pictures", including Michelangelo's very recently painted Last Judgement (which was made between between 1536 and 1541). In 1587 Armenino produced a treatise on fresco painting in which he noted that, as frescoes begin to dry and no longer absorb pigments with same effectiveness, the painter must:
"…then finish it of with moist and dark shade tints…the muscles of the naked figures as being of greater difficulty, are painted by hatching them in different directions with very liquid shade tints, so that they appear of a texture like granite; and there are very brilliant examples of this painted by the hand of Michelangelo…they can be perfectly harmonized by retouching them in secco…in retouching the dark parts in this manner, there are some painters who make a watercolour tint of black and fine lake mixed together, with which they retouch the naked figures and produce a most beautiful effect, because they make the hatchings upon the painting, as is usual to do while drawing upon paper with black lead…Some persons temper these dark tints with gum, some with thin glue…this I affirm from what I have both seen and done and also what I have been told by the best painters."
When the ceiling was examined in the 19th century by the painter and fresco expert, Charles Heath Wilson, he found that not only had Michelangelo's ancient size painting cracked originally as the plaster had cracked but that it now melted readily to the touch of a wet finger. In accordance with Armenino, Wilson saw that the surface painting consisted of:
"…a finely ground black, mixed with size…The shadows of the draperies have been boldy and solidly reouched with this size colour, as well as the shadows on the backgrounds…other parts are glazed with same material, and even portions of the fresco are passed over with size, without any admixture of colour, precisely as the force of water colour drawings is increased with washes of gum. ..These retouchings, as usual with all the masters of the art at the time, constituted the finishing process or as Condivi expresses it, alluding to to it in the history of these frescoes, 'l'ultima mano'. They were evidently done all at the same time and therefore when the scaffold was in place."
All of that retouching has gone but record of it survives. In 1967/8 the writer, painter and former art critic of Time, Alexander Eliot and his film-maker wife, (now the late) Jane Winslow Eliot, spent over 500 hours on the scaffold making The Secret of Michelangelo, Every Man's Dream, in the course of which film they noted that:
"With the exception of the previously restored Prophet Zachariah, almost everything we saw on the barrel vault came clearly from Michelangelo's own inspired hand. There are passages of the finest, the most delicately incisive draughtsmanship imaginable."
Someday, the Eliots' film (made for ABC Television) might be re-shown, but meanwhile, Alexander Eliot's testimony is now on the record in a new full-length film/DVD biography, A Light in the Dark: The Art and Life of Frank Mason, in which he and other early campaigners against the restoration (including the late painter, Frank Mason, and the late Professor James Beck) are given voice on the Sistine Chapel restoration. Not least of the delights among this film's precious and historical footage, are Tom Wolfe's account of his lessons in Frank Mason's painting classes at the Art Students League, New York, and the sight of the former Metropolitan Museum of Art director, the late Thomas Hoving, belligerently boasting that he himself had helped sponge from the ceiling the "filth" that was in truth the last stages of Michelangelo's painting.
Michael Daley
Comments may be left at: artwatch.uk@gmail.com
---