Dalya Alberge reports in the Guardian that a Leonardo scholar, Matthew Landrus, believes most of the upgraded Salvator Mundi was painted by a Leonardo assistant, Bernardino Luini.
THE LUINI CONNECTION
In her Guardian article, "Leonardo scholar challenges attribution of $450m painting", Dalya Alberge further reports that the upgraded version of the Salvator Mundi that Matthew Landrus has de-attributed to Leonardo's assistant, Bernardino Luini, is the very painting that was attributed to Luini in 1900, when acquired by Sir Charles Robinson for the Cook collection.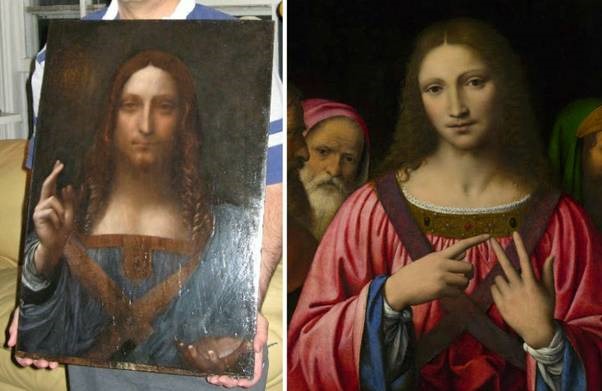 Above, Fig. 1: Left, the Salvator Mundi that was bought for $450m as a Leonardo for the Louvre Abu Dhabi in November 2017 as it was seen in 2007 when only part-repainted and about to be taken to the National Gallery, London, for a viewing by a small group of Leonardo scholars who are said to have been sworn to secrecy. (For the many subsequent changes to the painting see our "The $450m New York Leonardo Salvator Mundi Part II: It Restores, It Sells, therefore It Is" and Figs. 4 to 6 below.) Above, right: A detail of the National Gallery's Luini Christ among the Doctors.
BIG CLAIMS ON INCOMPLETE EVIDENCE
Even after being sold twice (in 2013 and 2017) for a total of more than half a billion dollars, the painting's 118 year long journey from a Luini to a Leonardo and now back to Luini again, remains a mystery: no one has disclosed when, from whom and where the painting is said to have been bought in 2005. Professor Martin Kemp recently disclosed that the work was bought for the original consortium of owners "by proxy". Long-promised technical reports and accounts of the provenance have yet to appear and keep receding into the future.