Dalya Alberge reports in the Guardian that a Leonardo scholar, Matthew Landrus, believes most of the upgraded Salvator Mundi was painted by a Leonardo assistant, Bernardino Luini.
THE LUINI CONNECTION
In her Guardian article, "Leonardo scholar challenges attribution of $450m painting", Dalya Alberge further reports that the upgraded version of the Salvator Mundi that Matthew Landrus has de-attributed to Leonardo's assistant, Bernardino Luini, is the very painting that was attributed to Luini in 1900, when acquired by Sir Charles Robinson for the Cook collection.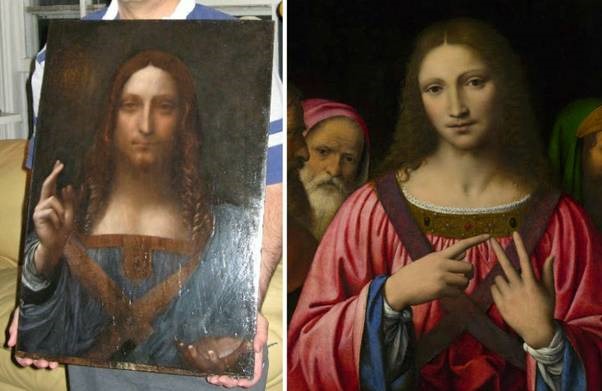 Above, Fig. 1: Left, the Salvator Mundi that was bought for $450m as a Leonardo for the Louvre Abu Dhabi in November 2017 as it was seen in 2007 when only part-repainted and about to be taken to the National Gallery, London, for a viewing by a small group of Leonardo scholars who are said to have been sworn to secrecy. (For the many subsequent changes to the painting see our "The $450m New York Leonardo Salvator Mundi Part II: It Restores, It Sells, therefore It Is" and Figs. 4 to 6 below.) Above, right: A detail of the National Gallery's Luini Christ among the Doctors.
BIG CLAIMS ON INCOMPLETE EVIDENCE
Even after being sold twice (in 2013 and 2017) for a total of more than half a billion dollars, the painting's 118 year long journey from a Luini to a Leonardo and now back to Luini again, remains a mystery: no one has disclosed when, from whom and where the painting is said to have been bought in 2005. Professor Martin Kemp recently disclosed that the work was bought for the original consortium of owners "by proxy". Long-promised technical reports and accounts of the provenance have yet to appear and keep receding into the future. These lacunae notwithstanding, the painting is scheduled to be launched at the Louvre Abu Dhabi in September, and also to be included in a major Leonardo exhibition at the Paris Louvre in 2019.
THE ROLE OF LEONARDO'S ASSISTANTS IN THE LOUVRE ABU DHABI SALVATOR MUNDI
As Dalya Alberge reports, a number of Leonardo scholars have contested the present Leonardo attribution and held the work to be largely a studio production that was only part-painted by Leonardo himself. Frank Zöllner, a German art historian at the University of Leipzig and author of the catalogue raisonné Leonardo da Vinci – the Complete Paintings and Drawings, believes it to be either the work of a later Leonardo follower or a "high-quality product of Leonardo's workshop". Carmen Bambach, of the Metropolitan Museum of Art, holds it to have been largely the work of Leonardo's assistant Giovanni Antonio Boltraffio. One scholar, Jacques Franck, suggested in a 29 November 2011 interview in the Journal des Arts that an attribution to either Luini or Leonardo's late assistant (and effective 'office manager') Gian Giacomo Caprotti, called Salai or Salaino seemed plausible and persuasive. More recently, in January 2018, he tipped to Salai as the author because of strong similarities revealed by penetrating technical imaging examinations – see Figs. 2 and 3 below and "Salvator Mundi LES DESSOUS DE LA VENTE DU SIECLE".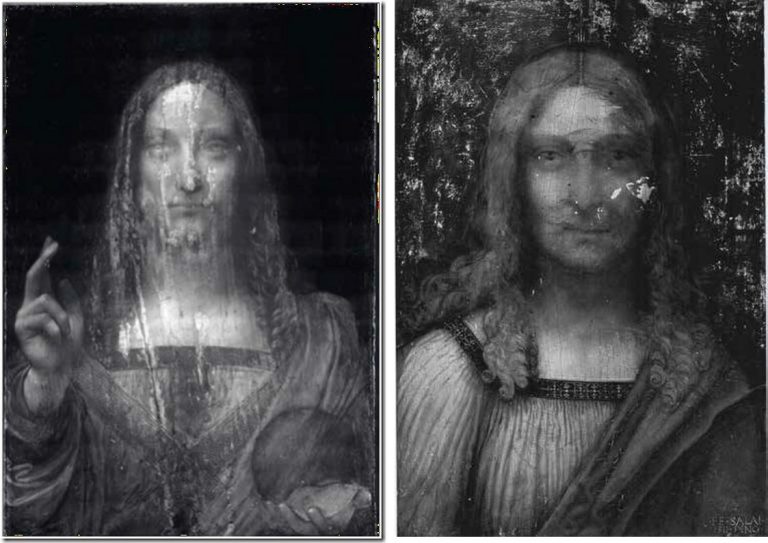 Above, Fig. 2: Left, an infra-red reflectogram of the Louvre Abu Dhabi Salvator Mundi; above, right, an infra-red reflectogram of Salai's Head of Christ, signed and dated 1511, Pinacoteca Ambrosiana (Milan).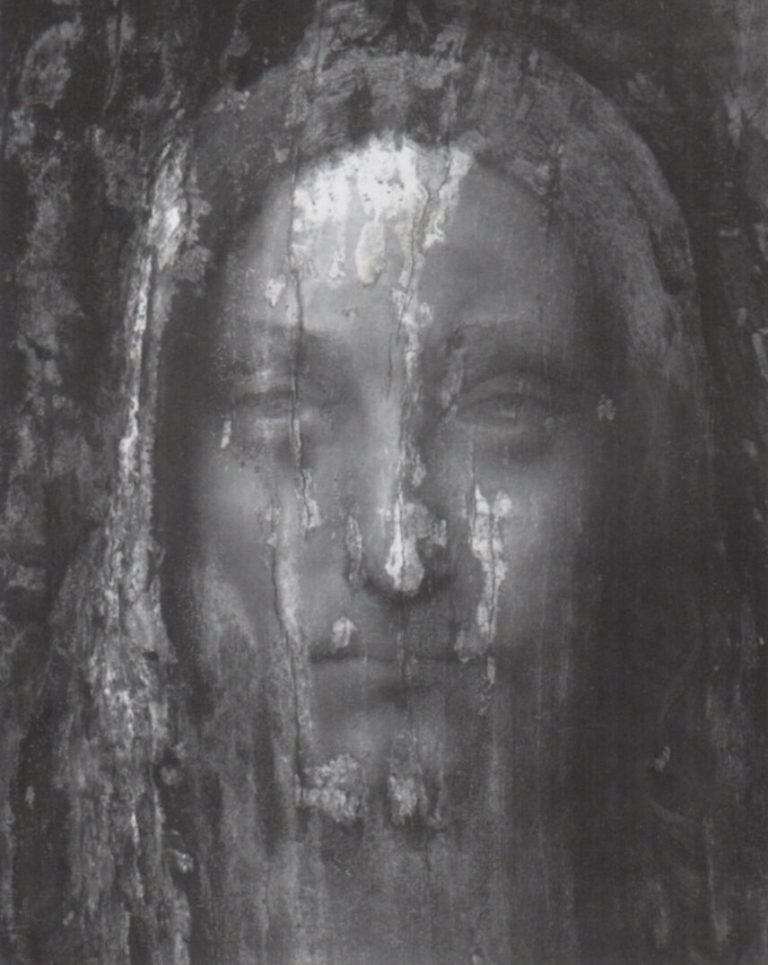 Above, Fig. 3: An infra-red reflectogram detail of the Louvre Abu Dhabi Salvator Mundi. Jacques Franck writes: "This close-up view of the Fig. 2, left, document, reveals in the Saviour's face, neck and head, the same typical underlying sketching-out technique using very thick dark lines to define the preliminary contours and modelling that are seen in Fig. 2, right. None of this underlying graphic/roughing out process is ever encountered in original Leonardo painting where the graphic/painterly stages are more subtle."
CHANGING FACES: FOUR STAGES OF DEVELOPMENT IN THE LOUVRE ABU DHABI SALVATOR MUNDI

ABOVE, FIG.4: From the left, Face 1 – The former Cook collection Salvator Mundi when presented in 2005 (– when still "sticky" from a recent restoration) to the New York restorer, Dianne Dwyer Modestini.
Face 2: The former Cook collection painting after the panel had been repaired and the painting had been stripped down.
Face 3: The former Cook collection Salvator Mundi after several stages of repainting and as exhibited as a Leonardo at the National Gallery's 2011-2012 Leonardo da Vinci, Painter at the Court of Milan exhibition.
Face 4: The face after yet further (- and initially undisclosed) repainting by Dianne Dwyer Modestini at Christie's, New York, ahead of the 2017 sale – as was first published by Dalya Alberge in her Mail Online revelation: "Auctioneers Christie's admit Leonardo Da Vinci painting which became world's most expensive artwork when it sold for £340m has been retouched in last five years".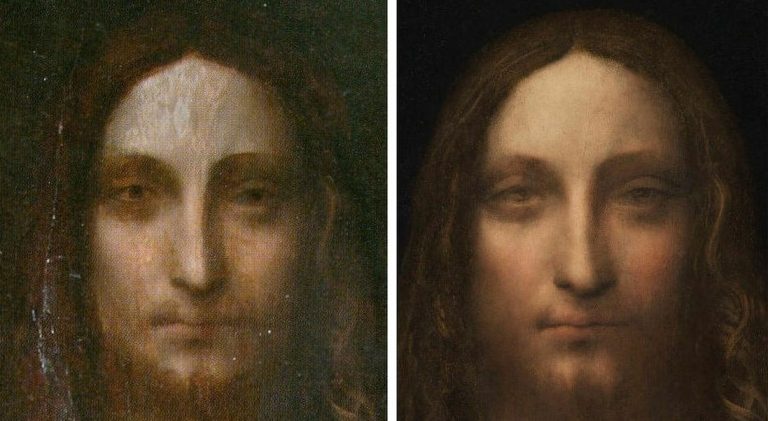 Above, Fig. 5: Left, the former Cook collection painting's face as in 2005; right, the face, as transformed over twelve years by Modestini, when presented for sale at Christie's, New York, in November 2017.
Alberge's current Guardian article, "Leonardo scholar challenges attribution of $450m painting" has gone viral – see for example: CNN's "Leonardo's $450M painting may not be all Leonardo's, says scholar", and the ABC (Spain) "Crecen las dudas sobre la autoría del «Salvator Mundi» de Leonardo".
In the CNN report, it is said that:
"Others are in less doubt. Curator of Italian Paintings at London's National Gallery, Martin Kemp, sent the following statement to CNN Style by email: 'The book I am publishing in 2019 with Robert Simon and Margaret Dalivalle (…) will present a conclusive body of evidence that the Salvator Mundi is a masterpiece by Leonardo. In the meantime I am not addressing ill-founded assertions that would attract no attention were it not for the sale price.'"
We make the following observations. Although Professor Martin Kemp is not a curator at the National Gallery he does seem to have been considered at one point as a possible co-curator of the National Gallery's 2011-2012 Leonardo exhibition, which, in the event, was curated solely by the Gallery's own then curator, Luke Syson, who is now at the Metropolitan Museum of Art. Syson drew heavily for his 2011 catalogue entry on the painting on the researches of one of the owners of the Salvator Mundi, the New York art dealer, Robert Simon: "This discussion anticipates the more detailed publication of this picture by Robert Simon and others. I am grateful to Robert Simon for making available his research and that of Dianne Dwyer Modestini, Nica Gutman Rieppi and (for the picture's provenance) Margaret Dalivalle, all to be presented in a forthcoming book." That book has now been coming for some time. First promised by the National Gallery in 2011, it was more recently promised for 2017, and then for this year, and now, for next year – and possibly in time for inclusion in the catalogue of the Paris Louvre's planned major 2019 Leonardo exhibition?
Professor Kemp also promised a conclusive body of evidence for his attribution to Leonardo of the drawing he dubbed "La Bella Principessa". In his 2012 book Leonardo's Lost Princess, Peter Silverman, the owner of "La Bella Principessa", wrote: "Martin believed that the fingerprints [compiled by the now discredited fingerprints expert Peter Paul Biro], though not conclusive on their own, added an important piece to the puzzle. He wrote to me, 'This is yet one more component in what is as consistent a body of evidence as I have ever seen. I will be happy to emphasize that we have something as close to an open and shut case as is ever likely with an attribution of a previously unknown work to a major master. As you know, I was hugely skeptical at first, as one needs to be in the Leonardo jungle, but now I have not the slightest flicker of doubt that we are a dealing with a work of great beauty and originality that contributes something special to Leonardo's oeuvre. It deserves to be in the public domain.'" In the event, the "La Bella Principessa" drawing did not enter the public domain. Unlike the Salvator Mundi, which sold for $450m, it was not included in the National Gallery's 2011-2012 Leonardo exhibition and it presently remains, so far as we know, unsold, in a Swiss free port.
Kemp's present lofty disinclination to address "ill-founded assertions that would attract no attention were it not for the sale price" marks a change of policy. Last year, immediately ahead of the sale that produced the astronomical price of the Salvator Mundi, Kemp was happy to engage polemically with those who rejected the Salvator Mundi's Leonardo attribution. As he has recently disclosed: "I was approached by the auctioneers to confirm my research and agreed to record a video interview to combat the misinformation appearing in the press – providing I was not drawn into the actual sale process."
SCHOLARS' NEED FOR FULL AND DETAILED REPORTS AND FOR OPEN DEBATES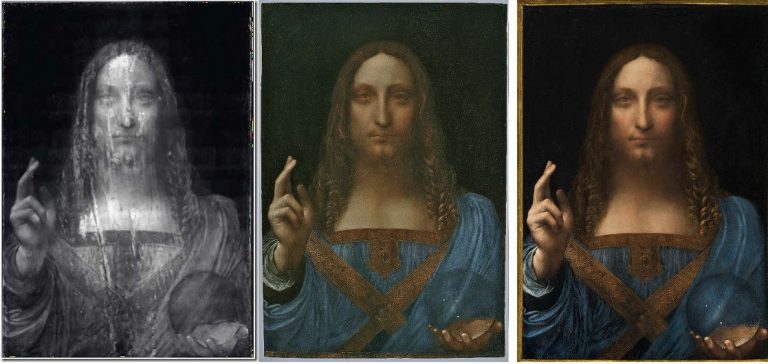 Above, Fig. 6: Left, the small-scale published (infra-red) technical image of the Salvator Mundi; centre, the painting as exhibited in 2011-2012 as a Leonardo at the National Gallery; right, the painting as presented for sale at Christie's, New York, in 2017.
Much remains to be examined with this restoration-transformed but still, effectively, unpublished work where the promised reports on technical examinations and provenance seem perpetually trapped in the post like Billy Bunter's postal order. Note in Fig. 6 above, for example, the radical changes made to the true left shoulder draperies; to the orb and the sole of the hand that holds it; and, above all, to the face. We must hope that the painting's new owners will encourage the old 2005 consortium of owners to publish their privately commissioned researches as soon as possible. In general terms, it would be a much better thing if new and elevating attributions were once more published by single scholars, taking full responsibility in a scholarly publication, so that the case for a work's re-attribution might be examined widely and discussed openly on a fully informative account and presentation of technical evidence and history of provenance. The recent tendency for owners to hold and selectively part-release researches during promotional campaigns of advocacy is not conducive to best scholarly practice.
Michael Daley, Director, 9 August 2018
Coming next:
Professor Martin Kemp and ArtWatch – Part 1: Twenty-four years of abuse on photo-testimony
---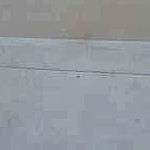 25 November 2013
A few years ago a director at the Victoria and Albert Museum, was chided for producing blockbusters that bust no blocks. Today, aside from its catering and retailing outlets, that museum – which once advertised itself as "An ace caff, with quite a nice museum attached" – has a department exclusively dedicated to the production of special exhibitions. It generates eight exhibitions a year with a further fifteen travelling around the world at any one time (see "The world is her oyster", in the Autumn/Winter 2013, V&A Magazine). As more and more of Art's Flying Dutchmen encircle the globe, an awful lot of holes are appearing in the collections of great museums – as at the Louvre, as Didier Rykner has eloquently demonstrated ("The Louvre Invents the Gruyère Museum" ). This development is perverse as well as regrettable: a chief defence that museums make when seeking funding for expensive acquisitions is that they are needed to fill crucial gaps in a collection.
At the British Museum the number of loans (and therefore holes) doubled between 1985 and 2000, in which year 214 objects or groups of objects were loaned. That was for starters. In 2008, under its present globe-trotting director, Neil Macgregor, the museum got 2,500 objects "on the road" in Britain alone. In a submission this year to the Scottish Parliament, Mr MacGregor boasted that between 2003 and 2013 the museum had loaned over "over 30,000 (many very fragile)" objects, with only eight injuries. In 2006 the BM packed 160,000 visitors in three months into a (physically) small exhibition of Michelangelo's drawings, at £10 a head (plus takings from the catering and retailing outlets). Mr MacGregor ruefully claimed that three times as many tickets could have been sold had space permitted. The following year he announced plans for a £100m expansion of the British Museum that was reportedly triggered because it had had to turn down a unique chance "to show off" the largest collection of Tutankhamun treasures ever seen in the west (Evening Standard, 6 July 2007), works which went instead to the former Millennium Dome, now re-branded as "02".
It would seem that nothing in museums is now safe from this international exhibitions jamboree – no work plays too important a role within a collection, or is too fragile, or too unwieldy, to prevent curators from taking a gamble with its welfare (in hope of reciprocal loans and a curatorial buzz). The Metropolitan Museum in New York is one of the most voracious recipient/organisers of exhibitions. It needs to be. Its special exhibitions, which are free, are the biggest justification for the museum's whopping "recommended" $25 entrance charge (- the legality of which is under challenge). As we have seen, the present director of the Metropolitan, Thomas Campbell, once boasted that only his museum could have shaken-down ("Item: The Met's Strong-arming of Reluctant Lenders") other great art institutions to get them to part with the fabulous Renaissance tapestries that were sent to a special show in New York.
The Metropolitan Museum will likely be the first international stop (after a six months stay-over at the British Museum) for a long-planned show of plum works from the Burrell Collection in Glasgow that will take place should the Scottish Parliament oblige the Glasgow City Council by over-turning the prohibitions in Sir William Burrell's bequest on all foreign loans and vulnerable works within Britain.
Next October in New York, the Museum of Modern Art will host a show of some of the most fragile and difficult-to-transport works of modernism. As Martin Bailey reports in the current Art Newspaper, ("Journey at Snail's pace") Henri Matisse's monumental 1953 paper collage, The Snail, is to leave the Tate for the first time since the gallery bought it more than 50 years ago. It will be a star exhibit in "Henri Matisse: the Cut-Outs", at Tate Modern next April, that will include its sister works, Memory of Oceania, 1953, and Large Composition with Masks, before travelling to MOMA in New York. Although the itinerary is set, what is not yet clear, Bailey discloses, is how the Tate's giant and fragile work will travel or even how it will be be packed:
"The problem of how to transport the huge work, which measures nearly three square metres, has plagued conservators for years. Paris's Grand Palais asked to borrow the work for a major retrospective on the artist in 1970, but was refused because of the risks associated with transporting it. Its original late-1960s glazing is being replaced with laminated glass, which will reduce the risk of damage during transportation. However, laminated glass is heavy: with its frame, the work will weigh around 300kg. If the collage is set at a 45° angle within a crate, it will fit more easily through doorways, but if the work is transported flat, it will need a case measuring around four square metres."
Those keenest to lend and borrow lean heavily on the relative safety of international aviation, but with these particular monumentally large but flimsily constructed works, Bailey discloses that a spokeswoman for the Tate was unwilling to discuss transport arrangements. He has discovered, however, that they might travel by sea because there are almost no cargo planes large enough to carry them, and because the exhibition's sponsor is… South Korea's largest shipping company, Hanjin Shipping. Either way, as Nick Tinari of Barnes Watch has repeatedly testified, when Matisse's mural La Danse was detached from its permanent home at the Barnes Foundation, Merion, and sent off at a 45° angle on an open flatbed truck to the first stop (the National Gallery of Art, Washington) of a world tour, it was to return home badly damaged.
Not only are museums gutting themselves to feed international loan exhibitions, they are, as our colleague in New York, Ruth Osborne, discusses ("The Dismemberment of the Louvre: Travels to Louvre Abu Dhabi promise damages and leave Parisian Museum-goers in the Lurch"), beginning to do so on an even greater scale as part of international "rebranding exercises" in which museum annexes are created in improbable but rich centres so that museums may present themselves as pan-national or global brands (- along with Gucci now read Guggenheim). A lot of money is being made and a lot of careers advanced. Some journalists effectively double as cheerleaders for the tourism-fuelled cultural arts economies of centres like London and New York. However, along with these booming arts economies, risks are rising – and not just with the works of art: those who blithely authorise streams of loans risk putting their own reputations on a block.
Michael Daley
NEWS UPDATE 26-11-13
The Guardian today carries this letter from ArtWatch UK:
"You illustrate the new exhibition of Turner seascapes at the National Maritime Museum with a giant reproduction of the artist's now badly wrecked, many-times restored 'Rockets and Blue Lights' without issuing any kind of art conservation health warning (Eyewitness, 21.11.13). A clue to the extent to which this picture is no longer a remotely fair representation of Turner's work is found in the picture's full title, 'Rockets and Blue lights (Close at Hand) to Warn Steamboats of Shoal Water' – for this was once a painting of two steamboats in distress, not of one. The now lost boat was recorded in a large chromolithographic copy of the painting that was commissioned in 1852, and in a photograph of 1896. Viewers who compare your present image with the recorded earlier states of the picture will likely marvel at the transformation by twentieth century restorers of the sky, and at the losses of storm-driven smoke from the funnels of the original pair of steamboats, one of which vessels has now disappeared under the waves along with its originally depicted crew members."
In the ArtWatch UK Journal No 19 (Winter 2003), we carried an article by the artist Edmund Rucinski ("Ship lost at Clark. Many records feared missing. Establishment unfazed.")
Unfazed the establishment was then – and, evidently, so remains today. Despite the disappearance of the second boat (and its smoke) in a recent cleaning, the owners of the Turner, The Sterling and Francine Clark Art Institute of Williamstown, USA, had included the work in a travelling exhibition ("Turner – The Late Seascapes") that ran at the Clark from June to November in 2003, before transferring across the Atlantic to the Manchester Art Gallery in January 2004 and then on to Glasgow in March 2004.
At a public lecture at the Clark Institute, on 2 August 2003, Edmund Rucinski (who knew of the 1852 chromolithographic copy shown right) had been astonished to hear the restorer, David Bull, claim that the picture had originally depicted a single boat and that the second, now-removed, boat had not been painted by Turner but was a restorer's addition made, possibly for Lord Duveen around 1910. That claim slowly sank. When Rucinski spoke to David Bull and asked on what authority the second boat had been removed, he replied that it was on a photograph of a single-boated copy of the painting that had been supplied by the Clark Institute's senior curator, Richard Rand.
On 15 October 2003, the Times' arts correspondent, Dalya Alberge, reported that when asked how it had been established that the second boat could not have been painted by Turner, Mr Bull had said: "The answer is we don't know. It was a general consensus." Thus, what had been presented publicly as a historically verified certainty was downgraded within a couple of months to a best guess, collective assumption. That position was maintained for several months and was reiterated in the Manchester Evening News of 14 January 2004, which reported: "The American owners of the painting and the restorer…say a second boat may have been added by an early 20th century restorer".
On 28 March 2004 the show moved to Glasgow and the Glasgow Herald reported that the Clark's senior curator had said "We have always maintained that the original Turner had two boats". The importance of heavy promotion for travelling exhibitions was demonstrated in October 2003 when the Tate, which had not taken part in the travelling exhibition, nonetheless issued a press release that ended with the following claim:
"One of the stars of the show is Turner's dramatic "Rockets and Blue Lights (Close at Hand) to Warn Steamboats of Shoal Water", 1840 which has recently undergone major conservation and is a loan from the Sterling Clark Art Institute, Williamstown, USA".
In additions to newspaper reports of critisms of the restoration, many interventions were made by scholars, as below:
"Since 'Slavers' and 'Rockets'…have ended up in collections geographically so close to each other, it struck Hamilton [James Hamilton, the show's curator] as a good idea to show them together, arguing that Turner had intended them as a pair. The first snag was that Boston decided that 'Slavers' was too unstable to travel, even to Williamstown, so it was not in the show at all…But there is a danger that Turner has become a guaranteed crowd-puller, to be had recourse to at the expense of equally interesting but less certainly popular subjects. This is not a development to be welcomed, if only because Turner's works are exceptionally vulnerable: the paintings, to the stresses of travel on their experimental construction; the watercolours to the exposure of light. He is not a resource that can be exploited indefinitely…"
~ The Turner scholar, Andrew Wilton, in a review for the Burlington Magazine, March 2004.
The 'Slavers' of which Wilton spoke, is Turner's oil painting Slavers throwing overboard the dead and dying – Typhoon coming on. In 2000 the Museum of Fine Arts in Boston which owns the painting found it to be damaged and "extremely unstable" on return from a loan to the Tate Gallery. Despite having been "glazed and sealed against changes in relative humidity, the picture [had] reacted significantly to the voyage" and lost flakes of paint. An unfazed (and institutionally unrepentant) Tate spokeswoman said in response to disclosure of the damage:
"It arrived here safely where it was examined thoroughly. Its condition was stable…However, Turner's paintings are notorious for becoming unstable."
Indeed they are. So why the incessant demands from temporary exhibition organisers to keep borrowing them? And why the systematic attempts to deceive the public into believing that the most restoration-wrecked pictures are the "stars" of the shows?
For our part, we have repeatedly drawn attention to these travel-induced injuries. On 24 October 2007 the Daily Telegraph carried this letter from ArtWatch UK:
"Sir – The Mellon Center's decision (report, October 17) to break its own rule never to lend Turner's fragile 'Dort or Dordrecht: The Dort Packet-Boat from Rotterdam Becalmed' seems perverse: only seven years ago, the Museum of Fine Arts in Boston lent its Turner 'Slavers throwing overboard the dead and the dying, Typhoon coming on' to the Tate. On its return to Boston, that painting was found to have suffered losses of paint and to be in an 'extremely unstable' condition. A Tate spokeswoman said: 'It arrived here safely…Its condition was stable…However, Turner's paintings are notorious for becoming unstable.' This being so, why are trustees and curators prepared to take such risks with priceless works of art?"
Clearly, the question still stands.
Comments may be left at: artwatch.uk@gmail.com
---
wibble!