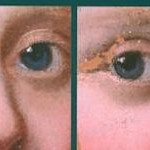 12 July 2013
Restorers (aka conservationists) love conferences – and trade organisations. Today, as previously mentioned, a one day conference ("The Picture So Far…50 Years of Painting Conservation") is being held at the Royal Institution in London. Sponsored by Christie's, it has been ambitiously organised and presented by the British Association of Paintings Conservator-Restorers (BAPCR) as a major retrospective as well as a discussion of the future of painting conservation:
"Fifty years ago as the nation was emerging from post-war depression, caring for the nation's heritage became imbued with higher ideals, reflecting a new found optimism and confidence in organisation, technology and cultural harmony. This conference will examine and celebrate the aspirations of and achievements of the early conservation pioneers. Pre-eminent speakers will trace the trajectory of conservation practice, philosophy, teaching, technology and professional organisation over the last half century. Leading us to examine the fundamental principles of our profession today and appraise the challenges that will face the next generation of practitioners."
Listening to restorers it might never be appreciated that art conservation is now a massive and controversial vested interest, a big business with a perpetually shifting ideology that doubles as self-promotion. Chemical and other manufacturers promote their wares through restoration trade advertisements and fairs. There are substantial educational interests. Conservation training (degrees and doctorates are now given) converts arts and science degrees alike into hard job opportunities, increasing numbers of which are in the secure, superannuated public sector. (On the content of conservation training, see Ruth Osborne and Einav Zamir below.) Every last little museum boasts or craves an in-house conservation department and all the technical paraphernalia that goes with it. Sponsorship is easily attained – who would not want to be associated with saving art? For petro-chemical giants sponsoring prestigious museum art conservation programmes makes particular image-improving sense. Development plans for museums are virtually guaranteed fund-raising success if an expansion of "conservation facilities" (along with "educational outreach") is cited.
Listening to restorers it might never be gathered that regardless of good intentions, their "treatments" irrevoc