WHICH COUNTRY, might you think, has produced the World's Worst Restoration – Spain? Italy? The UK? India? France? China? Egypt? The United States? Consider the evidence.
THE EVIDENCE IS ABUNDANT and the answer is "All of the above". There are more contenders than there are countries. No country and no professional stratum is free of recurrent restoration injuries. This evidence can only suggest that injuries are intrinsic to the practice of restoration. Manifestly, no restorers anywhere can "treat" a Renoir – or a Veronese – without injury (see below). Restoration error is the by-product of a singular un-regulated sphere where the distinct languages of art, aesthetics, technology and "science" are conflated in support of presumptuous would-be improvements to the works of others. The official response to demonstrations of error is not engagement but intensification of promotional hype. This dynamic must be reversed and the necessity of criticism ceded.
In response to the latest "restoration" blunder (on the classical heritage in Turkey) we revisit our accumulating chamber of horrors and invite nominations to news.artwatchuk@gmail.com for the title of The World's Worst Restoration.
Contender No. 1: Turkey
The BBC reports that Turkey's culture ministry is investigating claims that valuable Roman mosaics have been badly damaged during botched restorations at an archaeological museum:
"Authorities are looking into the claims of a local craftsman who raised concerns over the condition of at least 10 mosaics at the Hatay Archaeology Museum, the Hurriyet Daily News website reports. Mehmet Daskapan first spoke out in an interview with a local paper in February, but the news was only picked up by mainstream Turkish media on Monday. 'Valuable pieces from the Roman period have been ruined,' Mr Daskapan told the Antakya Gazetesi website at the time. 'They have become caricatures of their former selves. Some are in an especially poor condition and have lost their originality and value.'"
Above, Figs 1 and 2: Before restoration (left) and after (right) photographs by Mr Daskapan testify to devastating iconographic, pictorial and plastic injuries during supposed "conservation" treatments of mosaics held in the Hatay Archaeological Museum in Turkey.
The Guardian reports that (as so often in these disputes) the restorers deny error and allege that the testimony of before and after photographs has been rigged by the press. However, a culture ministry official has confirmed that "erroneous practices" caused injury by adding pieces of mosaic. As always, the restorers further allege that today's damage had been done by previous (French) restorers in the 1930s who added material which has now been removed because past practices have now been outlawed. The culture official confirmed that today's restorers at the centre of controversy have had years of experience "including the restoration of the renowned mosaics at Zeugma Museum in south-east Turkey". Notwithstanding this assurance, all restorations have been halted and investigation is underway. A spokesman from the opposition Nationalist Movement party (MHP) called the restored work a "massacre of history" and blamed the Islamic-rooted ruling AKP for a "bureaucratic scandal". The BBC reports that the allegedly shoddy restoration "has been compared to an incident in Spain in 2012…[when an] attempted restoration rendered the image of Christ unrecognisable and became a global laughing stock."
Above, Figs. 3, 4 and 5: The above STR/EPA photographs all testify to simultaneous enfeeblement and vulgarisation.
This below is not a "restoration" or a "conservation", it is precisely what Mr Daskapan has claimed it to be: the travestying and rendering inauthentic of an ancient classical image.
Above, Figs. 6 and 7: Details of Fig. 1 showing the subject before (top) and after "treatment" (above). (Photos: Tamer Yazar/AP)
When horrendous things are done to art in the name of its "conservation" people struggle – vainly – to divine a possible motivating rationale. In the face of inexplicable actions, truly awful restoration abuses frequently provoke/generate humour. In Turkey, The Hurriyet Daily News reports that the botched restoration has indeed become a matter of humour: "Perhaps, the restoration's target was to liken him to Erdoğan [President Recep Tayyip Erdoğan – see Fig. 7b below]," joked famous cartoonist Selçuk Erdem, from the weekly magazine Penguen." The Huffington Post fleshes out the joke with the photo sequence below. Doing so in Turkey might carry a risk. As the The Hurriyet Daily News adds, two other cartoonists at Penguen, Bahadır Baruter and Özer Aydoğan, were jailed for 11 months in March over a satirical piece on free speech in which they were convicted of including a hidden gesture that was considered to be "insulting" to the Turkish president, Recep Tayyip Erdoğan.
Contender No. 2: Spain
When a granny in Spain, Cecilia Giménez, indulged in a bit of do-it-yourself restoration in her local church, Santuario de Misericordia, in Borja, north-eastern Spain, the whole world fell about laughing. Ms Giménez's unauthorised restoration of "Ecce Homo – Behold the Man" caused the work to be dubbed "Ecce Mono – Behold the Monkey". The church threatened to sue and restoration experts from around the world converged to advise on how or whether the damage might be undone. This prompted thousands to petition for the wreck to be left untouched for all to see for all time. The publicity greatly boosted tourism and the church levied a charge on visitors. The "restorer" then sued in protection of her intellectual property rights. (See The "World's worst restoration" and the Death of Authenticity and The Battle of Borja: Cecilia Giménez, Restoration Monkeys, Paediatricians, Titian and Great Women Conservators.)
Above, top, Fig. 8: This shows the head of Christ before (left and centre) and after (right) restoration.
Above, Fig. 9: One of many spoofs carried on Upi.com was this of the late TV painting instructor Bob Ross.
Above, Fig. 10: A satirical news blog (pocho.com) saw a resemblance between Cecilia Giménez's monkey-faced Christ and a newly discovered species of monkey…The Church has left the desecration of a sacred image in place.
Contender No. 3: Egypt
As shown here recently (A bodge too far: "Conservation's" catalogue of blunders), whenever ineptitude strikes, those responsible – curators, conservators, trustees, art bureaucrats – run for cover, slinging blame to every other quarter. When news of a bungled repair to the beard of Tutankamun's death mask in Cairo's Egyptian Museum leaked out, three conservators, speaking anonymously, gave three different accounts of the injury, but all agreed that orders had come down for the repair to be made quickly. The Daily Telegraph reported that while some said the beard had been broken off by cleaners, other said that it had simply come loose. The Guardian's account went as follows:
"Did bungling curators snap off Tut's beard last year, and if so was it stuck back on with with the wrong kind of glue?
These are the allegations levelled at the Egyptian Museum, the gloomy, under-funded palace in central Cairo where Tutankhamun's bling is housed. Employees claim the beard was dislodged in late 2014 during routine maintenance of the showcase in which Tut's mask is kept…The director of the museum, Mahmoud el-Halwagy, and the head of its conservation department, Elham Abdelrahman, strenuously denied the claims yesterday. Halwagy says the beard never fell off and nothing has happened to it since he was appointed director in October."
Although this gaffe caught the western world's imagination (because of intense abiding interest in ancient Egyptian culture), the incident was of relatively trivial significance: neither the beard nor the head were damaged. When it emerged that "a few little conservation things had to be done" to Assyrian carvings from the Nimrud Palace after the British Museum had irresponsibly flown them to China, the international press looked the other way.
Contender No. 4: The United Kingdom
One of the greatest all-time serial offenders as pioneer in technically advanced but artistically destructive "total cleaning" techniqes has been the National Gallery, London. For an account of the falsifying art historical consequences of such aggressively intrusive restorations, see The National Gallery's £1.5 billion Leonardo Restoration.
Above, Figs. 11 and 12: A detail of the National Gallery's Titian Bacchus and Ariadne, shown (top) before restoration by Arthur Lucas in 1967-69, and (above) after restoration. Notwithstanding such dreadful injuries throughout the painting, the restoration was hailed a triumph and the restorer took to boasting to painting students at the Slade School of Art, London University, (where he taught painting techniques) that there was "more of me than Titian in that sky". One of Lucas's "advanced" technical wheezes (which was concealed from the trustees and the public) was to iron the canvas painting onto a double laminate ('Sundeala') board of compressed-paper. Such boards were used on many of the gallery's largest paintings and have now become unstable.
Above, Fig. 13: Titian's Portrait of a Man (detail) at the National Gallery, before being restored by Arthur Lucas (left) and after restoration (right). As part of his preparation for repainting the subject's head, Lucas hired a bearded student at the Slade School of Art to model for certain "preparatory" studies that he wished to make of hair and beards.
Above, top, Fig. 14: A detail from the National Gallery's Renoir The Umbrellas before cleaning in 1954.
Above, Fig. 15: The detail from the National Gallery's Renoir The Umbrellas after cleaning in 1954, showing pronounced solvent-induced paint losses and new cracking when the picture was barely seventy years old.
The Courtauld Gallery, London
That Renoir is exceptionally vulnerable to solvent-cleaning can also be seen in this example below from Courtauld Gallery, London.
Above, Figs. 16 and 17: A detail of Renoir's La Loge, as seen (top) in 1938, and as seen in the Courtauld Gallery's 2008 exhibition catalogue "Renoir at the Theatre – Looking at La Loge".
Contender No. 5: China
On 23 October 2013 the Daily Telegraph reported the outcome of a Chinese Government-approved, £100,000 restoration during which a Qing dynasty temple fresco was entirely obliterated by luridly colourised repainting. This crime against art and historical patrimony only came to light when a student posted comparative photographs online. In the resulting furore, a government official from the city responsible for the temple described the restoration as "an unauthorised project". Wang Jinyu, an expert on fresco restoration from the Dunhuang Academy, had said the intervention could not be called "restoration, or [even] destructive restoration" because "[It is] the destruction of cultural relics since the original relics no longer exist". It was noted that the case had echoes of a headline-grabbing incident when an elderly parishioner performed "a disastrous restoration" on a 19th century fresco of Christ in the Spanish town of Borja (- as shown above at Figs. 6, 7 and 8 ). One Chinese website user echoed charges made against the restored Sistine Chapel frescoes of Michelangelo: "They have turned a classic painting into graffiti. It looks like something out of Disneyland, doesn't it?"
Above, Figs. 18 and 19: The devastating falsification/obliteration of ancient temple murals in China.
See Qing dynasty fresco ruined in botched restoration which makes work look like garish cartoon; and China sackings over ruined ancient Buddhist frescos; and, A restoration project that turned a Qing dynasty fresco into a series of "sloppily drawn" modern paintings has drawn outrage in China; and Assaults on History: Dishing Donors; a Vatican Wobble; and, Reigniting an Old Battle of Hearts, Minds, Interests and Evidence.
Contender No. 6: Austria
Below, Fig. 20: A detail of Gustav Klimt's Beethoven Frieze (the figure Poetry), as seen before 1956 (left) and today (right), as featured on the cover of the Spring 2008 issue of the ArtWatch UK Journal.
Contender No. 7: France (principally, and Spain)
Picture restorers inflict two kinds of injury by first removing material that is integral to paintings and then by adding their own repainting so as to bring works up to what they consider to be acceptable degrees of finish and artistry. When paintings suffer this double combination of subtractions and ("corrective") additions, the impositions frequently betray gross artistic and anatomical ignorance. This deficiency is found not just among jobbing restorers at the bottom of the art trade, but in even the most technically advanced, scientifically supported, and institutionally prestigious institutions such as the Prado and the Louvre, as we explored in the Journal No 26, shown below. (See also: A spectacular restoration own-goal: undoing, re-doing and (on the quiet) re-re-doing a Veronese masterpiece at the Louvre Museum, and From Veronese to Turner, Celebrating Restoration-Wrecked Pictures.)
<
Above, Figs. 21, 22, 23 and 24. These illustrations show, respectively, from the top down:
1) The ArtWatch UK Journal No. 26 with before and after restoration details of Titian's Empress Isabella at the Prado and Veronese's Pilgrims at Emmaüs at the Louvre;
2) A face from Veronese's Pilgrims at Emmaüs, as seen before the first of two restorations in five years;
3) The same face from Veronese's Pilgrims at Emmaüs after the first restoration (that is, after the first stripping down and subsequent repainting);
4) Press coverage (in The Week) of the controversy over the two botched repaintings of the Veronese face that had been monitored and disclosed by Michel Favre-Felix, the painter and president of the Association Internationale pour le Respect de l'Intégrité du Patrimoine Artistique (ARIPA). Favre-Felix's discoveries had been laid out here on 29 December 2010.
…meanwhile, in London:
An implicit acknowledgement by restorers of certain professional insecurities in this area was made in the above 2010 book on different "approaches to" the retouching of cleaned paintings. This publication was a by-product of three one-day workshops organised by two restoration groups, the Icon Paintings Group and the British Association of Paintings Conservator-Restorers (BAPCR). The organisers were taken aback by the demand for the events which "exceeded our expectations. The lecture theatres were packed…" It was explained in the book's Foreword that the subject of the three events emerged because, athough it could have been:
"…consolidation – or structural work…the general consensus in the brainstorming sessions was that retouching (or inpainting for those across the pond) was the topic for which there was a burning desire to expand knowledge, exchange ideas and gain more practice. There was a need for a practical kind of conference, dealing with the actual techniques involved in the conservation of paintings. With retouching, every conservator-restorer tends to harbour preferences for materials and practices based on experience, types of artworks as well as what is available to hand. This series of events was envisioned as a showcase for the knowledge and skill of individuals in a welcoming and supportive environment that would provide an opportunity to learn by listening and looking (in the morning lecture series) and by doing (in the afternoon practice sessions)…"
The conscientiousness of the participants is not in question and the enthusiasm brought to the task is touching. What is alarming is the sense that emerges of the absence of any artistic and anatomical expertise and guidance. The preponderance of activity addressed the acquistion of technical skills not of artistic comprehension. Some indication of the sense in which conservator-restorer speaking unto conservator-restorer is tantamount to the artistically blind speaking to the artistically blind is found on p.127 in one of the case histories (the conservation-restoration of a painting at the Rijksmuseum):
"…shortly after purchase [in 1976] the picture was cleaned to remove some discoloured varnish layer(s) [- the presence of which material is the most frequent pretext for restorations] and some clearly visible retouches. At the time of the restoration under discussion here, the only known record of how the painting looked before the cleaning was a black and white photograph taken at the Rijksmuseum. It was during that initial cleaning that the restorer [not Arthur Lucas] removed the clouds from the sky exposing blue underpaint. Though he claimed to be removing only over-paints, a shocked curator stopped the restoration and the picture remained in storage until 1995 when it was decided to examine and subsequently restore the picture for an exhibition planned for 1997…since the restorer who had cleaned the painting died in the late 1980s and left no account of the cleaning it can never really be known what had been removed or how…"
On the absence of artistic expertise among conservator-restorers, see Review: Who Cleaned the Queen's Windows and the Lady's Pearls?
Contender No. 8: Italy ~ The Vatican
The most controversial restoration in modern times has been that of Michelangelo's frescoes for the Sistine Chapel, a subject on which we have published many times. In addition to the restoration injuries, the fame of the restored frescoes has drawn (paying) crowds to the chapel of such magnitude as to imperil the physical fabric of the frescoes. For a summary listing of our previous coverage on all aspects of that continuing debacle, see Michelangelo's disintegrating frescoes.
Above, Figs. 25 and 26: Details of Michelangelo's Cumaean Sibyl on the Sistine Chapel ceiling, as seen before restoration (top), and after restoration (above). The explanation for the otherwise inexplicably profound changes that occurred during this cleaning, is that Michelangelo had finished off and elaborated his frescoes (when dry) with painting consisting of pigments bound in animal glue or size. With this painting Michelangelo adjusted and enriched his colours while, at the same time, greatly increasing their dramatic lighting and shading. (The revolutionary nature of this theatrical lighting is explored in this post: Coming to Life: Frankenweenie – A Black and White Michelangelo for Our Times.) However, on the authority of technical analysis of the glue-paint, the Vatican treated all of this surface painting by Michelangelo as if it were dirt and soot and washed it off. In this comparative detail above, the loss of shading on the bag and around it is immense.
Above, Figs. 27 and 28: The head of Michelangelo's Erythraean Sibyl on the Sistine Chapel ceiling, before restoration (top) when showing Michelangelo's systematic and consistent modelling of forms via a transition from light to dark from the top of the head to the neck and shoulder, as it had survived from 1512 until 1980; and (above), after the restoration in which all of Michelangelo's supplementary painting had been removed.
Contender No. 9: Italy ~ Milan
If any Renaissance mural might be thought to rival the importance of Michelangelo's Sistine Chapel ceiling it would be Leonardo's Last Supper in Santa Maria delle Grazie, Milan. Unfortunately this great work has suffered badly from its experimental technique and subsequently from multiple restorations over the years. It was thought, by Bernard Berenson among others, to have received the best-possible, final and definitive act of rescue in a two-part restoration of 1947-49 and 1952-54. (See The Perpetual Restoration of Leonardo's 'Last Supper' – Part 1: The Law of Diminishing Returns and The Perpetual Restoration of Leonardo's Last Supper, Part 2: A traumatic production of "a different Leonardo".)
Just twenty-one years later in 1975 a former student of the previous restorer reported falling fragments of paint. Two years later another (and $8m Olivetti-sponsored) restoration began with the express intention of undoing every trace of all previous restorations. In entirely predictable consequence, vast areas of bare, pictorially disfiguring wall were exposed. To return a semblance of iconographic coherence and legibility to the by-then devastated sacred images, the restorer colourised all of the exposed wall (which constituted most of the mural), not in any semblance of Leonardo's original pictorial method, but flatly, "abstractly" with water-colours that took their values from the local colours (but not the forms) of adjacent areas. This technique, therefore, imposed an entirely alien and ahistorical modernist sensibility on the remains of a once-supreme Renaissance evocation of real figures, in action, in real spaces. The operation thereby constituted an artistic misrepresentation and a cultural falsification: once-living theatre was effectively pulled onto a decorated backdrop. Aside from the conceptual unaptness of the enterprise, the restorer made errors – or took liberties – within her own terms of operation. (See below.) This was not a restoration and nor was it a recovery. Moreover, as an imposition of a markedly 20th-century sensibility and mindset, it will "date" rapidly and therefore licence those who will next wish to intervene on a world renowned work.
Above, Figs. 29, 30 and 31: The central section of the Last Supper is here shown (top) before the last restoration; during restoration (middle); and (above) after restoration and repainting. One error made at the repainting stage was to the central figure – Christ. Leaving aside what happened to His Face, the restorer decided against all historical testimony (see below) that Leonardo had painted the drapery of Christ's right arm so that it came to rest on the table cloth among the food and crockery. When our challenge to the decision was reported in the press, Professor Pietro Marani, the Leonardo expert who directed the Last Supper restoration, sarcastically downplayed the criticism – "A small piece of drapery. Oh, my God." (See Have art restorers ruined Leonardo's masterpiece?). It might have seemed a small error to the director of the restoration, but it has left drapery in place that Leonardo had not painted. How seriously, then, should we take assurances about the high "ethical" standards of today's restorers?
Above, Figs. 32, 33, 34 and 35: Details showing (top) the restored [sic] drapery of Christ's right arm and, below it, two copies of the original arm, as painted by Leonardo's associates Andrea Solario and Giampietrino (whose copy is shown above in colour and in greyscale).
Contender No. 10: The United States ~ The Clark Institute
The Sterling and Francine Clark Art Institute, has high scholarly aspirations and was generously founded on Sterling Clark's passionate and well informed love of art. In his will of 1946 Clark expressly prohibited any restoration of his own to-be bequeathed pictures:
"It having been my object in making said collection to acquire only works of the best quality of the artists represented, which were not damaged or distorted by the works of restorers, it is my wish and desire and I request that the said trustees…permanently maintain in said gallery all works of art bequeathed hereunder in the condition in which they shall be at my death without any so-called restoration, cleaning or other work thereon, except in the case of damage from unforeseen causes, and that none of them be sold, exchanged or otherwise disposed of…"
Sterling Clark's greatest love was for Renoir – he owned thirty-eight of his paintings, including the once magnificent A Box at the Theater (At the Concert) shown in two details below. Sterling died first in 1956 and his widow Francine died in 1960. Within three years of her death, pictures from the collection were being "restored" and (some) sold in breach of the terms of their generous bequest. The consequences were as horrendous as the deeds treacherous.
Above, Fig. 36: A detail (top) of the Clark's Renoir A Box at the Theater (At the Concert), as seen as recently as in the Clark's 1996/7 exhibition catalogue "A Passion for Renoir: Sterling and Francine Clark Collection, 1916-1951″,
Above, Fig. 37: A Box at the Theater (At the Concert), as seen in the 2008 Courtauld Gallery catalogue "Renoir at the Theatre" exhibition. In all likelihood, the (typically disastrous) Renoir cleaning will have been carried out in so-called preparation for travel to and from the London Exhibition – and in all probability, this would have been the first time the picture had been cleaned and "restored". (For more information on the systematic institutional abuse of the Clarks' bequest, see Taking Renoir, Sterling and Francine Clark to the Cleaners.)
On Francine Clark's death the first of what were to be two radical and utterly deranging restorations of Turner's Rockets and Blue Lights (Close at Hand) to Warn Steamboats of Shoal Water was under way at the hands of a then leading restorer, William Suhr (below, Fig. 38) after which only traces of the nearer steamboat survived.
Above, Fig. 39: Turner's Rockets and Blue Lights… after its 2003 restoration by David Bull during which the last traces of the nearer steamboat were removed.
For every restoration there is an apologia. With this picture's second restoration in forty years (which restoration, once again, preceded a loan across the Atlantic) the story went like this: The painting had been falling apart; and, besides, seventy-five per cent of it consisted of earlier restorers' repaint which had been applied to "disguise the evidence of some unknown earlier trauma". Only by removing most of the present paint, could "a full understanding of what lay beneath" be achieved. After the removal – on the authority of the Clark Institute's trustees – all parties responsible proclaimed a "resurrection" which had created "effectively a new picture".
Brass cheek does not come bolder than that. This was indeed a new picture, no longer a Turner, more a Suhr-Bull. For one thing, one of the picture's two original storm distressed coal-burning steamboats had disappeared under the waves with its former belching smoke converted nicely into a white water funnel. When our criticisms (initiated by the painter Edmund Rucinski) were first aired, a feeble, soon-abandoned, claim was made to the effect that the disappeared steamboat had been a 19th century restorer's addition – another brazen defiance of reality given that the picture's original title refered to boats, not boat, in distress. The evidence of there having indeed been an original second boat was overwhelming (see below) but there was no apology. Instead, the entire museum establishment, as if in complete solidarity with the Clark Institute (which lends loads of paintings), bigged-up the official line that this was somehow-still-a-Turner by proclaiming that the manifestly wrecked work had now become an especially desirable Turner.
At the time of the UK trip, the Tate Gallery issued a press release claiming that the picture comprised "one of the stars of the show…[having] recently undergone major conservation". Credulous British art critics lapped up and regurgitated the claims. And they did so once again when this "Turner" returned to the UK for a Tate Liverpool show where Cy Twombly's solipsistic scribbles and dribbles were flatteringly permed with works by Turner and Monet, no doubt helping the former's reputation more than Turner's or Monet's. We repeated the criticisms to no discernable effect. In 2014 an extraordinary publicity barrage accompanied the launch of the National Maritime Museum's "Turner & The Sea" blockbuster. It centred on a single painting – yes, the now notorious Rockets and Blue Lights. The decision to celebrate that particular wrecked and critically challenged work had passed beyond the brazen. As Maurice Davies observed in the spring 2014 issue of Turner Society News:
"The most unnecessary loan is Rockets and Blue Lights… The catalogue talks diplomatically of 'alterations to some areas of the painted surface.' It is in fact so horribly damaged that there's little value in seeing it in the flesh. ArtWatch talks of the picture as an example of 'the bizarre and perverse phenomenon of promoting demonstrably wrecked paintings in special loan exhibitions.' It would have been quite enough to include a small illustration in the catalogue and move swiftly on."
By this point the museum establishment had, in truth, passed beyond all reason. The wreck was not just billed as a star of the show, it was flaunted in every advertisement, publication cover, billboard and online marketing venue – see From Veronese to Turner, Celebrating Restoration-Wrecked Pictures. The message to critics seemed Clinton-esque: "We do it, because we can".
For the record: Proofs that Turner really had painted two Steamboats
Above, (top) Fig. 40: Detail of an 1852 (14 stages) chromolithographic copy by Robert Carrick of Turner's 1840 oil painting Rockets and Blue Lights (Close at Hand) to Warn Steamboats of Shoal Water. Note particularly the detailed depiction of the distressed steamboat and crew members on the right.
Above, (centre) Fig. 41: The steamboat as recorded in a photograph of 1896 (shown by courtesy of Christie's).
Above, Fig. 41: Turner's Rockets and Blue Lights… (detail) after its 2003 restoration by David Bull when the last traces of the nearer steamboat had been removed and the painting was fast approaching the appearance of a 20th-century abstract painting.
Contender No. 11: Location unknown
We knew at a glance that something was amiss. On 16 June 2012, a newspaper photograph trailed an imminent auction sale of Renoir's Baigneuse of 1888. Even on the evidence of a single de-saturated newsprint reproduction it seemed clear that the privately owned masterpiece had gone through the picture restoration wash cycle a time (or two) too often.
Renoir's Baigneuse had been given star billing (on a £12/18m estimate) at Christie's June 20th Impressionist/Modern sale. While much was made in the eight pages long catalogue entry of an impeccable and unbroken provenance through ten successive owners, not a word was said about any restorations of the painting, and although many early photographs were identified in the picture's literature, none was reproduced. It was disclosed that the Renoir was to be included in a forthcoming "catalogue critique" of the artist's work being prepared by the Wildenstein Institute from the Archives of François Daulte, Durand-Ruel, Venturi, Vollard and Wildenstein.
On the night of the sale, an announcement that the picture had been withdrawn drew gasps of surprise. Artinfo reported that the vendor had accepted a private offer from an unidentified buyer for an undisclosed sum somewhere within the estimate. Trade and press eyebrows have been raised at such secretive, pre-auction sales and the withdrawal was the more confounding because expectations of a big auction house "event" had been raised by extensive – and quite stunningly fetching – pre-sale press coverage with photographs of the painting enlivened by the seemingly routine inclusion of beautiful young female staff members. We wondered whether the present condition of the picture might have contributed to the withdrawal. Without any knowledge of by whom the picture is owned, or by whom and how often it might have been restored, we are content to leave the photo-evidence of condition to speak, as it properly should, for itself. The three then and now pairs of photographic details below (Figs. 42-47) are drawn respectively from Michel Drucker's 1944 "Renoir" and the 2012 Christie's "Impressionist/Modern" sale catalogue cover.
Michael Daley – 8 May 2015.
May 8, 2015 | Categories: news | Tags: "Mixing and Matching", "Turner and the Sea", "Veronese Nose-jobs", Andrea Solario, Arthur Lucas, Artinfo, BAPCR, Bob Ross, Cecilia Gimenez, Cosmetic restoration, Cultural falsification, Cy Twombly, Damaged Chinese mural, Damaged Egyptian beard, David Bull, Demonstrably wrecked paintings, Ecce Mono-Behold the Monkey, Erythraean Sibyl, Francine Clark, Franenweenie, Giampietrino, Great Women Conservators, Gustav Klimt's Beethoven Frieeze, Hatay Archaeolgy museum, ICON paintings group, Leonardo's Last Supper, Leonrdo's ruined masterpiece, Maurice Davies, mehmet daskapan, Michel Favre-Felix, Michelangelo's frescoes, Nimrud Palace carvings, Olivetti sponsorship, Pietro Marani, Qing Dynasty fresco, Renoir's "Baigneuse", Renoir's A box at the Theatre, Renoir's La Loge, Renoir's The Umbrellas, Rijksmuseum, Santa Maria delle Grazie, Santuaro de Misericordia, Slade School of Art, Sterling Clark, The Clark Institute, The Courtauld Gallery", The Sistine Chapel Ceiling, the sistine chapel controversy, The Tate Gallery, The Week, THE WORLDS WORST RESTORATION., Titian's Bacchus and Ariadne, Titian's Empress Isabella, Turkey mosaics, Turner Society, Turner Society News, Turner's "Rockets and Blue Lights", Turner's steamboats, Tutankamuns Beard, Tutankamuns Mask, Veronese's Supper at Emmaus, Wildenstein Institute, Zeugma Museum | Leave A Comment »
---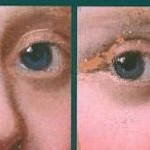 12 July 2013
Restorers (aka conservationists) love conferences – and trade organisations. Today, as previously mentioned, a one day conference ("The Picture So Far…50 Years of Painting Conservation") is being held at the Royal Institution in London. Sponsored by Christie's, it has been ambitiously organised and presented by the British Association of Paintings Conservator-Restorers (BAPCR) as a major retrospective as well as a discussion of the future of painting conservation:
"Fifty years ago as the nation was emerging from post-war depression, caring for the nation's heritage became imbued with higher ideals, reflecting a new found optimism and confidence in organisation, technology and cultural harmony. This conference will examine and celebrate the aspirations of and achievements of the early conservation pioneers. Pre-eminent speakers will trace the trajectory of conservation practice, philosophy, teaching, technology and professional organisation over the last half century. Leading us to examine the fundamental principles of our profession today and appraise the challenges that will face the next generation of practitioners."
Listening to restorers it might never be appreciated that art conservation is now a massive and controversial vested interest, a big business with a perpetually shifting ideology that doubles as self-promotion. Chemical and other manufacturers promote their wares through restoration trade advertisements and fairs. There are substantial educational interests. Conservation training (degrees and doctorates are now given) converts arts and science degrees alike into hard job opportunities, increasing numbers of which are in the secure, superannuated public sector. (On the content of conservation training, see Ruth Osborne and Einav Zamir below.) Every last little museum boasts or craves an in-house conservation department and all the technical paraphernalia that goes with it. Sponsorship is easily attained – who would not want to be associated with saving art? For petro-chemical giants sponsoring prestigious museum art conservation programmes makes particular image-improving sense. Development plans for museums are virtually guaranteed fund-raising success if an expansion of "conservation facilities" (along with "educational outreach") is cited.
Listening to restorers it might never be gathered that regardless of good intentions, their "treatments" irrevocably alter both the material fabric and aesthetic appearance of works of art. The alterations that materialise are made on the back of promises to prolong life, prevent deteriorations and recover original conditions. The history of restoration repeatedly shows (see right) contrary outcomes and resulting controversies. Throughout the twentieth century restorers have sought to convert public opprobrium into professional approbation by mimicking other professional forms – in particular those of medicine. The International Institute for Conservation (IIC) gives a biennial prize (The Keck Award – see our post of 8 January 2011) specifically for those considered to have best increased public appreciation of "the accomplishments of the conservation profession". Acting directly on the late Caroline Keck's advice, every conservator/restorer nowadays is his or her own cheerleader.
One of the speakers at the "Picture so far…" conference tomorrow, is the National Gallery's director, Nicholas Penny, who is to talk on changes of fashion in the "Presentation of Old Masters". A case in point might be the National Gallery's current "Vermeer and Music" exhibition where (paying) visitors are confronted on entry not with works of art – or even with instruments of music-making, but with a gallery full of conservation propaganda. At the entrance to the exhibition, the first wall panel of public indoctrination reads:
"Vermeer and Changes over Time The passage of more than three hundred years has inevitably left its mark on Vermeer's paintings. Some of these changes are the result of external factors; some are due to the inherent properties of the materials used; and some are the result of imperfections in the artist's own technique."
Not a word is said about the consequences of the restorations that the pictures on show have undergone. Blaming that artist's technique while not discussing the material actions of restorers is an evasion and a slur. Insofar as conservator-restorers ever allude to restoration injuries, they euphemise them as "abrasions", "rubbing" or "wearing" – as if, once upon a time, pictures abraded themselves. Where once-alike works are rendered unlike by restorations, blame is not attached to the agents of change. Instead, restorers opt see colourful diversity in works that now express not so much themselves but their "different conservation histories". We maintain that restorers, who alone are licensed to act upon picture surfaces, should be held properly and fully to account for the changes they make. Two Vermeers in the two National Gallery show might serve as cases in point (see right).
The National Gallery's conservation dossiers (to which we enjoy full and helpful access) show that the gallery's two Vermeer paintings have provided something of a playground for restorers. In the fifty years between 1945 and 1994, Vermeer's poor "Lady Seated at the Virginal" received no fewer than nine bouts of "treatment" – including being lined twice within three years. The last item of treatment (in 1994) was entered tersely into the conservation dossier as "Retouching in face and neck corrected (Bomford). Surface cleaned, revarnished". No photographic record of this intervention was to be found. When we asked the restorer, David Bomford (who speaks today on "Three Days That Changed Conservation"), he said that this omission was because "there were no real changes – it was simply a matter of glazing a few small sections of the previous retouching which had discoloured slightly." Such lackadaisical visual record-keeping is surprisingly common in venerable institutions. When our colleague, Michel Favre Favre-Felix, of ARIPA, noticed two unwarranted and bungled attempts to repaint a Veronese mouth and asked to see the Louvre's documentation on them, he was told that none existed because the repainting was merely a "localised intervention". A Louvre spokeswoman later described it as a simple sprucing-up ("bichonnée") and added triumphantly: "That's why you cannot find it in the painting's dossier".
Restorers wield many swords. They repair and sometimes remove the backs of pictures. They apply "cradles" to the backs of panels and then remove them when they aggravate the conditions they were designed to prevent. They "line" extra, new canvas onto the backs of old paintings canvasses with glues, wax-resins, hot irons or heated vacuum tables. Where canvases are already lined, restorers strip off the earlier linings and then immediately replace them with new ones. They strip down the fronts of pictures with a variety of methods and materials that are controversial within the profession itself – Richard Wolbers, a speaker at today's conference, will talk on one such: "Aqueous Cleaning Methods in Fine Art Conservation: 1984-2014". When the fronts of pictures are completely stripped down, restorers attempt to put them back together with their own additional painting…which future restorers will piously remove as alien accretions. There has never been a make-work project like art restoration. Every aspect of it spawns multiple and international conferences. The artistically critical repainting stage of restoration is – for well-founded reasons – a source of intense anxiety not just to art lovers but to the practitioners themselves.
In 2010, Archetype Publications, in association with The British Association of Paintings Conservator-Restorers (BAPCR) and the Icon Paintings Group, published a manual on retouching damaged paintings – "Mixing and Matching ~ Approaches to Retouching Paintings"*. Icon is a (charitable) trade body that presents itself as:
"[T]he UK's leading voice for the conservation of our precious cultural heritage. We raise awareness of the cultural, social and economic value of caring for our heritage and champion high standards of conservation…It brings together over three thousand individuals and organisations. Its membership embraces the wider conservation community, incorporating not only professional conservators in all disciplines, but all others who share a commitment to improving understanding of and access to our cultural heritage."
In their Foreword (which strikes an unfortunate "Blue Peter" tone), the book's three editors, Rebecca Ellison, Patricia Smithen and Rachel Turnbull, explain how their publication follows the structure of three one-day events organised by the Icon paintings group and BAPCR in 2007. The series took place because of a "burning desire to expand knowledge, exchange ideas and gain more practice" on retouching. It was recognised that there was a pressing need for "a practical kind of conference dealing with the actual techniques". This need exists in part because when it comes to retouching the earlier damage that cleanings deliberately lay bare (- and often themselves compound) – "every conservator-restorer tends to harbour preferences for materials and practices based on experience, types of artworks as well as what is available to hand."
The ICON/BAPCR conference/workshop series was conceived as "showcase" for the expert, and as a means of providing a "welcoming and supportive" environment to those wishing to learn by "listening and looking (in the morning lecture series)" and by "doing (in the afternoon practice sessions". By all accounts, the symposia exceeded expectations and very jolly times were had in the packed lecture theatres and demonstration galleries and workshops. This professionally successful format had precisely been devised for encouraging discussion and sharing experiences between those practitioners who are presently "locked in a retouching rut".
Some years ago we were assured that while our criticisms of the National Gallery's restoration practices were sound, we were being inadvertently unfair to the high standards of expertise then prevailing in the commercial sector that served the art trade. In support of this claim, we were taken to a top-end restorer's studio to see a client's work in the course of treatment. The painting concerned was an early portrait which had lost all colour in the flesh tones. Its high-born subject had just received a revivifying application of pink glaze to the cheeks. When we expressed concern about this palpably alien patch of glaze which had passed without modification from cheek to cheek across the bridge of the nose, the conservator-restorer was unfazed: "That's no problem – it's easily reversible. I can do it again". In an ante-room a young restorer was retouching holes in a cleaned landscape by Laura Knight, RA, on the testimony of a black and white photograph of the painting taken before the restoration began with the removal of varnish.
In 1946, the Times published this letter from Knight:
"Sir, -With the exception of direct painting, a comparatively modern method, a painter builds his pigment on to canvas or panel-always with the final effect in view. The actual surface of a picture is the picture as it leaves the artist's hand. The varnish which finally covers the work for protection to a varying extent amalgamates with the paint underneath. Therefore drastic cleaning – removal of the covering varnish – is bound to remove also this surface painting and should never be undertaken."
Retouching is made necessary whenever varnishes and earlier retouching are removed. Varnishes are removed for the "offence" of having discoloured – when that is their nature, they cannot, as artists recognise, do otherwise. New varnishes are then applied which will in turn discolour (and worse, if they are synthetic, not natural) and then be removed in turn. On this merry-go-round of undoing and redoing, a little bit (or more) paint is lost each time to the restorer's solvents and abrasive swabs, and a little bit (or a lot) of new paint is then added. What is conspicuous about these supposed and claimed recoveries of "original" conditions is that no "restored" painting ever returns to its previous state, when last restored. Each restoration introduces a further, compounding change that falsifies the original work in a game of artistic Chinese Whispers. Rare works that have escaped repeated restorations are highly prized and at a commercial premium. Restorers, however, are unfazed by the falsifications that they introduce, and at the top end of the museum trade such idiosyncratic "interpretive" impositions on unique historical artefacts are positively celebrated.
In the National Gallery's pocket guides "Conservation of Paintings", its former senior restorer, David Bomford, acknowledges that pictures are now "changed primarily for aesthetic reasons" (p. 53) and that restorations are carried out on the "aesthetic objectives of those responsible for the cleaning" (p. 45). Moreover, although the "different aesthetic decisions" taken by individual restorers produce results that "may look very different", all such different outcomes are "equally valid", provided only that they have been carried out "safely" (p. 53).
These claims are alarming and might be thought intellectually naïve: in matters of aesthetic and artistic integrity, the "safety" or otherwise of the cleaning materials is a red herring. If pictures end up looking different it is because they have been made (irreversibly) different. Restorers should be given no blank professional cheques. No less than bona fide creative people like artists, writers and musicians, they should be subject to critical scrutiny at all times.
Michael Daley
*Mixing and Matching ~ Approaches to Retouching Paintings", Eds. Rebecca Ellison, Patricia Smithen and Rachell Turnbull, Archetype Publications Ltd, 2010, ISBN: 978-1-904982-25-0.
The Education of Art Conservators – Examining the Field at its Foundations: Do university programs provide sufficient training?
"About ten years ago, popular media outlets such as National Geographic News and the Boston Phoenix started reporting on what has come to be colloquially known as the "CSI Effect." According to many American legal professionals, jurors in criminal trials increasingly favor forensic analysis over eye witnesses or circumstantial evidence, possibly as a result of popular television programs, such as CSI (Crime Scene Investigation), that inflate the role of forensics in the investigation and prosecution of major crimes.[1] In other words, the general public has come to trust digital scans over their own eyes, test strips over personal experience. A similar trend seems to be happening in the world of art conservation. More and more, historical knowledge and technical skill have been neglected in favor of scientific know-how. This development is perhaps best demonstrated within the training facilities for prospective conservators. In the past few weeks, the ArtWatch team has done its own crime scene investigation in order to determine what young and often impressionable individuals are being taught about the role of conservation in the study of art…"
Ruth C. Osborne and Einav Zamir
To read more of this report, click on:
http://artwatchinternational.org/articles/the-education-of-art-conservators
Comments may be left at: artwatch.uk@gmail.com
July 11, 2013 | Categories: blog | Tags: "Mixing and Matching", "The Picture So Far", "Veronese Nose-jobs", Archetype Publications Ltd, ARIPA, BAPCR, Blue Peter, Conservation training, CSI, Dame Laura Knight, David Bomford, Einav Zamir, Ellison, Frank Mason, ICON paintings group, Michael Daley, Nicholas Penny, Patricia Smithen, Rachel Turnbull, Rebecca, Richard Wolbers, Ruth C Osborne, Synthetic varnishes, The IIC, The Keck Award, The Louvre restorations, The Queen's Vermeer, Vermeer's A Lady Standing at a Virginal, Vermeer's Lady seated at a Virginal, Vermeer's The Music Lesson | Leave A Comment »
---
wibble!