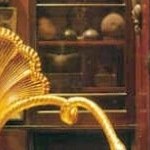 18 May 2014
On the 3rd of May, the Mellon Centre hosted a lively conference on the divisive subject of art connoisseurship – "The Educated Eye?", now available on Webinar (http://new.livestream.com/accounts/7709097/connoisseurshipnow). Yesterday, a three-day congress opened at the Hague on "Authentication in Art" (7-9 May) carrying the subtitle "What happens when the painting you are buying, selling, investigating, exhibiting, insuring – Turns Out to be a Fake or a (Re)Discovery…" A small ground-breaking exhibition with bearing on the two conferences ("Diverse Maniere: Piranesi, Fantasy and Excess" – see below and Figs. 1 and 2) is running at the Soane Museum until May 31st.
Curating the Future
The question mark in the Mellon Centre's conference title, reflects persisting antipathies to connoisseurship, which practice/discipline/pose nonetheless shows signs of rehabilitation. The conference proved admirably even-handed "ideologically" but somewhat constricted in its composition and terms of engagement.
The first speaker, Dr Stephen Deuchar, a former director of Tate Britain who has followed a former chairman of the Tate's board (David Verey) into the Art Fund's management, might be taken to represent the official modernist/progressivist museum world establishment. In his paper, "Connoisseurship Now: Some Thoughts", Dr Deuchar disclosed that the Art Fund no longer confines itself to helping museums buy great works of art that might otherwise be lost to the nation, and now, for example, has contributed "generously" towards something involving the conceptualist Martin Creed (who turns lights on and off), even though no object will be acquired. Gifting this munificence to the Tate required Deuchar (and, perhaps, his chairman?) to step aside from the trustees' deliberations.
There were two problems with Deuchar's position. First, in espousing a Connoisseurship of The New-and-the-Forthcoming, the curator effect