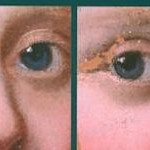 12 July 2013
Restorers (aka conservationists) love conferences – and trade organisations. Today, as previously mentioned, a one day conference ("The Picture So Far…50 Years of Painting Conservation") is being held at the Royal Institution in London. Sponsored by Christie's, it has been ambitiously organised and presented by the British Association of Paintings Conservator-Restorers (BAPCR) as a major retrospective as well as a discussion of the future of painting conservation:
"Fifty years ago as the nation was emerging from post-war depression, caring for the nation's heritage became imbued with higher ideals, reflecting a new found optimism and confidence in organisation, technology and cultural harmony. This conference will examine and celebrate the aspirations of and achievements of the early conservation pioneers. Pre-eminent speakers will trace the trajectory of conservation practice, philosophy, teaching, technology and professional organisation over the last half century. Leading us to examine the fundamental principles of our profession today and appraise the challenges that will face the next generation of practitioners."
Listening to restorers it might never be appreciated that art conservation is now a massive and controversial vested interest, a big business with a perpetually shifting ideology that doubles as self-promotion. Chemical and other manufacturers promote their wares through restoration trade advertisements and fairs. There are substantial educational interests. Conservation training (degrees and doctorates are now given) converts arts and science degrees alike into hard job opportunities, increasing numbers of which are in the secure, superannuated public sector. (On the content of conservation training, see Ruth Osborne and Einav Zamir below.) Every last little museum boasts or craves an in-house conservation department and all the technical paraphernalia that goes with it. Sponsorship is easily attained – who would not want to be associated with saving art? For petro-chemical giants sponsoring prestigious museum art conservation programmes makes particular image-improving sense. Development plans for museums are virtually guaranteed fund-raising success if an expansion of "conservation facilities" (along with "educational outreach") is cited.
Listening to restorers it might never be gathered that regardless of good intentions, their "treatments" irrevocably alter both the material fabric and aesthetic appearance of works of art. The alterations that materialise are made on the back of promises to prolong life, prevent deteriorations and recover original conditions. The history of restoration repeatedly shows (see right) contrary outcomes and resulting controversies. Throughout the twentieth century restorers have sought to convert public opprobrium into professional approbation by mimicking other professional forms – in particular those of medicine. The International Institute for Conservation (IIC) gives a biennial prize (The Keck Award – see our post of 8 January 2011) specifically for those considered to have best increased public appreciation of "the accomplishments of the conservation profession". Acting directly on the late Caroline Keck's advice, every conservator/restorer nowadays is his or her own cheerleader.
One of the speakers at the "Picture so far…" conference tomorrow, is the National Gallery's director, Nicholas Penny, who is to talk on changes of fashion in the "Presentation of Old Masters". A case in point might be the National Gallery's current "Vermeer and Music" exhibition where (paying) visitors are confronted on entry not with works of art – or even with instruments of music-making, but with a gallery full of conservation propaganda. At the entrance to the exhibition, the first wall panel of public indoctrination reads:
"Vermeer and Changes over Time The passage of more than three hundred years has inevitably left its mark on Vermeer's paintings. Some of these changes are the result of external factors; some are due to the inherent properties of the materials used; and some are the result of imperfections in the artist's own technique."
Not a word is said about the consequences of the restorations that the pictures on show have undergone. Blaming that artist's technique while not discussing the material actions of restorers is an evasion and a slur. Insofar as conservator-restorers ever allude to restoration injuries, they euphemise them as "abrasions", "rubbing" or "wearing" – as if, once upon a time, pictures abraded themselves. Where once-alike works are rendered unlike by restorations, blame is not attached to the agents of change. Instead, restorers opt see colourful diversity in works that now express not so much themselves but their "different conservation histories". We maintain that restorers, who alone are licensed to act upon picture surfaces, should be held properly and fully to account for the changes they make. Two Vermeers in the two National Gallery show might serve as cases in point (see right).
The National Gallery's conservation dossiers (to which we enjoy full and helpful access) show that the gallery's two Vermeer paintings have provided something of a playground for restorers. In the fifty years between 1945 and 1994, Vermeer's poor "Lady Seated at the Virginal" received no fewer than nine bouts of "treatment" – including being lined twice within three years. The last item of treatment (in 1994) was entered tersely into the conservation dossier as "Retouching in face and neck corrected (Bomford). Surface cleaned, revarnished". No photographic record of this intervention was to be found. When we asked the restorer, David Bomford (who speaks today on "Three Days That Changed Conservation"), he said that this omission was because "there were no real changes – it was simply a matter of glazing a few small sections of the previous retouching which had discoloured slightly." Such lackadaisical visual record-keeping is surprisingly common in venerable institutions. When our colleague, Michel Favre Favre-Felix, of ARIPA, noticed two unwarranted and bungled attempts to repaint a Veronese mouth and asked to see the Louvre's documentation on them, he was told that none existed because the repainting was merely a "localised intervention". A Louvre spokeswoman later described it as a simple sprucing-up ("bichonnée") and added triumphantly: "That's why you cannot find it in the painting's dossier".
Restorers wield many swords. They repair and sometimes remove the backs of pictures. They apply "cradles" to the backs of panels and then remove them when they aggravate the conditions they were designed to prevent. They "line" extra, new canvas onto the backs of old paintings canvasses with glues, wax-resins, hot irons or heated vacuum tables. Where canvases are already lined, restorers strip off the earlier linings and then immediately replace them with new ones. They strip down the fronts of pictures with a variety of methods and materials that are controversial within the profession itself – Richard Wolbers, a speaker at today's conference, will talk on one such: "Aqueous Cleaning Methods in Fine Art Conservation: 1984-2014". When the fronts of pictures are completely stripped down, restorers attempt to put them back together with their own additional painting…which future restorers will piously remove as alien accretions. There has never been a make-work project like art restoration. Every aspect of it spawns multiple and international conferences. The artistically critical repainting stage of restoration is – for well-founded reasons – a source of intense anxiety not just to art lovers but to the practitioners themselves.
In 2010, Archetype Publications, in association with The British Association of Paintings Conservator-Restorers (BAPCR) and the Icon Paintings Group, published a manual on retouching damaged paintings – "Mixing and Matching ~ Approaches to Retouching Paintings"*. Icon is a (charitable) trade body that presents itself as:
"[T]he UK's leading voice for the conservation of our precious cultural heritage. We raise awareness of the cultural, social and economic value of caring for our heritage and champion high standards of conservation…It brings together over three thousand individuals and organisations. Its membership embraces the wider conservation community, incorporating not only professional conservators in all disciplines, but all others who share a commitment to improving understanding of and access to our cultural heritage."
In their Foreword (which strikes an unfortunate "Blue Peter" tone), the book's three editors, Rebecca Ellison, Patricia Smithen and Rachel Turnbull, explain how their publication follows the structure of three one-day events organised by the Icon paintings group and BAPCR in 2007. The series took place because of a "burning desire to expand knowledge, exchange ideas and gain more practice" on retouching. It was recognised that there was a pressing need for "a practical kind of conference dealing with the actual techniques". This need exists in part because when it comes to retouching the earlier damage that cleanings deliberately lay bare (- and often themselves compound) – "every conservator-restorer tends to harbour preferences for materials and practices based on experience, types of artworks as well as what is available to hand."
The ICON/BAPCR conference/workshop series was conceived as "showcase" for the expert, and as a means of providing a "welcoming and supportive" environment to those wishing to learn by "listening and looking (in the morning lecture series)" and by "doing (in the afternoon practice sessions". By all accounts, the symposia exceeded expectations and very jolly times were had in the packed lecture theatres and demonstration galleries and workshops. This professionally successful format had precisely been devised for encouraging discussion and sharing experiences between those practitioners who are presently "locked in a retouching rut".
Some years ago we were assured that while our criticisms of the National Gallery's restoration practices were sound, we were being inadvertently unfair to the high standards of expertise then prevailing in the commercial sector that served the art trade. In support of this claim, we were taken to a top-end restorer's studio to see a client's work in the course of treatment. The painting concerned was an early portrait which had lost all colour in the flesh tones. Its high-born subject had just received a revivifying application of pink glaze to the cheeks. When we expressed concern about this palpably alien patch of glaze which had passed without modification from cheek to cheek across the bridge of the nose, the conservator-restorer was unfazed: "That's no problem – it's easily reversible. I can do it again". In an ante-room a young restorer was retouching holes in a cleaned landscape by Laura Knight, RA, on the testimony of a black and white photograph of the painting taken before the restoration began with the removal of varnish.
In 1946, the Times published this letter from Knight:
"Sir, -With the exception of direct painting, a comparatively modern method, a painter builds his pigment on to canvas or panel-always with the final effect in view. The actual surface of a picture is the picture as it leaves the artist's hand. The varnish which finally covers the work for protection to a varying extent amalgamates with the paint underneath. Therefore drastic cleaning – removal of the covering varnish – is bound to remove also this surface painting and should never be undertaken."
Retouching is made necessary whenever varnishes and earlier retouching are removed. Varnishes are removed for the "offence" of having discoloured – when that is their nature, they cannot, as artists recognise, do otherwise. New varnishes are then applied which will in turn discolour (and worse, if they are synthetic, not natural) and then be removed in turn. On this merry-go-round of undoing and redoing, a little bit (or more) paint is lost each time to the restorer's solvents and abrasive swabs, and a little bit (or a lot) of new paint is then added. What is conspicuous about these supposed and claimed recoveries of "original" conditions is that no "restored" painting ever returns to its previous state, when last restored. Each restoration introduces a further, compounding change that falsifies the original work in a game of artistic Chinese Whispers. Rare works that have escaped repeated restorations are highly prized and at a commercial premium. Restorers, however, are unfazed by the falsifications that they introduce, and at the top end of the museum trade such idiosyncratic "interpretive" impositions on unique historical artefacts are positively celebrated.
In the National Gallery's pocket guides "Conservation of Paintings", its former senior restorer, David Bomford, acknowledges that pictures are now "changed primarily for aesthetic reasons" (p. 53) and that restorations are carried out on the "aesthetic objectives of those responsible for the cleaning" (p. 45). Moreover, although the "different aesthetic decisions" taken by individual restorers produce results that "may look very different", all such different outcomes are "equally valid", provided only that they have been carried out "safely" (p. 53).
These claims are alarming and might be thought intellectually naïve: in matters of aesthetic and artistic integrity, the "safety" or otherwise of the cleaning materials is a red herring. If pictures end up looking different it is because they have been made (irreversibly) different. Restorers should be given no blank professional cheques. No less than bona fide creative people like artists, writers and musicians, they should be subject to critical scrutiny at all times.
Michael Daley
*Mixing and Matching ~ Approaches to Retouching Paintings", Eds. Rebecca Ellison, Patricia Smithen and Rachell Turnbull, Archetype Publications Ltd, 2010, ISBN: 978-1-904982-25-0.
The Education of Art Conservators – Examining the Field at its Foundations: Do university programs provide sufficient training?
"About ten years ago, popular media outlets such as National Geographic News and the Boston Phoenix started reporting on what has come to be colloquially known as the "CSI Effect." According to many American legal professionals, jurors in criminal trials increasingly favor forensic analysis over eye witnesses or circumstantial evidence, possibly as a result of popular television programs, such as CSI (Crime Scene Investigation), that inflate the role of forensics in the investigation and prosecution of major crimes.[1] In other words, the general public has come to trust digital scans over their own eyes, test strips over personal experience. A similar trend seems to be happening in the world of art conservation. More and more, historical knowledge and technical skill have been neglected in favor of scientific know-how. This development is perhaps best demonstrated within the training facilities for prospective conservators. In the past few weeks, the ArtWatch team has done its own crime scene investigation in order to determine what young and often impressionable individuals are being taught about the role of conservation in the study of art…"
Ruth C. Osborne and Einav Zamir
To read more of this report, click on:
http://artwatchinternational.org/articles/the-education-of-art-conservators
Comments may be left at: artwatch.uk@gmail.com
July 11, 2013 | Categories: blog | Tags: "Mixing and Matching", "The Picture So Far", "Veronese Nose-jobs", Archetype Publications Ltd, ARIPA, BAPCR, Blue Peter, Conservation training, CSI, Dame Laura Knight, David Bomford, Einav Zamir, Ellison, Frank Mason, ICON paintings group, Michael Daley, Nicholas Penny, Patricia Smithen, Rachel Turnbull, Rebecca, Richard Wolbers, Ruth C Osborne, Synthetic varnishes, The IIC, The Keck Award, The Louvre restorations, The Queen's Vermeer, Vermeer's A Lady Standing at a Virginal, Vermeer's Lady seated at a Virginal, Vermeer's The Music Lesson | Leave A Comment »
---
wibble!