Works of art are under physical threat as never before and proper contemplation of them is being made impossible. Aside from the absolute nihilistic depredations of Isil, within the West itself it is now feared that the long-chronicled growth of mass-tourism and its associated delinquent behavioral patterns – is about to create cultural gridlock in Europe.
SPECIES OF ABUSE
Something has to give. As things stand in the visual arts, the pressures for endless year-on-year growth in visitor numbers are irresistible even though the deleterious consequences are already manifest. While theatre, concert hall and cinema venues are designed (and behaviour therein is regulated) so as to permit all present to see, hear and think their own thoughts in companionable collectivity, in galleries and museums there are no such constraints on numbers or behaviour. In the remorseless drive to increase the "through-put" of paying visitors, people are packed and jostled into over-heating galleries in conditions that deny time and space for contemplation. The magnitude of this deterioration is shaming. The effects are exacerbated by restricted hours of paying-public access in order to provide privileged evening viewing to, for example, the clients of corporations which sponsor exhibitions or restorations – which organisations find the accruing good will to be a cost-effective form of self-promotion (see "Leaving your mark" below). The unfolding arithmetic of crush is terrifying.
In 2012 the annual number of international tourists passed one billion for the first time. In Britain what the Arts Council terms "The UK arts and culture industry", generated £12.4billion in 2011. The Museums Association reports that in 2013 visits at the National Gallery were 14% higher than in the previous year and were 20% higher at the British Museum. Such rates of increase are unsustainable but for administering directors and trustees this "rising footfall" is taken to testify to the "enduring success" of museums. China is now the world's largest contributor to this growth with its tourists spending over $100 billion in 2012. According to World Tourism Organization statistics, the Chinese are projected to take some 100 million overseas trips a year by 2020 – a twenty-five per cent increase on present levels. The Wall Street Journal reports that with the U.S. dollar about twenty-five per cent stronger against the euro than this time last year, bookings at the Louvre and the Sistine Chapel are sixty per cent higher this year than last (Europe Braces for a Summer Travel Crush, WSJ, 28 May).
The threat to the Sistine Chapel frescoes
With regard to the Sistine Chapel, the prospect is truly horrendous: we have already had confirmation of how the present visitor numbers are exacerbating the partial destruction of the frescoes that was begun in 1980 by the multi-million dollars Nippon TV-sponsored cleaning (see Michelangelo's disintegrating frescoes).
Above, top: The Sistine Chapel ceiling during cleaning showing (at the bottom, below the scaffolding) the last surviving section of Michelangelo's original two-stages painting.
Above, the stripped-down, first-stage ceiling, as experienced in the chapel today.
Systemic overcrowding in museums
Above, top: The Mona Lisa at the Louvre.
Above, centre: Rembrandt's The Night Watch at the Rijksmuseum.
Above: The temporary exhibition "Late Rembrandt" at the Rijksmuseum. The Grumpy Art Historian described the over-crowding at this blockbuster as "the worst I can recall" and reported that the museum's director, Wim Pijbes, had responded to criticisms by saying that "if you want a contemplative experience you should buy your own Rembrandt".
"Roll up! Roll up!"
Above, top: A poster on the London Underground showing Turner's (restorations-wrecked) painting Rockets and Blue Lights in the promotional campaign that accompanied the launch of the National Maritime Museum's exhibition "Turner and the Sea". For an account of that and other advertising campaigns, see "From Veronese to Turner, Celebrating Restoration-Wrecked Pictures".
Above: One of "many plugs for the Rijksmuseum's 'Late Rembrandt' exhibition" spotted at Amsterdam airport on May 14th by the art history blogger Bendor Grosvenor.
"Eyes down!"
Above, top: Otherwise engaged teenagers at the Rijksmuseum.
Above: McClachlan's masterly take in Private Eye on other otherwise engaged victims of the near-universal mobile phone addiction.
Taking Possession of the Past
Above, top: Morgan Schweitzer's illustration for the Ellen Gamerman, Inti Landauro and Liam MoloneyWall Street Journal article "Europe Braces for a Summer Travel Crush".
Above, and above centre: Images from bing's feature "Properly Posing with Statues"
Leaving your mark
Above: A (French) visitor at the National Gallery who, following reductions in warding staff, had time to deface two Poussin paintings with spray-paints on 16 July 2011. See "Dicing with Art and Earning Approval".
Above: In 1999 the National Gallery allowed the Yves Saint Lauren fashion house to shoot a display of art-inspired clothing at the unveiling of the gallery's Room 22, the £1m refurbishment of which had been met by the French fashion house. Not long afterwards we encountered a wall stripped of paintings and bearing massive water stains caused by rain which had overwhelmed the new guttering. We indicated the extent of water damage with white paint in the spring 1999 ArtWatch UK newsletter. The hastily removed paintings had included Le Valentin's Four Ages of Man and Philippe de Champaigne's The Vision of St Joseph.
Assaults on sculpture
Above: the Huffington Post reported in August last year that an American tourist broke a finger off a statue at the Museo dell'Opera del Duomo in Firenze, Italy. A security guard monitoring the exhibit had intervened immediately but, apparently, a moment too late.
One 3 June 2015, THE LOCAL reported that "Vandals in Florence have broken a finger off Pio Fedi's famous statue of the Rape of Polyxena, Italian media has reported [See below]. It's only the latest act of vandalism by careless visitors to the city."
Florence's mayor Dario Nardella is said to have called for harsher punishments for vandals.
"Damaging art is one of the most horrific and cowardly acts possible. I hope that the vandal who damaged the Rape of Polyxena yesterday in the Loggia dei Lanzi will be brought to justice soon," Nardella wrote on Tuesday.
"Whoever strikes culture strikes at the heart of history and the identity of a community. I will be promoting harsher punishments for crimes against artistic heritage in parliament, as with environmental crimes, with imprisonment of up to 15 years and double the limitation periods."
Above: On May 4th artnet reported that in Cremona, Italy, the Statue of the Two Hercules (circa 1700 and now, with its central coat of arms, effectively a symbol of the city itself) had been damaged as: "The scourge of the selfie has struck again: over the weekend, a pair of tourists accidentally broke an Italian sculpture while taking a photo with it, knocking off a portion of the statue's crown, which shattered on the ground." For other instance of selfie-takers' damage, see Selfie-Taker Smashes Priceless Historic Italian Statue of Hercules
"Ding Minhao was here"
Above: The International Business Times has reported that a 3,500-year-old Egyptian carving in the Temple of Luxor had been defaced by a Chinese teenager with the words "Ding Minhao was here". The paper also reported that China's Vice Premier Wang Yang had earlier contended the country's reputation overseas was being tarnished by the "uncivilized behavior" of some Chinese tourists. Wang made the remarks about the nation's tourists during a teleconference held by the State Council, China's cabinet, stressing that tourists need to be on good behavior when traveling abroad, according to the state-owned Xinhua News Agency.
Wang was reportedly referring to the poor manners and low "quality and breeding" of some Chinese tourists, saying they have harmed China's international image, People's Daily reported. "They speak loudly in public, carve characters on tourist attractions, cross the road when the traffic lights are still red, spit anywhere and [carry out] some other uncivilized behavior. It damages the image of the Chinese people and has a very bad impact." In the wake of Wang's words, the identity of the Luxor vandal emerged on Chinese social media. In an interview with Nanjing newspaper Modern Express on Saturday, the parents apologetically said it was the lack of education and supervision that led to their son's mischievous behavior.
"We have taken him sightseeing since he was little, and we often saw such graffiti. But we didn't realize we should have told him this is wrong," the boy's mother said in the interview, adding that she hopes China's relentless Internet users stop tracking down her son, who had "cried all night." The boy's father said the boy had realized his mistake, and hopes that the public will give his young son a chance to fix his mistake and move on.
Nothing is sacred or inviolable
Above: Sadly necessary security measures in a Cotswold church.
Michael Daley, 1 June 2015
Grumpy Art Historian draws our attention to a further deliquency encountered among Chinese tourists: "Nature Vandalism". In a Shanghai Daily report, (City's parks tormented by 'nature vandals'), it is said that:
"SHANGHAI Chenshan Botanical Garden is enhancing park patrols and adding volunteer monitors to address a growing problem of nature vandalism. Among recent incidents are Chinese characters carved onto the giant leaves of aloe and American century plants. The garden isn't the only park in Shanghai suffering from public abuse. Other popular sites report problems arising from people who don't seem to respect the native environment".
Below: A yucca plant at Shanghai Chenshan Botanical Garden is covered in Chinese characters carved by vandals.
---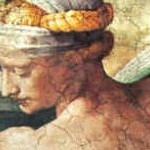 6 June 2014
The tide continues to run against supporters of the Vatican's 1980s and 1990s restorations of Michelangelo's Sistine Chapel frescoes, but it looks as if the National Gallery's technical conservation division might be about to attempt a last-stand defence of the proclaimed "Gloriously Recovered Colours" that were said to have resurrected a "New Michelangelo". An exhibition at the Gallery, Making Colour (June 18 to September 17), is to examine the stuff of pigments, in the course of which… Michelangelo is to be enthroned among the great colourists Titian, Turner and Matisse. The manoeuvre shows signs of back-firing.
The Times' art critic Rachel Campbell-Johnston was healthily wary and alert to art world conservation politics when previewing the exhibition ("True colours: from Titian to Turner", The Times, 31 May 2014):
"It is wilfully provocative to put a sculptor most famous for his pallid stone carvings on a list of the world's greatest colourists. But his Sistine Chapel paintings – coming together as they do to create the single greatest pictorial scheme of the Italian High Renaissance – are among the most vibrant works of western art ever created. And after a recent and highly controversial restoration in which solvents were used to strip away half a millennium's worth of accrued candle smoke and grime – and with it, many argue, the artist's own shadowy subtleties – Michelangelo is being reassessed. Every book on this artist will have to be rewritten declare historians who marvel at the newly revealed drama of vivid colour. Others, however, remain not just sceptical but deeply dismayed at the irreversible damage that the cleaning has done."
Even the restoration-friendly Art Newspaper carries seditious words on conservation and the Sistine Chapel in its current (June) issue. The spat that we reported between Bendor Grosvenor ("Art historian, dealer and broadcaster", of the Philip Mould and Company gallery), and Martin Myrone ("Lead curator, pre-1800 British art at Tate Britain"), at last month's Mellon Centre conference on connoisseurship and educated eyes, is re-run in the Art Newspaper under the heading: "Do we need a return to connoisseurship?" Dr Grosvenor's latest comments on restoration and connoisseurship are, however, almost cryptically condensed. They read in full:
"I despair at seeing a picture over-cleaned through a conservator's misunderstanding of how an artist worked, and the removal of an original glaze in the belief that it is either dirt or over-paint (the Sistine Chapel is the most depressing example of this)."
For the record, Dr Grosvenor's Mellon Centre mea culpa of May 2nd was delivered as follows:
"And to show why I think that connoisseurship has such a valuable role to play in conservation, let me mention what is – let me end with what is probably the most single important painting in Western art history: Michelangelo's Sistine Chapel ceiling. I recently went to Rome and saw the ceiling for the first time, and as I was standing underneath it with my binoculars, being jostled this way and that by the crowds, I am afraid I got a terrible shock. I always used to think that critics of the Sistine Chapel restoration were being slightly myopic, or a little bit obsessive, and that trained restorers surely at this level were infallible, and couldn't possibly damage pictures. But how wrong I was! The Sistine Chapel has been subjected to the most brutal over-cleaning imaginable. I don't mean the exposure of the bright colours which we see looking so nice here, which most people fixate on, but the actual removal, through simple abrasion with solvents and a rough sponge, of the crucial darks and shadows which gave the ceiling so much meaning and form. Though we don't have time to go into the debate here as to whether Michelangelo worked a secco on the ceiling or purely in fresco it seems to me that the whole approach to the cleaning of the ceiling was fundamentally misunderstood. But my contention is that if the restorers had, in fact, been real trained connoisseurs of Michelangelo's work and were not just pure technicians and had a feeling and an eye for how Michelangelo intended his pictures to work they might not have made the same mistakes. And I don't think I can really make a greater example of why connoisseurship matters. Thank you very much."
The now linked battles over art restoration and connoisseurship are intensifying. (We are intrigued to know what Dr Grosvenor thinks of the Philip Mould gallery's own picture cleaning methods. We do know that even when restorers aim to remove just "varnish", real paint often comes off in the wash – as seen at Figs. 12 and 13. Would the risks not be all the greater when restorers are removing what they take to be "re-paints" from pictures in a hunt for better work underneath?) The museum world's phoney "Culture Wars" between a supposed but now mythic Art Establishment (look at the recent membership of the Royal Academy and its Summer Show banner "Discover the new; discover the now") and the Tate and State-pampered, edgy, head-banging contemporary art sensationalists is masking a fundamental art world schism that shows signs of turning ugly. Dr Grosvenor's ideologically opposite number at both the Mellon Centre conference and the Art Newspaper forum, was Dr Martin Myrone – who happens to have hit the headlines. Tate Britain is mounting an exhibition of British folk art (see "Tate Britain rejects 'elitist' Old Masters as Turner makes way for thatched king", the Times, 5 June 2014). Tate's press release declared "British Folk Art will include surprising and diverse examples of British folk art, from rustic leather toby jugs to brightly coloured ships' figureheads. The imposing larger than life-size thatched figure of King Alfred created by master thatcher, Jesse Maycock, in 1960 is one of the exhibition's highlights."
News of this exhibition almost caught us off-guard: when Tate spokespeople witter about "diverse" and "surprising" things, we instinctively reach for our cultural pistols, so to speak. But for once, the artefacts clearly are of interest (see Fig. 11) and worthy of attention. The bone cockerel shown in the Times is, in its wit, force and verve of plastic articulation, the superior of the over-sized blue cockerel presently occupying the fourth plinth in Trafalgar Square – which itself is the best of a very long, very bad bunch of occupants. The straw man, likewise is, with its subtle, ominously Germaine Richier-like weight-shifting presence, more than an expressive sculptural match for, say, Sir Anthony Gormley, R. A.'s turgid "Angel of the North". In short, we have no problem with the subject of the exhibition: quality is, as quality is found. No problem, that is, except this: the Tate is not parking this exhibition in Tate Modern's vast halls or spinning it as an overdue and welcome blast against the enfeebled self-indulgence of today's decayed fine art tradition. Instead, it treats this folk art as vindication of that very sector (because Tracey sews and Grayson potters) and is using it as yet another way of denigrating and humiliating odious, elitist Old Masters. (One more sign, perhaps, of the un-wisdom of permitting one man an unbroken, guaranteed-for-life, twenty-six years long reign of tenure at the Tate?)
Insofar as Dr Myrone's dense sub-Marxian jargon in the Art Newspaper permits appraisal, it would seem that his antipathy to the notion and practice of connoisseurship is deep and visceral. As he puts it in the Art Newspaper:
"…Instead, contriving the resuscitation of connoisseurship on the basis that its worth is self-evident may be retrogressive, obscuring the stakes and investments actually brought into play as the different parties involved (academics, curators, dealers and so forth) establish their relative authority and their claims to public attention…Arguably, the only thing that now distinguishes connoisseurship as such is the element of economic and social purposefulness, its specific role as a way of talking about art and asserting aesthetic merit in terms which are readily translatable into economic value. The language of connoisseurship is simply more compliant to the needs of the market than other forms of historical discussion, which may be more open-ended and questioning, less certain about the judgement of value.
"Moreover, allowing the issues of authenticity and authorship to overshadow all the other issues and questions around historical works of art risks impoverishing our understanding and enjoyment of art's rich histories and our ability to communicate this in genuinely open-minded, engaging and thought-provoking ways. There is nothing, I think, radical or outrageous in pointing out that connoisseurship has served to reinforce social difference and further material interests over history.There are numerous studies which testify to this. What would be absurd would be to claim that this has somehow stopped in the present age and that connoisseurship is now absolutely removed from struggles over cultural authority…"
What is so sad and alarming is that art professionals working in the most elevated art institutions should be so antipathetic to art as art. As for lucre, they are happy to pursue careers and draw salaries working among art as long as it can be made instrumental – serve some "enlightened" progressivist, consciousness-altering, society-levelling social force. This is sad because it is philistine. It fails to respond directly, unashamedly, unapologetically to art itself. It is dangerous because should such blinkered aversions gain an absolute upper hand, cultural repression would result. Dr Myrone is clearly a conscientious man with the interests of the common weal at heart. But if we were to deny contemplation of the highest, the best, and the most life-enriching art to all, we would gain nothing and simply add cultural and personal impoverishment to existing social ills.
This antipathy to connoisseurship must be defused. First, let us recognise that it really doesn't necessarily come with snooty baggage or an eye on the financial main chance. That, at heart, it is a perfectly simple, decent and desirable matter; that it is comprised of nothing more odious than an ability to discern qualities that are of value. Second, that every art school lecturer used to recognise "the hand" of every student. We say "used to" because artistic hands are only evident when common cultural purposes are pursued through limited artistic means (as when all art students drew and drew from the same casts or figures). If scrunching paper and blinking lights count as art today then connoisseurship is already dead – and Dr Myrone can chill. He may, on the other hand, already be halfway to connoisseurship himself – in the Art Newspaper, he also writes:
"It is perfectly possible to talk about technique, authorship, authenticity and quality without recourse to the rubric of connoisseurship. Moreover, the application of skill in these various matters is part of the every day work of the art historian and curator, tending in practice to be rather modest and mundane. It is just part of the job."
Well, which is it to be? If connoisseurship is being done routinely, albeit under a different name, what is the problem? And why should we not talk about the doing of it, on the assumption that some may be doing it better than others?
In art practice itself, every proper artist is a connoisseur, not least of his own work. Every teacher forms preferences and will see more of value in the productions of one student over another. That is connoisseurship in action. Nothing to be ashamed about. When teaching in art schools it is not unheard of to encounter a student from Eton or from the Old Kent Road. Proper professional concern for quality and talent puts the Old Etonian on a level playing field and at risk of being outclassed by the greater talent of someone from nowhere. Dr Myrone complains, as reported in the Times, "We have rested much more on the idea of a canon of great masters, a Hogarth-to-Turner story…it is a fairly narrow kind of canon. A select few artists have been elevated, but there is a whole world of making and physical production which is really exciting." And so there is – but what humbug: narrow canons? How many working illustrators, film animators or car designers win Turner Prizes or get elected to the Royal Academy? Is everything really of equal value to the Tate? Are all avant gardists of the same merit? On what basis, then, are the Turner Prizes awarded? If someone scrubs a painting and features come away, as was the case with the group of lads holding a ladder at the top of Fig's. 7 and 8, would it be a good and desirable thing if art historians lacked the critical visual ability to notice – or the courage to speak out? Dr Grosvenor has at last cottoned on to the menace – is Dr Myrone still not up to it? Has he not yet come across the excellent post on Grumpy Art Historian which carries this helpfuly clarifying comment:
"Why cannot the art historian emulate [the archaeologist] and treat all images simply as artefacts of a given culture? I think the answer is simple. Such pretended scientific objectivity would rapidly lead to the suicide of our subject. On a purely practical level the archaeologist is saved from the agony of selection by the relative scarcity of his evidence. We are in a very different position. Once we decided not to make any distinctions between painting ceilings or, for that matter, assembly halls, we would be so swamped with material that Michelangelo's or Wren's creations would be lost in an ever-swelling card index"
Michael Daley
Comments may be left at: artwatch.uk@gmail.com
---
wibble!