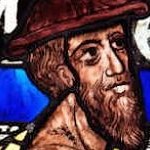 13 April 2014
An exhibition of stained glass that has been removed from "England's historic Canterbury Cathedral" has arrived at the Metropolitan Museum, New York, after being shown at the Getty Museum in California. The show ("Radiant Light: Stained Glass from Canterbury Cathedral at the Cloisters") is comprised of six whole windows from the clerestory of the cathedral's choir, east transepts, and Trinity Chapel. These single monumental seated figures anticipate in their grandeur and gravity the prophets depicted by Michelangelo on the Sistine Chapel ceiling. They are the only surviving parts of an original cycle of eighty-six ancestors of Christ, once one of the most comprehensive stained-glass cycles known in art history. (See Figs. 1 – 5.)
The Met boasts that this exhibition of "Masterpieces of Romanesque art…represents the first time they have left the cathedral precincts since their creation in 1178-80". Who, then, gave permission for the loan of such fragile, precious and architecturally integral material?
The New York Times says of the exhibition that it "Seemed to have been beamed down from on high", when it undoubtedly had been flown and vibrated down from on high in an aeroplane. The museum world repeatedly offers assurances that modern air transport is perfectly safe for moving treasures around, even though, as the world now well appreciates, aeroplanes do sometimes crash or disappear. Aside from in-flight hazards, works of art get taken by roads to and from airports where they disappear from curatorial view and supervision into high-security cargo depots, sometimes being injured by forklift trucks, and the like, in the process.
The bureaucrats of "Glasgow Life" who administer Glasgow's museums recently argued (successfully) in Scotland's Parliament that, as Sir William Burrell had permitted loans from his bequeathed collection within Britain, and as the most dangerous part of lending works is dismantling them in one place and reassembling them in another, overturning his prohibition on foreign travels would be no more dangerous than moving works within Britain. The bureaucrats were similarly successful in overturning Burrell's prohibition on lending certain categories of fragile works at all, within or outside Britain, such as glass, tapestries and pastels, by arguing that advances in modern packaging skills meant that even the most fragile work could now safely be moved subject to prior conservation examinations.
With the Burrell Collection we know precisely who will carry responsibility for any future travel injuries or losses but with the Canterbury treasures, who at the Cathedral (or in the Church) would take responsibility were these windows to be harmed or lost during their trans-Atlantic travels?
Were these windows insured for their travels, and, if so, what price was put on them?
Has the Church received any payment for this loan, and, if so, how much?
Were the six windows which travelled from London to California and from California to New York flown in separate aeroplanes – as were the three (of ten) gilded panels from Ghiberti's Florence Baptistery doors (dubbed "The Gates of Paradise" by Michelangelo) when they were sent from Florence to Atlanta; from Atlanta to Chicago; from Chicago to the Metropolitan Museum, New York; from New York to Seattle; and, finally, from Seattle back to Florence? (See Figs. 6 and 7.)
The Metropolitan Museum seems to be a common destination point on many of the most ambitious and hazardous inter-continental tours of art (it will receive the current Tate show of Matisse's monumental, previously too-fragile to loan, cut-out paper works). In the case of the Burrell Collection even before the Scottish Parliament had heard all the evidence arrangements for an international tour of works were in motion. On 10 September 2013, Joan McAlpine, SNP, the Chair ("Convener") of the scrutinising Parliamentary committee, disclosed in The Scotsman that "Sir Angus Grossart was giving some hints [the day before, during evidence to the committee's first session] of the kind of people he's been speaking to in terms of a world tour…I know they're talking to the Met in New York, and from the point of view of the people at Glasgow Life, that's an opportunity to enhance the reputation of the collection, the city and Scotland."
Crucially, Grossart's moves were not being made under the aegis of the Burrell Trustees, who are charged with protecting the collection according to the terms of Burrell's fabulously generous bequest (the 8,000 bequeathed works still constitute the largest gift ever made to a city), but by "Glasgow Renaissance", an interceding body set up by Glasgow Life expressly to "oversee the Burrell Collection's immediate future", advise on the refurbishment of the leaking building which has suffered decades of neglect, and to facilitate the fund-raising, profile-heightening international tour of key works. Sir Angus Grossart, a member of Glasgow Life's board of directors is the appointed chair of Burrell Renaissance.
In January 2013 it was reported (Herald Scotland) that the first, six months-long stop of the tour would be at the British Museum, whose director, Neil MacGregor, had been co-opted by Glasgow Life to serve on Burrell Renaissance (– as had been his fellow Glaswegian, Lord Kerr, the deputy chairman of Scottish Power). Grossart claimed in evidence given to the Scottish Parliament's Burrell committee that no conflict of interest existed because no other venue in London had been thought appropriate to receive Burrell works – which is to say, not the Victoria and Albert Museum; not the Royal Academy; nor even the Hayward Gallery where an exhibition "Treasures from the Burrell Collection" was mounted in 1975.
When we appeared for ArtWatch UK as one of only two opposing witnesses before the Scottish Parliamentary committee (the other being Jeremy Warren of the Wallace Collection), we pointed out that the Metropolitan Museum's present director, Thomas Campbell, had said of a major exhibition he had organised, "No one but the Met could have pulled off the exhibition of Renaissance tapestries we had a few years ago…We bribed and cajoled and twisted the arms of institutions around the world – well, we didn't bribe of course – but politically it was very complicated negotiating the loan of these objects, which came from the British Royal Collection, the Louvre, the Hermitage, the Vatican and were just all absolute masterpieces." ("Museum: Behind the Scenes at the Metropolitan Museum of Art", Danny Danziger, 2007, p.40.)
It will now be greatly less complicated for Burrell's fragile glass, tapestries, lace and pastels to be sent to the Metropolitan Museum – or anywhere else. Where Jeremy Warren of the Wallace Collection had testified "It is disingenuous to suggest that when one moves a 500-year-old tapestry from one country to another – perhaps taking it across the Atlantic – one is not shortening its life", Councillor Archie Graham, Glasgow Council's deputy Leader and the chairperson of Glasgow Life, thrilled at the prospect of "unlock[ing] the potential of this outstanding collection" and of being able thereby to "realise the full benefits of his gift." We were not surprised to read Jackie Wullschlager's report in the Financial Times ("Scottish independence", 5/6 April 2014) that within months of overturning Burrell's terms of bequest, a themed exhibition of works from within the collection ("Bellini to Boudin: Five Centuries of Painting in the Burrell Collection") should open with all of Degas's "glorious, delicate, light-sensitive" pastels shown in their entirety for the first time in a gallery in which water was dripping from the still unfixed roof "the day before" the show opened – that is to say, opened while on the watch of co-opted art world big-wig guarantors, the likes of Sir Angus Grossart and Mr Neil MacGregor. We did not, however, expect, when opposing the attempt to harvest the benefits of a collection bequeathed to the city of Glasgow, so soon to see the Church of England recklessly playing the same value-harvesting game with an irreplaceable part of the fabric of a cathedral and of our national heritage.
Michael Daley
Comments may be left at: artwatch.uk@gmail.com
---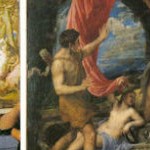 18th July 2012
A little over a decade ago we were requested to move away from Titian's "Bacchus and Ariadne" by a member of the National Gallery's education department who was about to give a talk. Her narrative thrust on this great canvas (which had been glued by restorers on to a sheet of "Sundeala" board) proved more sociological than artistic or art historical. It had a villain – the original patron – who, the audience learned, had been a rich dirty old man who supplied extravagantly expensive pigments for an ostentatiously sexy depiction of a victim – an abused mythical woman – who would provide literary cover for his private delectation within his own apartment.
If the Gallery had then hit a low with such travestying philistine cant, we now find that in its drive to increase visitor numbers and extend social constituencies, it has jettisoned the very distinction between Art and Life. Pictures acquired at immense expense in the name of the Public Good are no longer treated as self-sufficient imaginatively crafted works that merit reciprocally reflective attention from the viewer but as pretexts for real-life events of a titillating, humanly exploitative and degrading nature.
Thus, in the bureaucratised stew that is the Cultural Olympiad's London 2012 Festival, the National Gallery has permitted Titian's great poesies to serve as springboards to three "edgy" artists. In 2001, in a drawing for Jackdaw (see Fig. 4), we had already marked one of this triumverate, Mark Wallinger, as a clown ripe for elevation to the National Gallery Pantheon, and today, with few honourable exceptions, the newspaper art critics have duly fawned over his efforts:
We are so cast only if we choose to play the chump-role that is offered as a legitimately "performative" (to use Sir Nicholas Serota's term-of-the-moment) contribution to art. We do not have to do so. We do not have to be complicit with museum educators' perverse cultural de-constructions. Rather, we might ask them why they do not consider this particular use of real people – women hired-in for the duration – to be a form of "sexploitation". We might also ask them, as public educators, to explain the connection that they believe Wallinger's stunt has with Ovid's stories and Titian's depictions of them. Even if Wallinger cannot see that Acteon was the very opposite of a voyeur – a man who had had the great misfortune accidentally to intrude upon a bathing goddess – might we not ask why no one at the National Gallery felt able to disabuse him.
Michael Daley
Ruined Renoirs
Our examination of the fate of more than twenty Clark Art Institute Renoirs now showing at the Royal Academy will follow in the next post.
Comments may be left at: artwatch.uk@gmail.com
---
wibble!