The July/August issue of the Art Newspaper carries three fascinating items on the standing of the disappeared Salvator Mundi painting which may or may not be included in the forthcoming Leonardo exhibition at the Louvre.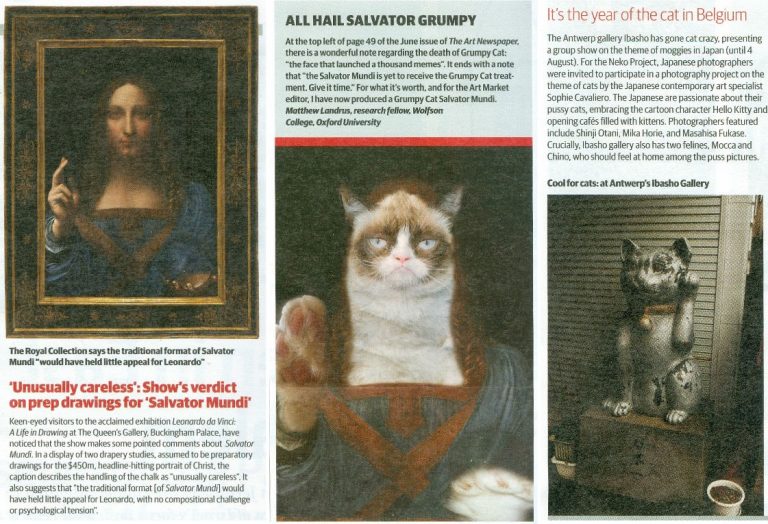 It was sharp of the Art Newspaper to spot the inconsistency (above, left) at the Queen's Gallery exhibition "Leonardo da Vinci: A Life in Drawing". Two months ago, the Guardian reported that Martin Clayton, head of prints and drawings at the Royal Collection Trust, had said that while some experts still doubt its authenticity: "For what it's worth, I believe it is [a Leonardo]." He then made this extraordinary claim:
"My opinion is not a controversial one among Leonardo scholars … the more somebody knows about Leonardo the more likely they are to accept the painting and the people who have been saying 'no, Leonardo would never paint anything like that' tend to be people who, to be frank, aren't great Leonardo scholars."
This seemed both ill-informed and rash. Does Clayton take himself to be a better judge of Leonardo matters than say – just to name two prominent Salvator Mundi dissenters – Carmen Bambach, curator of Drawings and Prints at the Metropolitan Museum of Art and author of the recently published four-volume study Leonardo da Vinci Rediscovered, or, Frank Zöllner, author of the Leonardo catalogue raisonné? Contrary to claims made by the National Gallery and Christie's, the author Ben Lewis has disclosed in his book The Last Leonardo that when the Salvator Mundi was examined at the National Gallery in 2008 – in one of its earlier restoration incarnations – only two out of five leading Leonardo scholars endorsed the then proposed Leonardo attribution.
Tonight Martin Clayton chairs a discussion at the Queen's Gallery with the experts, Adam Rutherford, Maya Corry and Matthew Landrus, on the ways Leonardo understood observation and drawing while combining art and science in every aspect of his work. The event is a sell-out and, unfortunately, the Gallery declined to admit ArtWatch to cover the event for our forth-coming Journal on the theme "From Sistina to Salvator".
Michael Daley, 4 July 2019
Update, 10 July 2019 – ATTRIBUTING UP AND ATTRIBUTING DOWN
Two ArtWatchers' present at the (£15) Leonardo observation/drawing/science discussion, report that in the "Leonardo da Vinci – a Life in Drawing" exhibition catalogue, Martin Clayton takes the c. 1475 drawing, A Lily, from Leonardo and attributes it to the artist's master, Andrea del Verrocchio, on the grounds that the drawing bears "close comparison to several of the few known drawings" attributed to Verrocchio (Fig. 1 below). The claim goes unsupported visually. Clayton has reportedly acknowledged that:
"The Royal Collection has one less Leonardo drawing, but we have one more Verrocchio, which is even more exciting. This is our only Verrocchio. We don't have any other drawings by [him]" and "Whereas his sculpture and architecture is very well known, very few of his drawings survive. We have something like 1,000 artistic drawings by Leonardo, whereas we have about 10 – if that – by Verrocchio [worldwide]. So, in a sense the subtraction of one drawing from Leonardo's oeuvre matters hardly at all, whereas the addition of one drawing of Verrocchio's is a big deal. That's why I find it exciting… It is one of the most beautiful of his few drawings."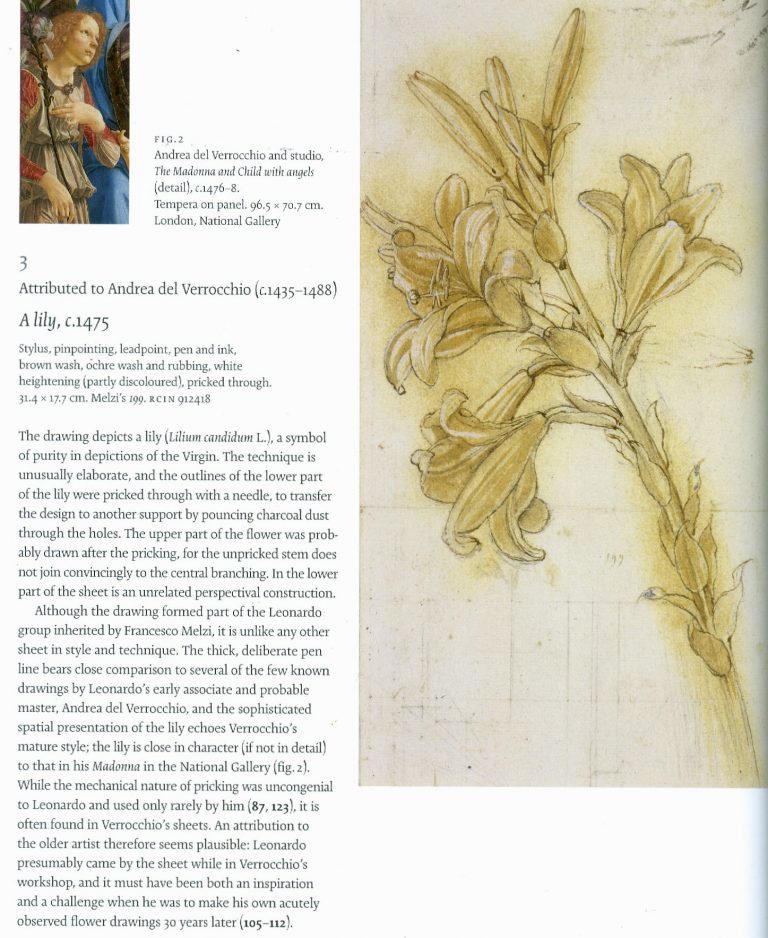 For those who care about works of art as art – and not as quasi-philatelic holdings – it matters a very great deal. Consider the logic: if we re-attribute a (fabulous) Leonardo plant study and place it among Verrocchio's very few drawings it becomes…one of the latter's most beautiful drawings. That is an alarm bell – it should look at home in the oeuvre. In answer to the question how comfortably or plausibly the Lily sits among Verrocchio's few drawings, Clayton's case is twofold. First, "Leonardo's earliest drawings do not feature the bold, confident line seen here"; then, an acknowledgement/assertion that although there is "no direct parallel in the few known drawings by Verrocchio, this penwork is close to that in his Head of an Angel and the double-sided Study of Putti". And, for that reason: "An attribution to Verrocchio of this accomplished drawing thus seems preferable."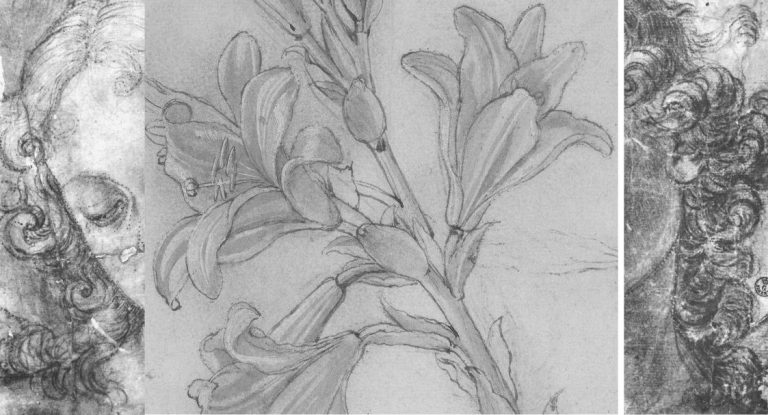 "Preferable" is an odd word in this context and is not the same thing as "more secure". Moreover, if we juxtapose the details of the Leonardo Lily and the Verrocchio angel (as above at Fig. 2) we do not find a common bold line or a common anything. The drawing of the hair has none of the fluency of design or eloquent plasticity of the Lily. I first encountered the Lily at sixteen in a regional art school library Phaidon book, (probably Goldscheider's Leonardo da Vinci). Then, I found it and Leonardo's drapery studies breath-taking in their acuity and realisation of form-on-a-flat-surface. I still do. In Verrocchio's oeuvre, the Lily is both atypical and most beautiful. This should not surprise: above grace and elegance, in this particular drawn stalk of flowers Leonardo had summoned a force of nature in an image that pulsates with life as it unfurls before us (Fig. 3).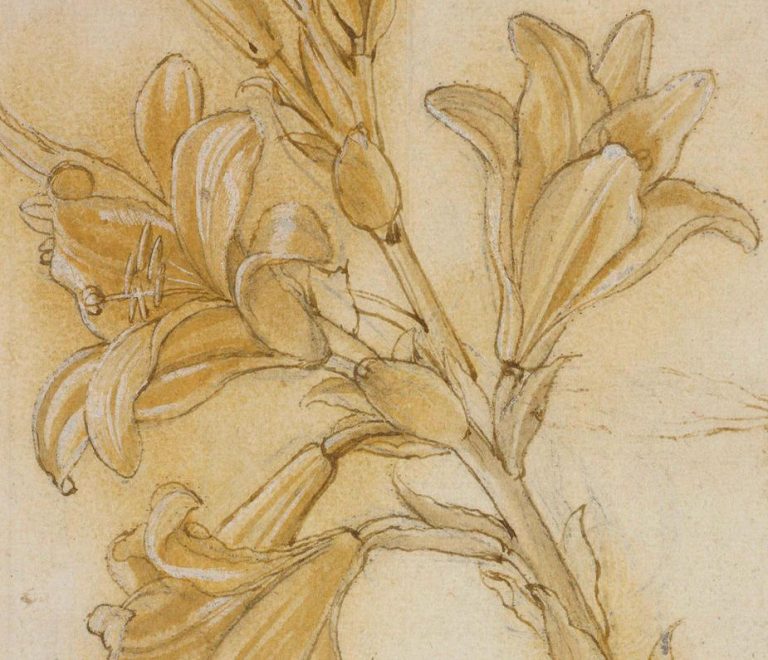 Clayton's principal justification for making his dramatic demotion is that the Lily constitutes a unicum within Leonardo's surviving drawings oeuvre. It does but, then, it constitutes a more pronounced one in Verrochio's tiny oeuvre. In making this switch Clayton discounts earlier scholarship on the drawing's special status. Ann Pizzorusso kindly points out that while acknowledging the drawing's distinctive nature, the late Carlo Pedretti had seen no disqualification. In Leonardo da Vinci Nature Studies from the Royal Library at Windsor Castle Pedretti noted that in nearly every one of his early paintings, Leonardo addressed landscape and "in particular" vegetation – where "Plants and flowers are consistently represented with scientific accuracy…" Moreover, "Evidence of Leonardo's extensive study of plants and flowers in his youth is provided by Leonardo himself as he records 'molto fiori ritratti di naturale' in the list of works that in about 1482 he was taking to Milan or leaving in Florence…"
Whatever administrative benefits this effective de-attribution may bring, it neither rests on visual demonstration nor makes artistic sense. In our view, Clayton has thus committed a double Leonardo attribution error: he takes the now disappeared, much-restored and re-restored $450 million Salvator Mundi as a fully autograph Leonardo prototype painting and, he gives away one of Leonardo's most brilliant studies. In both exercises methodological shortcomings are evident: neither the re-attribution nor the attribution upgrade followed a due presentation of evidence and invitation to debate. With the Salvator Mundi it is claimed that the (surviving) hair constitutes proof of Leonardo's hand. It does nothing of the sort. Martin Kemp, the painting's most vocal advocate, places the Salvator Mundi between the Mona Lisa and the St. John – in other words, at the very peak of Leonardo's painterly accomplishment. In the comparison below (Fig. 4) we show details of the hair of the St. John, left, and the Salvator Mundi, right. By comparison with the secure St. John, the hair of the Salvator Mundi can be seen to be less sumptuously formed, more linear, sharper and metallic – like lathe turnings. The differences of painterly sophistication in these two works greatly outweigh any similarities of design.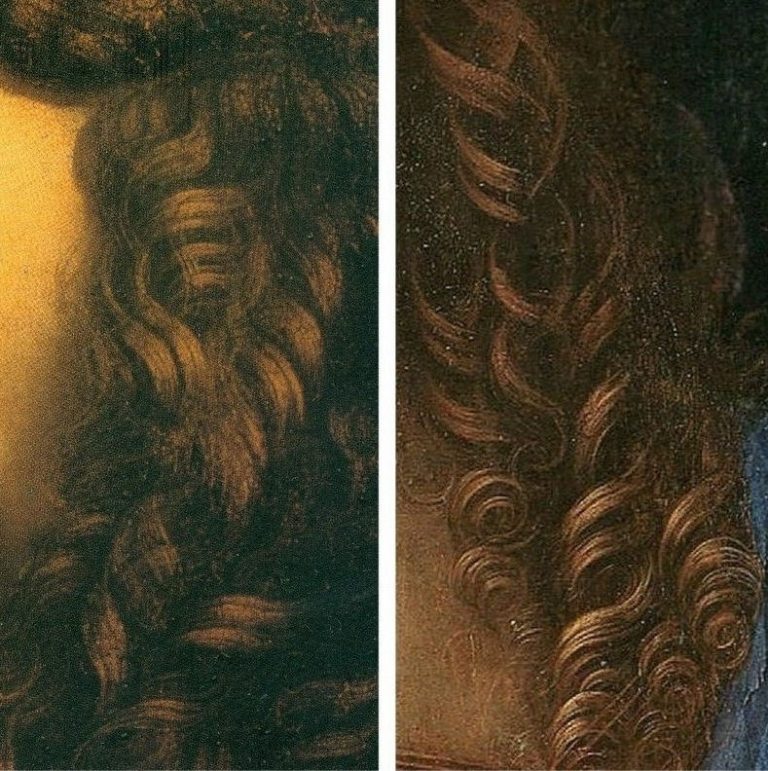 Where the Lily seems to have been downgraded by a single scholar's proclamation, with the Salvator Mundi, as Ben Lewis* has chronicled in his book, The Last Leonardo – The secret Lives of the World's Most Expensive Painting, the attribution was made through a cumulative series of covert manoeuvres between 2005 and 2011, at which late date the painting was sprung on the world with the full authority of a National Gallery director, curator and trustee, as an entirely autograph Leonardo painted prototype in the Gallery's major Leonardo Painter at the Court of Milan blockbuster exhibition. To Lewis, Luke Syson, the exhibition curator, admits erring in his catalogue entry on the painting (which was indebted to the then – and still – unpublished papers of one of the owners). Specifically, Syson confesses: "I catalogued it more firmly in the exhibition as a Leonardo because my feeling was that I was making a proposal and I could make it cautiously or with some degree of scholarly oomph". Nothing indicated to the reader or the exhibition visitor that a proposal was being made. As Syson put it in his entry: "The re-emergence of this picture, cleaned and restored to reveal an autograph work by Leonardo, therefore comes as an extraordinary surprise." No "ifs", no "buts", this was a long-lost Leonardo. On which claimed certainty, see our review of Lewis's book in "Selling a Leonardo with 'oomph'" in the July/August 2019 issue of the Jackdaw.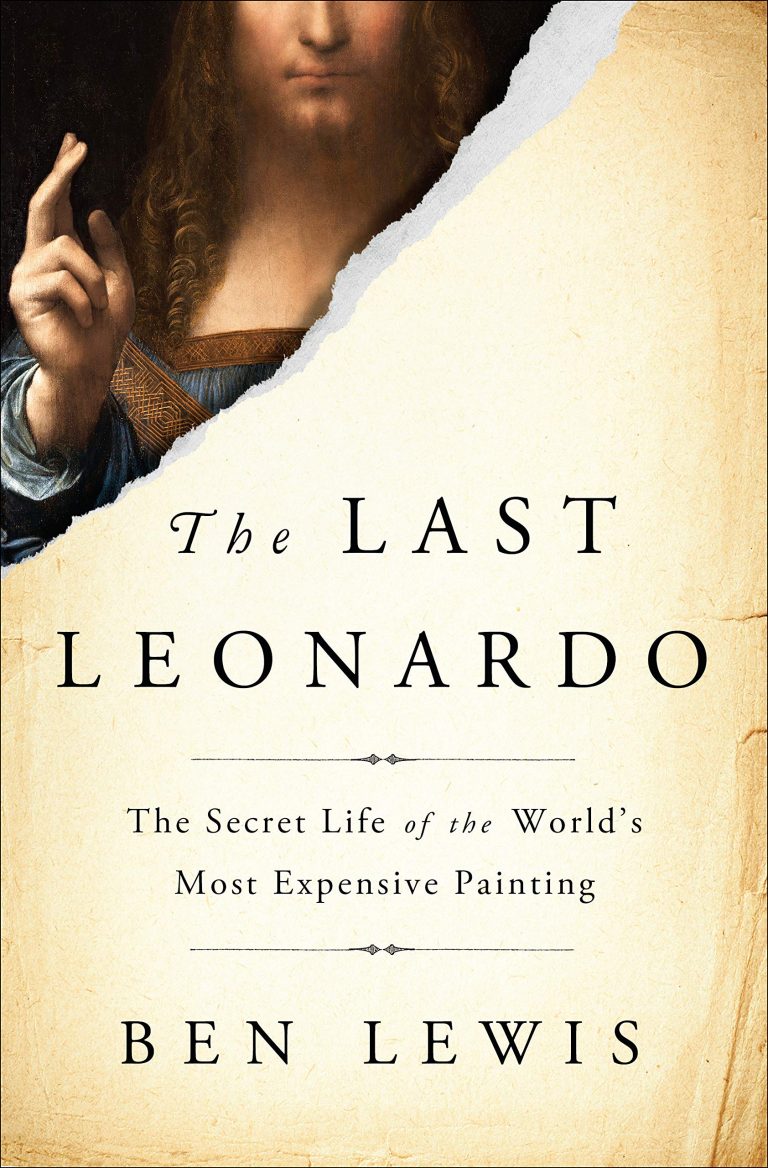 A CURATE'S EGG OF AN ATTRIBUTION
In March 2008 five Leonardo scholars were invited to examine the Salvator Mundi in its then state of restoration. Martin Kemp has reproduced the emailed invitation he received from the Gallery's then director, Nicholas Penny:
"I would like to invite you to examine a damaged old painting of Christ as Salvator Mundi which is in private hands in New York. Now it has been cleaned, Luke Syson and I, together with our colleagues in both paintings and drawings at the Met, are convinced that it is Leonardo's original version, although some of us consider that there may be [parts?] which are by the workshop. We hope to have the painting in the National Gallery sometime in March or in April so that it can be examined next to our version of the Virgin of the Rocks. The best-preserved passages in the Salvator Mundi panel are very similar to parts of the latter painting. Would you be free to come to London at any time in this period? We are only inviting two or three scholars."
In the event, five scholars were invited, and, Ben Lewis has established, of those, two accepted the attribution, one rejected it and two declined to offer a judgement. Kemp did accept it and he has further disclosed that: "All of the witnesses in the conservation studio were sworn to confidentiality, and the painting travelled back to New York with Robert [Simon, one of the consortium of owners who had bought the painting for $1,175 in 2005]. It was becoming 'a Leonardo'." And so it was. Having done so and having twice been sold as such for a total of over half a billion dollars, it disappeared. Its whereabouts remain unknown.
*Ben Lewis will deliver the tenth ArtWatch International James Beck Memorial Lecture ("Fingers Crossed: Wishful Thinking, White Lies, Benedictions and the Attribution of the Salvator Mundi") in London, on Tuesday October 1st. Details to be announced shortly.
---
The world famous drawing that was dubbed "La Bella Principessa" by Professor Martin Kemp is insured for $150 million and lives in a "secure vault in Zurich". It is not a portrait of Bianca Sforza by Leonardo da Vinci, as has been claimed, but a twentieth century forged or pastiche Leonardo.
WHITHER "LA BELLA PRINCIPESSA"
In 1998 the now so-called "La Bella Principessa" appeared from nowhere at Christie's, New York. A hybrid work made in mixed media that were never employed by Leonardo (three chalks, ink, "liquid colour"), on a support that was never used by Leonardo (vellum), and portraying a woman in a manner that is nowhere encountered in Leonardo, it was presented as "German School, early 19th century" and "the property of a lady". It went for $22,850 to a New York dealer who sold it nine years later on a requested discount of 10 per cent for $19,000 to an art collector, Peter Silverman, who said he was buying on behalf of another (unidentified) collector whom he later described as one of "the richest men in Europe". Thus, at that date, it was not known who owned the drawing or by whom it had been consigned to Christie's and it remained entirely without provenance. In its nine years long life, no one – not even its new owner(s) – had taken it to be by Leonardo.
In a 2012 book (Lost Princess ~ One man's quest to authenticate an unknown portrait by Leonardo da Vinci), Silverman claimed a successful upgrading to Leonardo and described how he had gained the support of distinguished scholars including Professor Martin Kemp who had formulated an elaborate hypothetical history in which the drawing was said to be a Leonardo portrait made either from a living subject in celebration of her wedding or in commemoration after her death in 1496.
Nonetheless, the drawing failed to gain a consensus of scholarly support and is rejected in centres like New York, London and Vienna. Carmen Bambach, the Metropolitan Museum's Renaissance drawings authority dismissed "La Bella" on the grounds that "It does not look like a Leonardo". Thomas Hoving, a former Metropolitan Museum director, held it to look "too sweet" to be Leonardo. ARTnews reported that the Albertina Museum's director, Klaus Albrecht Schröder, had noted "No one is convinced it is a Leonardo". In the Burlington Magazine Professor David Ekserdjian suspected it to be "counterfeit".
THE LOOK OF "LA BELLA" AND THE COMPANY SHE BEST KEEPS
In matters of attribution the most important consideration is the look of a work. Many things can be appraised simultaneously but, conceptually, the "look" of a work might be broken down into two aspects: an initial at-a-glance response to a work's effects and appraisal of its internal values and relationships; and, a comparison of the effects, relationships and values with those of bona fide productions of the attributed artist, or with those of the artist's students, associates or followers. It can also be useful to compare the looks of works with those of copyists and known forgers. It might fairly be said that in connoisseurship, as in the evaluation of restorations, visual comparisons are of the essence. (In ArtWatch we take pride in the extent to which we seek out all possible comparative visual material and regret that some institutions still hinder our efforts in this regard.)
Above, Fig. 1. If we put aside questions of attribution and simply look at the group above, we find works of remarkably similar figural motifs and formats that clearly relate to and derive from a most distinctive type of 15th century Italian profile female portrait. These similar-looking works are similarly sized, being, respectively from left to right:
A Young Woman, 14 and 1/4 x 10 inches;
"La Bella Principessa", 13 x 9 and 3/4 inches; and,
A Young Woman, 18 x 12 1/2 inches (here shown mirrored).
All show young women depicted in the strict early Renaissance profile convention made in emulation of antique relief portraits on coins and medals. Although very widely encountered (see Fig. 4), Leonardo side-stepped the type in order to intensify plastic and expressive values with sculpturally-purposive shading and axial shifts in the bodies and gazes of his portraits (see Fig. 6). The portrayals above are strikingly similar in their head/torso relationships; in their absences of background; in their highly elaborated coiffures which offset 'sartorially' skimped and unconvincing simplifications of costume; in their sparse or wholly absent depictions of jewellery; and, even, in their almost identically cropped motifs. Collectively they might be taken as a suite of variations on a simple theme. We take all three to be twentieth century Italian artefacts. At least two of them are linked to Bernard Berenson and the two on which reports have been published have unusual and problematic supports.
As mentioned below, the Detroit picture is painted on top of photographic paper. It is suspected that it might have been a photograph of the Frick sculpture to which the painting was initially related. The "La Bella Principessa" is drawn, exceptionally for Leonardo, on a sheet of vellum which appears to have been removed from a book and it is, most unusually, glued to an oak panel. The panel itself is a curiosity: although a number of "butterfly keys" have been inserted into its back, as if to restrain splitting, there is no evidence of splits in the panel and, if there were, the present four such keys in such a small panel might be considered restoration "over-kill". If the panel had split while the vellum was glued to it, the drawing would have split with the panel. The fact that the vellum has been "copiously glued" to a (possibly pre-restored) oak panel makes it impossible to examine the back of the drawing which is said by one of its proponents, (Cristina Geddo, an expert in Leonardo's students and Milanese "Leonardesques") to bear "superimposed numbers…a written inscription…[and a] little winged dragon – at least that is what it seems." For Geddo, this unexamined content is reassuring: "This feature, too, counts in favour of an attribution to Leonardo, who, even though he never to our knowledge used a parchment support in his work, was in the habit of re-using the paper on which he drew."
(In reading the compendious literature on this proposed attribution, we have sometimes wondered what might be allowed by its supporters to count as evidence against the attribution.)
CONSIDER THE HISTORIES
The portrait on the left, A Young Woman, was bought in 1936 by the Detroit Institute of Arts as by Leonardo da Vinci or Andrea del Verrocchio. The institute's director, W. D. Valentiner, made this attribution on the strength of clear correspondences with the curls in the hair of Leonardo's painting Ginevra de' Benci (see Fig. 6) in the National Gallery of Art, Washington, and with those found in the above-mentioned marble sculpture in the Frick Museum, A Young Woman, given to Andrea del Verrocchio. (Valentiner had made a study of Leonardo's work in Verrocchio's workshop.) In 1991 Piero Adorno, specifically identified the Detroit picture as Verrocchio's lost portrait of Lucrezia Donati. Notwithstanding seeming correspondences with secure works, this picture is now relegated to "An Imitator of Verrochio" – and this is an extremely charitable formulation. In Virtue and Beauty, 2001, David Alan Brown described it as "a probable forgery by its anachronistic materials and unorthodox construction". "Probable" [!] because: "after a recent technical examination, the picture turns out to have been painted on photographic paper applied to a wood panel that was repaired before it was readied for painting. And at least one of the pigments employed – zinc white – is modern…" Valentiner judged one of two Leonardo studio works of the Madonna with a Yarnwinder to be "more beautiful than the Mona Lisa".
The portrait on the right, A Young Woman, was attributed to Piero Pollaiuolo by Berenson in 1945. While this figure is perhaps the most attractive of the above three, with its nicely constructed counterbalancing of the thrusts in the neck/head and torso, and its credibly proportioned arm, the work itself has, so far as we can ascertain, sunk without trace. In truth, this female profile portrait type has been assailed by forgeries. Alison Wright notes in her 2005 book The Pollaiuolo Brothers, that "Complications for the historian lie both in the fact that the subjects of most female portraits are no longer identifiable and that, because of their exceptional decorative and historical appeal, such portraits were highly sought after by later nineteenth- and early twentieth-century collectors, encouraging a market for copies, fakes and over-ambitious attributions."
The portrait in the centre ("La Bella Principessa") has been precisely attributed by Kemp to Leonardo as a book illustration portrait of Bianca Sforza of 1495-96.
DISTINGUISHING BETWEEN THE LOOKS OF THEN OF NOW
Above, Fig. 2. In My dear BB (an incalculably valuable new resource edited and annotated by Robert Cumming), we learn that in November 1930 Kenneth Clark's wife, Jane, wrote to Berenson: "K has seen Lord Lee's two new pictures…The Botticelli Madonna and Child you probably know too. K thinks the latter may be genuine about 1485 or rather part of it may be, but it is not a pretty picture…" A footnote discloses that Lee had bought The Madonna of the Veil, a tempera painting on panel in 1930 from an Italian dealer for a then huge sum of $25,000 (Fig. 3). It was widely accepted by scholars as autograph Botticelli and published by the Medici Society as a "superb composition of the greatest of all Florentine painters". Clark, doubting the attribution on sight, objected that it had "something of the silent cinema star about it" – and he likened the Madonna to Jean Harlow (Fig. 3). Lee donated the picture to the Courtauld Institute Gallery in 1947. In June 2010 Juliet Chippendale (a National Gallery curatorial intern working in association with the Courtauld Institute MA course) disclosed that scientific examination had identified pigments not known before the 18th and 19th centuries and worm holes that had been produced by a drill. It is now designated a work of the forger Umberto Giunti (1886-1970), who taught at the Institute of Fine Art in Siena and forged fresco fragments.
ART HISTORICAL SILENCES
Four months later Clark wrote to Berenson: "Just in case Lee has sent you a photograph of his new Botticelli may I ask you to forget anything Jane may have reported me as having said of it. It is one of those pictures about which it is best to be silent: in fact I am coming to believe it is best for me to be silent about every picture. Did I tell you that my Leonardo book was a mare's nest. The man had sent photographs of two drawings from the middle of the Codice Atlantico. They must have been early copies done with some fraudulent motive – perhaps the book really did belong to Leonardo – he certainly had read it – & some pupil thought to enhance its value."
Above Fig. 3. The young Kenneth Clark (then twenty-seven years old) displayed an admirable "eye" by spotting a fraud on sight some eighty years ahead of the pack. Is it better for a connoisseur to see but not speak than it is not to see at all? Undoubtedly, it is. Would Clark have enjoyed his meteoric rise had he humiliated the mighty and exposed the big-time fraudsters of his day? (That question might be taken as self-answering.) If Clark bided his time on Berenson, eventually he delivered an unforgiving former-insider's repudiation in 1977 by chronicling how Berenson had "sat on a pinnacle of corruption [and] for almost forty years after 1900… [done] practically nothing except authenticate pictures"
PRETTY – AND NOT SO PRETTY – WOMEN
Above, Fig. 4. In the middle and bottom rows we see three bona fide works of the female profile type – respectively:
Portrait of Bianca Maria Sforza, c. 1493, by Ambrogio de Predis, The National Gallery of Art, Washington;
Domenico Ghirlandaio's 1488-1490 Giovanna degli Albizzi Tornabuoni, Museo Thyssen-Bornemisza, Madrid; and,
a portrait of Beatrice d'Este tentatively attributed by Kemp to Ambrogio da Predis.
The differences between this trio and the works in the top row are pronounced and eloquent. The secure works are highly individuated and immensely richer in their effects. Collectively, they do not constitute an inadvertent suite. Individually, they are greatly more various compositionally. Collectively, they are markedly richer in jewellery and ostentatiously sumptuous costumes. The distinctive physiognomies of their subjects derive from living persons, not from other art or photographs of other art. Flattery and loving attention are channelled more into the costume and bling than into the facial features. In every respect the opposite is the case in the top row where prettiness has been held at a premium with an eye on the modern photographically-informed market.
LEONARDO BREAKS THE MOULD
Above, Fig. 5: As mentioned, "La Bella Principessa" and her two companions are of a piece, and of a type never followed by Leonardo whose female portraits (see below) pioneered an unprecedentedly complex and sophisticated evocation of real, sculpturally palpable women in tangible spaces or landscapes. To include the figurally impoverished and stylistically anachronistic "La Bella Principessa" in Leonardo's oeuvre would disjunct his revolutionary arc of insights and innovations in portraiture. Such inescapably disruptive consequences have been ceded tacitly by Kemp, "La Bella Principessa's" principle defender – some say advocate. In "La Bella Principessa ~ The Story of the New Masterpiece by Leonardo da Vinci" (Kemp's 2010 book jointly written with Pascal Cotte of Lumiere Technology and including chapters by the drawings scholar Nicholas Turner and the recently discredited fingerpints expert Peter Paul Biro), Kemp converts an intractable problem into an asset by begging the essential question. That is, he underwrites "La Bella's" credibility on an assertion that "Any important new work, to establish itself, must significantly affect the totality of Leonardo's surviving legacy over the longer term." Without question, the de-stabilising inclusion of "La Bella Principessa" would produce knock-on effects, but arguing backwards from that predictable disturbance to some endorsement of its source is patently unsound methodologically – the inclusion of any atypical work, whether bona fide or forged, into an oeuvre would affect its "legacy".
LEONARDO'S ACCOMPLISHMENTS
Above, top, Fig. 6: Left, Andrea del Verrocchio's Lady with a Bunch of Flowers of c. 1475; and (right) Leonardo's (hypothetically extended) Ginevra de' Benci of c. 1474-1478.
Above, Fig. 7: Left, Leonardo's The Lady With an Ermine of about 1489-90; centre, Leonardo's La Belle Ferronnière of about 1495-96; right, Leonardo's Mona Lisa (La Giaconda) of about 1503-06 onwards.
In the group above we see extraordinary development in Leonardo's portraits of women over the last quarter of the fifteenth century as he strove to incorporate the entirety of sculptural, plastic, figural knowledge, and to surpass it by making it dance to an artistically purposive tune liberated from the happenstance, arbitrary lights of nature on which sculpture then necessarily depended. Some have attributed the Bargello sculpture, the Lady with a Bunch of Flowers, to Leonardo on the grounds that its subject was Ginevra de' Benci, the subject of Leonardo's painting. Others have seen Leonardo's authorship of it in the beauty of the hands. In Leonardo da Vinci and the Art of Sculpture, 2010, Gary M. Radke holds that the two works show differences that emerged in the mid-1470s between the two artists. Against this, it has been suggested that the painting might originally have borne a closer relationship to the sculpture with a possible inclusion of hands in a fuller length treatment. A study of hands by Leonardo was incorporated in a hypothetical and digitally realised extension of the painting by David Alan Brown (Virtue and Beauty, 2001, p. 143). Frank Zollner sees the painting as marking the point (1478-1480) at which Leonardo broke away from "the profile view traditionally employed in Florence for portraits of women" in favour of the three-quarters view in order to impart "a pyschological dimension to his sitter – something that would become the hallmark of Renaissance portraiture". Which is all to say that Leonardo had broken away from the profile convention some sixteen to eighteen years before, on Kemp's hypothesis, he made a solitary and exceptional "return" to it.
Speaking of the reconstruction of Leonardo's Ginevra de' Benci painting, Brown writes:
"Ginevra's portrait, the lower part of which was cut down after suffering some damage, may have included hands. A drawing of hands by Leonardo at Windsor Castle, assuming it is a preliminary study, aids in reconstructing the original format of the picture. As reconstructed, Leonardo's portrait may be seen to have broken with the long-standing Florentine convention of portraying women in bust-length profile. In seeking an alternative to the static profile, Leonardo, like Botticelli, seems to have turned to Verrocchio's Lady with a Bunch of Flowers in the Bargello, Florence. Because of the sitter's beautiful hands which mark an advance over the earlier head-and-shoulders type of sculpted bust, the marble has even been attributed to Leonardo. But the highly innovative conception of the half-length portrait bust is surely Verrocchio's achievement. What young Leonardo did was to was to translate this sculptural protype into a pictorial context, placing his sitter into a watery landscape shrouded in a bluish haze…"
A CASE CONSPICUOUSLY NOT MADE
For the owner and the art historical proponents of "La Bella Principessa", the very chronology of Leonardo's female portraits constitutes an obstacle. Given Leonardo's famous eschewal of strict profile depictions of women, the onus is on those who would include "La Bella Principessa" (- albeit as a solitary and exceptional stylistic regression that was undertaken without ever attracting attention or comment) to make a double case.
First, they must show how and where "La Bella Principessa" might plausibly have fitted within the trajectory of Leonardo's accepted works. Second, they must demonstrate by comparative visual means that "La Bella Principessa" is the artistic equal of the chronologically adjacent works within the oeuvre. Kemp has proposed the precise date of 1495-96 for the execution of "La Bella Principessa" but, conspicuously, has not presented direct, side-by-side visual comparisons with Leonardo's paintings. Instead of comparing "La Bella Principessa" of 1495-6 directly with Leonardo's La Belle Ferronnière of about 1495-6, Kemp writes:
"If the subject of Leonardo's drawing is Bianca, it is likely to date from 1495-6. In style, it seems at first sight to belong with his earlier works rather than to the period of the Last Supper. However, Leonardo was a master of adapting style to subject. Just as his handwriting took on an earlier cast when he needed to adopt a formal script, so his drawing style could have reverted to a meticulous formality, appropriate for a precious set-piece portrait on vellum of a Sforza princess."
"If"? "Could have"? "At first sight"? The pro-attribution literature is bedecked with daisy-chains of such tendentious and weasel words and terms. With which earlier works is "La Bella Pricipessa" deemed to be artistically comparable or compatible? With the Ginevra de' Benci of c. 1474-1478? With The Lady With an Ermine of about 1489-90? Never mind the red herrings of handwriting and the giant, near-obliterated historical figures of the Last Supper, what of the relationship with Leonardo's (supposedly) absolutely contemporaneous La Belle Ferronnière of 1495-96? (On this last we volunteer a pair of comparisons below.)
Above, Top, Fig. 8: Leonardo's La Belle Ferronnière, left, and the "La Bella Principessa".
Above, Fig. 9: Details of Leonardo's La Belle Ferronnière, left, and the "La Bella Principessa".
Kemp insists: "The Lady in profile ["La Bella Principessa"] is an important addition to Leonardo's canon. It shows him utilizing a medium that has not previously been observed in his oeuvre…It testifies to his spectacular explosion and development of novel media, tackling each commission as a fresh technical challenge. It enriches our insights into his role at the Milanese court, most notably in his depiction of the Sforza 'ladies' – whether family members or mistresses. Above all, it is a work of extraordinary beauty."
Even if we were to assume that for some reason Leonardo had opted to "revert" in 1496 to a type he had never employed, what might explain a pronounced indifference in "La Bella Principessa" to the detailed depiction of the "stuffs" of costume with which the artist was simultaneously engaged in La Belle Ferronnière? Given that Leonardo clearly appreciated and celebrated the fact that courtly costume required sleeves to be made as independent garments held decorously in place by ribbon bows so as to permit undergarments to peep through; and, given that Leonardo lovingly depicted not only the varying thicknesses of the costume materials but every individual twist in the threads of the elaborately embroidered band in La Belle Ferronnière, how could he possibly – when working for same ducal master, at the same time – have been so negligent and indifferent in the execution of "La Bella Principessa's" costume? Kemp acknowledges and offers excuse for the distinct poverty of the costume: "It may be that the restraint of her costume and lack of celebratory jewellery indicates that the portrait was destined for a memorial rather than a matrimonial volume." In so-saying, he jumps out of one frying pan into another.
If "La Bella Principessa" was made after Bianca Sforza's death, from whence did the likeness derive? One reason why Kemp settled on Bianca as the preferred candidate subject for "La Bella Principessa" was that while (disqualifying) likenesses of the other Sforza princesses existed, none survives for her – she is an image-free figure. Kemp offers no indication of a possible means for Leonardo's (hypothesised) post-death conjuring of Bianca's supposed likeness other than to claim that "Leonardo has evoked the sitter's living presence with an uncanny sense of vitality." This again begs the crucial question and fails to consider any alternative explanations for the image's qualities. (We will be showing how the profile of "La Bella Principessa" could well have been a "portmanteau" composite image assembled from one particular work of Leonardo's and from that of another, unrelated painter.)
The most strikingly "Leonardesque" feature on the costume of "La Bella Principessa" – the knot patterning around the (implausible) triangular slash in the outer garment – is a source of further concern and constitutes evidence of forgery. First, the motif on which much effort will have been expended, is brutally cropped along the bottom edge of the sheet, as if by a careless designer laying a photograph into a book. Why would any Renaissance artist, let alone Leonardo, design a complicated feature so as to "run it off the page"? Further, the illusion of form (created by lights and shades) in the patterning is feeble in the extreme for Leonardo – as when compared with his treament of relief seen in the above embroidered passage in La Belle Ferronnière, for example. Leonardo probably better understood than any artist in history the vital connection between a thing made and a thing depicted. He took bodies and organs apart to understand their construction and he sought to create mental models that would make the otherwise terrifyingly arbitrary and capricious forces of nature graspable if not checkable. Most seriously of all, as our colleague Kasia Pisarek has noted and reported, while the patterning present on "La Bella Principessa" matches none found in any work of Leonardo's, it more closely matches that found in a carved marble bust by Gian Cristoforo Romano in the Louvre – see "La Bella Principessa – Arguments against the Attribution to Leonardo", Kasia Pisarek, artibus et historiae, no. 71, 2015. (To receive a pdf of Dr Pisarek's article please write to: news.artwatchuk@gmail.com )
Michael Daley, 24 February 2012.
In Parts II and III we examine: the provenance of "La Bella Principessa" and the work's problematic emergence from within the circle of Bernard Berenson; the claim by the forger Shaun Greenhalgh to have produced "La Bella Principessa" in Britain in the 1970s; the spurious "left-handed-ness" of "La Bella Principessa" and the low quality of, and the means by which the drawing was made…
---
wibble!