Within a couple of years of our warnings on the art world's accumulating toxic assets of upgraded Old Master attributions, that sphere has been rocked by a spate of discovered/alleged old master forgeries that have recently deceived and embarrassed leading experts and major institutions alike.
In the midst of this turmoil, a Raphael-esque painting of insecure provenance (which is to say, of none before 1841), that relates to no known Raphael work, that is said to be good in parts and perhaps to have been a fragment of a lost unknown painting by Raphael, was launched to the world in the Guardian on October 3rd as a provisional "discovery" ("Raphael 'copy' once valued at £20 may be a £20m original") to be shown on 5 October in a new three-part BBC4 series, "Britain's Lost Masterpieces" [see Figs. 1a and 1b below]. The programmes were co-presented by an art historian, Jacky Klein, and a fast rising young player in the Old Masters attributions field, Bendor Grosvenor. Formerly of the Philip Mould Gallery and the BBC "Fake or Fortune" series, Grosvenor doubles as an art market commentator on a blog site, "Art History News" and, occasionally, for the Financial Times.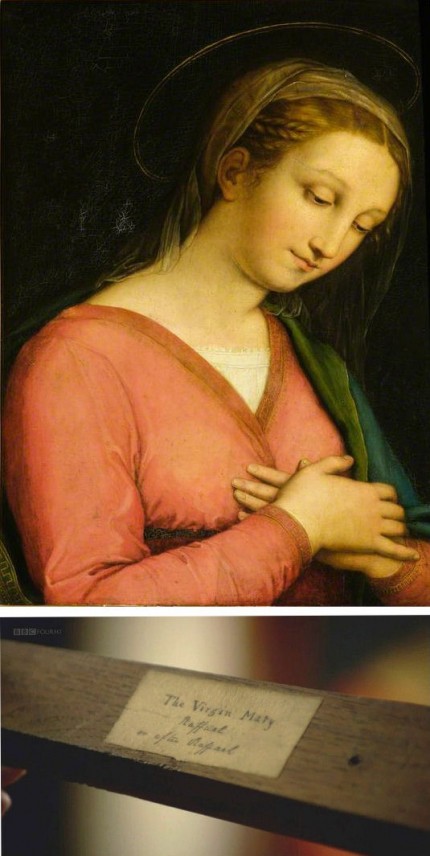 In the 8/9 October Weekend FT ("An eye for the real thing") Dr Grosvenor held that the recently exposed failures of judgement constituted a scandal that threatens "to undermine the art world's long established system of deducing authenticity". He suggested that this danger stemmed from too great a reliance on the judgements of "independent, usually academic" experts who have published works on the artists they appraise, and from insufficient heed being paid to those (by implication like himself) who have not studied art history or published on artists but who, nonetheless, possess a "good eye".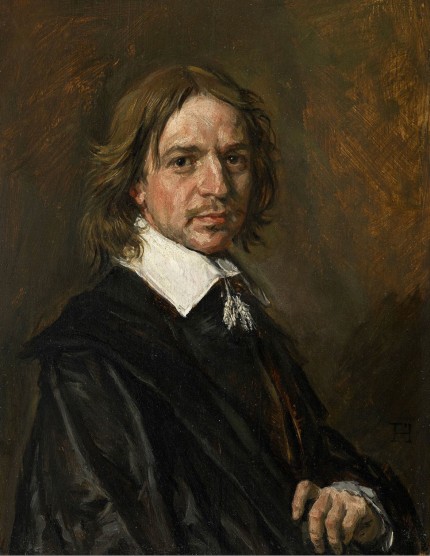 This recommendation was advanced even as Grosvenor admitted that he, along with France's National Centre for Research and Restoration at the Louvre; a leading Louvre curator; numerous Frans Hals scholars; the Burlington Magazine; Christies (on scholarly advice); the Weiss gallery; and, Sotheby's (at first), had been deceived by a recently exposed fake Frans Hals [Fig. 2, above], and, that he had come within a whisker of being deceived by a Gentileschi fake that snared the Guardian art critic and blogger, Jonathan Jones, and the National Gallery which had accepted the work as authentic when it was offered on loan ("Was the National Gallery scammed with a fake Old Master painting?").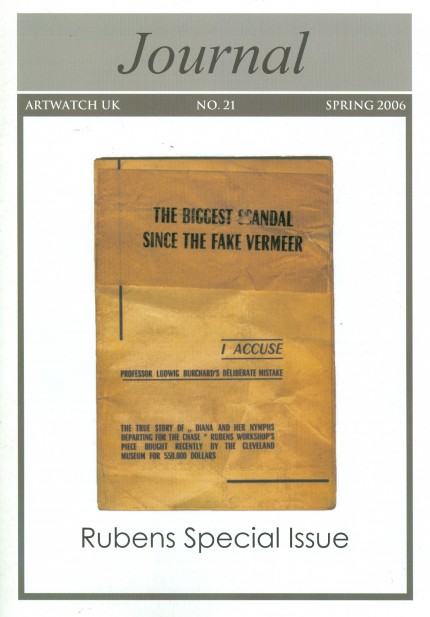 Where we held in the April 2006 ArtWatch UK Journal [Fig. 3, above] that too many in the art world were disregarding Mark Twain's admonition to "buy land because they are not making it anymore" when buying upgraded school works as autograph masterpieces, Bendor Grosvenor often declares a state of rude good health in the old masters market. Because so many old masters have already been taken off the market and into museums, and because, by definition, old master paintings are no longer being produced, market growth increasingly depends on the discovery of "sleepers" – which is to say, of suspected hitherto unrecognised major works whose true identities will emerge during dealers' un-monitored, sometimes radical stripping-down, repairing and retouching of paintings. (More recently we published a post that indicated means by which restorations might slide towards outright fakery in cases which, coincidentally, involved earlier "Frans Hals" paintings. See "A restorer's aim – The fine line between retouching and forgery".) On 13 August 2014 we called in a letter to The Times for a statutory requirement for vendors to disclose all that is known on a work's provenance and conservation history [see Fig. 4, below]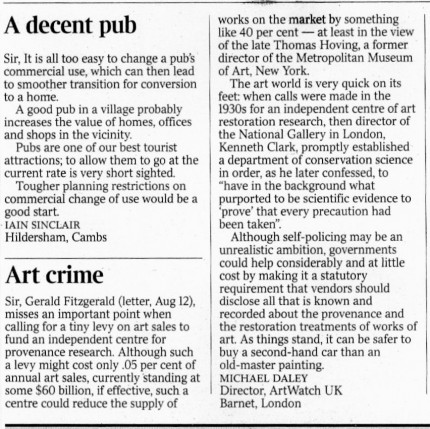 On the BBC4 series "Britain's Lost Masterpieces" Bendor Grosvenor got very excited at the prospect of a distinctly Raphael-esque painting in Haddo House in Scotland being an autograph Raphael [Fig. 1a]. BBC coverage of the visual arts rarely airs dissenting voices and this programme was constructed with many narrative layers all of which sang the same encouraging tune: Although this work has little provenance we should be assured by the fact that it had been bought in the early 19th century as an autograph Raphael by the 4th Earl of Aberdeen, George Hamilton-Gordon (1784-1860), who, in his early years and travels, was an impassioned devotee of the classical arts of Greece and Italy, and who somehow managed, despite being "flat broke", to acquire a fine collection through a "shrewd nose for bargains". Particular assurance was seen in the fact that the picture had been exhibited as a Raphael at the British Institution in 1841. However, an old hand-written label attached to one of two oak bars that reinforced the back of the poplar panel says, in English, "The Virgin Mary, Raffael or after Raffael" [see Fig. 1b]. As that is the only documentation (other than an indecipherable fragment of a wax seal) on the back of an assumed 500 years old panel, it would seem likely that the label was present when the painting was exhibited in 1841 as a Raphael. If it had not been present in 1841, why would its owner have added such a weakening document to his own painting?
The question of the label's origin is the more perplexing because, as we now learn from Dr Grosvenor, the canny Scottish Fourth Earl of Aberdeen, George Hamilton-Gordon, had not bought the painting while on his early travels in Italy because he had not bought it all. Rather, he had inherited it more than a generation later from his brother, Robert Gordon, when he died in 1847 (by choking on a fish bone). The provenance thus descends entirely from Robert Gordon who was born in 1791 and would not likely have bought the painting (from whomever – for no one knows) much before 1810. Although Robert Gordon was the owner when the picture was exhibited at the British Institution, there are no family inventories listing the painting before 1867 and none thereafter lists it as a Raphael. In two entries it is priced at £80 and later at £20. On both occasions it was listed as a copy. In the television programme, the co-presenters describe seeing their perceived challenge as being to reverse a hypothecated "increasing scepticism" with which the painting was viewed after George Gordon's death in 1860. But what if the Raphael attribution had always been appreciated within the family as being uncertain? Or, might not a contrary reading have been considered of the possibility that it only became politic for independent scholars to dissent on a claimed Raphael attribution after the death of the fourth earl who had been an extremely powerful and well-connected political figure – and one with with a sarcastic turn to boot?
Against the fragmentary picture's distinctly weak provenance, it was claimed (- but not demonstrated) that a close fit existed with secure Raphael Madonnas. The belief that this work might be an autograph Raphael received high level scholarly and (implicit) institutional endorsement as Bendor Grosvenor is filmed ascending the grand stairs of the National Gallery's Sainsbury Wing in the company of the Gallery's former director, Sir Nicholas Penny. The camera catches the pair passing the monumental carved Roman Letters "RAPHAEL" [see Fig. 5, below] and jumps in a nanosecond to a painting in the Gallery's substantial Raphael holdings – but not to one its finest, instead to the least secure, most recent, so-called Madonna of the Pinks that had been attributed to Raphael in 1992 by Nicholas Penny when a curator at the Gallery, and that was later bought by the Gallery for nearly £35millon after a public appeal. Towards the end of the film [Fig. 6, below] Nicholas Penny places the putative Grosvenor-Raphael, somewhere between "probably by Raphael" and "by Raphael" and suggests that with a little "more time and courage" he might well go the whole hog.
Above, (top – and running clockwise), Figure 5: Bendor Grosvenor passes the monumental carved "RAPHAEL" in the National Gallery's Sainsbury Wing; the National Gallery's (disputed) Raphael Madonna of the Pinks; the Bendor Grosvenor-proposed Haddo House Raphael Madonna, before restoration; and, the National Gallery's Madonna of the Pinks, as presently framed. Above, Fig. 6: Jacky Klein, Bendor Grosvenor and Nicholas Penny seen examining the Haddo House Madonna in the 5 October BBC4 "Britian's Lost Masterpieces" programme.
Although a caveat was offered in the programme (and reported in the Guardian) with an admission that there had not been the time and money to run all appropriate tests, Grosvenor nonetheless claimed that all the evidence seemed to point in the right direction. As if to dispel any doubts, the television programme (which was produced by Tern TV and commissioned by Mark Bell, Head of Arts Commissioning, BBC, under the Executive Producer for the BBC, Emma Cahusac) carried a strong implicit message that the Grosvenor-proposed Raphael is as sound as the National Gallery's Penny-attributed Raphael Madonna of the Pinks. We would counter that, with both pictures, such assurances were misleading and that the principal evidence on the strength of these attributions is found in the look of the pictures, which testify in different ways[ see Fig. 5] against Raphael's authorship, as will be shown in Part IV.
We would add two points here. First, that Dr Grosvenor seems unaware of the extent to which the Madonna of the Pinks had been rejected as by Raphael in the 19th century and more recently by scholars including Professor James Beck, the founder of ArtWatch International who devoted three chapters of his last (2006) book, From Duccio to Raphael – Connoisseurship in Crisis, to problems with the present attribution [see Fig. 7, below]. Although Nicholas Penny is a highly respected Renaissance specialist, and his Raphael attribution had been fittingly proposed in a long, thorough scholarly article in the Burlington Magazine ("Raphael's Madonna dei garofani" Rediscovered, 134, 1992) that had impressed Professor James Beck, the attribution itself received only majority approval from a group of specialist scholars assembled at the National Gallery. Contrary to initial Gallery press claims, there had been no firm consensus of scholarly opinion – a fifth of the invited scholars dissented from the attribution when questioned directly by Beck.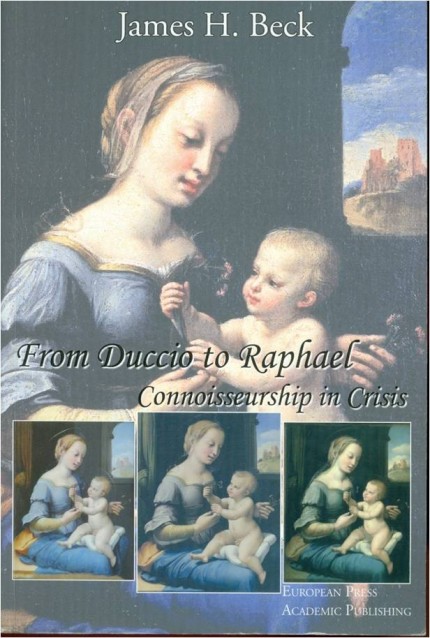 At the time, we pointed out that the then majority for support had reversed over a century's scholarly consensus of judgement. The Penny-Raphael had been rejected as early as 1854 by Gustav Friedrich Waagen as "the small picture in the Camuccini collection which I do not consider to be original. The tone of the flesh has something insipid and heavy. The Treatment makes me suspect a Netherlandish hand." Professor Martin Kemp rejected the Penny-Raphael Madonna on the grounds of her most disconcerting and uncharacteristic teeth-baring opened mouth: "In reality, for any Renaissance woman to be portrayed showing her teeth, American-style, is unthinkable". (Leonardo, Oxford/New York, 2005, p. 242.)
There were structural problems with the picture, as well as stylistic incongruities. In the 2003 ArtWatch UK Journal 29, we drew attention to the disturbing fact that the National Gallery's Madonna of the Pinks Raphael – like the Gallery's (challenged) Rubens Samson and Delilah painting – had lost vital physical and documentary evidence. With both paintings the original, evidence-bearing back is missing, as is also the case in the drawing that has been dubbed "La Bella Principessa" and given to Leonardo da Vinci by Martin Kemp, even after it emerged that the supposedly 500 years old work had been sold anonymously and without a shred of provenance by the widow of a restorer who was the work's first known and sole owner. That atypical drawing on an atypical medium has been (unusually) glued down onto an oak panel, thereby preventing an appraisal of drawings known to be present on its reverse.
The Samson and Delilah panel painting had been planed down to wafer thinness and glued onto a modern sheet of blockboard in an operation of which no record exists. The back of the Madonna of the Pinks was "polished", coated and given three wax seals in the 19th century when in the hands of its first known owners, the notorious Camuccini family
of artists, copyists, restorers, art dealers and art smugglers. We cited much else that was problematic about the Madonna of the Pinks:
"It possesses, for example, an irregular border of unpainted wood that is 'unusual' for Raphael. The picture's unusually highly-wrought finish, 'jewel-like, as Dr Ekserdjian and associates put it; made up of 'tiny, almost invisible brushstrokes', as the National Gallery puts it, is said to have been the result of the work's especial execution for the close contemplation of a nun…Even if this fanciful explanation for the unusual brushwork were to be accepted, it would not also explain the picture's atypical colour scheme [which] Dr Penny suggests, may reflect 'a particular moment of indebtedness by Raphael to Leonardo…' "
We complained that "Dr Penny's case seems to rest on the belief that the outcome of technical analysis carried out at the National Gallery somehow displaces or neutralises all accumulations of otherwise awkward evidence…A manifest weakness of Dr Penny's case is that no technical analysis or even photographic comparison is offered on any of the picture's forty or so rival contenders…" It was later learned that scientific analysis had identified the wood of this most unusual artefact as being, not poplar, as might have been expected, or even a fruit wood, as is the case with one large Raphael panel, but yew – a wood nowhere encountered in Raphael or, so far as we know, in any Italian Renaissance painting. As will be seen in Part IV, the proposed Grosvenor-Raphael bears many handicaps.
Michael Daley, 20 October 2016
---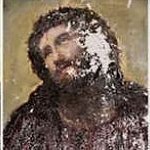 6 January 2014
Assaults on History: Dishing Donors; a Vatican Wobble; and, Reigniting an Old Battle of Hearts, Minds, Interests and Evidence
We had a good and eventful campaigning year in 2013. At home, ArtWatch was invited to speak in the Scottish Parliament for the interests of art and against a municipal arts bureaucracy seeking to overturn a prodigiously generous benefactor's wishes and instructions in order, effectively, to reward its own negligence with an extension of powers and a major capital project (without clear costing). Our views on this proposal were carried in the October Museums Journal, the December Apollo (see Burrell pdf) and in the Sunday Times (Scotland). We found ourselves in the midst of a high-level museum world schism.
MacGregor versus Penny
Speaking for the overturning of Sir William Burrell's terms of bequest was the Glaswegian director of the British Museum and former director of the National Gallery, Neil MacGregor. Mr MacGregor had agreed (presumably with the blessing of his trustees) to be co-opted as an adviser and declared partisan onto a Glasgow Life body – "Burrell Renaissance". In support of Glasgow Life's ambitions, MacGregor expressed with characteristic (lawerish) eloquence impatience with the length of time in which The Living might find themselves governed by the Wishes of the Dead. The present director of the National Gallery, Nicholas Penny (a scholar, rather than a populariser of others' scholarship) spoke no less eloquently in opposition: "What is very often forgotten in discussions of this kind is the moral advantage and tangible benefit of a declared preference for honouring the wishes of the donor. Real concern for the future is always more persuasive in those who have a genuine feeling for the past."
Parliamentary Concerns
The matter will come before the Scottish Parliament this month. Intriguingly, one of the members of the parliamentary committee that scrutinised the Burrell Lending request from Glasgow Life, Gordon MacDonald, SNP MSP, told yesterday's Sunday Times (Scotland) that: "I too was concerned at the cost of £45m bearing in mind that Kelvingrove refurbishment cost £29m and they raised £2.5m from sponsorship and donations. The major work at the Burrell is a complete new roof and removal of lecture theatre to create new gallery space. Both of which will be costly, but £45m?"
Fresh Crimes Against Art and History
Internationally, two recent horrifically destructive mural restorations (the first in Spain and another in China, see Figs. 1 to 4) had reminded many of the great Sistine Chapel cleaning controversies of the 1980s and early 1990s (see "Restoration tragedies"). In January 2013 we were drawn back into that monumental Sistine Chapel restoration controversy (which had triggered ArtWatch's founding in 1992) by an official acknowledgement that Michelangelo's stripped-down ceiling frescoes were prey to failures of environmental regulation that were being exacerbated by swelling visitor numbers. We had warned against such failures twenty years earlier: "Artificially induced changes in moisture, heat and patterns of air convection can themselves do gross damage…The most obvious risk is that external air-borne pollutants will be pulled in." ("The Physical Condition of the Sistine Ceiling", Chapter IV, p.122, Art Restoration ~ The Culture, the Business and the Scandal, London, 1993.)
An Old Crime Implodes
At the beginning of last year, Antonio Paolucci, the director of the Vatican Museums, insisted that whatever the problems, visitor numbers could not be restricted: "We have entered the era of large-scale tourism, and millions want to enjoy our historical culture. Limiting numbers is unthinkable." Today, the unthinkable may be on the cards. Paolucci acknowledges in this month's Art Newspaper that the huge increases in visitor numbers (5,459,000 last year from 4m the year before) constitute his biggest practical problem:
"…The sheer numbers can be damaging, especially in the Sistine Chapel, which everyone wants to see. At the height of the season it gets 20,000 to 25,000 people a day, all breathing out carbon dioxide and vapour and bringing in dust. We are employing Carrier, a top US firm [who donated and installed the presently failing system] to work out a method of dealing with humidity; otherwise we will have to limit numbers…" (Emphasis added.)
On January 2nd Paolucci expressed further concerns in a Vatican museums press release: "I'm asking myself what will happen during the coming Easter holidays and the great canonization of Popes John XXIII and John Paul II. This will bring to Rome an immense mass of Catholics from every part of the world. Such extraordinary numbers oblige one to make some fundamental and priority considerations. The objective must be from now on to observe constant maintenance and preventive conservation of the Heritage. To do so we must provide ever more important resources." At the same time, Paolucci promised that, after 3 years of work, all will be ready in May for the "improved air conditioning, reduction of pollutants and humidity control of the temperature."
Antonio Paolucci, a distinguished Renaissance art scholar (and student of Roberto Longhi), might be thought to be in an impossible position as director of the Vatican's museums. Presently, Michelangelo's frescoes are being devoured by pollution and condensation that are the inescapable by-products of permitting the Sistine Chapel to serve as a tourism cash cow. At the time of the last restoration of the ceiling, the Vatican's finances were a source of scandal (one of its bankers had been found hanged on a bridge in London). On December 7/8 last year the Financial Times reported "The Vatican bank was established to serve the work of the Catholic Church around the world. It has now become synonymous with financial scandal. An 11-month FT investigation reveals the extent of mismanagement at the Euros 5bn-asset bank and the murkiness of its operations that finally led regulators, international agencies, big banks and even Pope Francis himself to take action." (Rachel Sanderson, "The Scandal at God's Bank".) In this climate, is cutting back visitors really an option? For that matter, is the new air-conditioning system promised for May capable of coping with yet further increases of visitors of the kind indicated by Paolucci?
In the absence of dramatic reductions of visitor numbers (which must presently be netting in excess of £75m p.a.) it is hard to see how any amount of conservation tinkering might resolve the present crisis. It would never be logistically possible to seal every visitor inside a "moon-suit" that would prevent the destructive cycles of evaporation and condensation that were already known in 1993 to be creating continuous migrations of salts and vapour within the frescoes. (At that date it was established that some 425 kilos of water were being pumped into the chapel's microclimate by the daily total of 17,000 visitors. On today's visits that volume of water must reach 600 kilos per day.)
No increase of expenditure could reverse the initial un-wisdom of stripping Michelangelo's frescoes down to the bare plaster, thereby both bowdlerising his art and exposing its remains to environmental degradation. No expenditure could put back the glue painting with which Michelangelo had modified and intensified the sculptural presence of his figures and the unprecedented dramatically illuminated theatre which they occupied. Those characteristics had startled and awed his contemporaries. They were repeatedly recorded in copies made in Michelangelo's own lifetime and for centuries afterwards (see, in particular the late 18th century copy opposite at Fig. 8).
The Vatican is presently attempting to rebuild the relationship between the Church and contemporary art that was sundered 200 years ago. It is a noble aim but it will remain a vain one until the corruption of art history that followed the restoration of Michelangelo's ceiling is acknowledged and addessed. What Michelangelo achieved on the ceiling was unprecedented and precious: a profoundly spiritual fusion of the human and the divine that was rendered corporeal and situated in a palpable space contiguous with our own. Scholar supporters of the restoration claimed in defence of the emasculation of that original stupendous and unique achievement that we could now make "more sense" of Michelangelo; that we could now see a clearer link between his art and that of the inferiors who preceded and followed him. As long as the Church continues to endorse so unfounded, untenable an account, it will be in no moral position to forge any constructive relationship between itself and today's artists.
If the cash flow is to be maintained and if Michelangelo is to be preserved, there would seem to be only one conceivable solution: as with other environmentally vulnerable archaeological/artistic sites, a full-size, absolutely faithful facsimile of the chapel will have to be built as a destination for the ever-swelling press of tourists. Creating an alternative "virtual" chapel might seem a shocking prospect and a colossal admission of failure but would it be more unpalatable than proceeding with the proposed plan described in our previous post to turn the remains of Michelangelo's own frescoes into a "virtual" colourised caricature of themselves with 7,000 individually attuned colour-enhancing LED lights that would flood the ceiling with an artifical and chromatically falsifying light ten times more powerful than today's? Building a facsimile to draw the tourists would mean that what survives of Michelangelo's original work might then be left in peace, as it is, and once again in a congenial, stable climate.
Further and Fresh Doubts
On November 30th Peter Aspden, the Financial Times's culture correspondent, declared that the restoration of Michelangelo's Sistine Chapel frescoes ("the most important such project in recent history") had been a "crushing disappointment". Recalling that before restoration the frescoes had been "more real, more subtle, more moving", Aspden noted that arguments in defence of the restoration "have been rebutted, with no little ferocity." If Michelangelo's Sistine Chapel frescoes remain the worst case of injuries suffered in the great post-war restoration bonanza, they are not alone. Fortunately there are increasing signs of doubts about modern restoration procedures elsewhere. Consider this further critique of picture restorers that emerged from a most surprising quarter on December 17th:
"…The problem is, each generation of conservators has always thought that they, uniquely, had the definitive solution to fixing works of art. In the world of pictures, today's conservators spend much of their time undoing the earlier, bad restoration of their predecessors. For example, the dreadful wax re-lining technique all the rage only a generation or so ago is now routinely removed, as over time the wax creates a dull, thick layer which affects the paint surface. Before that, there was a fashion for planing down pictures on panel, and laying them onto canvas, with all the attendant holes and large losses that entailed (see for example the poor Bridgewater Raphaels in the National Gallery of Scotland). More recently, conservators thought they had invented a synthetic varnish that didn't go yellow with age. But now we are discovering that it just goes grey instead. So the pictures have to be cleaned all over again. It's a fact that over the course of art history more damage has been done to pictures by those claiming to be 'conserving' them than anything else. We can only wonder which of today's foolproof conservation techniques will have to be rectified by tomorrow's restorers. Sometimes I think it's all a giant, inter-generational job creation scheme by some shadowy, global conservator's union."
We had noted on 12 July last year that "There has never been a make-work project like art restoration", and earlier, on 17 March 2011, that "Art conservation is now a substantial vested interest, a business with a shifting ideology that serves as self-promotion… Regardless of conservators' good intentions, the fact remains that their treatments alter the material fabric and aesthetic appearance of works of art. Alterations are made on promises to prolong life, prevent deteriorations and recover original conditions, when history repeatedly shows contrary outcomes". Although we greatly welcome the recent tacit endorsement, its source is perplexing. The author, Bendor Grosvenor, made these remarks on his (lively and informative) blog, Art History News.
Art Market restorations
Mr Grosvenor, a modern historian by training, has for a number of years worked as a researcher and, latterly, as a second pair of eyes for the Mayfair art dealer, Philip Mould, who happens to be a highly active "stripper-downer" of paintings in search of something better and more valuable underneath. In countless BBC television programmes, in his 1995 book Sleepers and in his 2009 book Sleuth, Mr Mould has been a most effective propagandist for today's professional restorers, of whom Grosvenor evidently now entertains doubts. Mould himself has conceded with increasing frequency that great risks attend the stripping down of paintings. When asked recently on the best method of cleaning pictures, he replied somewhat flippantly "With spit and polish" and made no mention of the solvents – principally acetone – and scalpels used by his own restorers. (We have been haunted for some years by advice given on how to remove nail varnish when no acetone nail varnish remover is to hand: brush on fresh nail varnish, leave for a few moments and then wipe off. The acetone in the new liquid varnish swiftly dissolves the old hard varnish enabling both to be removed with the same cloth.)
Concealment and Disclosure
With the public museum sector we feel compelled to examine the bizarre and perverse phenomenon of promoting demonstrably wrecked paintings in special loan exhibitions. One such is the Clark Institute's Turner "Rockets and Blue Lights", which work is once again being promoted in Britain as the Belle of Turner's Ball, this time at the Greenwich Maritime Museum's "Turner and the Sea" exhibition. As our colleague in New York, Ruth Osborne, has established, another such restoration-wrecked picture hangs in the Frick Collection as an autograph Vermeer ("Vermeer Interrupted: A Study of Johannes Vermeer's 'Girl Interrupted at Her Music' at The Frick Collection"). The Frick has refused to release to ArtWatch an archive photograph that shows the frequently undone and redone picture at its most pictorially deranged and incoherent "in-restoration" state. A copy of that photograph is held by the Getty Institute but it cannot be released because of the Frick's enforcement of copyright ownership. All but the most informed visitors to the Frick will likely have no inkling of what lies beneath the present surface. Where Philip Mould seeks to identify and uncover works of quality that have been distorted by later accretions (- the art trade's "sleepers"), the Frick presently conspires to pass off tricked-up underlying pictorial carnage as Vermeer's own handiwork.
The Frick is not alone. The Phillips Collection in Washington has repeatedly spurned our requests to examine the conservation and filmed records of the Kecks' ruination of Renoir's "Luncheon of the Boating Party". Museums have grown bolder in promoting their own conservation efforts, sometimes placing restorers behind glass walls to permit public scrutiny. This seeming increase of public accessibility can have an ulterior motive: one leading international conservator disclosed that the practice serves to prevent embarrassing public outbreaks of shock and indignation when familiar works are unveiled after long incarceration in conservation studios. A Turner painting currently undergoing such public exposure is running at the Bowes Museum where the restorer is presently taking a break after encountering difficulties not identified by preliminary "scientific investigations" – the very type of investigation in which Philip Mould has expressed great confidence.
As we have seen in a number of televised Mould restorations, carrying out preliminary scientific tests does not eliminate surprises in the course of restoration once restorers start swiftly cutting through varnishes with their swabs and solvents to get to the paint underneath. We remain sceptical of the value of preliminary scientific or chemical analyses, not least because, as in the case of Michelangelo's Sistine Chapel ceiling, the analysis said to "prove" the artist had not completed his frescoes with glue-based painting conflicts with other more relevant – and, in fact, irrefutable – proofs of the kind often demonstrated on this site, as here today at Figs.13, 14 and 15.
ArtWatch has another full and ideologically challenging year ahead but a first priority will be to demonstrate the extent to which naïve and misplaced faith in today's restorers can make professional monkeys of scholars, curators and trustees.
Michael Daley
Comments may be left at: artwatch.uk@gmail.com
---
wibble!