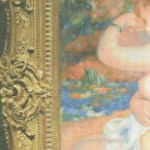 11th July 2012
We knew at a glance that something was amiss. On June 16th, a newspaper photograph trailed an imminent auction sale of Renoir's "Baigneuse" of 1888. Even on the evidence of that single de-saturated newsprint reproduction (right, Fig. 1) it seemed clear that the privately owned masterpiece had gone through the picture restoration wash cycle a time (or two) too often. A comparison of Christie's pre-sale zoom-able online photograph with historic photographs of the painting further suggested that picture conservation's would-be beauticians had been at work with swab and solvent: Renoir's bather had been left (Fig. 2) a paler sugar-smooth pictorially and plastically enfeebled version of her original self. (For the picture's appearance and condition in 1944, see Figs. 7 and 9.)
Just as museum curators who organise splashy temporary exhibitions rarely broadcast the "conservation" injuries borne by works loaned from sister institutions, so auction houses, which of necessity must act primarily as agents for owners, can seem no less reticent on this fraught subject. In practice, we find that in of both of these art spheres, the "now" is often implicitly presented as the "originally-was" and "always-has-been", thereby thwarting what would be the greatest inducement to halt needless adulterations of unique historically-rooted artefacts: a full public disclosure of "conservation" treatments and frank art-critical discussion of their material and artistic consequences. By coincidence, recent museum and saleroom activities have brought to London a slew of little-seen examples of Renoir's oeuvre. As cases in point of Renoir's vulnerability, we examine here treatments of his "Baigneuse" of 1888 and the Washington National Gallery's "The Dancer" of 1874.
Renoir's "Baigneuse" was given star billing (on a £12/18m estimate) at Christie's June 20th Impressionist/Modern sale, for the catalogue of which it provided the cover illustration (Fig. 2). While much was made in the eight pages long catalogue entry of an impeccable and unbroken provenance through ten successive owners, not a word was said about any restorations of the painting, and although many early photographs are identified in the picture's literature, none is reproduced. It is disclosed that this Renoir is to be included in the forthcoming "catalogue critique" of the artist's work being prepared by the Wildenstein Institute from the Archives of François Daulte, Durand-Ruel, Venturi, Vollard and Wildenstein. (Perhaps the present condition of the picture will be discussed in that publication?)
On the night of the sale, an announcement that the picture had been withdrawn drew gasps of surprise. Artinfo reported that the vendor had accepted a private offer from an unidentified buyer for an undisclosed sum somewhere within the estimate. Trade and press eyebrows have been raised at such secretive, pre-auction sales and the withdrawal was the more confounding because expectations of a big auction house "event" had been raised by extensive (and quite stunningly fetching) pre-sale press coverage with photographs of the painting enlivened by the seemingly routine inclusion of beautiful young female staff members.
With modern paintings, the starting point for any appraisal should be the earliest known photograph. Old photographs are historic records. Historic records should never be ignored. Old photographs of pictures assembled in homes or exhibition galleries are especially precious and instructive. The photograph of Renoir's 1905 exhibition at the Grafton Gallery (Fig. 3) testifies not only to the then generally more vivacious relative values within individual works but to the striking variety of pictorial effects and painterly means deployed within Renoir's oeuvre.
With regard to the photographic testimony of the original appearances of individual pictures, consider first the large, near-central painting in the 1905 Grafton Gallery photograph – Renoir's "The Dancer". This picture, now at the National Gallery, Washington, is 138 years old but was then only 31 years old and unrestored. Then, the background was disposed in distinct but linked quadrants (top-left; top-right; bottom right; bottom left). These were not so much naturalistic renderings of an actual space as subservient pictorial devices spotlighting the central bow-tight figure of a child trainee who, through balletic discipline and artistry, had assumed a commanding Velazquez-worthy sideways-on viewer-confronting presence.
To that expressive end Renoir had welded the dramatically contra-directional lower legs into unity by a pronounced dark shadow in the vertical triangular space they bounded. That shadow sprang also from the heel of the (right) weight-supporting foot backwards and upwards in space, thereby throwing the bottom edges of the trailed skirts into relief. This dark zone in the lower-right counterbalanced another in the upper-left, which had in turn emphasised and thrown into relief the front edge of the costume, withdrawing only to leave a lighter, again relieving, tone at the dancer's dark hair. The progressive loss through restorations of those artful dispositions (as seen in Figs. 4 & 5) and the picture's general descent towards an inchoate, arbitrary pictorial froth that increasingly resembles the underlying condition seen today in its own infra-red imaging (see Fig. 6), is heart-breaking. Renoir had here been a sculptor before he became a sculptor, playing off forms that asserted his picture plane with others that ran sharply away from or towards it (rather as Michelangelo had famously done in his crucifixion of Haman). Degas, who spoke of Renoir's "sharpness of tones", had chided himself for constructing his own drawings of standing dancers from the head down instead of from the feet up. Renoir had here given a masterclass in how to project a standing figure upwards from the floor. These things artists know and appreciate.
Compendious photographic evidence suggests that restorers (frequently working myopically through head-mounted magnifying eyepieces) have consistently confounded dirt or discoloured varnish with the shiftingly elusive dark grounds used by artists to set off light-toned figures. As seen in our post of June 1st, Klimt's portrait of Serena Lederer (which was acquired by the Metropolitan Museum of Art, New York, in 1980) has suffered in just such a manner. In the same post we saw also how Renoir's deployment of a dark background zone in the upper left quadrant of background and a secondary but counter-balancing dark zone in the lower right quadrant of his "Dance in the City" had also been undone by successive restorers.
By courtesy of the 1905 photograph of the dancer we can now see that by 1944 the picture's decisive tonal orchestration had already been subverted (see Fig. 3 and caption at Fig. 6). By the time of the picture's appearance at the 2012 Frick show of Renoir's full-length portraits (which was reviewed in our post of June 1st), the original dark tones in the lower right quadrant had effectively disappeared, leaving two odd arbitrarily truncated dark attachments to the right heel (Fig. 5). Cumulatively, this painting has suffered needless artistic vandalism of which no one speaks. The fact that graphite underdrawing is now visible on the painting has been mentioned but without any hint of alarm or censure.
With Renoir's "Baigneuse" of 1888, the earliest photograph in our own records (- donations to ArtWatch of old photographs or postcards are always most gratefully received) is that published in 1944 when the painting was 56 years old, as seen here in greyscale at Fig. 7 (left) and at Fig. 9. Six years later, by 1950, the painting had been radically transformed, as seen at Fig. 7 (right, in greyscale) and Fig. 8 (left, in colour). The differences that emerged between 1944 and 1950 were compounded by further changes between the picture's 1950 state (seen in colour at Fig. 8, left) and its 2012 state (seen in colour at Fig. 8, right). However many times and by whomever this painting might have been "restored", it is clear that the resulting interventions have profoundly altered its constructional and pictorial rationales. The total extent of the alterations that occurred between 1944 and 2012 are examined right in greyscale details in Figs. 11-18. The differences between the 1950 and 2012 states are examined in colour details at Figs. 19, 20 and 21.
By 1888 Renoir had visited Algiers and Italy, come to admire Cezanne as well as Delacroix, discovered Italian painting and read Cennino Cennini's Treatise on Painting. He had just completed an intense series of classically inspired, Ingresque female nudes, culminating in that declared trial for decorative painting, the Philadelphia Museum's great "Bathers" of 1887, by which date he held the nude to be one of the most "essential forms of art".
Compared with Fantin-Latour's palpable but fluidly allegorical figure at Fig. 10, Renoir's "Baigneuse" has, in its 1944 state, a markedly more stolid, out-of-Courbet corporeality. For all its spirited brushwork and sparkling colour, plastically, it constitutes an essay in composure, stability and parallelism. The torso seemingly rests on its own base of compressed and spreading buttocks and thighs. The thighs, knees and lower legs are held together in a manner more primly archaic (Egyptian) than classical. Movement is confined to the bather's right hand which dries the left side of the waist. This action has enlivening consequences. The upper torso is pulled round by the right arm and the head is turned leftwards and downwards as if to contemplate the drying action of the towel. The left arm is required to be held aloft to free the left side of the figure, and, flexing at the elbow as the left hand draws across the face, it first echoes the thighs but then curls gracefully, weightlessly away in space.
What, then, explains the differences between the picture's previous and its present condition? In such cases it is always possible to play the "Sistine Chapel Ceiling Restoration Defence" and claim that in 1944 the then 56 years old picture was very dirty and that the removal of this dirt has liberated the forms and the colours of the painting to a hitherto unsuspected degree. But the pattern of relationships that is visible, even under dirt, should not change character during a cleaning. Rather, it should emerge enhanced, with the lights lighter and the darks darker – and all individual values holding their previous positions. This has not happened – the picture has got progressively lighter with successive cleanings instead of returning to its previously cleaned state. If it really had been left by Renoir in today's state, how could the previous but now lost artistically constructive values ever have arisen? If left untouched for the next 56 years, would anyone expect the painting to return to its 1944 appearance with the stripes on the towel and the shading of the fingers regaining strength? Would a general shading and enhancement of forms once more helpfully tuck the left hand behind the head? How might dirt have drawn more clearly and repositioned the left shoulder? How might it have more emphatically shaded the right, distant side of the face?
If we consider the difference between the 1950 and 2012 colour plates (shown at Figs. 8, 19, 20 & 21), what might account for the loss of orange coloured modelling in the left cheek, and of individual brushstrokes depicting the hair? Is it possible to claim on the evidence of these photographs that there has been a build-up of dirt on the picture over the last 62 years?
When examining the bather's face in close-up today, as shown at Fig. 21, can we have any confidence that the paint presently surviving in that section is just as it was when left by Renoir in 1888? What kind of brush or paint might he have used that would have resulted in the present fragmentary, seemingly abraded, scattering of orange paint that lies over the blue background between the hand, the face and the shoulder?
In the next post we examine the conservation fate of more than a score of Renoirs that have been loaned from the Sterling and Francine Clark Art Institute in Williamstown, Massachusetts to the Royal Academy. We shall see how Sterling Clark learned the hard way not to trust art experts on matters of condition in paintings when, having been assured that Domenico Ghirlandaio's "Portrait of a Lady" had never been repainted, he bought it, only to discover, very shortly afterwards, a postcard of the painting showing it in an earlier and quite different state.
Michael Daley
Comments may be left at: artwatch.uk@gmail.com
---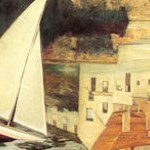 23 March 2012
We reported in an early Journal that Anna Somers Cocks, when editor of The Art Newspaper, had observed that Frans Hals employed as many as six tones of black and that these were "too often deadened by bad cleaning". This prompted a response from a painter colleague.
Iain Walker wrote:
Anna Somers Cocks' observation that Frans Hals painted with up to six tones of black reminded me of another appraisal made some years ago when Hals was being shown at the Royal Academy. An eminent art critic noted in his review of the exhibition that Vincent van Gogh had claimed to have counted no fewer than 28 different blacks in a Hals painting. The observation, the critic accepted, may have indicated Vincent's preoccupation with the picture but it could not have been so because research had revealed that at that date there were only six blacks in production. Many readers may have concluded that poor Vincent had got it wrong again, and that this was a critic who did his homework.
At the time of this review, a project exploring the nature of black and the assumptions we have of it, was being conducted with the first year students at the City and Guilds of London Art School in Kennington. To this end, one side of the studio had been painted black throughout and filled with black objects and materials: black cottons, velvets and silks, as well as a numerous household objects that were painted or sprayed with matt or gloss paint. Coal and soot were also used.
The task given to the students was to make a perceptually accurate painting of a section of the studio without using any black paints. They met this requirement by mixing their own blacks from the colours contained in their paint kits. It was pointed out that Francis Bacon often produced a black by mixing sap green with alizarin crimson. The students also made use of Prussian blue, cobalt, burnt umber, violet etc. Their studies swiftly established that it was entirely possible to make an optically accurate transcription of a black set-up containing many black objects without ever having recourse to any commercially available black paint.
In painting, all colours and tones are relative. Margaret Meade cites the Eskimos as having 17 words for white. When confronting an all black set-up, it soon becomes apparent that there are greenish blacks, reddish blacks, bluish blacks and so forth. Theoretically, there may be a black which absorbs all incident radiation but even a material as black as soot apparently reflects 3% of incident light. Couple this fact with the effect of "simultaneous contrast" and it is hardly surprising that most painters think of black – and white – as colours in their own right and not just as means of creating a tonal range in a painting, as there other ways to do this.
I recall the above as a demonstration of how well-meaning academic research, although possibly correct in one way, can also be misleading and harmful when applied to painterly practice.
Comments may be left at: artwatch.uk@gmail.com
---
wibble!