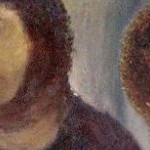 4th October 2012
The Cecilia Giménez affair has re-combusted. First off, the elderly would-be restorer had reduced the world to incapacitating laughter/disbelief at the bungled restoration of a painting of Christ in her local church, Santuario de Misericordia, in Borja, north-eastern Spain (Fig. 5). When Ms Giménez's unauthorised restoration of "Ecce Homo – Behold the Man" caused the work to be dubbed "Ecce Mono – Behold the Monkey" the church threatened to sue. When restoration experts converged to advise on how or whether the damage might be undone, thousands of wags petitioned for the wreck to be left untouched for all to see for all time. It was all too much for the well-meaning amateur restorer who, greatly distressed, took to her bed.
Now the eighty-one years old is on the warpath. The church had become an overnight tourist attraction. Ryanair offered cut-price flights from the UK. An entrance charge was introduced that netted two thousand euros in the first four days…upon which the would-be restorer went to law seeking remuneration for having imbued the formerly disintegrating picture with talismanic, money-spinning powers. On September 21st the Times reported the explanation offered by one of her two lawyers: "She just wants [the church] to conform to the law. If this implies an economic compensation, she wants it to be for charitable purposes." At this startling assertion of intellectual property rights, the church retained lawyers to defend its exclusive right to milk tourists. Giménez's lawyers now reportedly say that while she demands no cut of the entrance charges, they are investigating possible copyright infringements of her creation with a view to pursuing payments from the many people now using the restored image to sell products. It already appears on T-shirts, cell phone covers, coffee mugs and wine labels.
With everyone in the world now aware that restorations really can damage art, attempts are underway to neutralise this professionally corrosive realisation. What seems to have caused most alarm is the recognition that although Giménez's restoration was an extreme case it was not an aberration within the wider context of professional conservation practices. (See, for example, the grotesque repeated abuses of a Veronese face at the Louvre: "Restoration Tragedies" in the August 23 Sunday Telegraph and our August 30 post). Normally, publicity generated in connection with restorations is eagerly cultivated by the restorers and the supervising/funding authorities alike. The reputations of the former can be burnished and the revenue streams of the latter increased. However, the October issue of the Art Newspaper attempts to quarantine the Giménez affair by confining it within a discrete sphere of delinquent and destructive amateur restorations, which it then attacks on no supporting visual evidence – without even reproducing the offending Spanish restoration. By courtesy of the Art Newspaper, the incident is thus being pressed to serve as no more than a cautionary tale against failures to pay Proper Fees for Proper Professional Restorers ("Do-it-yourself? Just don't…"):
"Although the likelihood of a well-meaning member of the public walking into a prominent museum like London's National Gallery, paintbrush in hand, ready to work on a Titian, is slim, what about works in small private collections that remain largely out of the public eye but may one day end up in a museum or national archive? Unfortunately, these pieces are all too often subjected to misguided interventions."
Dragging the National Gallery into this imbroglio is not helpful to the institution. Has the Art Newspaper forgotten that someone recently walked into the gallery, aerosol paint-can in hand and set about not one but two Poussins? Or, for that matter, that this happened at a time when warder numbers had been halved, prompting subsequent strikes and greatly intensified anxieties about possible thefts and further vandalism? As for Titian, the example can only seem injudicious (or provocative) given the notorious damage done to the artist by the National Gallery's own professionally qualified restorers (see right). Of two things, we should all be clear. First, in the adulteration of art, amateurs are the also-rans. It is the performance of the professionals that should concern us most. Second, in appraising restorers' performance we should ignore the restoration chaff of hype and professional apologias and look harder at the material and aesthetic results.
The Art Newspaper gives voice to the leading American academic restorer Joyce Hill Stoner who, while advising the Spanish church on its restoration calamity, takes open professional comfort at this artistic ill-wind: "In some ways, we were heartbroken, but on the other hand, it has resulted in a tremendous boost in advocacy for our profession." Like many restorers, Prof. Stoner often beats this advocacy drum – elsewhere she has said: "We think public education and advocacy about our profession is one key. Even the Antiques Roadshow people often say, 'Ah, Madame, if you had not cleaned this piece of early American furniture it would have been worth $70,000, now it is worth no more than $700.'" In the Art Newspaper she elaborates: "Amateur restorers have always been a problem…a geology professor… scrubbed away trees…People say they are treating their paintings and I tell them that's like telling a doctor that they're in the middle of removing their own appendix…artists are the parents, we are the paediatricians".
This reaction to the incident raises the question of why restorers can so clearly see and so forcefully repudiate amateur errors while remaining silent on far more serious professional blunders on vastly more important artists like Titian (see right). Dubbed "picture rats" in the 19th century, restorers defensively rebranded themselves "conservators" and "picture surgeons" in the 20th century. While Prof. Stoner's invocation of medical authority might be expected from one who is the director of a programme that converts restorers into doctors at the University of Delaware's Preservation Studies Doctoral Program, it is singularly ill-advised. If picture restorers bear any resemblance today to medical practitioners, it is to morticians who doll up artistic corpses or, fractionally more charitably, to the controversial branch of cosmetic surgery, where vain attempts to put back clocks and recover earlier states result in ghastly mishaps and the use of dangerously inappropriate materials. (For industrial-grade silicone breast implants, read synthetic resin picture varnishes. For "trout lips", simply Google: "Veronese nose-jobs".)
In 1999 Prof. Stoner, one of her profession's more thoughtful exponents, gave an academic paper at Washington's National Museum of Women in the Arts, in celebration of Women's History Month and asking "Are There Great Women Art Conservators?" She sought permission to "muse for a bit about the practical side of the conservation of paintings" and characterised modern conservation as a "three-legged stool" comprised of art history (reading); chemistry (part reading, part doing); and studio art (doing). This year she elaborated in an interview:
"We call it 'the three-legged stool'— you need a thorough grounding in art history or archaeology or library science (depending on your specialty); you need excellent hand skills—painting, drawing, sewing, sculpting, casting, etc. (depending on your specialty); and you need excellent training in organic and inorganic chemistry; you need to understand thoroughly the properties of materials making up the works of art AND the materials you might use in a treatment."
At the time of the Great Women Conservators paper, Prof. Anatoly Alyoshin of the Repin Institute, St Petersburg (where restorers must spend many years training as artists), had recently criticised western practitioners for their inadequate "hands-on" artistic skills. Visiting Stoner's alma mater, New York University's restoration school, Prof. Alyoshin asked how a student lacking artistic abilities would be handled. No problem, he was told, "We give him a job connected with surveys or the theory of restoration". But, on qualifying, would such a person be permitted to work in a museum as a restorer? "Probably he can", was the answer.
Prof. Stoner's own query carried the implicit sub-question: What makes a great practising conservator of either gender? She answered thus: "Let us suppose that I was the GREATEST conservator that EVER worked. What would it mean?" It would mean that she had "removed previous repaints, old discoloured varnishes and grime very sensitively", and then filled in all the resulting lacunae and abrasions with "easily removable" fresh paint, taking care perfectly to match the "surface texture, gloss and colour" of the surviving paint. However, were she ever to achieve these goals, "no one would know that I had actually worked [and] my success would be measured by my invisibility", which would provide no basis for "greatness, fame or immortality". Additionally, she expressed concern that restorers might be thought mere "hand-maidens to the artist".
Concerning the egotism of professional restorers, we have already seen how those at the National Gallery claim and have been granted a right to impose personal aesthetic readings on pictures. In France, we have challenged restorers who explicitly claim a right to determine how old paintings be "presented" today, as if they are texts or scores to be performed and not unique concrete historical objects ("LA RESTAURATION EST UNE INTERPRÉTATION", letter, Beaux-Arts Magazine, No 203, April 2001). On questions of mechanical competence, it might be noted that Stoner's own nominee as Great Woman Conservator was none other than Joyce Plesters, the then recently deceased former head of science at the National Gallery (London).
This seemed perverse. Plesters was not a restorer. Nor was she was an artist. She was a scientist who took a degree in art history while working at the National Gallery and was thus at best a "two-legged stool". She mistook a large panel painting composed of three butterfly-keyed boards for a single giant one and half metres wide plank. On another panel she counted six boards when there are seven. She reported that Raphael's Cartoons at the Victoria and Albert Museum had been mounted on backing sheets, when they had not. She believed a planed-down panel had been set into a sheet of block-board when it had been glued onto it. As head of science she failed to warn the Gallery's restorers against their technically delinquent practice of ironing some the largest and most important canvases (such as Titian's "Bacchus and Ariadne") onto sheets of Sundeala board. As for her art historical judgements, she mocked the great scholar Ernst Gombrich for suggesting that Renaissance painters might, in emulation of Apelles, have toned down their own pictures with overall dark varnishes, when just such a painting was later identified within the National Gallery itself.
Prof. Stoner might more plausibly have nominated her fellow American picture restorer Caroline Keck (who held it important to accept an equal number of men and women into restoration lest the field lose power by becoming too "feminized''). Although Keck, with her restorer husband Sheldon Keck, wrecked a major Phillips Collection Renoir when restoring it without authorisation (- like Cecilia Giménez), and also got badly mauled when disputing the British art historian John Richardson's charge that restorers had committed crimes against cubist painting, she too was an ardent restoration propagandist, advising in 1993 that her profession should conduct its own PR:
"A group as large as ours has become must contain colleagues with the skills we need: run competitions for the best magazine and TV scripts, get communication going. The least each of us can do is make our treatment reports to owners lively and readable, attractive enough so these are left on the cocktail table to show off to guests…If we fail to assume responsibility for publicizing a fine image of ourselves, our work and the need for that work, no one else is likely to."
Conservators are frequently urged by their professional "unions" to solicit professional hype. In the March 2008 ICON NEWS, the (female) head conservator of Westminster Abbey protested when "one of the big Sunday newspapers published what we thought was to be a nice piece on the forthcoming restoration of the Westminster Sedilia [but instead] sensationally claimed that the central heating had directly damaged the Coronation Chair" – even though another (female) conservator at the Abbey had precisely told The Art Newspaper that "The central heating is the main problem" (see ArtWatch UK Journal 23). The Guardian and the British Museum recently ran a joint course advising conservators on planting conservation friendly stories in the press and broadcast media. As for whether or not there any great women picture restorers, there are certainly professional awards aplenty for them. In 2003 Stoner herself was awarded the AIC University Products Lifetime Achievement Award. In 2011 she further received both the AIC Paintings Speciality Group Award "for outstanding contributions to the field of paintings conservation", and the College Art Association and Heritage Preservation Award for Distinction in Scholarship and Conservation. In memory of her husband of sixty years, Caroline Keck set up The IIC Keck Award specifically for those judged to have contributed most "towards promoting public understanding and appreciation of the accomplishments of the conservation profession."
For all this question-begging conservation propagandising, it could well be Cecilia Giménez who attains the "immortal fame" that eludes her more professionally respectable peers. However high their working esteem, from the minute professional restorers retire hungry successors circle to undo and redo their work – which is why such a premium is placed on "easily removable" repainting. At the same time and despite all the Good News stories, succeeding waves of restorers remain riven with personal rivalries, conflicting methodologies and incompatible philosophies. Insofar as it is available, historically documented evidence of restoration practices frequently testifies not to any methodological progress but, rather, to a succession of variously compounding errors and injuries. With each generation failing to establish a properly critical literature or even to show an interest in developing appropriate methods of aesthetic appraisal, restoration itself remains an insufficiently examined arena in which restorers may play around putting things on and taking things off as the fancy takes them.
In our previous post, The "World's worst restoration" and the Death of Authenticity, we examined the consequences of restorations for a number of the world's most important artists (Leonardo, Michelangelo, Titian, Veronese, Holbein, Velazquez and Vermeer) that had been carried out in some of the most important buildings or museums. Here, we examine (right) the restoration-induced alterations in a small section of the surface of a single Titian painting. We should add that these comparisons are made from high quality hard copies of photographs taken by the National Gallery for its own conservation records and very kindly made available to us by the Gallery (along with access to the conservation and scholarly records themselves). We are greatly indebted and believe that the following comparisons are made not only on the best possible and most reliable evidence available, but are also fairly presented with the least possible distortion. Some of the comparisons shown (Figs. 11 and 14) were made by overlapping two photographs of before and after restoration states which had then been scanned together so that the extent of the differences between the two states can be gauged with complete confidence.
Michael Daley
Comments may be left at: artwatch.uk@gmail.com
The shapes that Lucas engineered here have no basis in Titian, have no basis in the vocabularies and shared understanding of his cultural era. Lucas's imposed innovations are arbitrary, without insight, unwarranted and vulgarly ahistorical.
---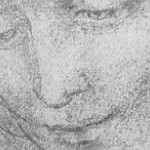 2nd January 2012
In the conservation of art, the impulse "to do" is the most dangerous of all. There are so many ways in which picture restorers can, through misreading or misunderstanding, injure art. Unfortunately, there are also many ways of promoting injuries as triumphs. Worst-case injuries can be spun as dramatic "discoveries" and "recoveries". With the Sistine Chapel ceiling restoration – perhaps, an all-time worst case – the last stages of Michelangelo's sculptural painting were washed away with oven-cleaner-like chemically-laced thixotropic pastes and copious applications of rinse-water (see Fig. 1 and our earlier post). To sanction the unexpected and unprecedented changes, a "New Michelangelo" of art history-changing, colouristic brilliance was invoked. The surprise outcome was presented, post hoc, as having demolished the "Darkness Fallacy" and the "Sculptural Fallacy" of Michelangelo's legendary, much-copied and commented-upon work. Less technically experimental methods can also produce serious alterations during a single intervention (see Figs. 2 & 3). Not always immediately noticeable but ultimately no less invidious are the cumulative "Chinese Whispers" changes made as successive restorers undo and redo their predecessors' work. A case in point of the latter – and of the defences that get offered – can be seen in successive treatments of the London version of Leonardo's "Virgin of the Rocks".
The cult of unexpected and dramatic discoveries grew out of earlier (spurious) claims of scientifically underpinned restoration methodologies. "Picture surgeon" restorers mimicked the conventions and vocabularies of medicine with its "diagnoses", "research", "interns" and "treatments", and ended by believing their own easel-side manners and propaganda. In truth, they have always more closely resembled cosmetic surgeons and it makes cultural sense to consider these twin spheres together. Both promise to reverse Time's effects. With both, adverse consequences are often slow to be recognised. With human cosmetic surgery, everyone has recently learned of the horrors of industrial-grade silicone breast implants and Trout Lips. News has recently begun to emerge of the unanticipated consequences of radically invasive attempts to put the very fabric of paintings into perpetual good health. The National Gallery now concedes that its former penchant for ironing large masterpieces (like Titian's "Bacchus and Ariadne", Seurat's great "Bathers", and Sebastiano's "The Raising of Lazarus") onto sheets of industrially manufactured pressed-paper (Sundeala) boards has bequeathed pictures that can no longer be moved safely.
Both zones of surgery prove prey to stylistic fashions as the distinctive nips, tucks and nose-jobs of one period swiftly become démodé. A worst-case example of multiple botched treatments occurred recently at the Louvre. It was reported in the French and British press, in our Journal (see Fig. 3) and in our post of 28 December 2010. The Louvre's controversial restorations continue to make headlines. One of our greatest concerns is that no picture restorer ever seems able to resist undoing and redoing (Fig. 4) the painted interventions with which predecessors left their imprints on masterpieces. That there may be some cultural/pathological root to such tampering should perhaps be considered. It sometimes seems as if restorers reward or indulge themselves with a little fancy creative brushwork after the tedium of a long cleaning. In 1998, a restorer, John Dick, working on Titian's "Diana and Callisto" at the the National Galleries of Scotland told Scotland on Sunday (29 March 1998):
"Most of the areas I will be painting are so small I will not have to invent anything. I will simply have to match the colours to the original. It will be more difficult when it comes to improving Titian's contours, which I know I will be tempted to do, but which can be dangerous. I will consult with other conservators and with the director [Timothy Clifford]. In the end, a decision has to be taken but if it does not look good it can always be taken back off again."
Whether restorers are taking off or putting on, restorations never take place in vacuums. There is always a context that is comprised of a singular balance of forces and interests. These forces are various and competitive, being sometimes personal, sometimes professional, sometimes institutional; sometimes local, sometimes national, sometimes international; sometimes technical, sometimes philosophical; sometimes political, sometimes financial. But if there are rival, inter-acting sociologies or cultures of restoration, these always find expression in the individual acts of restorers upon individual, unique and historical works of art. It is therefore incumbent on those who authorise or sanction restorations to permit/guarantee absolute transparency in restoration procedures and methodologies. In this respect the National Gallery has recently made enormous strides. Under the Gallery's present director and its previous director, ArtWatch UK has been given full and generously helpful access to conservation and archival records. The Gallery publishes in its annual Technical Bulletins much material on its own workings in conservation. Nonetheless, some old habits die hard. The best-reported conservation activities in the bulletins tend to be in the most neutral areas – in technical analyses of materials, applications of imaging systems, and so forth. The least adequately reported activities are precisely the crucial hands-on physical interventions of restorers.
Over the years, we have formed an opinion on this lacuna. There is a problem for the Gallery in fully acknowledging and showing what individual restorers do, because they do different things, each according to his own inclinations and talents. Taking the recent restoration of the "Virgin of the Rocks" as our case in point, let us first look in from "the outside" at the broader context. As we have discussed before, this was a restoration whose celebration (in what was to become a £1.5 billion exhibition) was planned before the restoration itself had even begun. As we have also previously discussed, the Gallery has proudly published its policy or "philosophy" of restoration treatments. Its handbook "Conservation of Paintings" acknowledges that pictures are now "changed primarily for aesthetic reasons" (p. 53) and (p. 45) that restorations are carried out on the "aesthetic objectives of those responsible for the cleaning". Moreover, (p. 53) although the "different aesthetic decisions" taken by individual restorers produce results that "may look very different", all of such different outcomes are "equally valid", provided only that they have been carried out "safely". These are alarming claims: in matters of aesthetic and artistic integrity, the "safety" or otherwise of the cleaning materials is a red herring: if pictures end up looking different, they are different, and these differences are material and irreversible.
The proof of the National Gallery's restoration pudding is in the eating – which is to say, in our looking. In the Gallery's current Technical Bulletin (Vol. 32), Larry Keith, Ashok Roy, Rachel Morrison and Peter Schade, say of the restoration of the "Virgin of the Rocks" that while its practical intent was "primarily aesthetic" it also served to provide an example of the Gallery's interdisciplinary approach:
"Whenever possible, major restorations are intended as the hub of a wide range of research activity that sees curators, scientists and restorers working together – increasingly alongside colleagues from other institutions".
The significance of such extra-conservational purposes of restorations should not be overlooked or underestimated: much of the credit for the present historically unprecedented coralling of quite so many Leonardos in one place at one time, has been given to the international connections and diplomatic skills of Gallery staff, as seen in their increasingly close relations with other major institutions such as the Louvre. As it happens, the relationship with the Louvre is proving more problematic and embarrassing than the Gallery might have anticipated. It has recently been reported that among the membership of an international advisory committee set up by the Louvre to advise on and monitor the restoration of Leonardo's "The Virgin and Child with St Anne", the two members who proved the most enthusiatic advocates of a more, rather than a less, radical cleaning of the painting, have been the National Gallery's head of conservation, Larry Keith, and the curator of the current Leonardo blockbuster, Luke Syson.
One of the calling cards that Syson and Keith will have had on the international advisory committee has been the generally ecstatic art-critical reception of the restoration of the "Virgin of the Rocks" and of the blockbuster exhibition it had kick-started. Richard Dorment's praise for the restoration was unreserved:
"This sense of interaction is palpable too in the National Gallery's version of the Virgin of the Rocks, which until its recent cleaning was considered to be a slightly inferior version of an altarpiece in the Louvre. But when it emerged last year from the studio of Larry Keith, the National Gallery's director of conservation, the refinement of the detail, depth of field and exquisitely calibrated tonal harmonies made it apparent that only Leonardo could have painted it, with little or no intervention from his studio assistants."
How remarkable, perhaps, that so many people could now see, having been told what was to be seen, what so few, unaided, had seen before – an iffy, "not-altogether-Leonardo" had not only beome an "altogether-Leonardo" but a Leonardo that was now more than a match for the previously superior Leonardo. But Dorment's acceptance of the claimed elevation would have been sweet music to Gallery ears – as must also have been his drum roll for the blockbuster show's creation and his apparent endorsement, even, of its terrifyingly hazardous back-scratching corrolaries:
"Earlier this week, the National Gallery in London announced a historic collaboration with the Department of Paintings at the Louvre. The French have agreed to lend their version of Leonardo da Vinci's Virgin of the Rocks to the eagerly awaited Leonardo da Vinci exhibition that opens at Trafalgar Square in November. A few months later, the English will repay the debt by sending Leonardo's highly finished preparatory drawing The Virgin and Child with Saint Anne and John the Baptist (the Burlington House Cartoon) to Paris, where it will hang in close proximity to the painting it was made for, which is owned by the Louvre."
Leaving aside the risks of lending the hitherto unlendable Cartoon, with the restoration of the London "Virgin of the Rocks", we had initially been somewhat reassured to have been told that this was not to be an aggressive restoration; that while it would greatly thin the varnish applied by Helmut Ruhemann in 1949, it would not entirely remove it. (Pace the Art Critics, it has never been made clear how a cleaning that ran from November 2008 to May 2009 and that had not removed all of the previously applied varnish, might somehow have disclosed an entirely autograph status throughout a picture that was variously painted and unevenly finished.) When it went back on show after its "moderate" cleaning, old anxieties flared: it was evident that, with its now violently assertive blues, the picture had not returned to its previous post-cleaning appearance in the 1950s and 1960s. For the latest detailed accounts of the restoration and for photographic records we turned to the current Technical Bulletin (No. 32).
Comparing the large image of the angel's face that is carried on the cover of the present Bulletin, with the best previous images (seen at Figs. 5 – 8), it was apparent that changes had occurred in this important and sensitive area. The most dramatic of these was to the most expressive feature – the angel's mouth. With Leonardo, of all artists, a degree of circumspection in the restoration of his mouths might be expected. (Who would lightly change the expression of the "Mona Lisa"?) Instead, we encountered a full-blooded change to the design of a mouth on a face that had been held by one scholar and former director of the National Gallery, Kenneth Clark, to be exclusively the handiwork of Leonardo himself and the section of the painting in which the artist's finishing glazes had best survived: "this is the one part of our Virgin of the Rocks where the evidence of Leonardo's hand seems undeniable, not only in the full, simple modelling, but in the drawing of the hair." Where Clark had seen a clear superiority in the head of the angel over that of the Virgin, in the 1990 re-publication of his book, a note was added saying that "As a result of the cleaning of the altarpiece in 1949 the differences between the heads are rather less apparent."
The recent redrawing and remodeling during a restoration has cast the far side of the mouth downwards and left the upper lip no longer tucking enigmatically into the cheek in the manner so frequently encountered (see photographs, right) as effectively to constitute a trademark Leonardo/Leonardo school signature. The photographic evidence raised two questions: What had been done? Why had it been done? We returned to the Technical Bulletin.
No answers were to be found. There was no explanation because there was no mention or account of any change having been made to the mouth. As so often, the Bulletin's authors favoured the general over the particular. We learnt that "The intent of the cleaning was to effect the desired aesthetic improvement through the reduction of the old varnish, not simply to remove it, and in the main a very thin remnant of that layer…remains on the picture." This deepened the mystery: if a thin layer of Ruhemann's 1949 varnish had remained over the face, and if this layer had not been injured during the latest cleaning, why should any features have needed changing at all?
We asked the restorer, Larry Keith, if he had made any retouchings to the face of the angel. He replied that he had, but said that these had been confined to areas of damage and or abrasion. Specifically, he said that he had not introduced any new elements. This seemed at variance with the photographic record, insofar as we were in possession of it. That the mouth had changed was beyond doubt: we had record of its condition in photographs of 1938 (Fig. 5) and 1947 (Fig. 6). When Kenneth Clark's 1938 book of details of paintings in the National Gallery was reissued in 1990 it was with new (this time, colour) photographs. We thus had a record (Figs. 5 & 6) of the angel's face before the Second World War and, crucially, before Helmut Ruhemann's 1948-9 restoration. We had a record of 1990 that showed the post-Ruhemann state (see Fig. 7). The mouth might have been weakened by Ruhemann (see Figs. 15 & 16) but its disposition – which had conformed to that seen in an x-ray photograph of 1947 (Fig. 19) – had survived. Ruhemann had, however, chiselled away the end of the nose so as to bring it inside the contour of the face (Figs. 5, 6 & 7), as is the case with the angel in the Louvre version (Figs. 9 & 10) but was seen not to be the case in the 1947 x-ray photograph of the London picture (Fig. 19). Keith has retained Ruhemann's revision of the nose which had undermined (for reasons to be examined on another occasion) the coherence of the head's perspective .
Clark's book had again been re-issued in 2008, this time with distinctly superior new, digital colour photographs (see Fig. 8). At this late date, the mouth showed no change. So when, in November 2008, Larry Keith's restoration began, the published photograph of that year effectively constituted a pre-treatment record, and the cover photograph of the angel on the current Technical Bulletin constituted a post treatment record. In between the two, the changes to the face had occurred. (To show the changes to the mouth more clearly, the painter Gareth Hawker tonally adjusted the 1938, 2008 and 2011 photographs seen at Fig. 4 so as to bring them to some tonal parity.) In view of the dramatic change to the mouth and the absence of any signs of losses or abrasions that might have preceded the repainting, we requested photographs of the angel's face taken immediately after cleaning (but before retouching), and after retouching. These were kindly supplied. They confirmed that the mouth had been changed by retouching (see Figs. 17 and 18) but the pre-retouching photograph gave no indication of injuries or losses that might have required treatment. We therefore asked Keith, on what basis he had made his painted changes to the mouth (and elsewhere). He did not reply.
Some weeks later Luke Syson replied on Keith's behalf, saying that as the curator of the work, he had been responsible for monitoring and advising on all aspects of the restoration and was therefore the person carrying the responsibility for answering all questions, including our own, about the restoration. Unfortunately, in this professional capacity, the curator, too, preferred to talk in the generality and to explain the restorer's approach to the painting "as a whole". I replied that, on the evidence of the Gallery's two photographs, it was clear that features in the angel's mouth which had survived both the Ruhemann cleaning and Keith's own cleaning had been painted out. Would he explain, I asked, the thinking behind the alterations, and why changes to so sensitive and highly expressive a feature had not been discussed or acknowledged. I added that in my examination of the Gallery's conservation dossiers I had encountered other instances of un-discussed and un-acknowledged changes made by restorers – including a major change to the Leonardo Cartoon.
In replying, Syson first said that he had reviewed the photographic evidence but could see no evidence of any deviation in Keith's retouching from the procedure that he (Syson) had previously described. This was a depressingly circular bureaucratic response. Our concern had not been over command and management procedures at the Gallery, but over actual changes to specific and crucial features of a major and unique historical painting. Syson then claimed that the photographs showed that a single small damage had been revealed in Ruhemann's 1949 cleaning and that he had retouched it. Keith, Syson added, had removed that single retouch to a small damage, in order to retouch it himself on the evidence provided by the surrounding undamaged paint. But this simply conjures a fresh mystery: how can noe restorer's substitution of one small retouch of a single small loss by another restorer, have caused a mouth that formerly turned upwards at its extremity and tucked into a cheek, to turn downwards and cease to tuck into the cheek? However this might have happened – and clearly, something happened – where is the record of it?
As if in anticipation of such a question, Syson adds in conclusion, and in returning to his homebase circular bureaucratese explanations:
"Since this, as I've stated, is entirely in line with the approach taken elsewhere in the picture, there has been no need separately to document this part of the work."
Between 1945 and 1994, Vermeer's poor "Lady Seated at the Virginal" received no fewer than nine bouts of "treatment" – including being lined twice within three years. The last treatment (in 1994) was entered into the conservation dossier as "Retouching in face and neck corrected (Bomford) Surface cleaned, revarnished". No photographic record of this intervention was to be found. When asked, the restorer, David Bomford, said that this was because: "there were no real changes – it was simply a matter of glazing a few small sections of the previous retouching which had discoloured slightly." When our colleague, Michel Favre Favre-Felix, of ARIPA, noticed the second repainting in 5 years of the Veronese mouth shown in Fig. 3, and asked to see the Louvre's documentation on it, he was told there was none because the repainting was but a "localised intervention". A Louvre spokeswoman later described it as a simple sprucing-up ("bichonnée") and added triumphantly: "That's why you cannot find it in the painting's dossier".
Michael Daley
Comments may be left at: artwatch.uk@gmail.com
---
wibble!