"What is the difference between a fake and an expertly restored genuine but damaged painting?"
SUSAN GRUNDY writes:
What is the difference between a fake and an expertly restored genuine but damaged painting? The line that differentiates between the two is extremely fine and, as such, the skilled restorer is sometimes also the skilled forger, as was the case with the twentieth-century Dutch artist Han van Meegeren.
Frans Hals and Van Meegeren's first forgeries
Fig. 1. Attributed to Han van Meegeren The Laughing Cavalier, pastiche after Frans Hals (updated c.1923). Oil on panel, 36 cm in diameter. Whereabouts unknown.
Fig. 2. Attributed to Han van Meegeren The Satisfied Smoker, in the style of Frans Hals (updated c.1923). Oil on panel, 57 x 49 cm. Groninger Museum, Groningen.
The Dutch artist Han van Meegeren (1889–1947) is best known for his fake Vermeers, at least one of which ended up in Nazi hands. However, his first (almost successful) known forgeries were actually restorations. He and Theo van Wijngaarden (1874–1952), his partner at the time, scoured around for low-valued works, genuine only in their antiquity. In 1923 they managed to scout out two panels, in the style of Frans Hals (1580–1666), that were "murky and badly damaged" (Wynne 2007 – see Endnote 1). The outline of a composition existed, in this case portraits, and the spirit of the times was already evident in the technical application, that is, in the way epochal followers of Frans Hals handled materials. Han had just to clean and stabilize the paintings, and then to extensively remodel them. Was this repainting or overpainting, or even "'inpainting,' 'loss integration,' 'loss compensation,' or 'retouching'" (- Hill Stoner & Rushfield – see endnote 2)? The answer is semantically determined by the aims of the practitioner, not by the response of the viewer.
Nevertheless, what Han and Theo did next was to cross the line. Han tried to mask the extensive freshness of his paintwork by using lavender oil, at Theo's suggestion, and Theo explained away any suspicious objections of critics with the phrase "recent restoration" (Wynne 2007). Theo organized for the panels to be shown to Cornelis Hofstede de Groot (1863–1930), a former "deputy-director of the Mauritshuis and a critic instrumental in defining the oeuvre of both Rembrandt and Vermeer", and had them presented to him as a recently restored possible autograph Frans Hals (Wynne 2007.) In this way Han van Meegeren and Theo van Wijngaarden became criminals.
Blending and integration
In order to raise a blended surface retouchers will sometimes add faked painted craquelure. High levels of retouching are demanded, even today, with the aim for restored works to be as fully integrated as possible, that is, original areas merging visually with filled and retouched areas. Such practices facilitate the ease with which cavalier restorers can cross that fine line from restoration to forgery, making it much easier to slip forgeries into an artist's canon. Furthermore, as Han and Theo were both restorers, they knew the value of having panels in less than optimal condition, which they then fixed, adding to the veneer of originality as was the case with one of the Frans Hals copies, The Laughing Cavalier (updated c.1923 – Wynne 2007, Fig. 1). Indeed, throughout his career Han was careful to bash his works about a bit, and then "restore" them again, in order to sustain the authenticity of age.
Forgery and the connoisseur
Han van Meegeren was not only a practical artist, but it would appear also a studious connoisseur. He knew his Old Masters. "His long years studying the Golden Age and his passion as an apprentice for imitating the work of the masters gave him an understanding of Hals's rapid brushstrokes, his dramatic shading and the characteristic silvery sheen of his work, so different from the golden glow of a Rembrandt" (Wynne 2007). Han was no mere imitator, however. He took a discarded copy by an unknown artist, and by careful restoration methods and creative additions, he turned it into an autograph "Frans Hals". De Groot took the bait. He wrote a certificate for the van Meegeren The Laughing Cavalier, categorically attributing the work to Frans Hals, and the panel sold to the auction house Frederik Muller for the equivalent of £120,000 in today's money (Wynne 2007). This is evidently substantially more than it would have realized sold honestly as the heavily restored copy it was. The second panel, The Satisfied Smoker (updated c.1923, Fig. 2), de Groot bought directly from van Wijngaarden as a Frans Hals and added it to his own collection (Lopez 2009 – endnote 3).
However, it did not end all in the bag for Han and Theo because even before the cheque was cashed another art historian and connoisseur Abraham Bredius (1855–1946) stepped in and denounced The Laughing Cavalier as a fake. De Groot fought him on the issue, claiming that evidence of modern materials found on the painting, which was subsequently studied by a panel of experts, were only the result of the recent restoration. The team found artificial ultramarine, cobalt blue and zinc white, in the "extensive recent repainting" (Wynne 2007). It is not clear if these pigments were found only in infill sites, or also over more authentic pigments. Indeed, by definition, the presence of these pigments on areas of loss would not constitute immediate grounds for denouncing a work fake, even today. De Groot went on to defend his authentication of this work in print, publishing an article "Echt of Onecht [Genuine or Forgery]" in 1925 (Wynne 2007).
De Groot never accepted that Han van Meegeren's The Laughing Cavalier was a forgery. In fact De Groot never even knew the forger was Han van Meegeren, as he died in 1930 long before van Meegeren was outed. De Groot bought The Laughing Cavalier from Frederik Muller (Wynne 2007) and his collection thereafter was bequeathed to the Groninger museum in 1930. The Satisfied Smoker in the style of Frans Hals, but now attributed to Han van Meegeren, remains in that museum. The other work on panel, The Laughing Cavalier, is whereabouts unknown.
These events, although historical, highlight the role of restoration not only in authenticating artworks, but also in (re)creating them.
Susan Grundy, 1 July 2016
Susan Grundy is an independent art historian and collector. She is currently exploring the concept of Old Master collecting, restoration and authentication as a type of Performance. Her Doctoral (2009) and Masters (2005) research concentrated on Art and Optics, in the new field of quantitative, scientific and technical art history, and she has subsequently published extensively on issues of authenticity in art.
Endnotes
1 Wynne, F. 2007. I was Vermeer: the forger who swindled the Nazis. London, Bloomsbury: pp 74-77.
2 Hill Stoner, J. and Rushfield, R. (eds). 2012. The conservation of easel paintings. London and New York, NY, Routledge: p. 607.
3 Lopez, J. 2009. The man who made Vermeers: unvarnishing the legend of master forger Han van Meegeren. Boston & New York. Marina: p. 9.
[Coming next: Bye-bye Bella Principessa]
---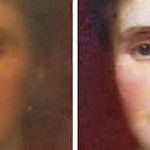 26 August 2013
Technological advances are often over-sold and deployed in haste. As Nicholson Baker famously showed in his book Double Fold ~ Libraries and the Assault on Paper, countless books, magazines and newspapers were destroyed when microfilm seemed (falsely) to be a better, more durable, more economical means of storing their "information". The BBC discarded much irreplaceable historic material which, having been shot in black and white, was held technically obsolete on the arrival of colour productions. As we reported on February 28, 2012 ("Shedding archival records at the Tate and the Victoria and Albert Museum"), the Paul Mellon Centre for Studies in British Art had recently received a phone call from a Tate employee who said "you might like the curatorial photo archive because we're about to throw it on to a skip". We subsequently learnt that the threat to archival material was more widespread and that it was being strongly resisted. Technical advances and their attendant risks are not abating. Here, the painter and ArtWatch UK Journal's picture/photography analyst, Gareth Hawker (- see his post of 10 January 2011 on photography in museums), discusses some of the dangers posed to archives by breath-taking but commercially driven and insufficiently examined technical developments in digital photography.
Gareth Hawker writes:
The benefits of digitising archives can seem immense: the archives become easier to index and retrieve than the original documents, and copies may be sent anywhere in the world almost instantly. These advantages can appear so dazzling that the risks of digitising may be disregarded, especially by institutions which lack the funding and the expertise which the major museums can call upon. For those with low budgets and little experience in digitising their archives, several groups have issued guidelines – the "Western States Digital Imaging Best Practices" [Endnote 1] being among the best known. These practices have been taken as the basis for a number of instruction manuals, notably one written by Jim Kennedy [2]. He provides plenty of useful advice but, while he does mention the risks involved, the bulk of his manual describes ways in which an image may be manipulated. An inexperienced archivist may get immersed in this part of the book and, in his enthusiasm for manipulation, throw away the original file.
It is true that the original archive file may not be suitable for all uses, for example a publisher may wish to enhance the image – perhaps by increasing contrast and removing blemishes – so that it would look better in a book or on the Internet. The resulting picture can look quite different from the archive image, but a researcher should always be able to track back to the unaltered original and check through any changes that may have been made. Ensuring that this is possible is known as maintaining image integrity. Digital images are intrinsically more proof against tampering than analogue images, but only if they are stored with the audit trail which records the changes, if any, which have been made to the original digital file. The construction of an audit trail is described in the Adobe document, "Digital Image Integrity" [3]. However, among the procedures which the "Western States Digital Imaging Best Practices" document lists as 'best practice' it includes deleting the original file, and keeping only the manipulated version as a 'master-file'. This invalidates the file as an archive, especially if the original photographic print or transparency has also been thrown away.
Jim Kennedy writes:
"Best practice is:
(a) to make a master image that has tone and color carefully adjusted to correct fading and exposure, or (b) to make a master image that represents the tone and color for the physical condition of the item at the time of digitization without correction of fading or exposure. The choice depends upon the goals and resources for the project, with the second option requiring more extensive resources to create and maintain large files that may never be used and include reference targets when possible.
Both types of master images could be included in an archive. …"
Clearly choosing option (b) is vital for a serious image archive. Relative to the cost of time spent in scanning and filing, the cost of storage on a disc or drive is tiny; but throwing out the original file can cause confusion for ever after. The archivist who is pressed for time need not make any of the manipulations which the guidelines suggest. These could be postponed until someone wanted to adjust a copy of the archive file for a specific purpose, leaving the original untouched.
The task of preserving the new digital records presents new problems. Hard drives and discs become corrupt with the passage of time, so the data on them needs to be transferred to a new set of drives or discs before it is lost. The entire archive needs to be transferred frequently – every two to four years according to some authorities. There is a danger that someone may forget to transfer the data and that it will all be lost. This is a good argument for keeping the original, non-digital documents, but one which is sometimes overlooked. For anyone thinking of digitising a collection, David Saunders' chapter on the subject of preserving records, "Image Documentation for Paintings Conservation" in Conservation of Easel Paintings (Eds. Stoner and Rushfield), provides a summary of this and other considerations which would be worth bearing in mind.
One consideration is the quality of the digital files themselves. The resolution of a digital photograph or scan is likely to be far lower than that of an old-fashioned photographic print – even one of poor quality. The amount of data lost if the original print or transparency is thrown away is incalculable. In addition, new techniques may be able to retrieve even more data from the originals than was ever imagined. Destroying the original documents will close off this possibility forever. Keeping the print-out of a digital document ('hard copy') may be advisable, but is an inadequate substitute for keeping the original, pre-digital document.
As an indication of the types of falsification that the writers of the 'Western States Digital Imaging Best Practices' consider acceptable, see the examples at right. A researcher looking at a 'master image' would have no way of distinguishing between what was a true record, and what had been doctored.
These doctoring procedures would invalidate photography as a means by which to examine how paintings had changed over time. This would represent a disaster for historians, and a blessed relief to any restorer who wanted his blunders to be forgotten. Restorers themselves rarely seem to look critically at 'before' and 'after 'photographs of the paintings that they work on, while museums often keep only haphazard photographic records of the works in their collections. The Rembrandt [4] and Raphael [5] databases give some idea of how incomplete these records may be. Perhaps this directionless attitude to record-keeping derives partly from the restorers themselves, who do not often attach much importance to comparing 'before' and 'after' photographs. Most restorers prefer to monitor their own work according to what they see through the microscope, informed by their own experience and training – but without any objective standard against which to measure the result of their actions. Few restorers outside the major museums take high-resolution 'before' and 'after' photographs of the paintings they work on, though they may take snapshots which are low in resolution, unevenly lit, and inaccurate in colour. Not having accurate 'before' and 'after' photographs available – and, when they are available, not being practised at examining them – most restorers have little opportunity to assess the extent to which their work has damaged a painting.
Thus the importance of photographs may be underestimated, and the contribution of the archivist undervalued. It is essential that the best possible photographic records be made and maintained if any objective assessment of changes to a painting's appearance is to be undertaken. An archivist may do well to consider keeping original, pre-digital documents, and resisting the temptation to become completely dependant on the computer.
Gareth Hawker
Endnotes:
1 http://www.mndigital.org/digitizing/standards/imaging.pdf
2 http://archivehistory.jeksite.org/index.htm
3 http://www.adobe.com/digitalimag/pdfs/phscs2ip_digintegr.pdf
4 http://www.rembrandtdatabase.org/Rembrandt/explore-paintings
5 http://cima.ng-london.org.uk/documentation/index.php
Comments may be left at: artwatch.uk@gmail.com
---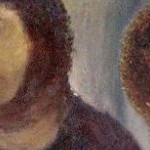 4th October 2012
The Cecilia Giménez affair has re-combusted. First off, the elderly would-be restorer had reduced the world to incapacitating laughter/disbelief at the bungled restoration of a painting of Christ in her local church, Santuario de Misericordia, in Borja, north-eastern Spain (Fig. 5). When Ms Giménez's unauthorised restoration of "Ecce Homo – Behold the Man" caused the work to be dubbed "Ecce Mono – Behold the Monkey" the church threatened to sue. When restoration experts converged to advise on how or whether the damage might be undone, thousands of wags petitioned for the wreck to be left untouched for all to see for all time. It was all too much for the well-meaning amateur restorer who, greatly distressed, took to her bed.
Now the eighty-one years old is on the warpath. The church had become an overnight tourist attraction. Ryanair offered cut-price flights from the UK. An entrance charge was introduced that netted two thousand euros in the first four days…upon which the would-be restorer went to law seeking remuneration for having imbued the formerly disintegrating picture with talismanic, money-spinning powers. On September 21st the Times reported the explanation offered by one of her two lawyers: "She just wants [the church] to conform to the law. If this implies an economic compensation, she wants it to be for charitable purposes." At this startling assertion of intellectual property rights, the church retained lawyers to defend its exclusive right to milk tourists. Giménez's lawyers now reportedly say that while she demands no cut of the entrance charges, they are investigating possible copyright infringements of her creation with a view to pursuing payments from the many people now using the restored image to sell products. It already appears on T-shirts, cell phone covers, coffee mugs and wine labels.
With everyone in the world now aware that restorations really can damage art, attempts are underway to neutralise this professionally corrosive realisation. What seems to have caused most alarm is the recognition that although Giménez's restoration was an extreme case it was not an aberration within the wider context of professional conservation practices. (See, for example, the grotesque repeated abuses of a Veronese face at the Louvre: "Restoration Tragedies" in the August 23 Sunday Telegraph and our August 30 post). Normally, publicity generated in connection with restorations is eagerly cultivated by the restorers and the supervising/funding authorities alike. The reputations of the former can be burnished and the revenue streams of the latter increased. However, the October issue of the Art Newspaper attempts to quarantine the Giménez affair by confining it within a discrete sphere of delinquent and destructive amateur restorations, which it then attacks on no supporting visual evidence – without even reproducing the offending Spanish restoration. By courtesy of the Art Newspaper, the incident is thus being pressed to serve as no more than a cautionary tale against failures to pay Proper Fees for Proper Professional Restorers ("Do-it-yourself? Just don't…"):
"Although the likelihood of a well-meaning member of the public walking into a prominent museum like London's National Gallery, paintbrush in hand, ready to work on a Titian, is slim, what about works in small private collections that remain largely out of the public eye but may one day end up in a museum or national archive? Unfortunately, these pieces are all too often subjected to misguided interventions."
Dragging the National Gallery into this imbroglio is not helpful to the institution. Has the Art Newspaper forgotten that someone recently walked into the gallery, aerosol paint-can in hand and set about not one but two Poussins? Or, for that matter, that this happened at a time when warder numbers had been halved, prompting subsequent strikes and greatly intensified anxieties about possible thefts and further vandalism? As for Titian, the example can only seem injudicious (or provocative) given the notorious damage done to the artist by the National Gallery's own professionally qualified restorers (see right). Of two things, we should all be clear. First, in the adulteration of art, amateurs are the also-rans. It is the performance of the professionals that should concern us most. Second, in appraising restorers' performance we should ignore the restoration chaff of hype and professional apologias and look harder at the material and aesthetic results.
The Art Newspaper gives voice to the leading American academic restorer Joyce Hill Stoner who, while advising the Spanish church on its restoration calamity, takes open professional comfort at this artistic ill-wind: "In some ways, we were heartbroken, but on the other hand, it has resulted in a tremendous boost in advocacy for our profession." Like many restorers, Prof. Stoner often beats this advocacy drum – elsewhere she has said: "We think public education and advocacy about our profession is one key. Even the Antiques Roadshow people often say, 'Ah, Madame, if you had not cleaned this piece of early American furniture it would have been worth $70,000, now it is worth no more than $700.'" In the Art Newspaper she elaborates: "Amateur restorers have always been a problem…a geology professor… scrubbed away trees…People say they are treating their paintings and I tell them that's like telling a doctor that they're in the middle of removing their own appendix…artists are the parents, we are the paediatricians".
This reaction to the incident raises the question of why restorers can so clearly see and so forcefully repudiate amateur errors while remaining silent on far more serious professional blunders on vastly more important artists like Titian (see right). Dubbed "picture rats" in the 19th century, restorers defensively rebranded themselves "conservators" and "picture surgeons" in the 20th century. While Prof. Stoner's invocation of medical authority might be expected from one who is the director of a programme that converts restorers into doctors at the University of Delaware's Preservation Studies Doctoral Program, it is singularly ill-advised. If picture restorers bear any resemblance today to medical practitioners, it is to morticians who doll up artistic corpses or, fractionally more charitably, to the controversial branch of cosmetic surgery, where vain attempts to put back clocks and recover earlier states result in ghastly mishaps and the use of dangerously inappropriate materials. (For industrial-grade silicone breast implants, read synthetic resin picture varnishes. For "trout lips", simply Google: "Veronese nose-jobs".)
In 1999 Prof. Stoner, one of her profession's more thoughtful exponents, gave an academic paper at Washington's National Museum of Women in the Arts, in celebration of Women's History Month and asking "Are There Great Women Art Conservators?" She sought permission to "muse for a bit about the practical side of the conservation of paintings" and characterised modern conservation as a "three-legged stool" comprised of art history (reading); chemistry (part reading, part doing); and studio art (doing). This year she elaborated in an interview:
"We call it 'the three-legged stool'— you need a thorough grounding in art history or archaeology or library science (depending on your specialty); you need excellent hand skills—painting, drawing, sewing, sculpting, casting, etc. (depending on your specialty); and you need excellent training in organic and inorganic chemistry; you need to understand thoroughly the properties of materials making up the works of art AND the materials you might use in a treatment."
At the time of the Great Women Conservators paper, Prof. Anatoly Alyoshin of the Repin Institute, St Petersburg (where restorers must spend many years training as artists), had recently criticised western practitioners for their inadequate "hands-on" artistic skills. Visiting Stoner's alma mater, New York University's restoration school, Prof. Alyoshin asked how a student lacking artistic abilities would be handled. No problem, he was told, "We give him a job connected with surveys or the theory of restoration". But, on qualifying, would such a person be permitted to work in a museum as a restorer? "Probably he can", was the answer.
Prof. Stoner's own query carried the implicit sub-question: What makes a great practising conservator of either gender? She answered thus: "Let us suppose that I was the GREATEST conservator that EVER worked. What would it mean?" It would mean that she had "removed previous repaints, old discoloured varnishes and grime very sensitively", and then filled in all the resulting lacunae and abrasions with "easily removable" fresh paint, taking care perfectly to match the "surface texture, gloss and colour" of the surviving paint. However, were she ever to achieve these goals, "no one would know that I had actually worked [and] my success would be measured by my invisibility", which would provide no basis for "greatness, fame or immortality". Additionally, she expressed concern that restorers might be thought mere "hand-maidens to the artist".
Concerning the egotism of professional restorers, we have already seen how those at the National Gallery claim and have been granted a right to impose personal aesthetic readings on pictures. In France, we have challenged restorers who explicitly claim a right to determine how old paintings be "presented" today, as if they are texts or scores to be performed and not unique concrete historical objects ("LA RESTAURATION EST UNE INTERPRÉTATION", letter, Beaux-Arts Magazine, No 203, April 2001). On questions of mechanical competence, it might be noted that Stoner's own nominee as Great Woman Conservator was none other than Joyce Plesters, the then recently deceased former head of science at the National Gallery (London).
This seemed perverse. Plesters was not a restorer. Nor was she was an artist. She was a scientist who took a degree in art history while working at the National Gallery and was thus at best a "two-legged stool". She mistook a large panel painting composed of three butterfly-keyed boards for a single giant one and half metres wide plank. On another panel she counted six boards when there are seven. She reported that Raphael's Cartoons at the Victoria and Albert Museum had been mounted on backing sheets, when they had not. She believed a planed-down panel had been set into a sheet of block-board when it had been glued onto it. As head of science she failed to warn the Gallery's restorers against their technically delinquent practice of ironing some the largest and most important canvases (such as Titian's "Bacchus and Ariadne") onto sheets of Sundeala board. As for her art historical judgements, she mocked the great scholar Ernst Gombrich for suggesting that Renaissance painters might, in emulation of Apelles, have toned down their own pictures with overall dark varnishes, when just such a painting was later identified within the National Gallery itself.
Prof. Stoner might more plausibly have nominated her fellow American picture restorer Caroline Keck (who held it important to accept an equal number of men and women into restoration lest the field lose power by becoming too "feminized''). Although Keck, with her restorer husband Sheldon Keck, wrecked a major Phillips Collection Renoir when restoring it without authorisation (- like Cecilia Giménez), and also got badly mauled when disputing the British art historian John Richardson's charge that restorers had committed crimes against cubist painting, she too was an ardent restoration propagandist, advising in 1993 that her profession should conduct its own PR:
"A group as large as ours has become must contain colleagues with the skills we need: run competitions for the best magazine and TV scripts, get communication going. The least each of us can do is make our treatment reports to owners lively and readable, attractive enough so these are left on the cocktail table to show off to guests…If we fail to assume responsibility for publicizing a fine image of ourselves, our work and the need for that work, no one else is likely to."
Conservators are frequently urged by their professional "unions" to solicit professional hype. In the March 2008 ICON NEWS, the (female) head conservator of Westminster Abbey protested when "one of the big Sunday newspapers published what we thought was to be a nice piece on the forthcoming restoration of the Westminster Sedilia [but instead] sensationally claimed that the central heating had directly damaged the Coronation Chair" – even though another (female) conservator at the Abbey had precisely told The Art Newspaper that "The central heating is the main problem" (see ArtWatch UK Journal 23). The Guardian and the British Museum recently ran a joint course advising conservators on planting conservation friendly stories in the press and broadcast media. As for whether or not there any great women picture restorers, there are certainly professional awards aplenty for them. In 2003 Stoner herself was awarded the AIC University Products Lifetime Achievement Award. In 2011 she further received both the AIC Paintings Speciality Group Award "for outstanding contributions to the field of paintings conservation", and the College Art Association and Heritage Preservation Award for Distinction in Scholarship and Conservation. In memory of her husband of sixty years, Caroline Keck set up The IIC Keck Award specifically for those judged to have contributed most "towards promoting public understanding and appreciation of the accomplishments of the conservation profession."
For all this question-begging conservation propagandising, it could well be Cecilia Giménez who attains the "immortal fame" that eludes her more professionally respectable peers. However high their working esteem, from the minute professional restorers retire hungry successors circle to undo and redo their work – which is why such a premium is placed on "easily removable" repainting. At the same time and despite all the Good News stories, succeeding waves of restorers remain riven with personal rivalries, conflicting methodologies and incompatible philosophies. Insofar as it is available, historically documented evidence of restoration practices frequently testifies not to any methodological progress but, rather, to a succession of variously compounding errors and injuries. With each generation failing to establish a properly critical literature or even to show an interest in developing appropriate methods of aesthetic appraisal, restoration itself remains an insufficiently examined arena in which restorers may play around putting things on and taking things off as the fancy takes them.
In our previous post, The "World's worst restoration" and the Death of Authenticity, we examined the consequences of restorations for a number of the world's most important artists (Leonardo, Michelangelo, Titian, Veronese, Holbein, Velazquez and Vermeer) that had been carried out in some of the most important buildings or museums. Here, we examine (right) the restoration-induced alterations in a small section of the surface of a single Titian painting. We should add that these comparisons are made from high quality hard copies of photographs taken by the National Gallery for its own conservation records and very kindly made available to us by the Gallery (along with access to the conservation and scholarly records themselves). We are greatly indebted and believe that the following comparisons are made not only on the best possible and most reliable evidence available, but are also fairly presented with the least possible distortion. Some of the comparisons shown (Figs. 11 and 14) were made by overlapping two photographs of before and after restoration states which had then been scanned together so that the extent of the differences between the two states can be gauged with complete confidence.
Michael Daley
Comments may be left at: artwatch.uk@gmail.com
The shapes that Lucas engineered here have no basis in Titian, have no basis in the vocabularies and shared understanding of his cultural era. Lucas's imposed innovations are arbitrary, without insight, unwarranted and vulgarly ahistorical.
---
wibble!