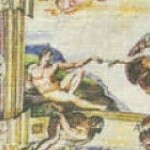 12 December 2013
It seems that there is to be yet another make-over at the Sistine Chapel. It seems that, for the Vatican, you can never have too much colour, or too bright a supply of lights – or too many paying visitors – in the Pope's private chapel. It seems that aesthetics are now under the control of technicians and bean-counters. Michelangelo is to suffer further indignities. The recent falsification of his work by "restoration" is now to be artfully compounded by bespoke hi-tech boutique lighting.
On 7 November, the Times' business section broke the news that the Sistine Chapel is about to be illuminated by no fewer than 7,000 new LED lights (by courtesy of technical wizards at Osram and EU Research funding). Their purpose is to "enhance" the experience for visitors (see Fig. 1, "Judgement day for a bright idea"). In the FT Weekend Magazine it is claimed that the 5m tourists who now pack into the chapel each year will "have a far better view" (Mind/Science: "Illumination: New Light on Michelangelo", 30 November 2013). This is on the grounds that, while the present lighting creates a "low-contrast twilight that fails to bring out the colours in Michelangelo's masterpiece", the replacement will facilitate "a completely new diversity of colour". This diversity is to be the product of artificially selective sources of lighting, quite unlike anything found in nature and unlike previous systems of artificial light used in churches and chapels.
There are two things wrong here. The first is that Michelangelo's colours have already been forced chemically into a false chromatic intensity by the misconceived and radically intrusive restorations of the 1980s and early 1990s. As we have repeatedly demonstrated (see bottom right), the homogenised applications of solvents-saturated cleaning gels stripped away the artist's own tonal modifications of colour and intensification of shadows, even though there was abundant evidence that this part of the frescoes was original work that had been recorded during the artist's own lifetime and throughout the frescoes' history. (On the aesthetically destructive impact of the cleaning method, see Figs. 3 and 4.) Second, this proposed attempt to flood the Chapel with artificial light constitutes a bizarre "own-goal" act of revisionism on the part of the Vatican.
That is, the defence offered at the time of the controversial restoration was that the new and startling colour effects (which many critics likened to Disney animation stills) had been calculated by Michelangelo himself so that his images would cut through the gloom of a smokey chapel. On that initial rationale there can be no aesthetic or historical justification today for flooding the Chapel with artificial stage-lighting that is to be ten times more powerful than the existing artificial lights.
In the December 1987 Apollo, the Vatican's official spokesman/consultant on art historical matters, Prof. Kathleen Weil-Garris Brandt, conceded that the "transformation of Michelangelo's mysterious dark frescoes, half visible but so familiar (at least from reproductions), into blazing, colouristic pyrotechnics… is attracting the most public attention and controversy." Nonetheless, she insisted that Michelangelo had "modelled his forms by means of colour" – this, despite the fact that his contemporaries had been united in the contrary conviction that he had done so by his unprecedented powers of light and shade. One apologist declared in December 1987 that all previous Michelangelo scholarship had been prey to what he dubbed "the Darkness Fallacy and the Sculptural Fallacy". It was further claimed that the revolutionary chemical excavation of the "New Michelangelo" was "one of the great revelations of our time" and that it required nothing less than the rewriting of art history.
Given this recent history, might Prof. Brandt – or any of the restoration's supporters at that time – ever have imagined that within a couple of decades the Vatican would conclude that the chromatically brilliant "New Michelangelo" would require artificial lighting ten times more powerful than that installed at the time of the restoration? If that seems inconceivable, let us turn the question round. Has there been in recent years any loss of chromatic intensity in the bare, stripped-down fresco surfaces that were left exposed for the first time in their history to the air-borne pollution of Rome? If not, why, as the FT reports, was it thought necessary to analyse Michelangelo's surviving pigments so that each one of the 7,000 new lights might be individually attuned to a spectrum that suits the said, specific pigments precisely as and where they are encountered on the present ceiling – and in the present "twilight that fails to bring out the colours in Michelangelo's masterpiece"?
This proposed adjustment of lights for the purpose of chromatic enhancement rather creepily resembles the use of projected light to simulate the original condition of colours that had faded in Rothko's Harvard murals. The authors of a paper delivered at the 2011 Lisbon ICOM conference on this particular usage on modern paintings, concluded that theirs is: "A novel restoration technique that uses colored light from a digital projector to compensate for color alteration… To the authors' knowledge, this approach has not been used previously for the restoration of paintings." So we ask again: Has the Vatican been monitoring the colours of Michelangelo's frescoes since the last restoration? If it has, have any changes and deteriorations been detected – and is this lighting system designed to compensate for them? Could the Vatican be attempting to launch by stealth what will be the world's first non-secular virtual restoration?
Michael Daley
Comments may be left at: artwatch.uk@gmail.com
---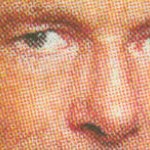 5th October 2011
Sir Simon Jenkins says a Tate Gallery restorer's repainting of one third of John Martin's flood-damaged "The Destruction of Pompeii and Herculaneum" (from a Photoshop composite of an old photograph and another version of Martin's painting) is brilliant. He says that the ruins of Pompeii itself, having been largely destroyed when bombed by the RAF "as part of its casual assault on European civilisation" should now be reconstructed according to our idea of how they might have been originally. He says that we should no longer fret about making mistakes when reconstructing the past because "seeking to re-interpet, even reconstruct, some works of the past no longer need attract jeers of 'Disneyfication', and that too is preferable to terminal decay." Given that Sir Simon is chairman of the National Trust, these sentiments are alarming as well as wrong-headed: the past, or what remains of it, is not ours to remake on modern prejudices and fancies – and with an eye on the tourist trade. There have been signs enough that the commercial exploitation of history and its surviving artefacts is gaining the upperhand over an appropriate respect for the integrity and authenticity of what has survived – not to mention evidence of a declining recognition of our own cultural limitations in these matters.
Michael Daley
Comments may be left at: artwatch.uk@gmail.com
---
wibble!