It's official: museum audio guides stop people from looking at pictures. It is now clear that it would better to dump them – the audio guides, that is.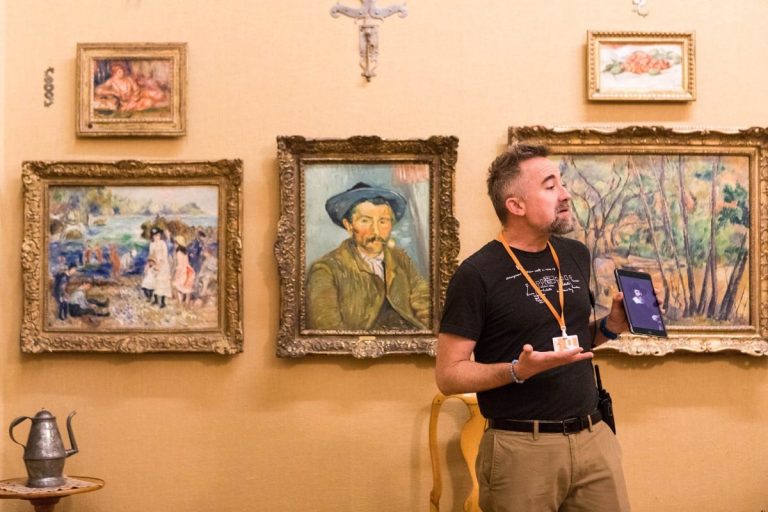 SYDNEY SCHAEFER, Staff Photographer. Clay Cofer, an Art Team member at the Barnes Foundation, does a pop-up gallery talk for visitors.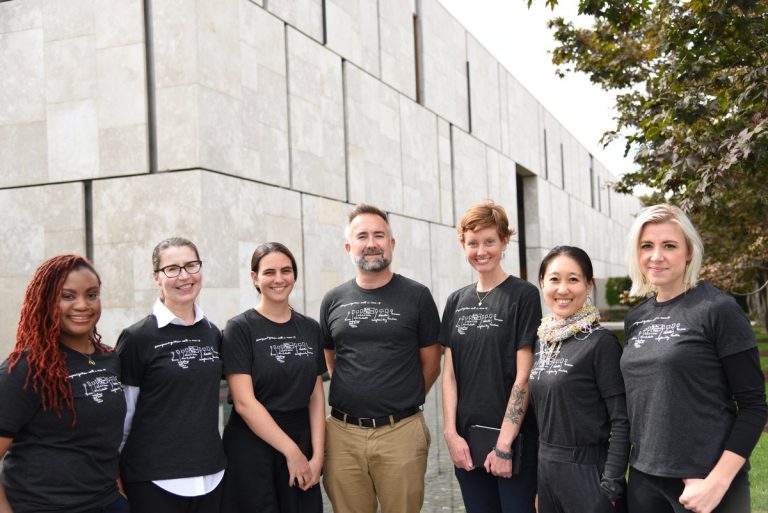 Nick Feldman photo. Courtesy Barnes Foundation. The Barnes Foundation Art Team members (from left) Tamara Mason, Ann Moss, Miriam Klingler, Clay Cofer, Amy Gillette, Florence Hsu, and Sara Land.
"…The Art Team is part of the Barnes' [i. e. The Barnes Foundation, Philadelphia] continuing effort to deepen its ties with its audience. Initiated by Shelley Bernstein, chief experience officer and deputy director of audience engagement, probably best known for her work with digital technology, the Art Team is notable for its relative lack of tech, at least for now.
"'You begin with the most meaningful thing first,' Bernstein said, alluding to engagement efforts. 'So this is what we call the human-interaction layer. It's not about technology. It's not about providing people with a thing or device. It's thinking about what human interaction should be in the galleries and what we want that to be and trying to get that right before layering in other things.'
"First came some testing. Perhaps surprisingly, Bernstein discovered that people spent a lot more time in the galleries without an audio tour guide (110 minutes) than with one (88 minutes).
"Why? Visitors always said they love and want the audio tour, she said. But they spend less time with the art when an audio tour is in play. People want to talk to one another. They even remove the audio tours.
"Bernstein checked with colleagues at other institutions, notably the Broad museum in Los Angeles, which has assigned a group to do everything from taking tickets to chatting about the collection with visitors.
"The Art Team is a result of these conversations and simultaneous visitor research. Audio tours were retired. Visitors were launched tech-naked."
Brilliant. Never mind the art jargon, this account in The Inquirer ("Art Team is Barnes Foundation's new twist on visitor 'engagement'") is a most heartening and culturally healthy development. Consider this passage:
"Orbe caught Cofer's rap in a small gallery filled with a Goya, a Renoir, a Manet, a de Chirico, and several other paintings, and pieces of ironwork and furniture.
"'Goya is a very important anchor from the past,' Cofer said to the people crowding the room. He swiped through iPad images. Back and forth.
"Goya harks back to Frans Hals, he told them. Manet, across the room, relates to Hals, as well. Consider Goya's brushstrokes, said Cofer. Consider the rosy complexion on his portrait here. Is it not like the rosy complexion of the Renoir portrait far down on the wall?
"Visitors watch Cofer's almost magical manipulation of his iPad images. And then, five or so minutes are up and he's gone."
For one thing, that intervention sounds very much in the spirit of Barnes' educational notions: let art speak through its own variously assembled images. More than that, it sounds positively subversive and revolutionary in terms of today's museum practice. Here is a man (it could be a woman, of course) who talks about art as art and who is clearly alert to artists' practices and to the distinctive, culturally-enriching uses to which past artists-of-talent, so to speak, have put them. In talking, he shows, he engages with images – he sees the eloquent testimony of brushstrokes (see picture below). How much more appropriate is that than the museum world's now bog-standard aesthetically obtuse didactic and patronising "story-telling"? (Whenever people talk of "Art and its Stories", we should all run a cultural mile: those who would convert art into class, sex or other politics are, by definition, technically philistine and therefore unfit for purpose.)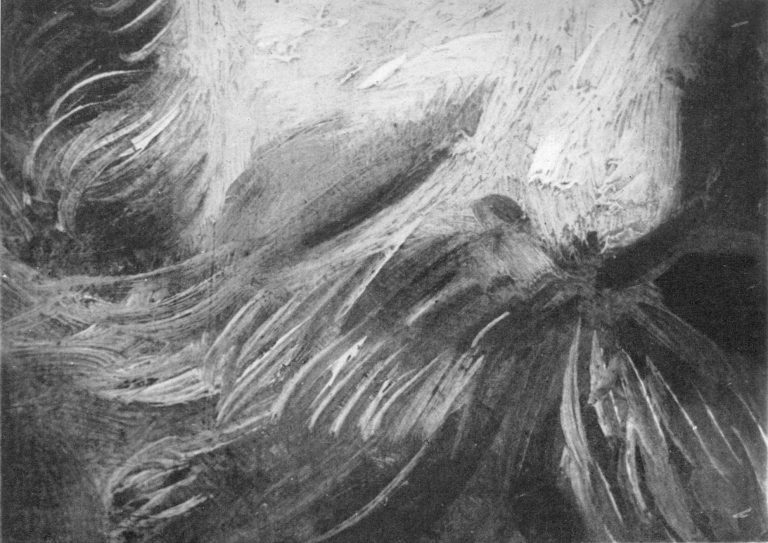 Is this historic photograph above – of a detail of Frans Hals brushwork – not worth a thousand of anybody's words?
Once, when looking closely at Titian's (now restoration-wrecked) Bacchus and Ariadne in a quiet lunch-time spell at the National Gallery, I half-registered a voice saying "I'm about to start talking about the painting" but, absorbed in thought, did not heed it. The phrase was politely repeated. When I turned I saw not only the NG badge-wearing speaker but an entire party of elderly grown-ups sitting on little fold-up stools like expectant primary school children. They were asked to identify the brightest colour in the picture. Hands shot up – "Blue!" they chorused. "That's right", the speaker said and she then asked: "and what is the pigment?" More raised hands and then a riff about lapis lazuli and its great expensiveness. Ariadne, the class learnt, was an abused and dumped woman whose depiction had been commissioned by a super-rich man for his private engendered-gaze…John Berger would have been so proud.
I wandered off and encountered another guide; another seated party (this time of teenagers sitting on the floor) in another gallery. The guide – a true "Dave Spart" – was explaining how Uccello's Battle of San Romano was a "celebration" (Berger again) of capitalists' hired mercenaries…and imperialist blood-letting.
On another occasion I went to re-examine the attributed Rubens Samson and Delilah without noticing a row of head-phoned tourists perched on a bench in the middle of the gallery. They soon began tutting. It seemed that by standing and looking at the painting I had breached cinema etiquette: the seated customers could no longer match the (paid-for) voice-in-their-heads to the image on the screen. They'll have usherettes soon, selling ice cream.
The greatest benefit/privilege/luxury of museums – the opportunity for people to examine works of art at their own pace while thinking their own thoughts – is being systematically denied by museum staffs grinding their own (- but DCMS-demanded) axes and harvesting cash from contraptions. Such, no less than the cumulative debilitation of the artefacts in the name of the name their "conservation", constitutes a crime against art and an injury to people.
Michael Daley, 6 March 2018
CODA – AN OPEN LETTER:
Dear all
The next issue of British art periodical The Jackdaw (May) will contain a statement against the current tendency in arts management to apply identity politics. The text is below. It does not contain any aesthetic, political or stylistic subtext. It simply asks for those in the art world to judge art works individually and on merit.
I and a number of artists, editors, writers and others will be signing the text. If you would like to add your name and how you would like it to be presented (i.e. "Dr Robert XX, art historian", "Sarah XX, artist") then please email David Lee, editor of The Jackdaw, at david.lee@thejackdaw.co.uk (T: +44 7773 673 722).
You are welcome to forward this email to anyone in the art world who may wish to add their name.
Thank you.
Regards
Alexander Adams
Against Identity Politics in Arts Programming
1) Art should be judged primarily on its intrinsic merit.
2) Artists should not be judged on their demographic characteristics but upon their merits as demonstrated through their production.
3) There should be no quotas (official or unspoken) along demographic lines regarding art programming, prizes, awards, bursaries, exhibitions and acquisitions, as well as the staffing of arts organisations.
4) Arts organisations should be staffed by individuals with sufficient competence, experience and personal attributes to make them suitable for their positions. In their official roles, they should be committed to serve art and their organisation not their private political convictions.
5) Consumers of art should not be patronised but treated as individuals of unique tastes and interests. If members of the public choose not to engage with art then that is not a failure; it is the choice of individuals. There should be no targets for audiences in terms of demographic characteristics.
6) It is healthy for opinions of various political outlooks to exist within the arts. It is important for reasoned dissent to be heard in order to combat the emergence of an unhealthy political monoculture.
We believe that if these principles are applied then the arts – and public life more widely – will benefit.
Yours, etc.
---
"What is the difference between a fake and an expertly restored genuine but damaged painting?"
SUSAN GRUNDY writes:
What is the difference between a fake and an expertly restored genuine but damaged painting? The line that differentiates between the two is extremely fine and, as such, the skilled restorer is sometimes also the skilled forger, as was the case with the twentieth-century Dutch artist Han van Meegeren.
Frans Hals and Van Meegeren's first forgeries
Fig. 1. Attributed to Han van Meegeren The Laughing Cavalier, pastiche after Frans Hals (updated c.1923). Oil on panel, 36 cm in diameter. Whereabouts unknown.
Fig. 2. Attributed to Han van Meegeren The Satisfied Smoker, in the style of Frans Hals (updated c.1923). Oil on panel, 57 x 49 cm. Groninger Museum, Groningen.
The Dutch artist Han van Meegeren (1889–1947) is best known for his fake Vermeers, at least one of which ended up in Nazi hands. However, his first (almost successful) known forgeries were actually restorations. He and Theo van Wijngaarden (1874–1952), his partner at the time, scoured around for low-valued works, genuine only in their antiquity. In 1923 they managed to scout out two panels, in the style of Frans Hals (1580–1666), that were "murky and badly damaged" (Wynne 2007 – see Endnote 1). The outline of a composition existed, in this case portraits, and the spirit of the times was already evident in the technical application, that is, in the way epochal followers of Frans Hals handled materials. Han had just to clean and stabilize the paintings, and then to extensively remodel them. Was this repainting or overpainting, or even "'inpainting,' 'loss integration,' 'loss compensation,' or 'retouching'" (- Hill Stoner & Rushfield – see endnote 2)? The answer is semantically determined by the aims of the practitioner, not by the response of the viewer.
Nevertheless, what Han and Theo did next was to cross the line. Han tried to mask the extensive freshness of his paintwork by using lavender oil, at Theo's suggestion, and Theo explained away any suspicious objections of critics with the phrase "recent restoration" (Wynne 2007). Theo organized for the panels to be shown to Cornelis Hofstede de Groot (1863–1930), a former "deputy-director of the Mauritshuis and a critic instrumental in defining the oeuvre of both Rembrandt and Vermeer", and had them presented to him as a recently restored possible autograph Frans Hals (Wynne 2007.) In this way Han van Meegeren and Theo van Wijngaarden became criminals.
Blending and integration
In order to raise a blended surface retouchers will sometimes add faked painted craquelure. High levels of retouching are demanded, even today, with the aim for restored works to be as fully integrated as possible, that is, original areas merging visually with filled and retouched areas. Such practices facilitate the ease with which cavalier restorers can cross that fine line from restoration to forgery, making it much easier to slip forgeries into an artist's canon. Furthermore, as Han and Theo were both restorers, they knew the value of having panels in less than optimal condition, which they then fixed, adding to the veneer of originality as was the case with one of the Frans Hals copies, The Laughing Cavalier (updated c.1923 – Wynne 2007, Fig. 1). Indeed, throughout his career Han was careful to bash his works about a bit, and then "restore" them again, in order to sustain the authenticity of age.
Forgery and the connoisseur
Han van Meegeren was not only a practical artist, but it would appear also a studious connoisseur. He knew his Old Masters. "His long years studying the Golden Age and his passion as an apprentice for imitating the work of the masters gave him an understanding of Hals's rapid brushstrokes, his dramatic shading and the characteristic silvery sheen of his work, so different from the golden glow of a Rembrandt" (Wynne 2007). Han was no mere imitator, however. He took a discarded copy by an unknown artist, and by careful restoration methods and creative additions, he turned it into an autograph "Frans Hals". De Groot took the bait. He wrote a certificate for the van Meegeren The Laughing Cavalier, categorically attributing the work to Frans Hals, and the panel sold to the auction house Frederik Muller for the equivalent of £120,000 in today's money (Wynne 2007). This is evidently substantially more than it would have realized sold honestly as the heavily restored copy it was. The second panel, The Satisfied Smoker (updated c.1923, Fig. 2), de Groot bought directly from van Wijngaarden as a Frans Hals and added it to his own collection (Lopez 2009 – endnote 3).
However, it did not end all in the bag for Han and Theo because even before the cheque was cashed another art historian and connoisseur Abraham Bredius (1855–1946) stepped in and denounced The Laughing Cavalier as a fake. De Groot fought him on the issue, claiming that evidence of modern materials found on the painting, which was subsequently studied by a panel of experts, were only the result of the recent restoration. The team found artificial ultramarine, cobalt blue and zinc white, in the "extensive recent repainting" (Wynne 2007). It is not clear if these pigments were found only in infill sites, or also over more authentic pigments. Indeed, by definition, the presence of these pigments on areas of loss would not constitute immediate grounds for denouncing a work fake, even today. De Groot went on to defend his authentication of this work in print, publishing an article "Echt of Onecht [Genuine or Forgery]" in 1925 (Wynne 2007).
De Groot never accepted that Han van Meegeren's The Laughing Cavalier was a forgery. In fact De Groot never even knew the forger was Han van Meegeren, as he died in 1930 long before van Meegeren was outed. De Groot bought The Laughing Cavalier from Frederik Muller (Wynne 2007) and his collection thereafter was bequeathed to the Groninger museum in 1930. The Satisfied Smoker in the style of Frans Hals, but now attributed to Han van Meegeren, remains in that museum. The other work on panel, The Laughing Cavalier, is whereabouts unknown.
These events, although historical, highlight the role of restoration not only in authenticating artworks, but also in (re)creating them.
Susan Grundy, 1 July 2016
Susan Grundy is an independent art historian and collector. She is currently exploring the concept of Old Master collecting, restoration and authentication as a type of Performance. Her Doctoral (2009) and Masters (2005) research concentrated on Art and Optics, in the new field of quantitative, scientific and technical art history, and she has subsequently published extensively on issues of authenticity in art.
Endnotes
1 Wynne, F. 2007. I was Vermeer: the forger who swindled the Nazis. London, Bloomsbury: pp 74-77.
2 Hill Stoner, J. and Rushfield, R. (eds). 2012. The conservation of easel paintings. London and New York, NY, Routledge: p. 607.
3 Lopez, J. 2009. The man who made Vermeers: unvarnishing the legend of master forger Han van Meegeren. Boston & New York. Marina: p. 9.
[Coming next: Bye-bye Bella Principessa]
---
wibble!