---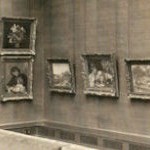 I June 2012
The Frick Collection's recent temporary exhibition "Renoir ~ Impressionism and Full-length Painting" contained ten pictures and took ten years to assemble. It was organised by the deputy director, Colin Bailey, to showcase the The Promenade, the museum's sole and "somewhat overlooked" Renoir – "overlooked" because Henry Clay Frick's entrenched prohibition against loans had prevented the picture from travelling to major Renoir shows such as the 1997-78 "Renoir Portraits" exhibition which Bailey had organised for the National Gallery of Canada, Ottawa, The Art Institute of Chicago and The Kimbell Art Museum, Fort Worth. If the Promenade could not join the international party then the party might come to the Frick.
For this celebration of a single work nine major pictures were borrowed from seven museums and Bailey, a distinguished scholar of French art, produced a book/catalogue that contains much illuminating material on contemporary costume and fashionable mores. As delightful as the show itself ought to have been, the experience proved dispiriting and alarming. Partly, this was because such temporary compilations of dream combinations always come with downsides and a common glaring omission. In this case, for several months a gallery-full of important Frick pictures were bumped from view as important works from other, also temporarily depleted, museums were put at risk. The Musée d'Orsay, for example, sent both its Dance in the City, which had been transferred from its original canvas and relined (see Figs. 10-13 and below), and its Dance in the Country, across the Atlantic. The National Gallery (London) sent its already travel-damaged The Umbrellas, and did so at a time when it had lent its brittle, fragile, shotgun-blasted, "never-to-travel" Leonardo Cartoon to the Louvre. The Columbus Museum of Art, Ohio, lent its fire-damaged Madame Henriot "en travesti" (The Page)…and so forth.
The omission that is common to all borrowed compilations was the failure – perhaps for reasons of institutional politesse – to take the opportunity to assess the relative physical conditions of the variously treated and restored cross-section of pictures from within an oeuvre or, in this case, from a specific moment within an oeuvre – "the decade of Impressionism". This commonly encountered lacuna was the more apparent because Bailey himself discusses conservation matters rather more than most. He does so, however, as a seemingly grateful recipient/beneficiary of museum restoration departments' technical largesse and their routinely delivered "discoveries". With his prefatory expression of deep gratitude to an international slew of conservators for "their participation in undertaking technical examination on the paintings in their charge and for allowing me to publish their findings in this catalogue" we knew precisely what critical appraisals not to expect.
Strictly speaking it would not be necessary to call for comparative assessments on such occasions if museums were all, as a matter of course, completely frank about the restoration-injured conditions of individual works. By way of an example of what might be discussed at a time when recollection of the show is still fresh and when armed with Bailey's book/catalogue, which is as intensively researched and handsomely illustrated as might ever be expected, we consider here the technical history, in so far as it has been disclosed, of just one of the nine loaned pictures – Renoir's beautiful invention of arrested intimacy-in-movement, his Dance in the City.
The obvious starting point for any appraisal of a picture's successive states should be the earliest photographic record of the work. With Renoir we enjoy an immense if not comprehensive photographic record. We even have film footage of him painting and sculpting. We have contemporary or near-contemporary photographs that show his paintings in the context of close proximity to other paintings and in a common light (Fig. 1). When the testimony of early photographs differs markedly from presently photographed states (as so often is the case with modern masters – see Figs. 3-7), then, self-evidently, there is an issue crying to be addressed.
When, for example, we compare the very different states of Renoir's Dance in the City, as seen in Figs. 3 & 4, despite making allowances for photographic variations (such as the great discrepancies of size between the earlier and later images) and being mindful of Bailey's own thanks to the photographer Michael Bodycomb for having "improved the quality of almost every image"), it is clear that the painting today is not the work that it once was; that its values and relationships have changed. Consider the floor on which the dancers perform: then, it was more varied in its tones; today it is more equal. Then, the floor to the right of the ball gown was darker than the floor to the left of the couple. That darkness served to emphasize the sweeping profile at the back of the trailing gown. Reading downwards from the waist, the shape of two convex masses of material formerly made a leisurely elegant descent towards the train. Today, that "materially" expressive clarity of design in the lower of the two draped forms has been quite disrupted, if not lost, as the now lighter tone of the floor merges with the now diminished shaded tints of the gown (see Figs. 3, 4 & 11).
For all of Bailey's admirably close (and expertly advised) attentiveness to the dress-making "mechanics" of the gown – "…The skirt is draped in puffed folds (en bouillonée) with a tier of drapery in the front and two pleated flounces at the bottom. The long train is is draped and pleated to form poufs in the back, and a petticoat can be glimpsed beneath it" – he misses the weakened and possibly redrawn profile. Bailey well describes Renoir's preoccupation with costume. As the son of a tailor and a seamstress, how could that artist have been unaware of or indifferent to the expressive "cut" and sweep of a costume on a swirling, waltzing figure? Previously, the costume of the male dancer was more various in its tones. Today it reads as a uniform black appendage to the female dancer. Previously there had been no hint of the present overly-assertive, sharpened and darkened treatment of the coat tails which pictorially are now as disruptively emphatic as the head of a claw hammer.
For Bailey, the now lighter toned, more equal floor is "immaculate". To a charlady that might well seem gratifyingly the case, but Renoir, as Bailey acknowledges, fretted greatly about establishing integrated relationships of figures and backgrounds. As Renoir himself put it: "I just struggle with my figures until they are a harmonious unity with their landscape background, and I want people to feel that neither the setting nor the figures are dull and lifeless." ("Renoir by Renoir", N.Y., 1990, p. 50). "Harmonious" sometimes seems to be an elusive concept to non-artists. It is not synonymous with "more-alike". Rather, it describes the uniting through an artistically forged equilibrium of otherwise potentially disparate, disjunctive elements. We constantly see in artists' preliminary, intimate sketches how their very first thoughts attempt to anticipate and resolve the requirements of such pictorial equilibriums – see Figs. 8 & 9.
Rendering Renoir's dance floor more homogeneous has had a spatially flattening and pictorially deadening effect. Rendering it both generally lighter and more equal has contributed to the unfortunate effect of detaching the couple from their swirling space and leaving them as isolated and self-contained as a pressed flower in a book. Indication of the painter's pictorially melding preoccupation is unmissable in the small oil sketch at Fig. 9 that Renoir made for another of his dance paintings. Compared with the earlier state of Dance in the City, the present one resembles an artificially sharpened photograph.
With apparent injuries we must always look for causes and look for them behind as much as within official accounts. As mentioned, and as Bailey euphemises, this picture has "had a complicated structural history". That is, it has been both transferred and relined. Both operations are highly dangerous. When the paint film was detached from (its presumably original) canvas, the restorers took the opportunity to photograph the painting from the back of the paint, capturing the image in reverse. This image is excitedly presented as having afforded "a rare glimpse into Renoir's initial preparations…we can see the lines demarcating the back and the train of the womans dress" (but see comments and photograph at Fig. 10). In the same vein, an X-radiograph "shows how enegetically Renoir laid out both his figures and the background elements". Bailey discusses an infrared reflectogram (Fig. 11) and acknowledges that these "technical" images were made by the Laboratoire du Louvre, C2RMF. Our colleague in ARIPA, Michel Favre Felix, advises that a certain number of paintings coming from the Louvre or from "l'Orangerie", were "more or less restored" in 1986 on entering the Musée d'Orsay. Bailey confirms that the picture entered the Louvre in 1979 and was transferred to the the Musée d'Orsay in 1986 but offers no details on any restorations of the picture. The pronounced differences in the picture that are evident in Figs. 4 and 13 would however suggest that a restoration took place at some point after 1986.
Needless to say, Renoir painted from the bottom up with overlaid patches of paint and his final, most considered statements therefore formed the upper visible surface of the original paint film. That original, considered and final surface (as was best seen and recorded in the earlier photograph at fig. 2), is no longer to be found in current photographs or in the flesh. Whatever interest penetrative imaging might have, it is secondary in importance to the actual appearance of pictures to the human eye. The current escalating vogue for "technical" imaging that probes beneath the surfaces of pictures serves to divert attention from destructive restoration actions on pictures' critically important upper surfaces. If the present international museums merry-go-round of borrowings makes the need to address the condition of paintings impolitic, then that is a further compelling reason for curtailing it.
Michael Daley
Comments may be left at: artwatch.uk@gmail.com
---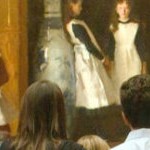 15th May 2012
The hardest thing to do in today's internationalised world of museum administration is to stand still. A trip to New York always compels a visit to the delightful time-frozen art palace that is the Frick Collection but it would seem that, even there, maintaining the status quo there has proved unendurable. Madcap schemes to build new galleries for new exhibitions under the Frick's garden have been drawn up. It is possible that the new director, Ian Wardropper (former chairman of the department of European sculpture and decorative arts at the Metropolitan Museum of Art), has dampened ardour for the kind of curatorial and physical "bolt-ons" that have skewed similarly bequeathed jewels like the Wallace Collection in London and the Phillips Collection in Washington (where today the historic works and their period architectural setting have been swamped and diminished by curatorial and architectural expansionism; where today "Special exhibitions are a signature element …offering new perspectives on the work of contemporary and modern artists.") The Frick's director does however seem minded to expand the audio tours and "other educational programs" and a book prominently displayed in the Frick's shop (see right) serves as explicit manifesto for Education's bid to interpose itself noisily at the very centre of museums between art and its visitors. As the painter Gareth Hawker describes below, something vital and of the essence is threatened by the prospect. And, as the painter James Keul discovered on a recent visit, something similar is already up and running at the Getty:
"The docent in the Rembrandt room of the East Pavilion upper level, which covers art from 1600-1800, was speaking to a tour group of about 20 people, mostly middle-aged, and asking what observations people had made on the small painting of the Abduction of Europa. One member of the group asked why all of the paintings appear so dark. The docent answered that varnish and oils applied over the years had darkened, leaving many works darker than they were intended to be. Presumably, this was meant to plant a seed in peoples' minds that all dark paintings are the result of a darkened varnish rather than an intended effect that was used, in this case by a Baroque artist, to provide contrast and thus bathe a picture in a divine light…"
Gareth Hawker writes:
Visitors who plan a quiet hour or so contemplating works of Art in an American museum risk being accosted by guides called "Docents" who intend to deepen their museum experience. Docents, according to Rika Burnham and Elliott Kai-Kee, the authors of "Teaching in the Art Museum: Interpretation as Experience" (2011, Getty Publications – see Figs. 1 – 4), seek to enable the visitor to "make meanings". The book's purpose "is to explain making meanings – to open the world by means of art". Although many readers might be baffled by such sentences as: "metacognition is a byproduct of practice and it facilitates profound experience", Burnham and Kai-Kee's respective positions as Head of Education at the Frick Collection, New York, and Education Specialist at the J. Paul Getty Museum in Los Angeles, requires that their campaign to help docents influence a whole culture by shaping the public's attitude to works of Art be examined.
Docents are amateur enthusiasts, who have been trained to a high level – though not to degree standard – in both teaching and art history. They come from all sorts of backgrounds, and are of all ages. They probably think of themselves as more or less ordinary people who enjoy appreciating art and wish to help others to do so.
The position of the Docent was created in 1907 in response to a perceived need. Visitors to art galleries wished for a guidance in appreciating works of art which was deeper than that being provided by art-historical lectures. Docents were trained and appointed to meet this need by providing an education in aesthetic pleasure. Nearly a century later, there is no longer agreement about what might be meant by "an education in aesthetic pleasure". So this book appears at an opportune moment, just when museum educators are seeking to clarify their roles.
In order to help redefine their objectives, Burnham and Kai-Kee refer to the work of the educationalist John Dewey who wrote in his classic 1934, Art as Experience, that "The task is to restore confidence between the refined and intensified forms of experience that are works of art and the everyday events, doings, and sufferings that are universally recognized to constitute experience." Dewey had identified an ideal response to a work of art. The visitor would begin by gaining an "experience" (that is, a sense of unity). A teacher might help the visitor in this, by stimulating and guiding his thoughts, but without ever imposing any view or judgement. In this way, "guided interpretation" might help the visitor to "make meaning" – to recognise relationships in many aspects of life and art. At its highest this process can generate a sense of over-arching interconnectedness which Dewey called a "culmination".
In one exercise, students working in a group are encouraged to offer up any ideas and reflections which come to mind in reaction to a painting. These "thought showers" sound as if they could be open and productive, but, if a student asks an awkward question, the process seems to go into shut-down, as the following account (p. 71) may illustrate:
"The picture (the Frick Saint Francis by Giovanni Bellini) is beginning to cast its habitual spell. Suddenly, without warning, in a slightly confrontational tone, one man in the group asks, 'What's the difference between a work of art and a mere illustration? This might be just an illustration.' [See Fig. 2] The question raises larger philosophical issues that are more difficult than he probably realizes and than I can accommodate in the context of a gallery program. I urge him to be patient. Perhaps the experience of the painting may begin to resolve the question, at least for him."
The docent hopes that the student's experience of the painting might begin to resolve his question – ignoring that fact that it was his experience which had prompted the question in the first place. Perhaps only certain types of experience are acceptable. (Dewey made a distinction between "experience" and "an experience"). The docent also suggests that the student's question might be resolved, "for him", as if his question were personal; as if he were troubled by a mental hang-up; and as if she were his counsellor. But his question was not personal. It was a general question about how works of art may be classified. An answer which was good only "for him" would not have addressed the issue – if indeed such an answer could have any meaning at all.
So, to summarise, the teacher has judged that her student has had the wrong kind of experience, but will not explain why; she judges that he is probably ignorant of issues which are connected with his question but she will not tell him what they are. This begins to look less like an application of Dewey's theories and more like a power-struggle in which the docent issues a put-down and asserts her superiority.
As so often throughout the book, while the theories seem perfectly innocuous, even illuminating, it is the way in which they are put into practice which gives cause for concern. The authors seem to share a general squeamishness about talking about artistic quality. This is a mindset which is just as prevalent in Museum education in the UK as in the USA. While the authors appear to accept Dewey's observation that works of aesthetic merit may be found at all levels of human endeavour, not solely in High Art, they apparently interpret this to mean that one must not point out the difference between good and bad.
The authors do mention the importance of looking and seeing, but by these terms they seem to mean finding and telling stories, rather than observing shapes and colours. Works are treated as objects to be read, like books, with stories to be discovered and assimilated. Looking at a painting for its artistic qualities is considered only as a small part of a student's involvement, not of central importance. (Whistler's Ten O' Clock lecture, with its concentration on qualities such as colour, tone and shape, would form a stark contrast to the narrative approach outlined here.)
For the authors, talking is an essential part of the process of experiencing a work of visual art. The authors would like to see the docent become increasingly prominent in museums. They wish to see teaching develop in such a way that, "galleries may be defined as places where dialogues take place around works of art" (p. 151). This means that galleries would no longer be defined as places where one goes to look at paintings. They would no longer be quiet. The authors envisage galleries "filled with the hum of conversation […as] educators move from the periphery to the center." But this move may have harmful consequences. If visitors learn to think of the appreciation of works of art as a series of "experiences", with little regard to artistic quality, their eyes will be closed to many fundamental aspects of the art of painting. Such visitors are unlikely to observe that some pictures are better than others. They will not notice when quality has been reduced over time: when paintings have been degraded by insensitive restoration "treatments". Their non-judgemental, non-critical stance will make them easy prey for apologists who promote restorations with appeals to crude sensation such as, "now we can see what was underneath that dark paint!" or, "now look at how bright that blue has become!"
Works of art will be relegated to the status of tools which enable the visitor "to open the world by means of art." Defining the function of art in this way is simplistic. Art can have many meanings or none at all, yet we can still recognise that it is "right" – if our minds are quiet. Yet the museum of the future which the authors envisage is hectic and noisy.
"Responsible for the continuing translations of meaning that occur in the new museum, the educators who teach are the most accomplished members of the education department, best qualified to shape and animate museum programs. They lead the department, define its philosophy and mission, and overturn the historical definition of teaching as a peripheral, volunteer, or entry-level activity."
If, by "translations of meaning" the authors mean anything like the "guided interpretation" we have seen in the verbatim accounts of their teaching sessions, we know that it will involve subtly pressurising the visitor to conform to their view of art, "shaping and animating" his "experience".
A quiet hour contemplating beautiful paintings looks likely to become ever more elusive if the authors get their way.
Gareth Hawker
Comments may be left at: artwatch.uk@gmail.com
---
wibble!