It's official: the BBC remake of Kenneth Clark's highly acclaimed television series Civilisation is an intellectually incoherent artistically obtuse "right-on" mish-mash. It is official: Glasgow is repeatedly dicing with Burrell's bequeathed art for financial peanuts and supposed profile enhancement.
NICE PICTURES, POOR WORDS
Above, top, Kenneth Clark shooting on the still-acclaimed 1969 series Civilisation; above, Simon Schama fronting the scathingly-received 2018 multi-voiced Civilisations outside Itimad-ud-Daulah's Tomb in Agra, Uttar Pradesh.
"…By adding a single pluralising letter to the classic BBC art history series Civilisation (1969), the programme makers of Civilisations opened up the tantalising possibility of producing a new TV series that didn't simply match its singular predecessor, but was much better.
"You can see the sense in the idea. Instead of an old-fashioned, patriarchal, white, western, male view of human cultures and creativity, why not make a show that acknowledges there are different civilisations and different views, which can be put across by different presenters? (In this case, three TV-ready, scarf-wearing academics: Mary Beard, David Olusoga and Simon Schama.) …from the programmes I have seen, Civilisations is more confused and confusing than a drunk driver negotiating Spaghetti Junction in the rush hour.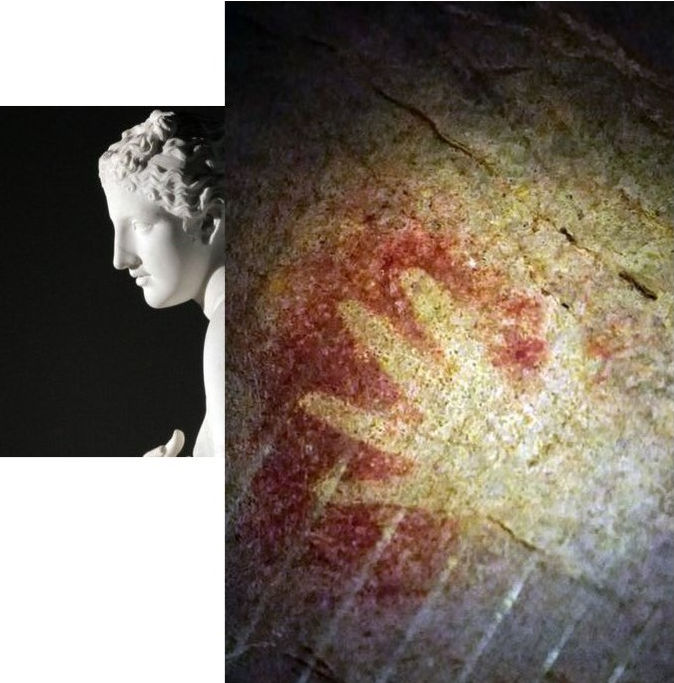 Above left, Aphrodite of Menophantos, Praxiteles, (4th Century BCE), Palazzo Massimo alle Terme, Rome; above, right, Hand Stencils found in the Cave of El Castillo in Spain.
"The series starts with Schama – who has 'always felt at home in the past' – showing us library footage of an Islamic State wrecking crew in Mosul destroying ancient art and artefacts.
"He tells us the grisly story of how they brutally murdered the 82-year-old Syrian scholar Khaled al-Asaad for withholding information from them as to the whereabouts of the antiquities under his curatorial care in Palmyra.
"'The record of human history brims over with the rage to destroy,' the historian tells us with his passion dial turned up all the way to 11 (it rarely dips below 10).
"There is no mention made of similarly barbaric acts that have taken place over millennia – on occasion perpetrated by a civilisation much closer to home – or an explanation as to the cultural rationale behind the actions of those wielding the sledgehammers in this instance.
"…Music swells, titles roll, and we're off – back to the beginning and the caves of South Africa, where we are shown a 77,000-year-old block of red ochre with the 'oldest deliberately decorative [human] marks ever discovered'.
"This is 'the beginning of culture', Schama tells us, but he doesn't dwell. Moments later we're travelling through time and space like Doctor Who in a sci-fi remake of Treasure Hunt, touching down around 40,000 years later in northern Spain to visit El Castillo Cave.
"Here, both the programme and the presenter start to settle down and enjoy what they've brought us to see: cave paintings and hand stencils.
"Apparently similar images have been found 'as far apart as Indonesia and Patagonia', which is interesting. But then frustrating as no explanation is forthcoming to enlighten us as to why that might be.
"We are told: 'These hand stencils do what nearly all art that would follow would aspire to. Firstly, they want to be seen by others. And then they want to endure beyond the life of the maker.'
"Really? Was that actually the motivation behind our stencil-making ancestor? Was he or she honestly most concerned with artistic ego and posterity? Were the painted hands even intended as art? Could they not have been a functional way-finding device or a ritualistic mark or part of a magical spell?
"…These are patchwork programmes with rambling narratives that promise much but deliver little in way of fresh insight or surprising connections.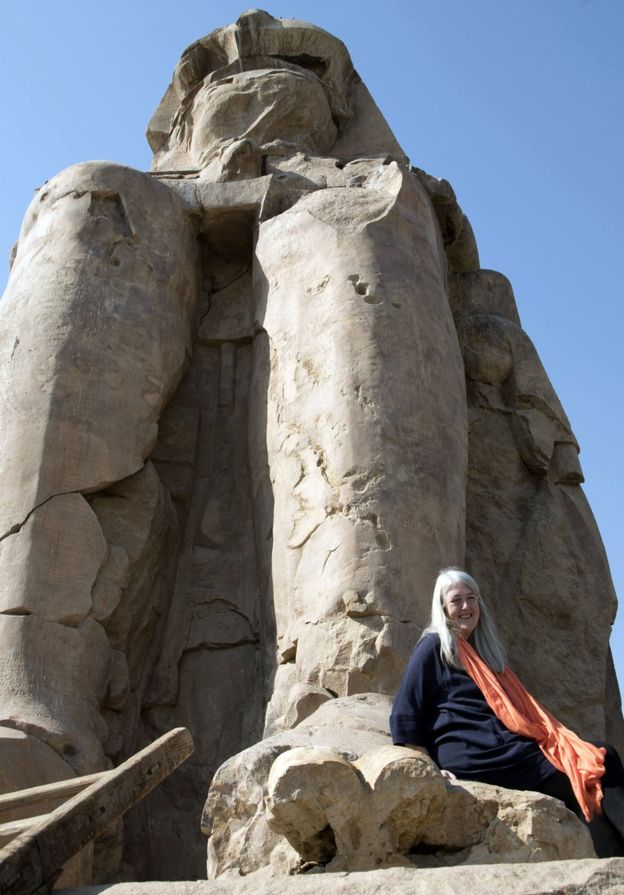 Above, Mary Beard fronting Civilisations at the Colossi of Memnon in Luxor, Egypt.
"Mary Beard's episode, How Do We Look, is particularly disappointing because the premise is so enticing, as is the prospect of one of our foremost thinkers on matters cultural giving us a new perspective.
Sadly, other than a couple of memorable TV moments when Beard encounters an ancient statue for the first time, we are offered little to excite our imaginations.
We don't get the alluded-to update on Clark's Eurocentric views or on John Berger's Walter Benjamin-inspired Ways of Seeing series.
There is no substantial new polemic with which to wrestle. Instead we are served a tepid dish of the blindingly obvious (art isn't just about the created object but also about how we perceive it), and the downright silly (an ancient story about a young man who supposedly ejaculated on a nude sculpture of Aphrodite thousands of years ago, which Beard describes with great theatricality as rape – 'don't forget Aphrodite [the stone statue] never consented').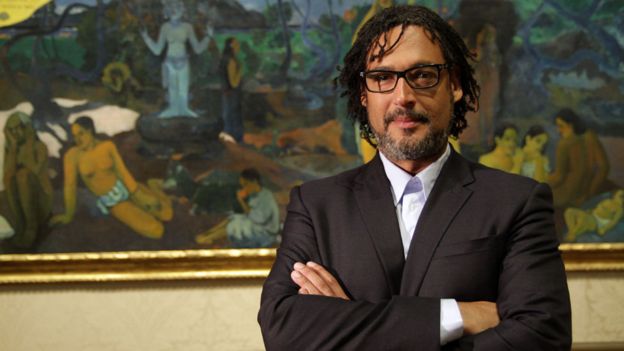 Above, David Olusoga fronting Civilisations with Gauguin's Where Do We Come From? What Are We? Where Are We Going? at the Museum of Fine Arts, Boston.
"David Olusoga is altogether more measured and less mannered than his fellow presenters. His two films – one exploring the meeting of cultures between the 15th and 18th Centuries, the other looking at the enlightenment and industrialisation – benefit from his inquisitive nature and relaxed style.
"If the scripts in the series are far from being literary masterpieces, the camerawork is of the highest quality throughout – although there are too many stylised shots of out-of-focus presenters with their backs to us.
"But when trained on art and artefacts, the new technology and techniques at the 21st Century TV director's disposal provide us with plenty of delicious visual treats (the images from Simon Schama's trip to Petra are stunning).
"Ultimately though, Civilisations feels like a series made by committee: a terrific-sounding idea on paper that I suspect was a lot harder to realise in practice.
"The result is a well-intentioned, well-funded series that has top TV talent in all departments but which ended up being less than the sum of its parts. A case of too many cooks, maybe?"
– Will Gompertz, the BBC's art editor (Will Gompertz review: Civilisations on BBC Two 3 March 2018).
NICE PICTURES, NEEDLESS MULTIPLE RISKS
Above, Edgar Degas, The Rehearsal (1874) CSG CIC Glasgow Museums Collection
"Fascinating details about a tour of the Burrell Collection's late 19th-century French paintings have been revealed. Financial data on touring exhibitions is normally highly secret, but the Burrell's data has been recorded in a report for a Glasgow City Council meeting on Thursday (8 March). This meeting is expected to approve the exhibition loans.
"A group of 58 works is being lent to the Musée Cantini in Marseille, which reopens on 18 May after refurbishment. The council report values the 47 paintings and 11 works on paper at £180.7m. The pictures include Degas's The Rehearsal (around 1874) and Cézanne's The Château of Médan (around 1880).
"Although the Japanese tour will be larger, with 55 paintings and 25 works on paper (including seven non-Burrell works from Glasgow's Kelvingrove Art Gallery and Museum), the value of the loans will be lower: £141.8m.
"What is even more interesting [is] the complex financial details of the deal. No fee is being paid by the Musée Cantini, but a sponsor is assisting the Burrell. It will contribute €100,000 towards the exhibition costs and €50,000 towards the Burrell's refurbishment costs. The Art Newspaper understands that the sponsor is likely to be the London-based financial advisors Rothschild & Co and its new Marseille banking partner, Rothschild Martin Maurel.
"The Japanese tour, which will go to five venues from this October to January 2020, is being financed on a different basis. Each venue is paying a hire fee of £30,000, plus £1 per visitor after the first 100,000. If, for the sake of argument, each venue attracts 150,000 visitors, then the full total from Japan would be £400,000 (plus €50,000 for the French venue).
"When the tour idea was first considered, five years ago, the Burrell hoped to raise many millions from a touring exhibition, but this target has proved much too ambitious. James Robinson, the director of the Burrell Renaissance project, says that 'profile raising for the Burrell and for Glasgow is just as important as the funding'.
"The Burrell Collection… building is now in need of a fundamental refurbishment. The cost of the refurbishment project is estimated at £66m, which means that the touring shows may bring in around 1% of the total. Glasgow City Council is to provide up to half the £66m and the Heritage Lottery Fund has awarded £15m, with contributions from other donors.
"Under the terms of Burrell, who died in 1958, his works could not be lent abroad because he was concerned about transport risks. In 2014 the Burrell trustees obtained special approval from the Scottish Parliament to enable them to lend abroad. The collection's works by Degas are currently on loan to London's National Gallery, until 7 May.
"The Burrell Collection closed for refurbishment in October 2016 and is due to reopen in late 2020."
– Martin Bailey, "Revealed: the profits of staging a touring exhibition", The Art Newspaper, 5 March 2018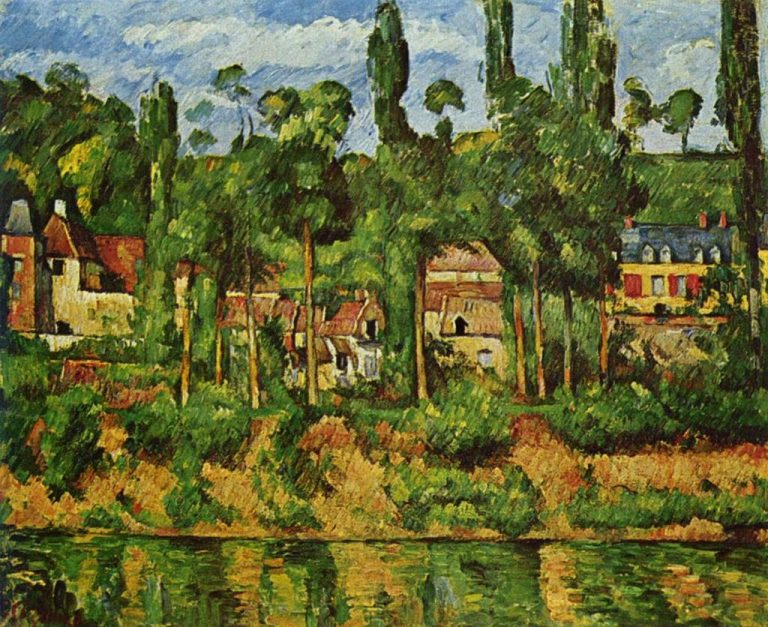 Above, Cézanne, Château de Médan (1880) CSG CIC Glasgow Museums Collection
Michael Daley, 5 March 2018
Coda: For our earlier words on the overturning of the terms of Burrell's bequest, see:
"Protecting the Burrell Collection ~ A Blast against Risk-Deniers";
"Betraying Burrell – Shame on Glasgow";
"Barnes, Burrell and a Beck Memorial Lecture: 'Philippe Mercier Watteau's English Follower' ~ by Martin Eidelberg";
and, "THE FATE OF SCULPTURES AT: 1) The Metropolitan Museum of Art; 2) The British Museum; 3) The National Museum of Kolkata; 4) The Academy of Art in Perugia; And, the Burrell Collection next?"
---
---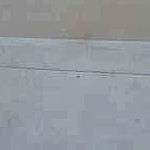 25 November 2013
A few years ago a director at the Victoria and Albert Museum, was chided for producing blockbusters that bust no blocks. Today, aside from its catering and retailing outlets, that museum – which once advertised itself as "An ace caff, with quite a nice museum attached" – has a department exclusively dedicated to the production of special exhibitions. It generates eight exhibitions a year with a further fifteen travelling around the world at any one time (see "The world is her oyster", in the Autumn/Winter 2013, V&A Magazine). As more and more of Art's Flying Dutchmen encircle the globe, an awful lot of holes are appearing in the collections of great museums – as at the Louvre, as Didier Rykner has eloquently demonstrated ("The Louvre Invents the Gruyère Museum" ). This development is perverse as well as regrettable: a chief defence that museums make when seeking funding for expensive acquisitions is that they are needed to fill crucial gaps in a collection.
At the British Museum the number of loans (and therefore holes) doubled between 1985 and 2000, in which year 214 objects or groups of objects were loaned. That was for starters. In 2008, under its present globe-trotting director, Neil Macgregor, the museum got 2,500 objects "on the road" in Britain alone. In a submission this year to the Scottish Parliament, Mr MacGregor boasted that between 2003 and 2013 the museum had loaned over "over 30,000 (many very fragile)" objects, with only eight injuries. In 2006 the BM packed 160,000 visitors in three months into a (physically) small exhibition of Michelangelo's drawings, at £10 a head (plus takings from the catering and retailing outlets). Mr MacGregor ruefully claimed that three times as many tickets could have been sold had space permitted. The following year he announced plans for a £100m expansion of the British Museum that was reportedly triggered because it had had to turn down a unique chance "to show off" the largest collection of Tutankhamun treasures ever seen in the west (Evening Standard, 6 July 2007), works which went instead to the former Millennium Dome, now re-branded as "02".
It would seem that nothing in museums is now safe from this international exhibitions jamboree – no work plays too important a role within a collection, or is too fragile, or too unwieldy, to prevent curators from taking a gamble with its welfare (in hope of reciprocal loans and a curatorial buzz). The Metropolitan Museum in New York is one of the most voracious recipient/organisers of exhibitions. It needs to be. Its special exhibitions, which are free, are the biggest justification for the museum's whopping "recommended" $25 entrance charge (- the legality of which is under challenge). As we have seen, the present director of the Metropolitan, Thomas Campbell, once boasted that only his museum could have shaken-down ("Item: The Met's Strong-arming of Reluctant Lenders") other great art institutions to get them to part with the fabulous Renaissance tapestries that were sent to a special show in New York.
The Metropolitan Museum will likely be the first international stop (after a six months stay-over at the British Museum) for a long-planned show of plum works from the Burrell Collection in Glasgow that will take place should the Scottish Parliament oblige the Glasgow City Council by over-turning the prohibitions in Sir William Burrell's bequest on all foreign loans and vulnerable works within Britain.
Next October in New York, the Museum of Modern Art will host a show of some of the most fragile and difficult-to-transport works of modernism. As Martin Bailey reports in the current Art Newspaper, ("Journey at Snail's pace") Henri Matisse's monumental 1953 paper collage, The Snail, is to leave the Tate for the first time since the gallery bought it more than 50 years ago. It will be a star exhibit in "Henri Matisse: the Cut-Outs", at Tate Modern next April, that will include its sister works, Memory of Oceania, 1953, and Large Composition with Masks, before travelling to MOMA in New York. Although the itinerary is set, what is not yet clear, Bailey discloses, is how the Tate's giant and fragile work will travel or even how it will be be packed:
"The problem of how to transport the huge work, which measures nearly three square metres, has plagued conservators for years. Paris's Grand Palais asked to borrow the work for a major retrospective on the artist in 1970, but was refused because of the risks associated with transporting it. Its original late-1960s glazing is being replaced with laminated glass, which will reduce the risk of damage during transportation. However, laminated glass is heavy: with its frame, the work will weigh around 300kg. If the collage is set at a 45° angle within a crate, it will fit more easily through doorways, but if the work is transported flat, it will need a case measuring around four square metres."
Those keenest to lend and borrow lean heavily on the relative safety of international aviation, but with these particular monumentally large but flimsily constructed works, Bailey discloses that a spokeswoman for the Tate was unwilling to discuss transport arrangements. He has discovered, however, that they might travel by sea because there are almost no cargo planes large enough to carry them, and because the exhibition's sponsor is… South Korea's largest shipping company, Hanjin Shipping. Either way, as Nick Tinari of Barnes Watch has repeatedly testified, when Matisse's mural La Danse was detached from its permanent home at the Barnes Foundation, Merion, and sent off at a 45° angle on an open flatbed truck to the first stop (the National Gallery of Art, Washington) of a world tour, it was to return home badly damaged.
Not only are museums gutting themselves to feed international loan exhibitions, they are, as our colleague in New York, Ruth Osborne, discusses ("The Dismemberment of the Louvre: Travels to Louvre Abu Dhabi promise damages and leave Parisian Museum-goers in the Lurch"), beginning to do so on an even greater scale as part of international "rebranding exercises" in which museum annexes are created in improbable but rich centres so that museums may present themselves as pan-national or global brands (- along with Gucci now read Guggenheim). A lot of money is being made and a lot of careers advanced. Some journalists effectively double as cheerleaders for the tourism-fuelled cultural arts economies of centres like London and New York. However, along with these booming arts economies, risks are rising – and not just with the works of art: those who blithely authorise streams of loans risk putting their own reputations on a block.
Michael Daley
NEWS UPDATE 26-11-13
The Guardian today carries this letter from ArtWatch UK:
"You illustrate the new exhibition of Turner seascapes at the National Maritime Museum with a giant reproduction of the artist's now badly wrecked, many-times restored 'Rockets and Blue Lights' without issuing any kind of art conservation health warning (Eyewitness, 21.11.13). A clue to the extent to which this picture is no longer a remotely fair representation of Turner's work is found in the picture's full title, 'Rockets and Blue lights (Close at Hand) to Warn Steamboats of Shoal Water' – for this was once a painting of two steamboats in distress, not of one. The now lost boat was recorded in a large chromolithographic copy of the painting that was commissioned in 1852, and in a photograph of 1896. Viewers who compare your present image with the recorded earlier states of the picture will likely marvel at the transformation by twentieth century restorers of the sky, and at the losses of storm-driven smoke from the funnels of the original pair of steamboats, one of which vessels has now disappeared under the waves along with its originally depicted crew members."
In the ArtWatch UK Journal No 19 (Winter 2003), we carried an article by the artist Edmund Rucinski ("Ship lost at Clark. Many records feared missing. Establishment unfazed.")
Unfazed the establishment was then – and, evidently, so remains today. Despite the disappearance of the second boat (and its smoke) in a recent cleaning, the owners of the Turner, The Sterling and Francine Clark Art Institute of Williamstown, USA, had included the work in a travelling exhibition ("Turner – The Late Seascapes") that ran at the Clark from June to November in 2003, before transferring across the Atlantic to the Manchester Art Gallery in January 2004 and then on to Glasgow in March 2004.
At a public lecture at the Clark Institute, on 2 August 2003, Edmund Rucinski (who knew of the 1852 chromolithographic copy shown right) had been astonished to hear the restorer, David Bull, claim that the picture had originally depicted a single boat and that the second, now-removed, boat had not been painted by Turner but was a restorer's addition made, possibly for Lord Duveen around 1910. That claim slowly sank. When Rucinski spoke to David Bull and asked on what authority the second boat had been removed, he replied that it was on a photograph of a single-boated copy of the painting that had been supplied by the Clark Institute's senior curator, Richard Rand.
On 15 October 2003, the Times' arts correspondent, Dalya Alberge, reported that when asked how it had been established that the second boat could not have been painted by Turner, Mr Bull had said: "The answer is we don't know. It was a general consensus." Thus, what had been presented publicly as a historically verified certainty was downgraded within a couple of months to a best guess, collective assumption. That position was maintained for several months and was reiterated in the Manchester Evening News of 14 January 2004, which reported: "The American owners of the painting and the restorer…say a second boat may have been added by an early 20th century restorer".
On 28 March 2004 the show moved to Glasgow and the Glasgow Herald reported that the Clark's senior curator had said "We have always maintained that the original Turner had two boats". The importance of heavy promotion for travelling exhibitions was demonstrated in October 2003 when the Tate, which had not taken part in the travelling exhibition, nonetheless issued a press release that ended with the following claim:
"One of the stars of the show is Turner's dramatic "Rockets and Blue Lights (Close at Hand) to Warn Steamboats of Shoal Water", 1840 which has recently undergone major conservation and is a loan from the Sterling Clark Art Institute, Williamstown, USA".
In additions to newspaper reports of critisms of the restoration, many interventions were made by scholars, as below:
"Since 'Slavers' and 'Rockets'…have ended up in collections geographically so close to each other, it struck Hamilton [James Hamilton, the show's curator] as a good idea to show them together, arguing that Turner had intended them as a pair. The first snag was that Boston decided that 'Slavers' was too unstable to travel, even to Williamstown, so it was not in the show at all…But there is a danger that Turner has become a guaranteed crowd-puller, to be had recourse to at the expense of equally interesting but less certainly popular subjects. This is not a development to be welcomed, if only because Turner's works are exceptionally vulnerable: the paintings, to the stresses of travel on their experimental construction; the watercolours to the exposure of light. He is not a resource that can be exploited indefinitely…"
~ The Turner scholar, Andrew Wilton, in a review for the Burlington Magazine, March 2004.
The 'Slavers' of which Wilton spoke, is Turner's oil painting Slavers throwing overboard the dead and dying – Typhoon coming on. In 2000 the Museum of Fine Arts in Boston which owns the painting found it to be damaged and "extremely unstable" on return from a loan to the Tate Gallery. Despite having been "glazed and sealed against changes in relative humidity, the picture [had] reacted significantly to the voyage" and lost flakes of paint. An unfazed (and institutionally unrepentant) Tate spokeswoman said in response to disclosure of the damage:
"It arrived here safely where it was examined thoroughly. Its condition was stable…However, Turner's paintings are notorious for becoming unstable."
Indeed they are. So why the incessant demands from temporary exhibition organisers to keep borrowing them? And why the systematic attempts to deceive the public into believing that the most restoration-wrecked pictures are the "stars" of the shows?
For our part, we have repeatedly drawn attention to these travel-induced injuries. On 24 October 2007 the Daily Telegraph carried this letter from ArtWatch UK:
"Sir – The Mellon Center's decision (report, October 17) to break its own rule never to lend Turner's fragile 'Dort or Dordrecht: The Dort Packet-Boat from Rotterdam Becalmed' seems perverse: only seven years ago, the Museum of Fine Arts in Boston lent its Turner 'Slavers throwing overboard the dead and the dying, Typhoon coming on' to the Tate. On its return to Boston, that painting was found to have suffered losses of paint and to be in an 'extremely unstable' condition. A Tate spokeswoman said: 'It arrived here safely…Its condition was stable…However, Turner's paintings are notorious for becoming unstable.' This being so, why are trustees and curators prepared to take such risks with priceless works of art?"
Clearly, the question still stands.
Comments may be left at: artwatch.uk@gmail.com
---