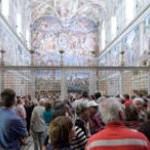 21 January 2013
The Vatican authorities are in conservation crisis today because they stripped the Sistine Chapel frescoes bare in the 1980s and 1990s. They did so against material and historical evidence that Michelangelo had finished off his frescoes with additional glue or size-based a secco painting (see right and our posts of 1 April 2011 and 12 November 2012). That original, autograph material was removed in full knowledge that the stripped-down bare fresco surfaces would thereafter be attacked by atmospheric pollution unless given some other protective covering (see Appendix below). An attempt to coat the frescoes with synthetic resin (Paraloid B72) was abandoned leaving some surfaces clogged and the rest unprotected. The authorities then promised to install hi-tech paraphernalia that would somehow prevent the polluting atmosphere from making contact with the Chapel's painted walls and ceiling (see caption at Fig. 4). As was shown in our previous post, that cockamamie promise was not delivered. Today, in a chapel increasingly over-crowded with paying visitors (see Fig. 1), these stripped-down frescoes stand in greater peril than ever.
Ironically, the "cleaning" of the ceiling, which arguably constitutes the greatest single restoration calamity of the 20th century, occurred at a time when picture restorers had skilfully rebranded themselves as safe, scientifically validated "conservators" of all that is valuable – even though Kenneth Clark had recently admitted to having founded the National Gallery's science department in the late 1930s in order to dupe the public and wrong-foot restoration critics. A grandly titled "Laboratory for Scientific Research" had been created at the Vatican in 1922 on the "latest ideas" but during the 1980s Italian restorers admitted that running technical "tests" before restorations was professional "window-dressing" because it was always known in advance which materials were to be used.
Some restorers sincerely believed in the scientific hocus pocus that supposedly had trumped anachronistic and unacceptably "subjective" aesthetic responses. The appointed chief restorer of Michelangelo's frescoes, Gianluigi Colalucci, was one such, insisting that: "Emotional and subjective considerations must not be permitted to intrude upon science". At that time the Vatican's curatorial and administrative authorities may not have sufficiently appreciated the extent to which every restoration of a great work of art is an accident waiting to happen: a collision of sublimity and incomprehension made tangible. In 1993, at the beginning of the fourth chapter of the JamesBeck/Michael Daley book "Art Restoration: The Culture, the Business and the Scandal", we asked:
"If authentic painting by Michelangelo has been lost in the course of a scientific restoration, many questions need to be answered. Did a blunder occur because of or in spite of the use of a scientific approach? Has too great a dependence on scientific data undermined crucial powers of aesthetic discernment and judgement? Is the scientific method of restorers rigorous or slipshod? Is the scientific status of modern conservation legitimate or bogus? Do restorers always follow their own ground rules?"
In the last twenty years it has become clearer that the claimed scientific underpinnings of picture restoration methods were spurious and that an appreciation of the workings of art and its internal relationships is not to be gained through some analysis of material components in a laboratory, however highfalutin and expensive the "investigative" or "diagnostic" apparatus may be. Beyond its conceptually simplistic and aesthetically impoverished terms of reference, the very reporting of "scientific" conservation methods has lacked both critical rigour and methodological consistency. In practice conservation science has provided a flag of convenience under which fundamental artistic questions can be evaded while ever-more ambitiously grandiose, lavishly funded and spectacularly transforming projects are launched. The authorities at the Vatican seemed quite oblivious of the ease with which even the most modest restorations can escalate into dangerous and irreversible treatments.
In 1964 Dr Deoclecio Redig de Campos, the Vatican museums' curator and director of restorations, launched a cautious cleaning of the 15th century frescoes by Perugino, Botticelli, Ghirlandio, Rosselli and Signoreli on the lower parts of the Sistine Chapel's north and south walls. After 15 years, that programme led to the cleaning of two minor 16th century frescoes by Matteo da Lecce and van den Broecke on the east wall. By that date, direction had passed to Dr Fabrizio Mancinelli, the new curator (and soon to be, with Colalucci, the co-director of the Nippon Television Corporation-sponsored restoration of all of Michelangelo's Sistine Chapel frescoes). As we reported in "Art Restoration", Mancinelli decided that "Redig de Campos's cautious policy of removing only part of the layer of grime and foreign substances…was not appropriate in this situation."
What Mancinelli deemed appropriate was that the minor frescoes should be cleaned with the new aggressive cleaning compound AB 57, even though this would obliterate original painting applied a secco by the artists onto their frescoes when dry. Curiously, Mancinelli's justification for this removal of authentic and historical material was primarily aesthetic. That is, he held that a cautious cleaning and repairing of the damaged original secco paints would give only "disappointing results" compared with what might be attained by what he termed "a more radical cleaning". We should be absolutely clear: "radical" was a euphemism for stripping the paintings down to their bare fresco surfaces in order to introduce heightened (but inauthentic) colours. Although the programme was to prove unethical by restorers' own professional codes, Mancinelli persuaded the authorities that the visual "gains" to be had by trading original material for chemically brightened colours on those two minor works would outweigh even a directly consequential need to "return to the side walls and [do] a more thorough job there too." (Just as the slowest ship determines the speed of a convoy, so in decorated chapels the most brightly scrubbed surface sets the overall level of cleaning. Michelangelo's fate was sealed.)
While restoring the east wall works in 1979, a single test of AB57 was made on one of Michelangelo's lunettes (see Fig. 8 and, for the consequences, Figs. 4-7). Professor Carlo Pietrangeli, the director of the Vatican Museums, said in 1982 "the results were so encouraging that it was decided to take on the whole ceiling. By the summer of 1980 the work had begun." As Pietrangeli told Patricia Corbett in the May 1982 Connoisseur, once AB57 was shown to deliver chromatically transformed frescoes, "No one was able to resist the temptation". In 1987 Dr Walter Persegati, the Vatican Museums secretary and treasurer, said in the Bible Review "These tests brought forward such colours that we were both scared and excited…It was decided that the procedure developed for the cleaning of the van den Broeck and Matteo da Lecce was applicable to Michelangelo's frescoes. Therefore, we decided we had to do it."
Note that because it had been decided that it could be done, it was "therefore" also decided that it should be done. In Part II we investigate the means, the methods and the artistic consequences of that novel application of a new cleaning agent to the very old, very precious decorated surfaces of the Sistine Chapel. In doing so we also show why the Vatican's curators were right to be scared.
Michael Daley
APPENDIX
"A major purpose of the conference was to underline a basic truth: the conservation of any work of art is doomed to failure unless equal emphasis is given to its past and its future vicissitudes…Scientists and historians worry that conservators can be too ready to intervene, too impatient of prior tests, and insufficiently heedful of future dangers." ~ Kathleen Weil Garris Brandt, Professor of Fine Arts, at New York University's Institute of Fine Arts, and spokeswoman for the Vatican on the restoration of Michelangelo's Sistine Chapel frescoes, reporting the proceedings of the "London symposium on the conservation of wall-paintings" in the November 1987 Burlington Magazine.
"There is therefore much concern about the future of the frescoes, given that no protective layer has been applied in this campaign (the controversial use of paraloid was abandoned at an early stage of the cleaning of the lunettes). The Vatican has decided to seal the windows and introduce an air-conditioning and filtration system. Doubts were expressed at the conference. Could the threat from faulty air-conditioning be worse than the threat from atmospheric pollution and mass tourism? " ~ Caroline Elam, editor of the Burlington Magazine, reviewing the 1990 symposium on the Sistine ceiling restoration held in Rome to give preliminary consideration to the cleaning of Michelangelo's "Last Judgement".
"A 'drunken herd' of 'unruly' tourists is damaging Michelangelo's famous Sistine Chapel paintings, one of Italy's leading arts figures claimed as the pope prepared to mark the 500th anniversary of the iconic frescoes' creation. Some 5 million people visit the chapel every year – sometimes as many as 20,000 in a single day — and an increasing number of experts are now arguing that mass tourism is damaging the paintings. Despite a major, 14-year-long restoration project in the 1990s, they claim that the breath, sweat, dust and pollution brought in by visitors dramatically changes the Chapel's humidity and temperature – factors to which frescoes are particularly sensitive…" ~ Claudio Lavanga, NBC News, 31 October 2012.
Comments may be left at: artwatch.uk@gmail.com
---
wibble!