Italy has decided to play international museum world catch-up at precisely the wrong moment and with a panicked, plagarising zeal that bodes ill for art lovers and that country's own cultural well-being.
MR JAMES BRADBURNE LANDS A NEW JOB AND SEMAPHORE'S "CHANGES AHEAD"
Above, James Bradburne in front of "St Mark Preaching in Alexandria" at the Brera, Milan.
We had hoped against hope that the reports were not true. We could not believe that a deranged Italy had engaged in a mass cull of museum directors in hope of a making another of its periodic surges away from itself and into the future.
It was true, of course, and we should not have averted our eyes and stuffed our ears. In a chilling report carried in the travel section of this weekend's Finanacial Times, Claire Wrathall ("Shaking up Milan's Pinacoteca di Brera") anatomises a cultural spasm-in-the-making:
"In January 2015 an advertisement placed by the Italian Ministry of Culture appeared in the Economist seeking directors-general for 20 of Italy's leading museums…(Existing incumbents had to apply for their own jobs; only one, Anna Coliva of the Galleria Borghese in Rome, was rehired.) As the culture minister, Dario Francheschini, put it, 'Italian museums should be dynamic. A country with 4,000 museums should see that as a formidable economic resource.'"
Mr Bradburne, a British-Canadian architect and museum expert has landed the directorship of the Brera in Milan (the Pinacotecca di Brera), with, as Ms Wrathall reports, the fatuous governmental brief "to turn one of the world's greatest collections of Renaissance masterpieces (not to mention works by 20th-century Italian artists such as Modigliani, Morandi and Severini)" into "an outstanding museum." Since when was the Brera not an outstanding museum? Since when have museums in Italy not been a formidable economic force? Italy can hardly be chasing even more tourists? If Brits are the cat's pyjamas as curators, how come our own museums are filling up with Germans? (Could this be an EU conspiracy to simulate dynamism in a moribund entity by artificially increasing the velocity of trans-national exchanges?)
POSSIBLE USES FOR MR JAMES BRADBURNE
It seems that Mr Bradburne's reputation at the Palazzo Strozzi awakened the culture minister to "the need to shake up the nation's moribund museums". So, how do you shake a museum blessed with great art and enjoying an ideal natural lighting in which to view paintings? Official Answer: as Mr Bradburne puts it, "When I got here I was shocked by the dull flat approach to lighting which strove to recreate the sort of northern light the artist would have worked in."
In other words, to shake things up, you obliterate the best and most sympathetic lighting imaginable – the very light in which the work was made. And then you replace it with what? In Mr Bradburne's own words, you swap old orthodoxy with today's fashion, "That is an old orthodoxy; the prevailing fashion nowadays is to put things in the spotlight. We speak with light and colour now." Note the brazen and presumptuous sleight of hand: it is we, the adminstrators, not the art, who now speak. And, "we" may now play pseudo-theatrical games with all the inappropriate and intrusive vulgarity and gusto of interior designers on the loose in a boutique: "By making the walls darker you can make more contrast".
THE PONG OF ART
As well as changing the light, Bradburne plans to add smells. Oh yes! That's right, he will add "the smells of the plants that give colours to paints". Bradburne does not explain how the smells of mineral or insect-derived pigments will be introduced into the galleries or how if the smell of all the pigments in a painting could be captured it would be possible for the vistor to tell them apart. Bradburne does freely admit to one problem: even if he were to succeed in reproducing all the smells, "the difficulty is the scents diffuse very quickly".
More gimmicks are in train. Labels are to be written not by museum curators but by (non-Italian?) novelists like Julian Barnes, Sarah Dunnant, Ali Smith and Orhan Pamuk.
A MUSEOLOGICAL CURATE'S EGG
Above (top), one of the Bradburne-Refurbished galleries; above, "The Dead Christ and Three Mourners" (1474) by Andrea Mantegna.
A LITTLE CHEER
It has to be said that there are two cheering prospects. Although the glass wall will remain through which visitors can watch restorers nibbling away at the once-gloriously little-touched works (- I well recall being shown round the gallery by Pietro Marani, when Leonardo's "Last Supper" was part-way through its debilitating restoration and repainting, and he proudly pointed out how well his Cima altarpiece then looked against its counterpart in the National Gallery, London), Bradborne will, at least, be eschewing the Blockbuster Game. That, he well and aptly describes as "cannibalising our collections". Presently, he notes, "People come and never see the permanent collection".
Further, one of the most gratuitously offensive pieces of contrived theatrical staging that predates his reign in the museum is to go. That is to say, "the most complained-about display in the museum" – Mantegna's "Dead Christ".
Followers of this site will recall Michel Favre-Felix's shocking post of 13 March 2014 ("Mantegna's Dead Christ : They Know Not What They Do"): "…the Dead Christ is now housed in a special crypt-like dark room, stripped of His historic frame and visually isolated by spot-lighting, as if now embedded into a monolithic black wall – and at a height of only 67 cm from the ground. This presentation is intended to be permanent and the film-maker, humility notwithstanding, declares 'This will last: I will fight for it'." Good riddance to that.
Michael Daley, 2 April 2016
---
---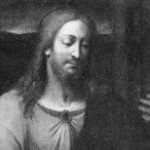 14 March 2012
The unhappy $8m Olivetti-sponsored restoration of Leonardo's Last Supper began in 1977 with a repair of small flakes of detaching paint. It morphed, on very grand institutional technical advice, into a promised liberation of all of Leonardo's surviving original paintwork. It ended after twenty-two years amidst widespread recriminations and as a distinctly mongrel work showing alarmingly little original paint and very much alien "compensatory" and "reintegrating" new paint.
Prospective major restorations are often presented as elegant technical answers to some urgent conservation necessity the resolution of which promises magnificent artistic gains. In reality, the interface between technical intervention and artistic outcomes constitutes art restoration's fault-line and does so in a field that is notoriously subject to the law of unanticipated consequences. One of the commonest surprises is how greatly the coherence of a work had depended on earlier restoration repairs that were removed on the grounds of being alien impurities. Like Humpty Dumpty, radically stripped works often prove to be wrecks that have to put back together again and many a restorer discovers – too late – that it is easier to take to pieces than to reassemble [see Endnote 1]. The resulting changes made during restorations are often presented as "discoveries", "recoveries" or "recuperations" when on close examination they prove to have been plain errors. One such unwarranted, unsupported, insupportable case is shown here.
Towards the end, the restorer, Pinin Brambilla Barcilon, expressed the hope (Art News March 1995) that her restoration might be the last because: "The less you restore a work of art, the better its chances of survival. Each time you touch a work, it suffers a trauma, no matter how carefully you operate." In November 1998 the Art Newspaper reported that when Mrs Brambilla was restoring a crucifixion on the wall opposite the Last Supper in 1978, she noticed that "fragments of painting were peeling off Leonardo's work before her eyes." The Guardian of July 21 1997 reported she had noticed "bits of painting falling from the Last Supper" and that after experts from Italy's central institute for restoration in Rome (Istituto Centrale di Restauro) had been called in "the decision to restore the painting was swiftly taken". Too swiftly, many Italian experts believed.
Although conservation necessities are sometimes exaggerated [see Endnote 2], with paint losses, determining the extent, cause, and remedy must always be the top priority – the equivalent of fixing a building's leaking roof. As seen in Part 1, when the Last Supper was disintegrating to the touch after the Second World War, the then restorer, Mauro Pelliccioli, fixed the problem by embedding the paint in litres of shellac. He also won some critical praise for uncovering most of Leonardo's own surviving paint from restorers' over-paint. Crucially, however, he tackled the disintegrating paint first (during 1947-49). Only when the shellac was settled and the paint completely secure did he begin scraping off restorers' repainting (during 1952-54). In this most recent restoration, despite the problem of paint detachment, work began with an intended systematic removal of the remaining repaints.
Effectively, in the last restoration the authorities undertook an all-or-nothing gamble with a masterpiece. Against the certainty that shedding the old would be disruptive of the familiar and the still-surviving, they bet that the recovery of some more fragmentary, talismanic relics of Leonardo's paintwork would outweigh the scale of accompanying losses and newly exposed bare wall. This presumptuous naivety was to prove disastrously wrong-headed. First, as scientific tests of paint fragments (published in Studies in Conservation, August 1979) were to warn, the distinction between original paint and later restorers' overpaint was not at all easy to establish: "the dividing line is much less clear cut". (This was hardly surprising given the work's earlier exposure to corrosive cleaning agents and heated metal rollers.) Second, Pelliccioli had already uncovered most (two thirds, he believed) of what was taken to be Leonardo's surviving paint. While there was not all that much more to recover, there was, artistically, still very much to lose. Pelliccioli had left repaints in place precisely where they covered only bare wall – which is to say, where they held the image together.
The paradoxical consequence of this pursuit of original material was that the old ill-preserved yet somehow-maintained "theatrical" illusion that Leonardo had originally created was greatly undermined. One narrow specialised purist concern for what was "original" and "authentic" material was set against another larger more elusive aesthetic/artistic concern for what had been intended; for what was yet struggling to survive. Achieving the liberation of fragmentary and injured archaeological material imperfectly adhering to a damaged moisture-prone vertical surface came at the cost of eliminating all that had maintained and prolonged Leonardo's decaying but originally mesmerising artistic illusion incorporated into the space and fabric of a large room. (Kenneth Clark had spoken fondly of "these ghostly stains upon the wall".) The work was remorselessly stripped down to the sum total of all previously accumulated injuries in order that the resulting wreck might then be put back into some presentable aesthetic form more suited to today's tastes. The ideological/art historical rationale offered for this purgative exercise was that every age has the right to make its own Leonardo…that the Leonardos that had come down to us from the past were somehow deficient, obsolete, culturally-contaminated; that we now simply know better. The preposterous nature and Futurist flavour of this relativist conceit ("Every previous generation has erred, we, standing outside of history – or at its end – will now get things right") might have been held self-evident. Leo Steinberg, evidently unsettled by this recent spasm of historical/aesthetic cleansing, quoted Jonathan Swift: "Last week I saw a woman flayed, and you will hardly believe how much it altered her person for the worse." ("Leonardo's Incessant Last Supper", 2001.)
The purist shedding of earlier repaints regardless of their antiquity and artistic functions, necessarily guaranteed that Leonardo's work would be "altered considerably", as Carlo Bertelli, the then director of the restoration, acknowledged in the catalogue to the 1983 Washington National Gallery of Art exhibition of Leonardo's studies for the Last Supper. A later defender of the restoration, Giovanni Romano, not only applauded the creation of "a different Leonardo" during "a great restoration" (Il Giornale dell'arte, April 1999) but fawningly added that he would be "satisfied with a restoration of this sort every year." Throughout this era of vaultingly high ambition, the restoration community needed the biggest possible "sell": nothing less than a "New Michelangelo" was said to have emerged during the Sistine Chapel ceiling restoration. It became a commonplace that revolutionary restoration "discoveries" required the very "rewriting of art history".
There is no mystery about how the latest calamity came about. In the 1983 catalogue, the Washington National Gallery curator, David Allan Brown, duly relayed the twin official reasons for the restoration: that the paint (which, under a microscope, resembled "the scaly skin of a reptile" ) had not remained secure; and, that Pelliccioli had not removed all earlier repaints. The repaints had to come off because they were now "threatening the stability of the original colour." Not explained, was how this was so, or how much original paint had been left by Pelliccioli. In the July 2 1995 New York Times, Bertelli recalled having been "certain that there was enough beneath the additions to warrant this restoration". He added that "Mrs Brambilla and I had examined the surface with a microscope, and we were surprised to see how much of Leonardo's original work remained".
In 1983 Allan Brown noted that "The expectation that a considerable portion of the original might survive [had given] a strong impetus to the decision in the late 1970s by the Superintendency of Fine Arts for Lombardy (at that time directed by Franco Russoli) in consultation with the Istituto Centrale di Restauro, to take up again the unfinished work of cleaning the picture." This would suggest that so strong was the desire to revive and complete Pelliccioli's unfinished aesthetic programme that the operation was begun even as the technical solution which had originally made that aesthetic objective possible was said to be failing. Whatever gains might have been hoped for or anticipated, by May 1998, Bertelli admitted (in Art News) that "Now we can see only a few square feet [of original Leonardo paint] but they are by the master" and, on a Channel 4 documentary that year ("The Lost Supper"), he characterised Leonardo's mural as a "ruin" ("una rovina" ). In the November 1998 Art Newspaper Brambilla said, self-contradictorily, that the repaint had had to be removed out of fear that condensation might become trapped between "the artist's original paint and the successive layers of paint", and, that constant environmental conservation measures would henceforth be necessary because "the layers of repainting are no longer protecting the original paint."
Which was the case? If the repaint was protecting the Leonardo paint, what had been causing the original detachments? Given that the 1979 tests mentioned above had established that it was not always possible – even under ideal laboratory conditions – to "decide exactly on the dividing line – both for areas and for layers – between what remains of the original and materials pertaining to later interventions", how great could the risk have been of moisture insinuating itself between the original and the subsequent paint layers? On whatever technical premises it rested, when the restoration proper began on the better preserved right-hand side of the mural, the attempted removal of all previous restorers' repaints and consolidations of paint, inevitably constituted a prolonged and sustained assault on the mural's fabric – as Brambilla herself candidly described in the March 1995 Art News:
"Here we have a surface that is completely ruined, disintegrated into tiny scales of colour that are falling off the wall. We have to clean each one of these scales six or seven times with a scalpel, working under a microscope…Here I can clean an area one day and still not be finished, because when the solvent dries it brings out more grime from beneath the surface. I often have to clean the same place a second time, or even a third or a fourth. The top section of the painting is impregnated with glue. The middle is filled with wax. There are six different kinds of plaster and several varnishes lacquers and gums. What worked on the top section doesn't work in the middle. And what worked in the middle won't work on the bottom. It's enough to make a person want to shoot herself."
Could Pelliccioli's already failing shellac have survived these repeated traumatic assaults with solvents and scalpels on all the glues, waxes, lacquers and gums within the paint-film? Had some new superior quick-acting consolidant been identified or manufactured? What were the structural consequences of this apparent removal of every atom of previous consolidations of the paint? Brambilla has said of the detaching paint "To re-adhere the fragments we used wax-free shellac in alcohol, the same adhesive as Pelliccioli applied during his intervention of 1947″. So, in other words, just some more of the same. If Brambilla's best English wax-free shellac lasts no longer than Pelliccioli's, we might expect another restoration within twenty years or so.
One thing is clear: the technical underpinning of the restoration, and the swiftness with which its unquestionably radically transforming methodology was applied, were both challenged by Italian experts. On July 2 1995 the New York Times reported that Mirella Simonetti, a Bologna-based restorer, protested: "There was never any doubt in their minds. They decided how to proceed without even conducting the proper analyses to determine how much of the original painting remained. They didn't even submit their findings to an international committee of experts." The Florence-based diagnostician, Maurizio Seracini, who had been called to examine the Last Supper after the restoration began, complained: "I think that Mrs Brambilla has worked in good faith. But you don't decide to restore a masterpiece like the 'Last Supper' on the basis of what you see under a microscope. It's simply irresponsible." Seracini added "I myself have not seen any definitive scientific proof that restoration was really needed."
That the authorities had not known how much original Leonardo paint might survive had been tacitly acknowledged as early as 1983, when, with the restoration one third completed, David Allan Brown could speak only in relative terms: "By comparison with other, well-preserved murals of the time, Leonardo's detailed execution is almost entirely lost." Even when the restoration was eventually finished (or halted) there was no agreement among the protagonists themselves on how much had survived. Carlo Bertelli, the director of the Brera Art Gallery in Milan, who effectively initiated the restoration, put the figure at 20%. Pietro Marani, the prolific Leonardo scholar who advised Brambilla from 1985 and became co-director of the restoration in 1993, once said that "no more than 50%" survived and later more ambiguously claimed that 90% had survived "in parts". Giuseppe Basile (later the director of the restoration of Giotto's Arena Chapel frescoes) put it at "about half". Giorgio Bonsanti, the director of the Florence-based laboratory Opificio delle Pietre Dure, put it at "possibly 20%". Giovanni Urbani, the director of the Istituto Centrale di Restauro between 1973-83, and the director of the Brancacci Chapel restoration, thought 25% had survived.
In 1989 a Milan town councillor, Maria Bonatti, brought an (unsuccessful) action against the restorer for accelerating the mural's decay – a charge also made by the painter, essayist and paint materials expert Mario Donizetti, who held that it would "disintegrate more rapidly than before." Ten years before the restoration ended, in November 1989 the Art Newspaper reported "Over the years work has been stopped repeatedly, sometimes following changes at the helm of the Milanese Soprintendenza and the Instituto in Rome, other times simply to allow the whole project to be reconsidered." Eventually the proceedings quickened dramatically. In his 2001 book, Leo Steinberg recalled encountering the restorer and three young assistants in 1998 "all huddling at lower left scraping away". On the cleared wall, "more filling was needed – and it had to be done fast (a deadline had been imposed from on high), so that this must-see tourist attraction would show decent finish to the daily sightseers."
In 1983 Bertelli had said in National Geographic that Brambilla was taking a week to clean an area the size of a postage stamp. He quoted her professional plaint: "It's difficult. The work is hard and tiring. It creates much physical tension bending over the microscope. After a few hours my eyes grow blurry. I may come every day for months. Then I must take an extended break. There is also the psychological tension. All the eyes of the world that know Leonardo are watching what I do. Some nights I do not sleep." The pressure intensified as the restorer inched her way towards the central figure of Christ. In April 1998 the Art Newspaper reported that "Hundreds of tourists (mostly Japanese) last month lined up…to visit Leonardo's Last Supper. The painting was back on view after having been closed for two months to allow restorers to work on the faces of Christ and the apostles." That report evidently escaped the attention of the National Gallery's then director, Neil MacGregor, who wrote in his 2000 BBC book "Seeing Salvation":
"When the latest restoration was unveiled in 1999, all hell broke loose, and the admirably scrupulous restorer in charge was vilified in much of the world's press…Among the wilder accusations, fears were expressed that the face of Christ had been altered. Happily these proved to be groundless."
That the unveiling was badly received is beyond dispute, but if vilification was in evidence it was aimed by defenders of the restoration at their critics (see right). The extent to which the face of Christ was altered, and the evolving means by which the restorer came to impose her own distinctive, ahistorical, arguably arbitrary aesthetic reading on the unprecedentedly vast, fully-exposed areas of paint loss in a quest to "bring it back to its original colors and composition", will be examined in Part 3. Here (right) we examine a single unwarranted change that was made to the design of drapery on Christ's right arm and then presented as a restoration recovery.
Michael Daley
ENDNOTES [1] In the 1962-64 National Gallery Annual Report, the then director, Sir Philip Hendy, described how with the great Uccello panel from the Battle of San Romano series, the stripping down (which had begun and 1959 and was still ongoing) had exposed a greatly damaged surface. As a result, after its characteristic Gallery "complete cleaning", it was realised that "To restore scrupulously takes very much longer than to create freely, and the task of pulling the picture together again could have been further prolonged." [2] With the restoration of Michelangelo's Sistine Chapel ceiling it was said in 1986 (six years into the restoration) that "various checks [had] ascertained that in several places minute flecks of colour were lifting" and that this had "necessitated an immediate restoration." In 1987 it was said that extensive areas of flaking were progressively worsening and threatening an imminently "uncontrollable situation". By 1988 Vatican spokesmen were claiming that the weight of encrustations upon the paint surface was causing it to break away from its ground. By 1989 it was said that the glues had "shrunk and puckered" causing "scabs" to fall away "pulling pigment with them". It was said that this "slow destruction by glue-pox" was "the Vatican's principle motivation for cleaning the ceiling". When I asked in 1990 how big the puckerings were, a Vatican spokeswoman said "Oh! Some are as big as your hand." Soon after, in 1991, the problem de-escalated: initial investigations were acknowledged, once more, to have encountered "minute desquamations and loss of pigment."
Comments may be left at: artwatch.uk@gmail.com
---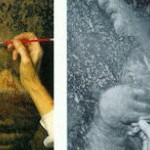 8th February 2012
The restoration of Leonardo's "Last Supper" (1977 -1999) was defended last month at the National Gallery symposium on the artist's methods and influence, by Pietro Marani, the Leonardo scholar who co-directed the restoration from 1993 onwards. When we pointed out that while the previous restoration had been praised for recovering all of Leonardo's authentic paintwork, the last restoration had in fact introduced vast areas of new painting, Marani held that restorers and curators may impose their own generation's values and interpretations. Appeals to the authority of one generation cuts little ice given how happy each proves to be to undo and redo its predecessor's work – and, besides, given that on past form we are already half way along to the next generation's "Last Supper" restoration, the one presently being defended is already approaching its own "sell-by date".
In its early days, the last restoration was presented as a near miraculous liberation of the original and entirely unadulterated handiwork of Leonardo da Vinci, when that claim, far from being a novel one of its day, was, as mentioned, a re-run. In 1958, John Canaday, the art editor and art critic of the New York Times, reported how, following the war-time bombing of the refectory housing the mural in Milan:
"When the sandbags were removed…the 'Last Supper' was in such pitiful condition that historians were ready to list it as a war casualty. But since then the picture has been gone over as definitively as the combination of exhaustive scholarship and high technical skill make it possible to preserve once and for all whatever is discoverable of the original work. The results are better than anyone expected, although the painting still suggests a ghost at best or, at worst, an embalmed relic…"
Taking their cues from restorers, commentators often dismiss past treatments and celebrate more recent scientifically under-pinned "definitive", "once and for all" and "miraculous" ones. (Just this week, a Rubens – his "Cain Slaying Abel" – that has been restored at the Courtauld Gallery with funding by the Bank of America, is said in a press release to have stabilized the painting for nothing less than "the next one hundred years".) The "Last Supper" rescue operation took place in two stages in 1947-49 and 1952-54. In the first, the restorer Mauro Pelliccioli (see Fig. 1) supervised by a former Superintendent of Fine Arts in Milan, Fernanda Wittgens, anchored the disintegrating paint with shellac. As Wittgens' wrote in the Christmas 1954 issue of Art News, "This was not ordinary shellac, of course, but an absolutely colourless one recently produced in England by a chemical process that removes all wax." With this shellac, Wittgens went on, Pelliccioli performed his wonders:
"…it produced the greatest miracle of the entire restoration. The reattachment of the painted surface was achieved to perfection, and the colours acquired a new consistency as though they had been actually rejuvenated by the shellac that made them adhere to the wall…Mauro Pelliccioli, by doing away with all glues soluble in water, had permanently eliminated the danger of mould: he had at last hit upon a tremendously strong, transparent adhesive impervious to humidity."
When the shellac was settled, Pelliccioli began scraping off the repaints of earlier restorers. Bernard Berenson visited the scaffold and later reported how, with no more than a penknife, a razor and a drop of turpentine, Pelliccioli had "touched bottom" by removing the "multiple restorations of centuries" and allowing the paint of Leonardo, "deteriorated by the centuries but no longer deturpated by incompetent hands" to be seen once more. In his diary note on October 21st 1953 Berenson said that Pellicciolli had known precisely "where to scrape" – a point echoed and amplified in H. H. Pars' 1957 "Pictures in Peril":
"Pelliccioli was able to distinguish those parts of the painting where nothing of the original painting was left, and those parts where overpainting and restoration concealed Leonardo's own brilliant colours. Step by step these were revealed in the now firmly-fixed painting until we are now able to see Leonardo's 'Last Supper' in better preservation than for many generations, deteriorated through the centuries it is true, but no longer marked and deformed by incompetent hands."
Thus, to everyone's satisfaction, the work had been physically rescued and what authentic Leonardo paintwork could be exposed to view had been liberated. Earlier restorers' repainting was left in place only where it covered bare wall. Just twenty-one years later in 1975, Pinin Brambilla Barcilon, a former student of Pelliccioli's, reported that fragments of paint were falling off the mural. Two years later, following tests, she began re-securing those parts of the paintwork that were becoming detached. Her minimal and straightforwardly necessary conservation measure was to mushroom, in parallel with the restorations of Michelangelo's Sistine Chapel ceiling frescoes, which began in 1980, and Masaccio's Brancacci Chapel frescoes, which began in 1981, into one the most protracted radically ambitious, corporately-funded and controversial restorations of modern times.
It can now be seen that 1977 marked the high water mark of confidence in the recuperative powers of restorers and in the legitimacy of their increasingly bold and experimental methods. In the previous decade, heroic actions in wake of the floods in Florence had carried restorers to unprecedentedly high levels of public respect (even when they opted to strip frescoes from walls). In Britain, following a spuriously engineered triumph with the restoration of Titian's "Bacchus and Ariadne" at the National Gallery, criticism had been declared dead by the victors. The National Gallery launched its Technical Bulletin in 1977 and in it, the Gallery's head of conservation science, Joyce Plesters, mused complacently: "one or two readers may recall the furore when the cleaning of discoloured varnishes from paintings…began to find critics". In the same year, Kenneth (Lord) Clark published his two volumes memoir "Another Part of the Wood" and "The Other Half" in which he pronounced picture cleaning "a battle won" and claimed credit for having taken the first steps, as director of the National Gallery (1934-1945), by installing a "scientific department with all the latest apparatus". He had done so not because he believed in the "application of science to the problems of cleaning", but because "until quite recently the cleaning of pictures used to arouse extraordinary public indignation and it was therefore advisable to have in the background what purported to be scientific evidence to 'prove' that every precaution had been taken."
Duping the public in such manner occurred in Italy. In 1981, a year after the start of the Sistine Chapel ceiling restoration in Rome, the restoration of the Brancacci Chapel commenced. Speaking of the prior tests made in connection with that restoration, the author Ken Shulman cites an Italian art historian ("Anatomy of a Restoration", p. 156), who had said:
"Let's be honest and admit what all restoration directors will say in private. At the beginning of any restoration, you order as many tests as you can imagine, fully aware that only about five per cent of them will be of any use during the restoration. The rest of the analyses are merely window dressing."
With Leonardo's "Last Supper", amidst all the preliminary testing, no-one seemed concerned by the fly that was present in the ointment of Pelliccioli's celebrated reductive, purist restoration: his liberation of Leonardo's paintwork had come at a cost in terms of artistic legibility. A law of diminishing returns had been set in motion that would (as we will see in Part 2) produce panic and confusion among the restorers and their supervisors.
Michael Daley
Comments may be left at: artwatch.uk@gmail.com
---
wibble!