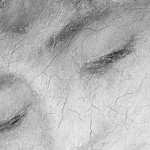 2017 marks the twenty-fifth anniversary of ArtWatch International and, today, the tenth anniversary of the death of its founder, Professor James Beck. This year, the eleventh anniversary of Beck's From Duccio to Raphael: Connoisseurship in Crisis, will see the ninth annual James Beck Memorial Lecture (in London) and publication of the proceedings of the 2015 ArtWatch UK, LSE Law, and the Center for Art Law conference "Art, Law and Crises of Connoisseurship" – which examined the crises from the perspectives of artists, scholars, scientists, and lawyers.
During the early 1990s Michelangelo restoration battles we soon saw misattributions and restoration injuries as twinned failures of connoisseurship. Subsequent events confirmed that analysis and vindicated our warnings on toxic attributions [1]. Our recent protracted silence covered studies of the present fakes/connoisseurship malaise and the results will be published during the year.
Above, Figs. 1 and 2: restoration degradations to two Klimt paintings – his Danae of 1907-08, as seen before 1956 and today; and his oil on canvas Portrait of Margaret Stonborough-Wittgenstein, as seen, left in 1905 when not-yet finished and subsequently in 1911, pre-1956 and today.
The starburst of exposed fakes that brought down New York's (unrepentant) House of Knoedler, embarrassed ancient firms like Colnaghi's and venerable publications like the Burlington Magazine has also humiliated the Louvre, the National Gallery, the Metropolitan Museum, the British Museum, the Art Institute of Chicago, the Tate, the Galleria Nazionale in Parma, the Van Gogh Museum and the Kunsthistorisches Museum in Vienna. On 11 April the FBI warned there could be hundreds more fakes in circulation in addition to the forty the agency has identified from a single forger who donated works to the Smithsonian American Art Museum, the Los Angeles County Museum, the Museum of Fine Arts, Boston, and the Detroit Institute of Arts. Had the FBI prosecuted the forger Ken Perenyi there might have been as many embarrassments again [2]. The problem of fakes occurs online, on land, and at sea outside of legal jurisdictions, as Anthony Amore has shown in his 2015 compendium of scams, The Art of the Con.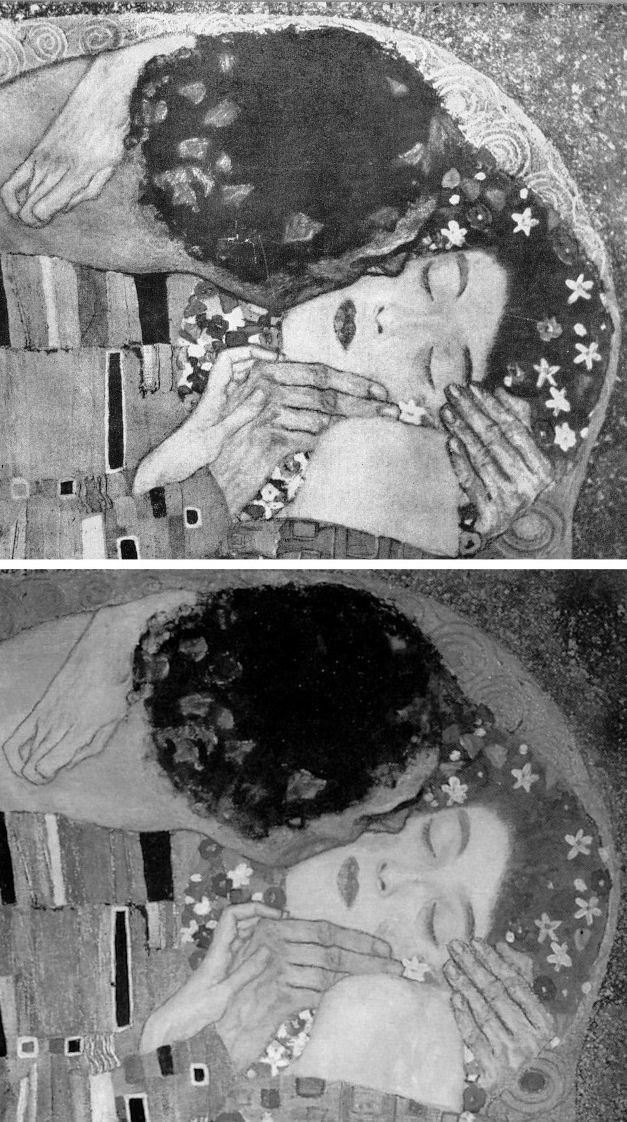 Above, Fig. 3, Klimt's 1907-08 The Kiss, (detail) as seen before 1956 (top) and today.
With fakes and restoration injuries, the latter are greatly more destructive. Misattributions can be corrected, money can be paid back. However it might be ascribed at a given moment, the work of art – the art object – remains its own prime document (insofar as restorers permit). Sometimes restoration injuries are localised within a work, sometimes they are overall and catastrophic. Successive damaging restorations compound injuries and falsifications irreversibly (as seen above with Klimt and below with Renoir, Degas and Michelangelo). Slow cumulative damages are perhaps more serious than abrupt aberrant mistreatments that draw immediate notice. Scholars who shy from considerations of condition [3] must proceed on the premise that what is today is what originally was – an untenable view given that every restorer loves to undo and redo the works of predecessors but does so at a yet further remove from the work's original condition and artistic milieu.
RESPONSES TO THE PRESENT ATTRIBUTIONS CRISIS
Responses to the attributions crisis have ranged from panic through self-exculpation and blame-casting to denial and cheerleading assurances of future streams of discoveries from sleeper/hunters. This is not an exclusively art market problem. Its roots are deeper and wider. The market trades objects on what others claim them to be. There has been concern among leading experts over the trade's capacities of recognition and discrimination because of a precipitate decline in hands-on objects-informed expertise within the academic and museum spheres which have traditionally underpinned market activity [4]. Where Sotheby's swiftly refunded purchases and took technical precautions, public museums are still flaunting restoration-wrecked pictures [5] and dubious attributions [6]. Much of art historical academia absents itself, fretting over alleged "engendered gazes", for example, while missing (or disregarding) restoration-wrecked Renoirs and Klimts.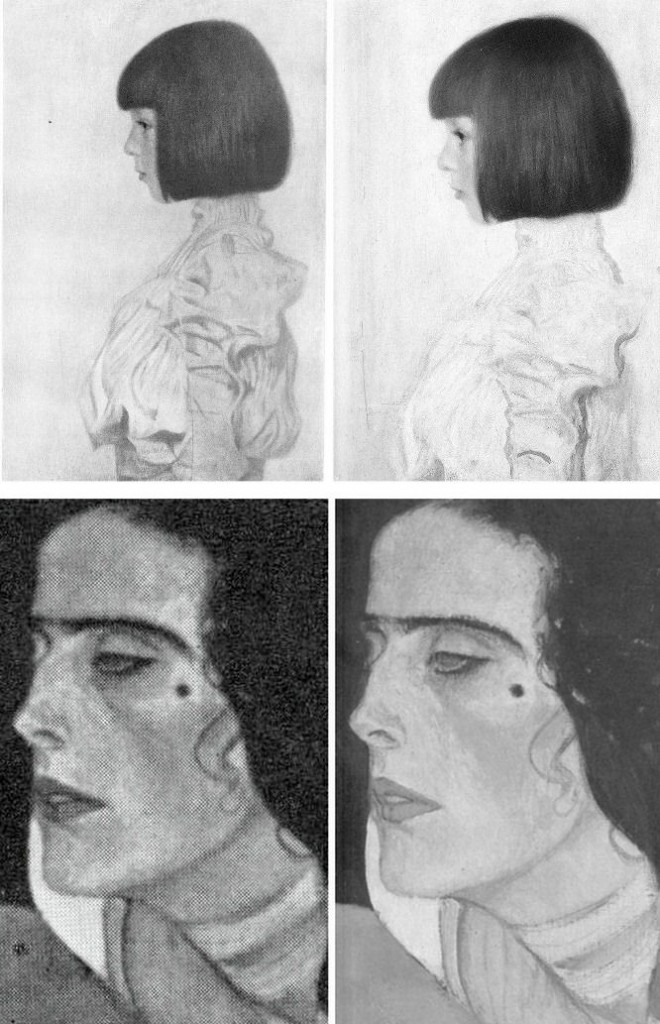 Above (top), Fig. 4, Klimt's portrait of his niece Helene in 1956 and in 2007. Above, a detail of Klimt's Judith II (Salome) of 1909, as published in 1956 (left) and in 1985 (Gustav Klimt ~ Women).
Below (left), Fig. 5, a detail of Renoir's La Loge, as seen in 1921 and in the Courtauld Gallery's 2008 exhibition catalogue Renoir at the Theatre – Looking at La Loge.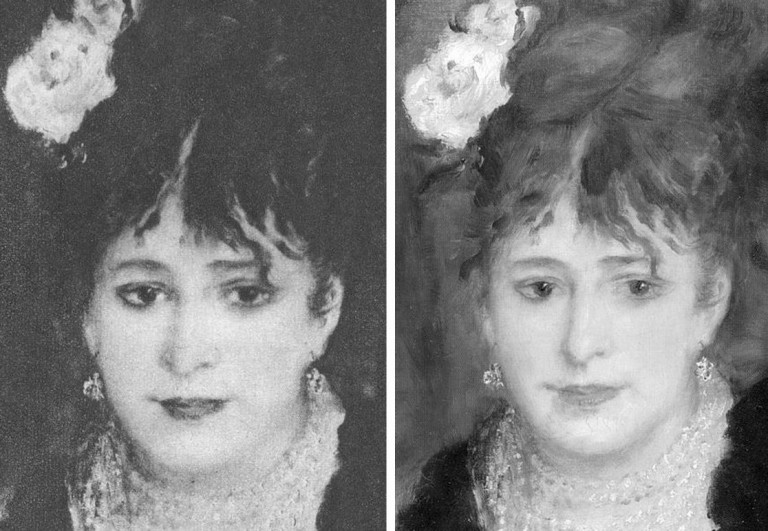 MUSHROOMING MARKETS
Without the cover of museums' previously thought invincible technical authority, the mechanics of error are suddenly in plain view. To repeat our warnings, three years ago in "Art's Toxic Assets and a Crisis of Connoisseurship" we wrote:
"'Buy land', Mark Twain advised, 'they're not making it anymore'. This logic ought to apply to the old masters but does not. Land makes sound investment not only because of its scarcity and its potential for development but because, in law-abiding societies, it comes fixed with legally defendable boundaries… Attributions, however, are neither guaranteed nor immutable. They are made on mixtures of professional judgement, artistic appraisal, art critical conjecture and, sometimes, wishful thinking or deceiving intent. They remain open to revision, challenge, manipulation or abuse… as some buyers later discover to their cost. Buyers are advised in the small print to beware and proceed on their own judgement… few people would dream of buying a house without legal searches and a structural survey."
Eleven years ago we noted: "…The artists themselves may be dead but their works proliferate. As recently as the 1960s, 250 sheets of drawings were accepted as authentic Michelangelo. Today, over 600 sheets are. Such increases are fed not so much by forgery or the discovery of genuinely long-lost original works (both of which occur) but by a too-ready upgrading of copies, or studio works, to 'original' status." [7.]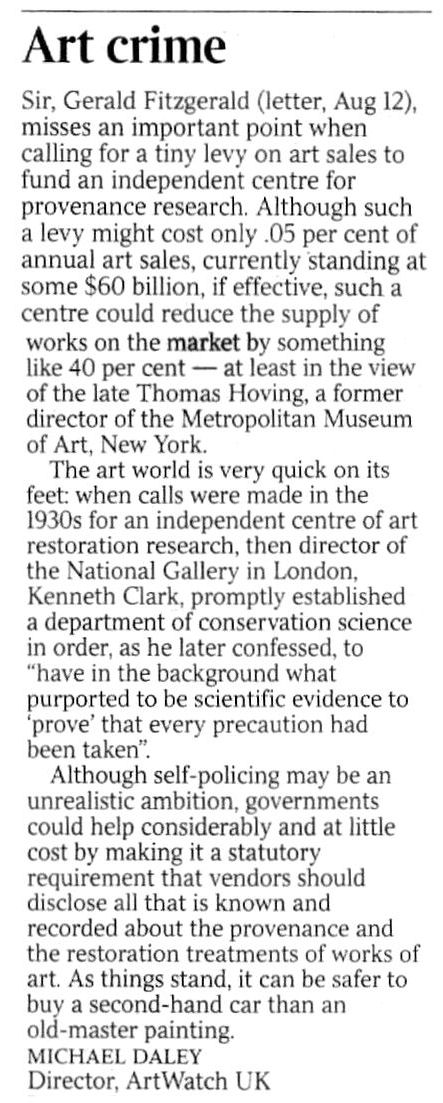 Three years ago we warned that buying old master paintings could be riskier than buying second-hand cars and asked for vendors to be required to disclose all that is known about a work's provenance and restoration history (13 August 2014, letter, the Times – Fig.6, above). At the time we received silence. This month the art market blogger, Marion Maneker, complained (Art Market Monitor, 2 May 2017) that:
"The Financial Times has yet another 'How Transparent Is the Art Market?' story written by an announced participant in an upcoming art market regulation conference revealed in the pages of the Financial Times the week before. Considering the amount of interest the FT has shown in regulating the art market, one would expect the international business newspaper to have some proposals about how to police the trade." See Georgina Adams, "How transparent is the art market". Where Maneker complained: "The closest the story comes to offering ideas is to compare the art market to the second-hand car market (unfavorably)" Adams had quoted two art world players who so liken the art market:
"The fundamental problem, according to the FBI's art and antiquities special agent Meredith Savona, is the lack of records of ownership. 'Even for cars, I can see who owned it for a certain period of time,' she says. 'In the art market there is nothing, no regulation. If someone will not tell you who was the previous owner there's a reason. There needs to be a way of having records maintained for, say 20 or 30 years.' This chimes with the stand taken by Nanne Dekking, a Dutch entrepreneur whose start-up Artory aims to bring more transparency to the market through catalogue raisonnés and provenance research – 'In Holland there is a digital registry for second-hand cars – it's obligatory to register, so if you buy a car you know exactly what you are getting', he says. '…That's the kind of transparency we're after."
In 2013 Dekking was appointed Sotheby's Executive Vice President and Vice Chairman, Americas after eleven years with Wildenstein & Co. He is a board member of the Authentication in Art group which first welcomed and then rejected a proposed paper we had offered on the flaws of Technical Art History for a forthcoming AiA conference. We see open and freely published debate as a precondition to reforming a system that is proving unfit for purpose.
PROVENANCE RESEARCH
Georgina Adams also reported calls for a levy on art sales to fund independent bodies to establish and maintain standards in the protection of buyers but such suggestions, in our view, are unworkable. The art market is global and increasingly an arena of private/secret transactions. Taxes are levied by governments. How and by whom would levies be collected around the world, pooled and then disbursed? Who would guarantee the independence of such bodies? Would they be national or international and to whom would they be answerable? Would they charge fees to offset their own costs? Less problematic, much cheaper and perhaps more to the point would be for governments to give buyers enshrined statutory rights to be informed about what should appropriately be known when buying a work of art. Presently, vendors enjoy de facto rights not to disclose their identities; not to disclose how often and to what extent works have been made over by restorers.
CONCEALMENT OF IDENTITIES
In 1998 a pastiche Leonardo drawing was put on the market by Christie's NY as "German School, early 19th century" and "the property of a lady". When the work was claimed to be a Leonardo worth $200million (as the so-called "La Bella Principessa") the lady concerned disclosed her identity and brought an action for damages against the auction house on what was only a claimed valuation, not a sale. Only then did we learn that the vendor was the widow of a painter/restorer (of Leonardo, among others) who had been an intimate of Bernard Berenson, helping him to conceal his collection from the Germans during the War, and the drawing's only known owner. When the new owner, and Professor Martin Kemp, an AiA board member and a leading advocate of the Leonardo attribution, trawled the Berenson archives together in search of an earlier reference to the drawing they drew a blank. The drawing remains without history outside of the studio of the artist/restorer who is said to have restored it. Such is precisely the kind of information to which potential buyers should rightfully be privy.
THE LAW, SECRECY AND MAKING THE BONA FIDE FAKE
When the Art Newspaper examined the legal ramifications of the current crisis ("It's time the art market got tough on fakes" 2 February 2017) it found no appetite for either external regulation or self-policing and a blithe acknowledgement that bad restorations convert bona fide pictures into effective forgeries:
"At the annual art-crime symposium held in November at New York University, participants agreed that the culprit was the market's notorious secrecy. But discussions revealed deep divisions about what should be done. Insurers, auction houses, dealers and other players each have their own interests to protect in a market where, as one participant remarked, the 'level of greed…is so great'.
'Information is the currency of the art market,' said lawyer Steven Thomas, the head of the art law practice at the Los Angeles law firm Irell & Manella. He offered an example showing how information was withheld in trying to close a sale. When one of his clients learned that an impressionist painting he was interested in had been restored so extensively it was no longer considered authentic, he confronted the dealer, a prominent New York gallerist. 'Oh, you found out,' was the cavalier response. Such is the attitude in a market where the burden of due diligence as a practical matter may fall on the buyer."
ACKNOWLEDGING RESTORATION INJURIES TO SAVE AN ATTRIBUTION – AND THE PARAMOUNT IMORTANCE OF PHOTOGRAPHIC RECORDS
Secrecy on condition can tempt owners. Duncan Phillips privately admitted that his great Renoir The Luncheon of the Boating Party (detail below, Fig. 7) was so mauled by two pre-eminent restorers that it was rejected as authentic when loaned to the Louvre:
"Fortunately we were able to put them right because our friends had taken the precaution of filming their work on the canvas. I have a copy of the film which you're welcome to view. In it you'll notice actual colour stains coming off on the cotton swabs. But please, for God's sake, don't report this tragedy. It's too dreadful." [8.]
Today one can see on the painting where a colour in one part was introduced into the cracks of another area – and yet Phillips's widow, Marjorie, wrote in her 1970 memoir Duncan Phillips and his Collection "the Sheldon Kecks, outstanding restorers, operated on the Renoir successfully!" We have asked the Phillips Collection's director several times to see the film and the painting's restoration records but always without reply. At the National Gallery, under the directorships of Charles Saumarez-Smith and Nicholas Penny, we were given permission to examine the historic and conservation dossiers of paintings with the kind and helpful assistance of the gallery's librarians and archivists. In contrast, when we asked to see the records of the Bellini/Titian The Feast of the Gods at the National Gallery, Washington, the conservation department refused outright. A curatorial department was more open and supplied good-quality pre and post-restoration photographs of the painting's states which enabled us to demonstrate losses of value during the cleaning (as at Fig. 8 below). We learn that a member of the gallery's conservation staff keeps more sensitive photographic records at home for fear that they "might fall into the wrong hands".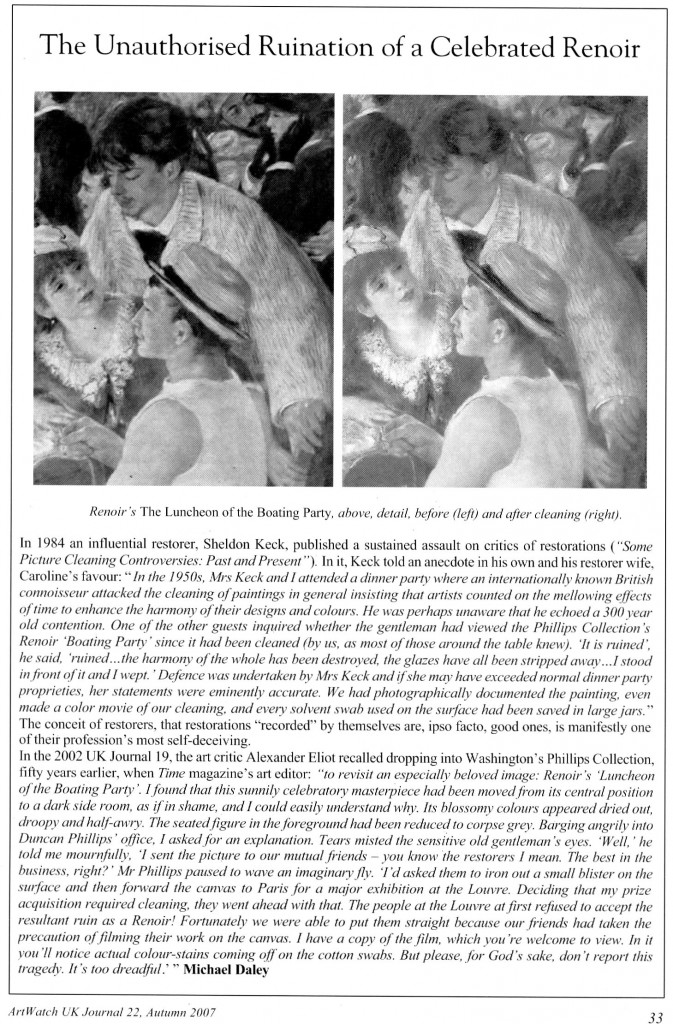 Above, Fig. 7: a page in the Autumn 2007 ArtWatch UK Journal published in memory of James Beck who died on 26 May 2007. In the same journal we published a comparison of a detail of the Feast of the Gods, as taken before cleaning (left) and after cleaning but before repainting – see Fig. 8, below: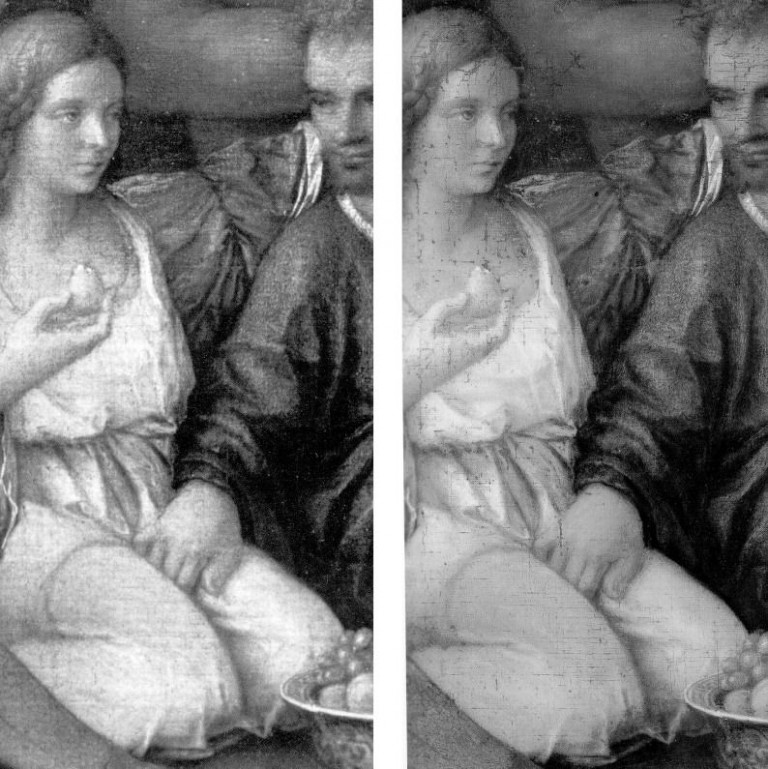 SPURIOUS CONSERVATION SCIENCE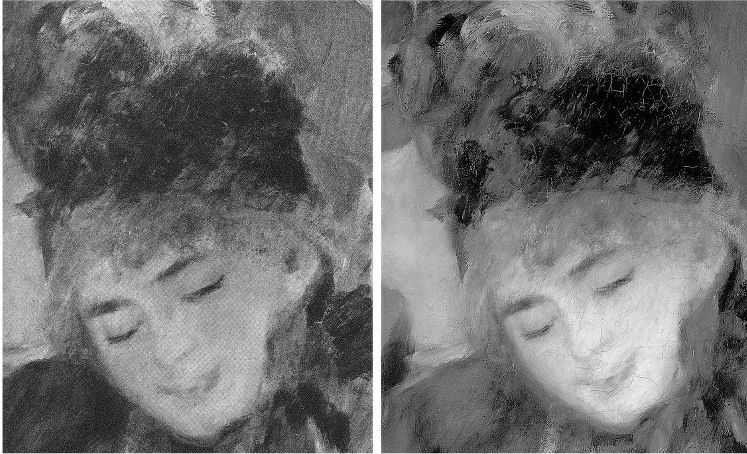 Above, top, Fig. 9: a detail from the National Gallery's Renoir The Umbrellas before cleaning (left) and after cleaning in 1954. Below, Fig. 10, the face, after cleaning and restoring.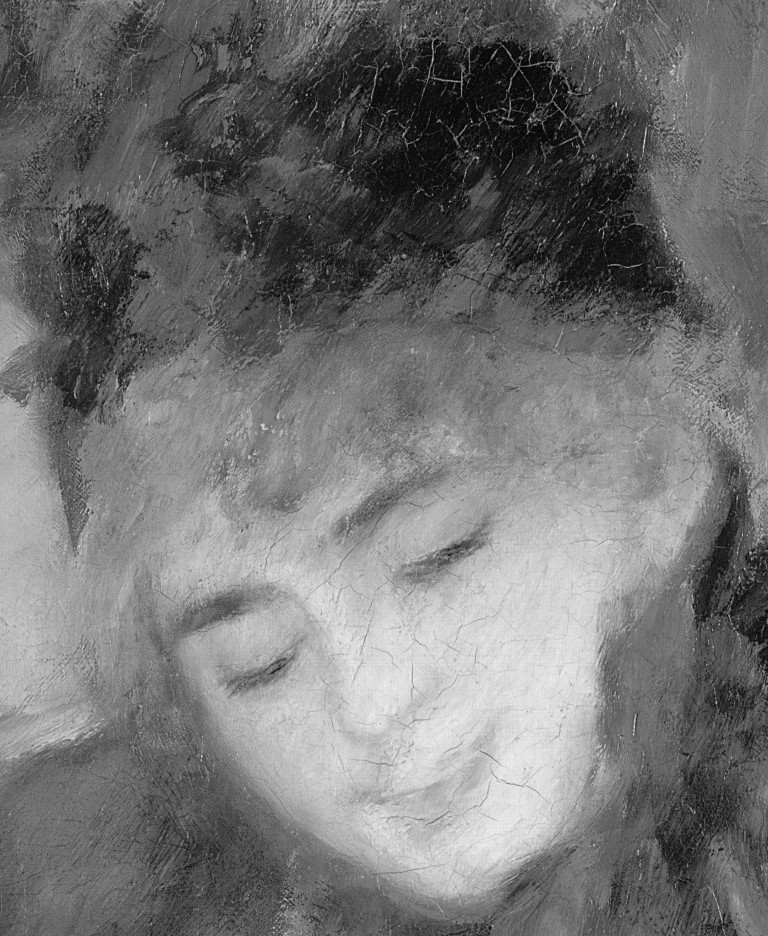 It should be clear to any scholar or connoisseur of paintings that the National Gallery cleaning was injurious, that the picture's values and relationships were degraded and deranged – and yet the technical promises underpinning the restoration were "top-of-the-range" and authoritative. Cleaning was preceded by a physical and a chemical analysis of the painting by two gallery scientists who concluded that an "extremely thin" natural resin varnish could safely be removed "by solvents of a strength well below that likely to attack the paint film, which is resistant to the solvent action of pure acetone." The scientists offered an additional assurance: "In the hands of a competent restorer [Norman Brommelle, husband of the National Gallery's head of science, Joyce Plesters, was chosen] there is no reason to fear that the paint layers will be disturbed in the course of cleaning. Since, in this particular picture, there is no evidence of a linoxyn film, nor the presence of any resin in the medium, there is, in our opinion, no need to adopt any special precaution."
Brommelle reported that the varnish was removed with a 3:1 turpentine/acetone mixture containing a small percentage of diacetone alcohol and that the last traces were removed with toluene but no one explained why an extremely thin varnish layer of no great antiquity needed to be removed. The cracks seen above at Fig. 10 were products of the cleaning (some local cracking had occurred previously where the canvas vibrated against a central stretcher bar on its regular exchanges between London and Dublin. (Technical information by courtesy of the National Gallery Conservation Department.)
THE TECHNICAL AND SCHOLARLY UNDERWRITING OF A FAKE AT THE NATIONAL GALLERY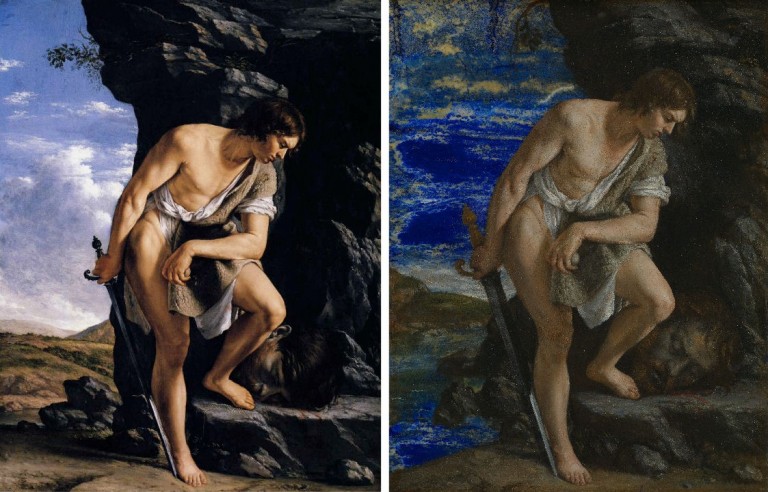 One of the recently disclosed fakes, an "Orazio Gentileschi" (above right at Fig. 11 next to an authentic work), had been accepted by the National Gallery on a loan from its owner. When the now rejected no-history painting was withdrawn, the gallery justified its inclusion with the claim (Antiques Trade Gazette): "The gallery always undertakes due diligence research on a work coming on loan as well as a technical examination." After this historical and technical examination, the Gallery label declared that "the poetic depiction of 'David Contemplating the Head of Goliath'" had been produced by Gentileschi "for a collector's cabinet" – an unsupported claim that, like "made for private devotion", often serves as a flag of convenience for small recently-discovered old works without histories.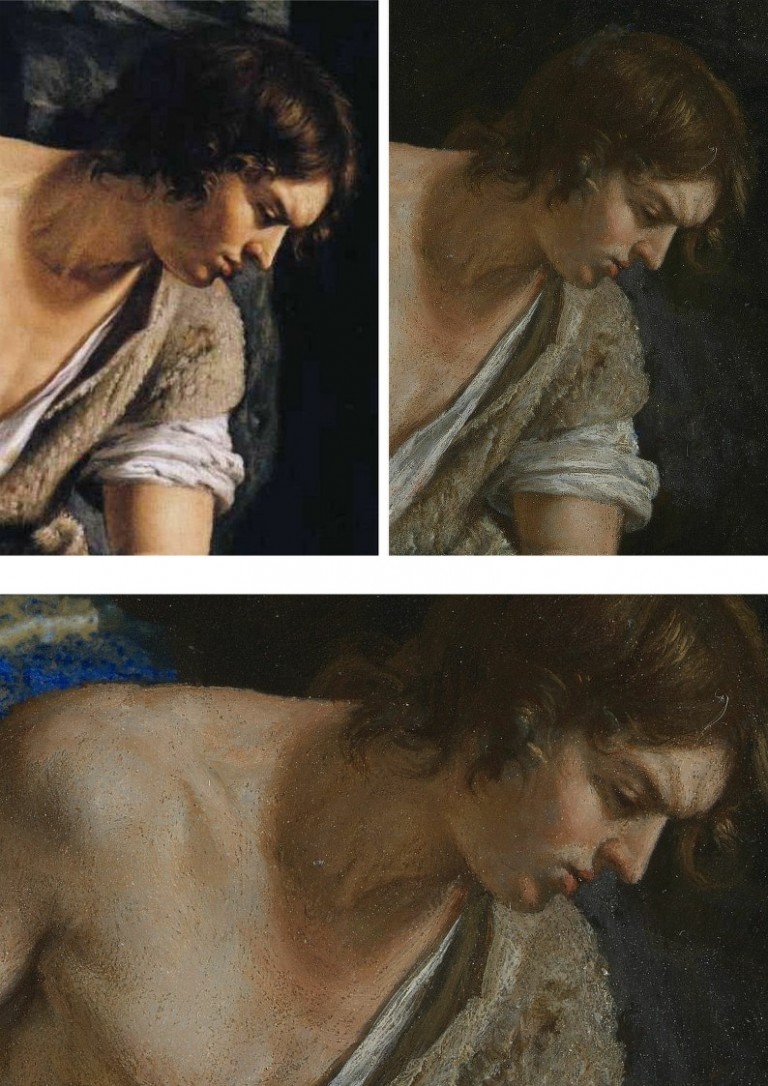 Above, Fig. 12, here we see a detail (top left) of the real Gentileschi David and (top right and below) the loan accepted as authentic by the National Gallery. If, instead of whatever technical and art historical examinations were carried out, the Gallery had run a few simple photo-comparative checks of the kind shown here, it should have been obvious to anyone with an alert eye that the picture in the top left had been the bona fide historical prototype for the other, markedly inferior and modern-looking, version. Qualitatively, they are not remotely co-equals: the one is a crude pastiche of the other. In every detail the chasm of quality should have identified the loan as a pastiche.
THE CONSEQUENCES OF (UNACKNOWLEDGED) RESTORATION INJURIES
Although this impostor has now been rejected from the National Gallery there is no redress for individual badly restored bona fide works – and often not even an acknowledgement of their plight. Nor is there any apparent means of stemming the swelling tide of destruction that masquerades as a conservation service while delivering incremental degradations of pictures, such as those that can be shown to have taken place in less than a century on what is now the Denver Art Museum's Degas' superb pastel and charcoal The Dancing Class or Dance Examination of 1880 below at Fig. 13. The first photograph in the sequence was published in 1918 (Degas, Paul Lafond) when the drawing was not yet forty and therefore likely to have been in an original or near-original state. The third photograph was published in 2002 in the catalogue to Degas and the Dance, a sponsored travelling exhibition organised by the American Federation of Arts (- the "the prime movers"), the Detroit Institute of Arts, and the Philadelphia Museum of Art. The show was curated by the leading Degas specialists Richard Kendall and Jill Devonyar.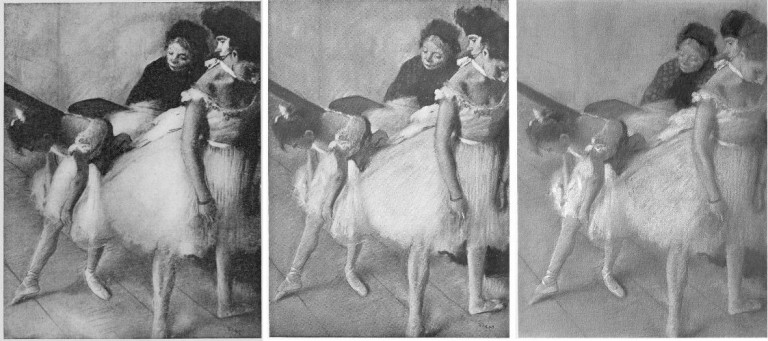 The sequence of states at Fig. 13 above resembles a succession of an etching's proof states in reverse: the most complete condition is seen in the oldest record and the most debilitated state is recorded most recently. If we make the most direct comparison with the earliest and the most recent records of this drawing, as at Fig. 14 below, the differences become startling and heartbreaking. What happens to one artist happens to all in turn, as was most shamefully seen to Michelangelo at the Sistine Chapel – see Fig. 15 where an early Anderson photograph of a lunette is shown with its post-restoration state. By such simple comparative means we can see/demonstrate that Degas and Michelangelo have not been restored or conserved so much as subjected to a cultural pathology – an infantile revulsion at or terror of darkness and a failure to appreciate that darkness, as artists appreciate, confers brilliance and radiance. Without shadows to relieve lights there is no great vivacity – art's life-affirming gift. Our historic cultural legacy is being made over into a blander, more homogenised arbitrary colourfulness. With so much value and vivacity already lost in the Dance Class's first century, who, if offered the chance, would today vote for "More of the same, please" in the next? Restorers can never put the clock back. They can only offer more of the same: yet further intensifications of hue and losses of form and space-creating tones.
THE INCALCULABLY VALUABLE TESTIMONY OF PHOTOGRAPHS
Photographic reproductions do not have to be taken as absolutely faithful replications to have great value as record – why else would they be published and consulted in such great numbers? They are particularly eloquent as witnesses when seen in company with predecessors and successors, because the patterns that successive images make disclose the truth about present conditions. The net consequence of restorations during the last much-photographed century can be seen/shown to have been gravely damaging, effectively washing away art's pictorial strength, disrupting the internal relationships of individual works, rendering oeuvres capriciously erratic and incoherent and, thereby, creating spaces, opportunities and, even, seeming precedents for misattributions and outright fabrications.
COLOURS V TONES
Although we do not have a colour photograph to match the black and white Durand Ruel photograph published in 1918, we can, by juxtapositions, estimate the degrees of loss today. At Fig. 16 below, the top comparison shows that the bump on the head of the woman in the upper right-hand corner was formerly a red feathery hat decoration. It now survives as a smear of colour that, tonally, is almost indistinguishable from the wall behind. We can see in the greyscale comparison at the bottom that the red decoration had originally been given a halo. On his own declared pictorial statagems, we might deduce that Degas had used the pocket of red to create a triad of local counterpointing primary colours: red feathers, ochre spots and an intense dark blue ribbon bow. Certainly, speculations aside, since that date the ineffably soft back of the standing dancer's tutu has both hardened and become see-through. The feathered, layered back of the bending dancer's tutu has, on some bizarre and alien tidy-minded logic, been reduced a ghostly but sharp-edged right angle. Degas is leaving us, involuntarily. He learnt and extracted much from photography. Is it too much to ask that all scholars use our very great resources of photography and historic photographic evidence to calibrate the injuries done to his oeuvre and therefore more fully appreciate and give due account of Degas' great and supremely fresh and audacious genius?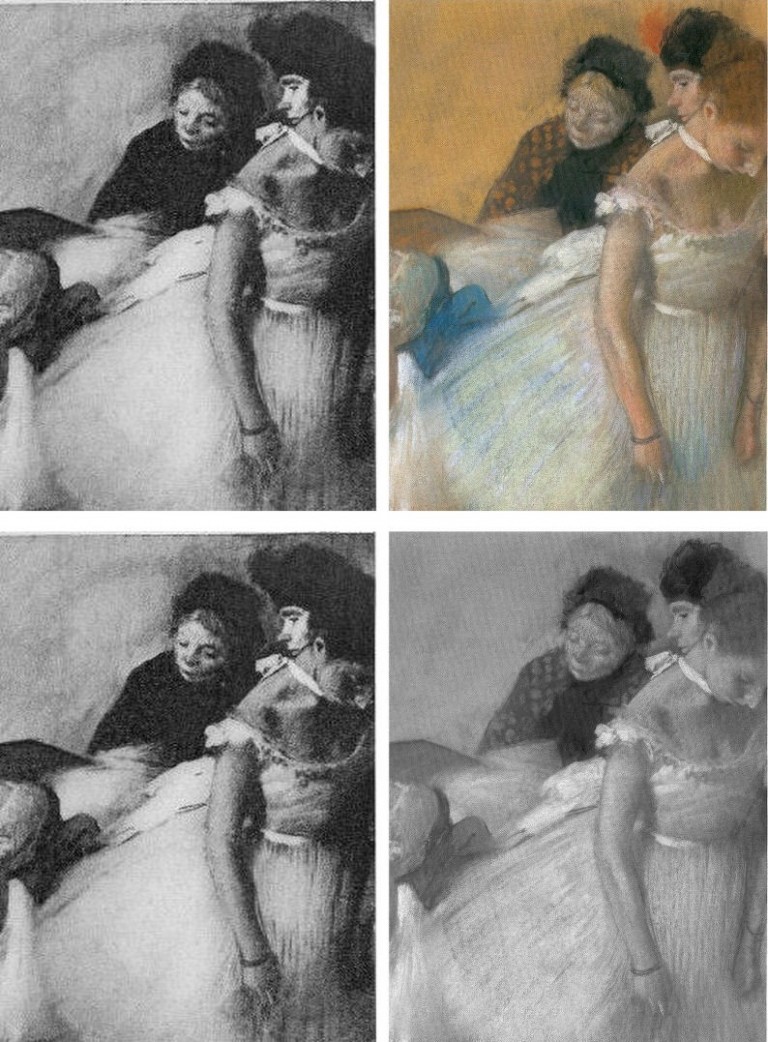 Certainly, the most urgent single reform needed in today's crisis of connoisseurship lies in increasing the accessibility of photographic records of condition and treatments. In an age of electronically transmissible, high quality photographic images this would be easier to achieve and more instructive than ever before. There are no good reasons for institutions, owners and dealers continuing to sit on such material and thereby prevent people from seeing what's what.
Michael Daley, 26 May 2017
Coming next: Degrading Degas and Michelangelo
ENDNOTES:
[1] We first used the term in connection with the so-called Stoclet Madonna, the Metropolitan Museum's attributed Duccio, in "Toxic Attributions?" The Jackdaw March/April 2009.
[2] "In the end, after a five-year investigation and a mountain of evidence collected, no one, neither the two 'conspirators' nor I, was ever charged with a crime or indicted" – so wrote Ken Perenyi, in his 2012 memoir Caveat Emptor, p. 312.
[3] One scholar who has engaged on this territory with his pioneering book Condition:The Ageing of Art, Paul Taylor, incurred immediate wrath from some restorers who would claim monopoly rights on all discussions in the field, but a firm welcome elsewhere. Apollo noted that "There are unquestionably many art critics and even academic art historians for whom the material context of art, and particularly flat art, has become a rarefied field. That needs to change, if we are not to see total severance between those who work to preserve physical objects and those who claim to construe their meanings."
[4] In a paper delivered at the ArtWatch UK/LSE/Centre for Art Law December 2015 conference ("Throwing the baby out with the bathwater"), Brian Allen, a former director of the Paul Mellon Centre for Studies in British Art (1992 to 2012) and Chairman of the Art Fund observed: "…increasingly, the only young connoisseurs emerging are to be found in the commercial art trade and this surely cannot be a desirable state of affairs. It might be argued that many of the best 'eyes' have always been in the art trade but, until recently, there was always a body of disinterested academic 'experts' to counterbalance commercial self-interest…" In the March 2017 Art Newspaper, Anna Somers Cocks, the paper's Chairman and a former curator at the Victoria and Albert Museum, discloses that the V&A now considers the giving of opinions a drag on its curators' time and devotes only three hours a month to it when, in the 1990s, it reserved two afternoons a week to telling the public what their heirlooms were. In the same issue of the Art Newspaper Mark Jones, a former director of the Victoria and Albert Museum, said that expertise, by which he meant "the ability to recognise and identify objects, surmise their history from their appearance, tell the genuine from the false and make judgements about quality" has become patchy, even rare, in museums. Mark Jones was the curator/organiser of the British Museum's legendary 1990 exhibition "Fake? The Art of Deception", the catalogue of which remains a seminal study in the field.
In response to Mark Jones the dealer Peter Nahum wrote in the April 2017 Art Newspaper (letter, "Dealers and curators should work together to spot fakes"):
"The art forger Shaun Greenhalgh and his father George visited my gallery in 1984. It was after 6pm and they offered me a painting they said was by Samuel John Peploe, for which I gave them a cheque. As soon as the banks opened at 9am the next morning I cancelled the cheque and called in the police. I was the first to report the family from Bolton for purveying a fake, 16 years before their arrest.
"When they were finally arrested, my cheque was still on their desk. I also advised Bolton Museum on the purchase of the painting by Thomas Moran and subsequently saved them from buying a fake watercolour purportedly by the same artist.
"I have long campaigned for the art and antiques trade and academics, especially those in museums, to work more closely together. Our job, as dealers, is to defend our clients against the legion of fakes and wrongly catalogued items on the market. As we are personally financially responsible for all transactions we make and advise on, we are the most vulnerable and, by necessity, the most careful. As a result we are often best placed to authenticate works.
"Academies and museums obviously have great experts on their staffs, but their prime focus is the history and provenance of objects and thus their visual skills often take a secondary position. When both professions work together, mistakes are lessened.
"I have made it my mission to track down and report those who make fake art, as they are the bane of our lives and can cost those who buy art a great deal of money. They are simply con-men extracting money from innocent people by deceit.
"As dealers, academics and collectors, we are all motivated to push the boundaries of our knowledge, and thus all of us are vulnerable to those who wish to take money under false pretences. We have to be constantly on our guard as each one of us will fall into one of the fakers' traps sooner or later – we are all human after all.
"Thus, I applaud Mark Jones's article: scholarly research is flourishing but curators' ability to judge an object's quality is not (The Art Newspaper Review, March, p.13) with two main comments. The painting by Samuel John Peploe was not sold, and academics have rarely been the greatest visual judges – that is more our job than theirs. That does not mean that there are not great visual experts in academia – of course there are – it simply means it has never been their primary function.
Peter Nahum.
Peter and Renate Nahum Agency (the Leicester Galleries), London."
[5] See "From Veronese to Turner, Celebrating Restoration-Wrecked Pictures" and "Taking Renoir, Sterling and Francine Clark to the Cleaners" and THE ELEPHANT IN KLIMT'S ROOM and, finally, "Now let's murder Klimt".
[6] The National Gallery includes one of its most dubious and controversial attributions – the Rubens Samson and Delilah – in its list of 30 "must-see" pictures. There are more than twenty secure and superior works by Rubens in the gallery including the magnificent Minerva protects Pax from Mars ('Peace and War'). When controversy broke over the attribution in 1997 the gallery's director, Neil MacGregor, placed a statement next to the painting to explain why it looked like no other Rubens in the collection. Two special issues of the ArtWatch UK Journal have been devoted to this picture's problems. See: "The Samson and Delilah ink sketch – cutting Rubens to the quick" and "Art's Toxic Assets"
The National Gallery's highlights list also includes the restoration-wrecked Bacchus and Ariadne by Titian, on which, see: "The Battle of Borja: Cecilia Giménez, Restoration Monkeys, Paediatricians, Titian and Great Women Conservators"
[7] "Oh Blessed Honthorst", Michael Daley, ArtWatch UK Journal No. 21 Spring 2006 – a Rubens special issue dedicated to the National Gallery's ascribed Rubens Samson and Delilah), p.4.
[8] As reported by Alexander Eliot, a former Time magazine art critic, in "A Conversation about Conservation", The World and I (Volume: 15), June 2000.
---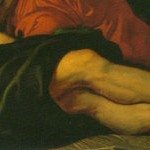 30 September 2014
"Buy land", Mark Twain advised, "they're not making it anymore". This logic ought to apply to the old masters but does not. Land makes sound investment not only because of its scarcity and its potential for development but because, in law-abiding societies, it comes fixed with legally defendable boundaries. Karl Marx, plundering English classical economists, held that all value is unlocked by human labour – but all labour does not generate equal values. In given periods and places all painters work pretty much with the same materials but their artistic transformations of those materials are various and unequal in accomplishment and merit. Such differences drive reputations and hence the market value of artists' works but they do so in ways that are intrinsically problematic.
Artists' reputations may or may not endure. With many surviving works the identities of authors are either not securely established or entirely unknown. In such cases paintings are appraised and then attributed to particular artists or schools. Attributions, however, are neither guaranteed nor immutable. They are made on mixtures of professional judgement, artistic appraisal, art critical conjecture and, sometimes, wishful thinking or deceiving intent. They remain open to revision, challenge, manipulation or abuse. The experts who make attributions exist in professional rivalry with one another (sometimes with vehemence) and while their disagreements are signs of art critical health, a consequence is that legal guarantees for attributions are untenable and non-existent, as some buyers later discover to their costs. Buyers are advised in the small print to beware and to proceed on their own judgement. With art, as we recently pointed out (see Endnote 1) it can be safer to buy a second-hand car than an old master painting (- and few people would dream of buying a house without legal searches and a structural survey.)
"Scientific" red herrings
In recent years attempts have been made to impart quasi-legal assurances to attributions by appealing to the authority of supposedly "scientifically verifiable" technical proofs. The exercise is vain and, technically, philistine: by its very nature, art is not reducible to scientifically quantifiable component parts. The technical evidence cult reflects a collapse of confidence in powers of connoisseurship on the one hand and a grab for cultural and institutional power by technocrats and bureaucrats on the other. The new hybrid discipline "Technical Art History" in which restorers, conservation scientists and curators pool expertises in attempt to arrive at professionally impregnable positions, has proved pernicious. Art-politically, this united front seeks to neutralise all charges of art critical and methodological failure with professional mystification and displacement activities – by fostering a "closed-shop" mentality and claiming that its mysteries are beyond the reach of any outsiders [2]. The new technocrats insufficiently appreciate that paintings are no more and no less than the products of artists who, working by brain, eye and hand, fix values and the relationships between values so as to produce specific and unique artistic effects that can be comprehended by others using eyes and minds in response. In the visual arts the visual should remain paramount – what you see is what it is about. Art loving viewers and professional art experts alike might be said to have duties of appropriate response to art itself and not to its shadows and encumbrances. It is the optically perceived quality of artists' artefacts that drives reputations and market values. Understanding art is not the same thing as poking and poring over the component parts of its fabric – let alone presuming, as "restorers" (or now, "conservators") perpetually do, to undo and redo its features at regular intervals. What matters is what you see, not what might be said or thought to lie under the surface.
Managing lapses of connoisseurship
This is not, of course, to say that technical examinations can serve no purposes. Rather, it is to say that in matters of art attribution and appreciation technical examinations of the physical composition of works might supplement informed visual appraisals but they cannot stand in lieu of them. Nor can the supposedly disinterested and neutral character of technical examinations themselves be taken at face value. In practice, with every technical investigation and its resulting "findings", someone, some institution, some interest group, has commissioned/conducted the exercise and controlled its dissemination. Paintings in powerful institutionally-protected locations (particularly major museum) can be afforded dispensations from otherwise injurious findings [2]. It sometimes seems that just as banks are now too big to be allowed to fail, so big museum attributions cannot be allowed to fall, whatever evidence and arguments accumulate against them [3], for fear of undermining public, political and art market confidence.
Follow the money and look at the drawings
Concerning the frequency of art world upgrades, it would seem easier to grow old master drawings than paintings. Where only 250 sheets of drawings were attributed to Michelangelo in the 1960s, today that oeuvre has been expanded to over 600 sheets. Although drawings do not command the high prices of paintings they can greatly assist their attributions. In the late 1920s a firm of antiquarian dealers in Holland, R.W.P. de Vries of Amsterdam, sold a number of old master drawings some of which have ended in museums, and two of which concern us here (Figs. 1 and 2). Neither of these had a provenance (i.e. a proven history of previous ownership). Both had simply materialised in the dealers' hands with old master attributions. The first sold in 1927 for 26 florins (guilders), some € 235.80 at today's values. The second sold two years later for 750 florins, some €6,801.91 today. The first was attributed to van Dyck, the second to Veronese. Neither attribution survived and the original perplexing ratio of value between them (which approached thirty to one) has reversed dramatically.
The Veronese attribution crashed in 1984 when Richard Cocke published his catalogue raisonné Veronese's Drawings and dismissed the drawing with the single (apt) sentence: "The heavy forceful cross-hatching in the drapery and the forms of the head and hands have nothing to do with Veronese." That drawing sold in 1991 at Christie's for £7,000 as "attributed to Agostino Carracci". In contrast, the former van Dyck drawing morphed into the work that sold at Christie's on July 10th as an autograph Rubens ink sketch for a world record Rubens drawing price of £3,218,500. The former "van Dyck" has thus enjoyed a 14,000-fold increase of value since 1927.
The extraordinary success of the van Dyck that is now a Rubens was due only in part to Christie's masterful promotion. It was very much on the strength of its current art-historical position that the drawing was drum-rolled as the starred lot in a sale of part of the prestigious I. Q. van Regteren Altena drawings collection. Most helpfully of all, the drawing was precisely characterised as Rubens's "first thought" preparatory ink sketch for the National Gallery's Samson and Delilah painting (Fig. 4). Notwithstanding its anomalous traits (see our previous post), its artistic shortcomings and its dubious provenance, the drawing remains bolstered by its crucial allotted role in a sequence of three Samson and Delilahs, two of which have been acquired by museums (Figs. 3 & 4). Although Christie's July 10 sale realised more than twice its highest estimates and broke many records for individual artists, only one of the top ten works went to an art gallery or museum. Two were sold on to the trade. Seven, including the Samson and Delilah drawing, went to anonymous individuals.
Making four Rubens's
Christie's catalogue entry burnishes the drawing's pedigree with upbeat optimism. It is said for example: "When I. Q. van Regteren Altena bought the drawing in 1927, he listed it in his inventory under its traditional attribution to Sir Anthony van Dyck (1599-1641). That attribution also accounts for an earlier owner's inscription of the letters 'V.D.' in the lower left corner." What traditional attribution? Which earlier owners? Christie's account of the provenance begins: "with R.W.P. de Vries Amsterdam; from whom purchased by I.Q. van Regteren Altena on 20 December 1927 for 26 guilders ('387.t. A. v. Dijck. Samson & Delilah')". And that is all. There had been no previous owners and no evidence exists of any "traditional" reception as a van Dyck – or anything. Any suppositions aside, all that can safely be said is that this drawing emerged from nowhere at a time when forgery was rife and the art world suffered from what Bernard Berenson [!] described as "the universal tendency to ascribe a given work of art to the greatest artist to whom wishful thinking and excited imagination can ascribe it." ("Essays in Appreciation", 1958, p. 95.)
Christie's entry continues: "With the emergence of the finished painting and the connected oil sketch the drawing's significance rapidly became apparent." There was no rapidity and the claimed significance is mythic. The supposed second stage oil sketch or modello did not appear until 1966. The claim that, "The picture of Samson and Delilah was only rediscovered in 1929", also misleads. The painting was not "rediscovered" as a Rubens. It had never been a Rubens. When it appeared in 1929 it was, just like the ink drawing three years earlier, without provenance and it was not judged a Rubens by its German dealers, Van Diemen and Benedict, who were offering it as a Honthorst. It was later upgraded to Rubens in a certificate of authenticity by Dr Ludwig Burchard and it then sold in 1930 to August Neurburg, a German tobacco magnate.
Burchard was a leading Rubens scholar, but today his attributions have a notoriously poor record [4]. Far from the ink drawing being corroborated as a first stage sketch by the arrival of the painting, Burchard had upgraded the painting on the authority of the drawing which he had himself upgraded to Rubens in 1926. In Christie's catalogue the drawing's "Literature" begins with Burchard's attribution: "L. Burchard, 'Die Skizzen des jungen Rubens' in Sitzungsberichte der Kunstgeschichtlichen Gesellschaft, Berlin, 8 October 1926, p. 30, no. 2." At that date no one had previously owned or discussed the work. Burchard thus upgraded a drawing that had never been exhibited and was in a dealer's hands without any provenance. Notwithstanding his claims on behalf of the drawing, in 1927 both the dealer selling and the collector buying still held it to be a van Dyck.
When the modello eventually appeared in 1966 it had no provenance. Its history consisted of a hearsay account (from the anonymous lady vendor) of an ancestor said to have bought the work for a few shillings in an antique shop in York during the 1930s because she liked the frame. This supposed Rubens oil sketch had been painted on a support that is found in none of the artist's oil sketches – on a soft, conifer wood, not on his customary oak panel. Its appearance was, for a Rubens oil sketch, disturbingly close in design and effects to those of both the ink drawing and the finished painting (see Figs. 2, 3 and 4). Its arrival completed an unicum in Rubens' oeuvre: a suite of stages of work without evidence of development. Notwithstanding that problem, the modello on the wrong wood was given to Rubens by Christie's themselves, to join the company of a panel painting whose back, it later emerged, had disappeared in an operation for which no one acknowledged responsibility, and a drawing whose back was concealed by being pasted onto a second sheet even though it bore drawing itself. The modello sold to a London gallery for £24,000, going to a private collector before passing through Agnews to the Cincinnati Art Museum in 1972. The last of the trio to emerge, this technically problematic work-without-provenance was the first to achieve museum status. At some point, pieces of wood were removed from its sides (creating a closer compositional alignment with what is now the National Gallery painting) and, at another, the Cincinnati museum claimed the panel to be oak. Presently the wood is not identified, the work being described as on "panel".
Why? Why? Why? Delilah?
In July 1980, the supposed third stage, the Samson and Delilah painting, was sold by Neurburg's heirs through Christie's to Agnews, acting on behalf of the National Gallery, for a then Rubens world record price of £2.53m. In 2002, with two parts of the Samson and Delilah trio now secure in museums and the third in a respected private collection, Sotheby's sold a painting, The Massacre of the Innocents (see Fig. 13), as an autograph Rubens on the back of its perceived shared characteristics and collections history with the National Gallery's Samson and Delilah for £49.5m, to Lord (Kenneth) Thompson. Even though those paintings are riddled with problems (see "Is this really a Rubens?" Michael Daley, Art Review, July/August 1997, and "Is this a Rubens?" Michael Daley, Jackdaw, October 2002), and the Samson and Delilah had been challenged for over a decade [5], the price was an outright old masters' world record. Thompson loaned the Massacre to the National Gallery and then bequeathed it to the Art Gallery of Ontario, Toronto, thereby making it publicly available and greatly enhancing its pedigree. Thus, today, three high valued well-placed but individually problematic museum Rubens's owe their positions to a belated acceptance of Burchard's initial attribution of what is still a privately (but now anonymously) owned ink drawing.
Who cut Samson's toes?
The reason why all of these subsequent Rubens upgrades rest on the authority of this ink drawing is because of a glaringly anomalous feature in the National Gallery painting – the fact that the toes of Samson's right foot are cropped by the edge of the picture. This was not because the panel had been trimmed at some point. Rather, it is because the painting simply stops disturbingly, inexplicably, at the beginning of the toes. Thus, without the drawing's seeming testimony that Rubens had planned to crop Samson's toes by cropping his own initial design within a precisely drawn ruled box that anticipated (even before he had executed an oil sketch) the final format of what is now the National Gallery painting, that painting could never have been attributed to him. This is so for reasons that are implicit in Burchard's 1930 certificate of authenticity. It read:
"The photographed painting on the other page is one of Peter Paul Rubens' major works from the time of the master's return from Italy. It must have been painted in 1609 or 1610. With Rubens' agreement, Jacob Matham reproduced the painting with a copper engraving around 1615. As witnessed by the inscription of the painting, the picture at that time was in the possession of Antwerp mayor Nicolas Rockox. Indeed, the inventory of Nic. Rockox' estate, dated 19 Dec. 1640, lists the picture as "Eene schilderne…(Annales de l'Academie d'Archaeologie de Belgique, Anvers 1881, p. 437). On pp. 143-44 in vol. I of 1886, the five-volume catalogue of Rubens' work by Max Rooses, the painting is described in detail as number 115, based on the Matham engraving and mentioning the Rockox inventory. The picture itself remained as unknown to Rooses as to all literature since. It is further notable that a picture of an interior by Frans Francken (Pinakothek Munchen No 720), which appeared to be of mayor Rockox's living room, showing the painting in pride of place above the mantelpiece, while in an adjoining room is the picture of the "Doubting Thomas" which we know Rubens painted for Rockox. According to S. Hartveld of Antwerp, the room with the mantelpiece exists even today in the Kaiserstraat in Antwerp where Frau Gruter-Van der Linden now lives in the Rockox house. A sketch for the Samson picture (pen, varnished, 16.4 x 16.2) is in Amsterdam in the collection of Mr J.Q. Regteren, Altena. The picture is in a remarkably good state of preservation, with even the back of the panel in its original condition." [By courtesy of the National Gallery Archives Department.]
Note, even as Burchard asserts that this is the original painting of the subject that Rubens is known to have made shortly after 1608, he acknowledges that the original painting itself had universally been understood to have been lost since 1641. (To this day, despite detailed and sustained searches, nothing connects the present version to the original painting.) Crucially, Burchard also acknowledges that the appearance of the original Samson and Delilah had been recorded in two contemporary copies, one of which had been supervised by Rubens. Both of these copies by two artists who likely worked decades apart, testify that Samson's original right foot had not been (improbably) cropped at the toes, as in the National Gallery version, but had originally been painted intact and set comfortably inside the composition and consistently with the artist's known manner. See, for example, the almost contemporary, probably pendant (and near mirror-image compositional group) Cimon and Pero – "Roman Charity", at Fig. 9.
A perplexing silence
It was in defiance of such hard historical testimony that Burchard claimed his own upgraded ink drawing to be not only by Rubens but, specifically, to be his preliminary sketch for the former Honthorst painting that is now in the National Gallery. When attributing that painting to Rubens Burchard executed a sleight of hand by implying but not stating that the ink drawing (which had only recently been sold as a van Dyck) was by Rubens. The truth is this ink drawing-from-nowhere and without-history had needed to exist if the Berlin Honthorst were to be presented remotely credibly as a Rubens. Had Burchard sincerely believed that the cropped-foot drawing was Rubens' original ink sketch, he would have felt himself the agent of a remarkable double art historical coup: first, for having identified a famous masterpiece that had been lost for 289 years; second, for having further established that both of the contemporary copies of that original Rubens' painting (through which it had been known for centuries), had been compositionally misleading in identical manners.
Conspicuously, Burchard trumpeted neither of these "discoveries" [6]. His diffidence contrasts markedly with the reaction of the day's leading Vermeer scholar, Dr. Abraham Bredius, who believed in 1937 that he had found an unknown Vermeer (in what was the first of a stream of Han van Meegeren fakes). Firstly, Bredius' certificate of authenticity was ecstatically and unreservedly fulsome: "…I found it hard to contain my emotions when this masterpiece was first shown to me and many will feel the same who have the privilege of beholding it. Composition, expression, colour – all combine to an unity of the highest art, the highest beauty". Secondly, he rushed news of his discovery onto the scholarly record via the Burlington Magazine ("A New Vermeer", November 1937).
If Bredius betrayed credulousness as an eighty-two year old scholar, what of Burchard's manoeuvres as a forty-four year old at the peak of his powers? It can only be said that suspicions are in order. When, shortly after the First World War, the great German scholar, Wilhelm von Bode, was reproached for having certificated an implausible Petrus Christus, he replied, "You don't understand the intricacies of the German language. After a brief description of the subject I say 'I have never seen a Petrus Christus like this!'" (- "The Partnership", Colin Simpson, 1987, p. 240). One must suspect that Burchard's twinned and circular Rubens attributions were made sotto voce out of fear that his "attributional" heist might be exposed by anyone with an alert eye who appreciated that it is surprisingly common for later copies of original works to be cruder compositionally cut-down and abridged versions – and who would, therefore, recognise the "Honthorst" as a prime member of that type.
We have found that not only are such insensitively truncated pictures frequently encountered (in Rubens twice-over with the Samson and Delilah and the Ontario Massacre, and in artists like Leonardo, Raphael, Caravaggio and Annibale Carracci – see opposite) but, also, that with a little effort they can in almost every instance be shown to post-date the superior models and prototypes from which they derive. As shown opposite, in copyists' hands, no part of an original composition can be considered sacrosanct. As well as toes, dogs' noses and cupids' wings, even portions of dead infants have been cropped to fit pre-existing images to new supports and formats. Mistaking a copy for an absent original is one thing. Disregarding clear and contrary historical evidence, as Burchard would seem to have done, is another altogether. Knowingly elevating adulterated versions to a master's oeuvre pollutes the well of scholarship and ultimately threatens the credibility of the field.
Such lapses of critical judgement are as common in appraisals of restorations as they are in the making of attributions. How much or little of an original surface has survived the vicissitudes of time and "conservators" attentions might seem a lesser matter but it is not. Professional art critical failures to spot the tell-tale differences between autograph and studio works are the twins of failures to recognise restoration-induced injuries. The differences of states within individual works can be as pronounced as the differences between autograph and studio works (see Figs. 28a, 28b, 29 and 30). Failures of judgement in both areas are frequently found in even the most high-ranking individual scholars.
Making two Caravaggios in one decade
Within little more than a decade the late Sir Denis Mahon upgraded two pictures to autograph Caravaggio status. This might seem unremarkable given that Mahon was a prolific finder/maker of old masters. What is remarkable is that he did so with two versions (of more than a dozen) of the same painting – Caravaggio's The Taking of Christ. This Caravaggio survives in two formats, one being a truncated version of the other. Mahon managed to endorse one version of each type, doing so in the wake of two "investigative" restorations in which each team claimed revealed authenticity on the basis of its own "discoveries". (Mahon had serious form in the double attributions stakes – we discuss opposite a painting of Annibale Carracci where he authenticated one version and later suavely switched to another, less abridged, picture. See Figs. 25-30.)
During the first restoration in 1993 in Dublin, a long-attributed Honthorst copy was found to have been made largely without revisions and it was declared the original autograph Caravaggio by Mahon precisely by virtue of its revisions-light painterly fluency. This version was of the truncated type. In Rome in 2004 Mahon conferred autograph Caravaggio status on a work from Florence (where acquired from the Sannini family) that was found to have been made with many and major revisions taken to be "serious afterthoughts as was Caravaggio's wont". This version was composed in the larger format and Mahon reportedly said he had "no doubt that this was now the original work". Dublin was not best pleased and Mahon promptly rowed his position back and claimed that both versions were now original but that one was rather more so than the other. (See "New twist in the tale of two Caravaggios", Daily Telegraph, 17 February 2004; "A dangerous business", Michael Daley, letter, Daily Telegraph, 19 February 2004; and, "The real Caravaggio is . . . both of them" Daily Telegraph, 20 February 2004.)
Like the two R.W.P. de Vries of Amsterdam drawings, the two "autograph" Mahon Caravaggios have enjoyed unequal fortunes. In 1993 the (revisions-light) Dublin Caravaggio was loaned to the National Gallery in London and then, permanently, to the National Gallery in Dublin. The later 2004 Florence/Rome Caravaggio with numerous major revisions and other "cast iron" technical proofs enjoyed no institutional protection, being still in private hands. Its cause seems to have fallen into abeyance following legal disputes over ownership. In 2005 the initial 1993 "discovery" of the now institutionally protected Dublin Caravaggio (Mahon enjoyed a long-standing relationship with the National Gallery in London, as a trustee and as a generous benefactor-in-waiting) became the subject of an illuminating, if somewhat parti pris book, "The Lost Painting", by Jonathan Harr.
In an epilogue, Harr has described a falling-out over the ownership of the Florence/Rome version. Technical examinations of the painting were ordered by court prosecutors without the knowledge of the owners. They were carried out by Maurizio Seracini, a leading private technical diagnostician who has examined something like half of Caravaggio's output. The pigment Naples Yellow, which contains the metal antinomy, was found. Because that pigment is presently said not to have been used on paintings before 1630 (or "from around 1620", according to Wikipedia), and therefore twenty years after Caravaggio's death in 1610, Seracini held the painting inauthentic. Harr accepts the force of this technical testimony and, concluding that Mahon had demonstrably blundered in his support for the Rome/Florence painting, imagines that that old scholar's long-time adversary, Roberto Longhi, might now be enjoying "a mirthless laugh" over Mahon's discomfiture. The conclusion was hasty and perhaps too trusting of technical testimony.
It is certainly the case that the presence of a modern, manufactured pigment within the fabric of a supposedly old painting can safely be considered fatal to an attribution. However, Naples Yellow is not a product of a known and precisely dated modern manufacture – such as Prussian Blue of 1704 – it is ancient and greatly pre-dates Christ. Harr acknowledges that the pigment is found on a painting of 1615 by Orazio Gentileschi – just five years after Caravaggio's death. Harr further reports that traces of this pigment had been found on another Caravaggio, his Martydom of St Ursula, which is owned by Banca Intesta in the Palazzo Zevallos, Naples. He reports a suggestion that the offending material might have come from an 18th century restoration that had subsequently been removed. Such hypothetical exculpation would only be necessary if claims that Naples Yellow could not have been used by anyone before 1630 were Gospel and if the painting's attribution was insecure. Neither is the case. The Martyrdom is one of Caravaggio's most reliably and completely documented works so there can be no question about its authenticity. Further, it was almost certainly his last work. It was recorded as still being wet in May 1610. If this painting contains antimony, and unless evidence exists to support the former existence of a now entirely disappeared 18th century restoration, we should accept that this material has now been found in two Caravaggio paintings and adjust the technical literature chronologies accordingly.
In this episode, we see that negative hard "scientific evidence" can be discounted on the basis of assumptions, hunches, and suspicions. We also see that the claimed chronologies of materials within the literature of technical analysis are moveable and, only ever, provisional feasts. (For such chronologies to be considered reliable it would be necessary for every painting in the world to be analysed at the same time by the most advanced technologies – and even then, subsequent technical advances would require further examinations: it is common for old formerly "advanced" tests to be re-run in conservation departments when new and improved apparatus become available.) We have asked Seracini, in the light of Harr's comments, if "it is still the case that the presence of antimony is considered an absolute technical disqualification in paintings made before 1630?" Meanwhile, Jacques Franck, the Consulting Expert to The Armand Hammer Center for Leonardo Studies at The University of California, Los Angeles, advises that:
"The best scientific bibliographic reference concerning the history and chemistry of pigments over here is: J. Petit, J. Roire, H. Valot, "Des liants et des couleurs pour servir aux artistes peintres et aux restaurateurs", EREC éditeur, Puteaux, 1995. Regarding Naples yellow, it says: '(Lead antimonate yellow) was rediscovered in Europe at the end of the Middle-Ages and was later mentioned in a document dating from 1540, "Pirotechnia". The oldest recipes, written in 1556-1559, were supplied by Cipriano Piccolpaso…who was a painter of ceramics"
Although those recipes were indeed written primarily in connection with ceramics, given that they existed before Caravaggio's birth (1571) it should never have been insisted that knowledge of them could not have been obtained by contemporary painters. As it happens, a study on Lorenzo Lotto's pigments was made in connection with the exhibition "Lorenzo Lotto" (Venezia, 1480 – Loreto, 1556-57) at the Scuderie del Qui