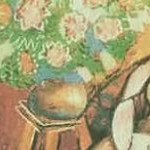 24 February 2014
On February 10th the Daily Telegraph published a letter from a professor of chemistry at University College London (Robin J. H. Clark) questioning the relationship between art and science in general terms and with regard to a supposed Chagall painting featured on a recent BBC Fake or Fortune television programme. Prof. Clark expressed particular concern over art world failures to heed the testimony of available scientific techniques.
In the late 1980s the UCL chemistry department had developed a non-invasive technique ("Raman microscopy") for identifying both natural and synthetic pigments within paintings. Because the latter have known dates of invention, their presence in a picture can establish the earliest date at which it could have been produced. This technique is said by Prof. Clark to have been known to Sotheby's by 1992. The Chagall painting, he pointed out, could have been exposed as a fake at any point in the last 20 years. He further reported that the painting was exposed as a forgery in his UCL laboratory in July last year in the presence of its owners and the presenters of Fake or Fortune:
"I am disappointed that neither of the presenters of Fake or Fortune made this clear. The conclusion that the painting is a forgery is based on our spectroscopic results, which showed that at least two of the key pigments had not been synthesized until the late Thirties, putting the earliest date for the painting at 1938, long after the supposed date of 1909-10."
Because of the unequivocal nature of those technical findings, Prof. Clark (rightly) observed that the Chagall Committee in Paris, to which the painting was sent, had no option but to confirm the forgery. He also asked how art historians might be encouraged to read science journals so as be informed about "significant developments in science as applied to arts". In part, his question is fair and urgent. The art market's notorious governing trade dictum is caveat emptor (buyer beware) – while auctioneers and dealers may take every pain to verify their claims, it is ultimately for buyers to satisfy themselves that attributions and conditions are as described. Auctioneers can only submit works to (possibly disqualifying) technical analysis with owners' permission. Dealers who buy at auctions almost invariably have works restored but are not required, when selling works on, to disclose which if any tests may have been run.
Support on the extent to which scientific (and also historical and visual) evidence is ignored or manipulated in the interests of "boosting financial rewards in attributing paintings to particular masters" was given in an Observer interview on February 23rd ("Revelealed: the art experts who pass fakes as authentic") by Professor Martin Kemp, a Leonardo specialist. In the same report by Dalya Alberge, Nicholas Eastaugh, a leading independent scientist (of Art Access and Research), described the present climate as being both without standards and "totally unregulated. It's a Wild West."
However, much as we sympathised with Prof. Clark's impatience with some art world practices, we could not endorse his call for a blanket acceptance of all scientific methods presently being applied to works of art. As we put it in a letter to the Daily Telegraph (published 12 February):
"Professor Robin Clark (letters February 10) calls for developments in science to be applied to art. If sound science is underused by the art trade, more questionable 'scientific studies' have been used for many years to offer assurances that picture-cleaners' solvents have been a safe method of stripping varnishes and repaint from old pictures. As the current issue of the journal of the International Institute for Conservation of Historic and Artistic Works makes clear, the understanding in the art and museum world since the Sixties of how solvents work has been seriously flawed scientifically. Because important intermolecular interactions have been ignored, the theoretical model used cannot predict, as assumed, the actions of solvents on the underlying paints."
History teaches that the many cumulative "scientific" defences of restorations have best been treated with scepticism. In 1977 Kenneth Clark admitted founding the National Gallery's conservation science department precisely to bamboozle critics and dupe the public. In later years the Gallery pioneered a new mongrel discipline known as Technical Art History in which curators, conservators and conservation scientists pool expertises so as to arrive at some seemingly "scientifically underpinned" consensus on aesthetic decisions. In reality curators were glossing authority already-ceded to restorers. As the National Gallery restorer Helmut Ruhemann wrote in 1968: "Although the art historians in charge of pictures are officially responsible for the policies regarding cleaning, they naturally form their ideas in the first place from what they are told by their restorers."
In its guides to conservation the National Gallery presently claims that while its restorations are carried out for aesthetic rather than conservation purposes, and while each restorer imposes a personal aesthetic taste on pictures, it considers all aesthetically various outcomes to be equally valid so long as they have been carried out "safely". The contention that the (claimed) safety of cleaning methods can underwrite conflicting aesthetic outcomes is a non sequitur. Besides which, no claims have proved more unreliable than those of cleaning solvents' safety.
The crucial and sometimes wilfully over-looked cultural truth is that there are no properly scientific means of comprehending art's variously created aesthetic values and relationships. When reiterating this point in our post of 7 February 2014 ("From the Horse's Mouth ~ Seventy years of worthless 'science' and reassurances on the safety of picture cleaning solvents") we were able to disclose the most recent and most damning evidence of the un-soundness of past scientific endorsements of picture-cleaning solvents.
Notwithstanding these spectacular technical reverses, this month the press has been chocked with uncritical "Good News" accounts of scientific advances in the arts. Most newspapers and the BBC carried claims that scientists had "digitally reconstructed" the original appearance of a Renoir painting in which a former pink background had faded. By coincidence, this claimed miraculous virtual recovery had also been made by "a technique known as Surface-Enhanced Raman Spectroscopy (SERS)" carried out at the Art Institute of Chicago.
The BBC reported that "Northwestern University chemist Prof Richard Van Duyne pioneered SERS. He said the Renoir demonstrated why the Raman technique was fast becoming an invaluable tool for studying artworks: 'You get tremendous information about the origins of the painting, the techniques of the artist, an understanding of the fading mechanism, and the ability to restore the painting.'" Note that speculative hypotheses are now being presented as sound platforms for restorations. In the art world it is frequently the dogs that don't bark that matter most. Note that this wonder technique which addresses changes resulting from natural causes would seem to have no powers or potential with regard to the more common and much more seriously deleterious man-made changes made by restorers. Given that both types of injury are easily evident by eye to anyone lifing a picture out of its frame (see Figs. 2 and 3), the silence of "science" on the latter injuries can only seem self-compromising .
In a letter to the Times (February 17) we protested:
"The claim that scientists have recreated the original appearance of a Renoir painting ('Laser technique shows masterpiece as Renoir intended', Feb 14) is unfounded. All elements of a picture undergo natural changes over time. To these, further unnatural changes are added by restorers and their invasive paint-penetrating solvents. Compensating for a single faded pigment does not constitute a recovery of a picture's original appearance. Rather, it offers a further falsification: a single artificially simulated ingredient within a remaining, generally altered and debilitated surviving whole."
Our letter was accompanied by one from a Professor of Allergy and Clinical Immunology at Imperial College London, making a far-fetched claim that the fact that a synthetic red dye used in paintings had also helped in the discovery of an important white blood cell constituted an unusual "bridging [of] fine art and science".
While Raman microscopy could certainly disprove the claimed date of the fake Chagall, it seriously misleads the public to present speculative and hypothetical digitally manipulated reconstructions as if literal recoveries of original conditions. On February 22nd the Economist reported an account of another digital re-mastering of real paintings delivered at this year's meeting of the American Association for the Advancement of Science. The Economist too saw a bridging of the divide between art and science, which it likens to a resolution of the science/art schism of which the chemist and novelist C. P. Snow complained in his famous 1959 lecture "The Two Cultures". The report also reveals, however, that what was presented as a recovery of the murals' original conditions was in fact a double hypothetical reconstruction. Not only had Rothko's colours faded, so too had those of the contemporary photographs of his murals that were to serve as the basis for a digital re-mastering of the actual paintings. Despite the methodologically dubious procedure of digitally re-mastering actual paintings on the back of digitally re-mastered photographs, there was customary breathless admiration for this latest claimed technical miracle:
"In the case of the Holyoke Centre's Rothkos […e]ach had faded differently, depending on its original colours and how much sunlight it had seen. And various parts of individual paintings had faded at different rates, too. But modern technology allows optical illusions to be finely crafted indeed. The paintings are continuously observed by a high-resolution camera. Its images are compared, pixel by pixel, with the idealised versions provided by the restored photographs. A computer then works out, moment by moment, what mixture of light to shine back to make the faded originals match the vibrant reconstructions—with no messy repainting necessary. For now, the paintings remain under wraps while the museum at which they are stored is renovated. One day soon, though, they will be on display in all their illusory glory."
There was no discussion of the consequences of viewers' bodies blocking the projected "correcting" coloured lights. What we are witnessing in this heavily promoted technical bonanza is not a genuinely increased understanding of art by courtesy of scientific advances. If the attempt to increase public understanding of the degree to which even quite modern paintings have suffered alterations since their executions was a real ambition of museum staffs and conservation scientists, it would be imperative for them to discuss (and demonstrate) the largest single source of alterations and adulterations: "restoration" treatments. In the absence of such an agenda, what we see unfolding is a cultually diversionary Big Push by certain professional groups into new and uncontroversial employment pastures where the potential pickings and funding opportunities are immense – there is scarcely an old picture in existence where some pigments have not faded. This virtual remastering show is one that could run and run. But who might fund and who might execute research into all those paintings that suffered far more grievously from the chemical coshes of restorers?
The real problem in the arts is not an insufficiency of technical or scientific assistance. It is deeper and more fundamental. Its root lies within institutional withdrawals from exercising properly critical considerations. The non-appliance of due critical practices is long-standing. There were uncritical responses in the late 1990s when (as we reported in our first post) the National Gallery used a computer-manipulated photograph of an actual skull as the basis for a hypothetical virtual reconstruction of missing parts in Holbein's "The Ambassadors" which led to the redrawing of Holbein's skull in defiance (or ignorance) of the perspectival systems of the artist's times. More recently, the Tate repainted large lost parts of a flood-damaged work on the basis of early colour photographs in the course of a "restoration". In our uncritical, increasingly "virtual" cultural universe it is more urgent than ever that museum curators should return to acting primarily on sound scholarly appraisals and aesthetically informed insights, and that they should not further devolve their responsibilities to technicians who may or may not be properly alert to matters aesthetic and artistic.
Michael Daley
Comments may be left at: artwatch.uk@gmail.com
---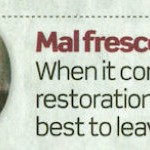 30 August 2012
When news broke of the 81 years old painter Cecilia Gimenez's disastrous restoration of a painting of Christ in her local church, the world fell about laughing (see Figs. 2 to 5). The distressed restorer has taken to her bed as people queue to see the now infamous monkey-faced Christ and, wishing to preserve the hilarity, over 5,000 wags have signed a petition to block attempts to "return the painting to its pre-restoration glory" – as if such an outcome might credibly be in prospect.
With one honourable exception (Fig. 1) commentators failed to grasp that while this debacle is an extreme case it is not an aberration within modern art restoration practices. To the contrary, adulterations of major works of art are commonplace, seemingly systemic products of a booming, insufficiently monitored international art conservation nexus. In our previous post it was shown both how a steamboat painted by Turner sank without trace during two top-flight restorations at the US Sterling and Francine Clark Art Institute, and, how Renoir's oeuvre is being traduced across museums. Here, to show that it is not just in sleepy Spanish churches that paintings are risk, we reprise a few of the professional art world's own most radically controversial – and officially sanctioned – restorations.
The Observer columnist, Barbara Ellen, having good sport with the Spanish Incident (see Fig. 2), hoped a wave of copycat vigilante restorations ("Let's nip into the Louvre and give the Mona Lisa something to smirk about") would not ensue. Her nightmare has been "virtually" realised – Fig. 3. When saying that Ms Gimenez perhaps had not realised "that, as a rule, professional art restorers don't start work with a bucket of Flash and some Brillo pads", she assumed too much. While Brillo pads were skipped at the Sistine Chapel, bucket loads of oven-cleaner-like substances were repeatedly brushed onto and washed from Michelangelo's Ceiling frescoes to the artistically injurious consequences described below and at Fig. 23. As we reported on April 1st 2011 – and that was no joke – the Vatican's restorers' own account of their experimental fresco cleaning method read as follows:
"…Removal of retouchings and repaintings with a mixed gelatinous solvent, consisting of ammonium bicarbonate, sodium bicarbonate, Desogen (a surf-actant and anti-fungal agent), carboxymethylcellulose (a thixotropic agent), dissolved in distilled water. Mixture acts on contact. The times of application, rigorously measured, were: "First application: 3 minutes, followed by removal, washing with water. Left to dry for 24 hours. "Second application: 3 minutes, followed by removal, washing and leaving to dry as before. If necessary, and locally only, small applications, followed by plentiful final washing. "In the case of salt efflorescences consisting of calcium carbonate, there was added to the solvent mixture a saturated solution of dimethylformamide… "Final treatment: the thorough, complete and overall application of a solution of Paraloid B72 diluted to 3% in organic solvent, removed from the surface of the pictorial skin by the combined action almost simultaneously of organic solvent and distilled water, which coagulates the surface acrylic resin dissolved by the solvent."
A quick rinse with Flash might have been kinder.
There are three component parts in the professional restoration armoury: taking material off; putting material on; and, defending and promoting the said removals and additions with techno/aesthetic reassurances. Notwithstanding all supposedly science-validated self-justifications (reports on restorations are invariably written by the restorers themselves), the proper and appropriate test of a restoration is aesthetic appraisal of the resulting changes. It is reassuring that so many recognise that the transformation made to the Spanish painting shown at Fig. 5 constitutes a gross artistic injury. Perhaps the less extreme but also gratuitous injuries recently inflicted by restorers at the Louvre on the Veronese figure and face shown at Figs. 6 to 10 (and here reported on December 28th 2010) might also be acknowledged as the very crime against art and history that they constitute.
As shown at Fig. 10, even when the Louvre's restorers were caught having secretly re-repainted the already repainted and publicly criticised Veronese face, the museum maintained a brazen official insouciance. The authorities do these things because they can and, presumably, because they do not know better. They ignore criticisms because they can and again, presumably, because they do not comprehend their force and their gravity.
In Figs. 11 to 26 we show the variously unfortunate consequences of restorers taking off and putting on material. (Like Tolstoy's unhappy families, every unhappy restoration is so in its own way.) It is widely recognised in the art trade that pictures untouched or rarely touched by restorers enjoy better conditions than many-times restored works. For that reason, a high premium is placed on such rare but fortunate works. This reality notwithstanding, nothing seems capable of restraining the tide of restorations.
In Figs. 11 and 13 we see two successive restorers at work on the same figure in the same mural, Leonardo's "Last Supper", in Milan. It is a long-standing complaint that restorers thrive by undoing and redoing each others' handiwork. In Fig. 11 the restorer Mauro Pelliccioli is removing paint with a knife. His restoration, the first post war intervention on the notoriously unstable mural, was highly acclaimed at the time. His philosophy had been to remove earlier restorers' repaint where it concealed original paint-work by Leonardo, but to leave it in place when covering only bare wall (- see our post of February 8th 2012). In Figure 13 Pelliccioli's former student and assistant, Pinin Brambilla Barcilon, is seen repainting Leonardo's mural (- or, as restorers prefer, "reintegrating" the remains of original paint with fresh additional paint). Given that an estimated 80 per cent of Leonardo's work had been lost and that Barcilon had aimed to remove all previous restorers' handiwork regardless of whether or not original Leonardo paint survived underneath, she had to do massive amounts of repainting during her agonising two decades long restoration (see our post of March 14th 2012).
In Figs. 12 and 14 we see how dramatically differently two professionally linked Italian restorers, working just one generation apart, left the very same principal figure in Leonardo's "Last Supper". (What might be expected to survive or emerge from the next two restorations?) Like the 81 years old Cecilia Gimenez, Barcilon exercised artistic licence – albeit to a far lesser degree – during her painterly interventions on Leonardo's remains. Where the cuff of Christ's right sleeve had originally hung below and behind the table, for example, she painted it resting upon the table. To Christ, she too gave a new face and expression. The sole commentator to have recognised such continuums between extreme and lesser restoration injuries, the Sunday Telegraph columnist, Alasdair Palmer, wrote: "while the gulf between what modern restorers do and the dreadful hatchet-job done by Cecilia Gimenez is large, it is not always as vast as restorers would like us to believe". He noted that while Pinin Brambilla Barcilon had done some magnificent work in recreating what she took to be Leonardo's original picture, "it wasn't a restoration because most of the paint applied by Leonardo had long ago disappeared", and he cited an art historian who holds precisely that "The Last Supper is now a first-rate example of Barcilon's work. It is not a Leonardo". Palmer further notes that some of the most severe critics of recent restorations are other restorers:
"'A great deal of restoration is incompetent,' maintains Bruno Zanardi, professor of the theory and practice of restoration at the University of Urbino, and one of Italy's most distinguished restorers. 'Many of those who are let loose on great works of art do not know what they are doing: they have not been properly trained, and do not understand how fragile old pictures are.'"
To French and Italian transgressions many British and American ones might be added. At the National Gallery, London, it has been officially acknowledged that changes are made to pictures "primarily for aesthetic reasons", and that while these aesthetic changes rest on the judgements of individual restorers whose "different aesthetic decisions" may result in pictures which "look very different", all such results are considered "equally valid" (see "The New Relativisms and the Death of 'Authenticity'"). In Figs. 15 and 16 we show a detail of the National Gallery's Holbein, "The Ambassadors". During its restoration (which, like that of Michelangelo's Sistine Capel Ceiling, was a televised and sponsored event) the then head of conservation, Martin Wyld, took the opportunity to improve and, on "experts" advice, to change the surviving design of the Turkish carpet. In doing so, he paid scant regard to the aerial perspective that had previously been found in the picture. Ignoring the shadows that had previously been cast on the carpet, Wyld introduced a crisper, cleaner, flatter, more "on the picture surface", altogether more abstract, modernist and, therefore, ahistorical version of Holbein's original depiction.
More egregious were the changes made to Holbein's anamorphic skull (Figs. 17 and 18). The cleaning exposed many losses of paint on the skull which bewildered the restorers and caused them to introduce – for the first time, to our knowledge – a piece of painted "virtual reality". As we put it in a letter to the Independent ("Virtual reality art", 29 January 2000):
"When the National Gallery recently restored Holbein's The Ambassadors, the famous skull in the foreground was repainted to a new design not according to the laws of perspective by which it had been produced but after a computer-generated distortion of a photograph of an actual skull. "This bizarre imposition of 'virtual reality' on to an old master painting is defended by the gallery on the grounds that 'modern imaging techniques' offer 'more scope for exploring possible reconstructions' than do the 16th century perspectival conventions by which the artist's image had originally been generated. "The difference between the original and the new parts has been concealed from the general public by the restorer's attempt to integrate the handiwork of his own 'tentative reconstruction' with surrounding old paint by painting fake lines of cracking to match the old, actual cracks."
In Figs. 19 and 20 we see the liberties taken by Wyld's predecessor, Arthur Lucas, on Titian's "Bacchus and Ariadne". Lucas boasted to art students at the Slade School of Art that "there is more of me than Titian in that sky". In thrall to new technologies and materials, Lucas took the trustees' permission to reline the canvas, as authority for ironing the picture on to a double board of compressed paper. Such boards are today found to be unstable and will doubtless serve to licence further "urgent" conservation treatments.
In Figs. 21 and 22 we again show the startling changes made to a painting at the National Gallery of Art in Washington during the course of two restorations. During the first, as seen on the right of Fig. 21, a general weakening of values occurred. The woman's necklace, for example, was dimished. As seen on the left in Fig. 22 , during a further restoration, part of the necklace disappeared. Rather than paint it back in, the restorer painted out the surviving section, as can be seen on the right.
When specific bits of paintings disappear restorers often claim that they were only additions made by earlier restorers. If such claims sometimes provoke scepticism, in the case of overall losses and degradations restorers usually offer no defences, seemingly hoping that curators, trustees, art critics, scholars and members of the public will be delighted or distracted by brightened colours and lightened tonalities. In Fig. 23, on Michelangelo's Sistine Chapel ceiling, we see both the general lightening and brightening that attends an aggressive cleaning and losses of specific features and pictorially strategic values. Michelangelo had finished off his frescoes with additional glue or size-based painting but because the Vatican's restorers held this to be either dirt or earlier restorations, it was all removed. Michelangelo had redrawn and remodelled the drapery seen on the left hanging from the figure's right shoulder. It was washed off. The removal is shown to be an error by the testimony of earlier copies of the ceiling. (Rubens had copied the drapery as it was found before the recent cleaning.) Michelangelo sought to enhance sculptural effects to his painted figures by adding shadows that were seemingly cast by the three dimensional bodies he had depicted with contrasting brightly lit forms and dark, shadowy recesses and nooks. The latter, too, were lost.
Back at the National Gallery in London, we see in Fig. 24 similarly catastrophic general losses (in the course of another single restoration) of tonal gradations and modelling. In the case of the horse's right nostril, we see the loss of the very aperture which formerly had carried air to the creature's lungs. Alasdair Palmer points out that a comparison of the National Gallery picture with its sister panel in the Uffizi Gallery in Florence is shocking to behold. It is the more unforgivable because the National Gallery restoration was prompted by an earlier one of the Florence picture that had not flattened and weakened the horses.
The National Gallery's great Velazquez, "The Rokeby Venus", suffered dreadful injuries in 1914 at the hands of a suffragette (Fig. 25). That damage was as nothing when compared with subsequent injuries inflicted by restorers who here too (Fig. 26) were blind to artists' manipulation of space; creation of atmosphere; rendering of form through calibrated tonal gradations. Before the gallery's restorers had done their Cecilia Gimenez-esque worst, there existed a parity of brilliance in the two figures, with both displaying the seeming self-illumination of divinities. What sense of that miraculous evocation survives today? Little wonder that the previous owner of the picture made a scene at the National Gallery on sight of its "restoration" and protested that, had he known how it would be treated, he would never have sold it. His grievous personal loss-through-restoration was of a single picture. What price the world's continuing collective losses at the hands of restorers?
Michael Daley
Comments may be left at: artwatch.uk@gmail.com
---
wibble!